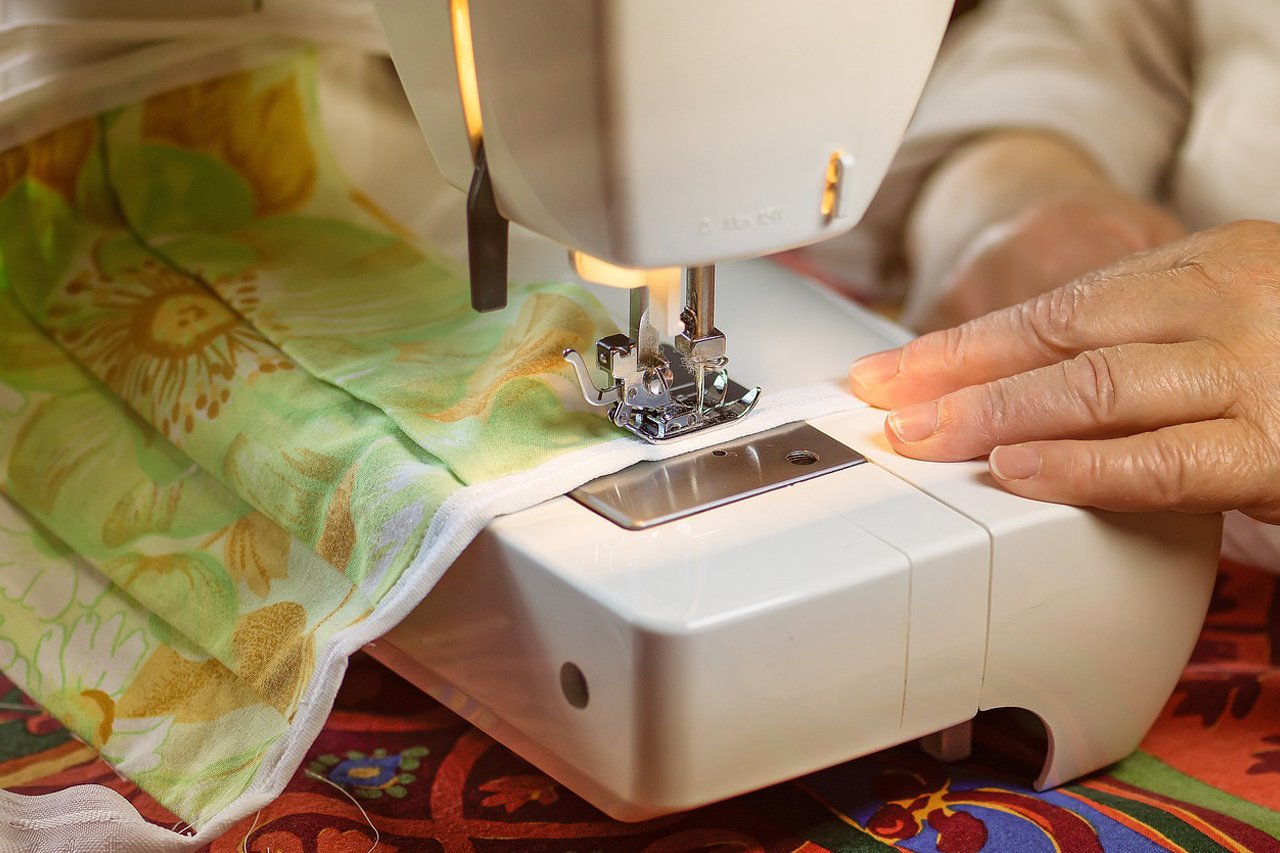 Whether a newbie or a pro at sewing, you must ensure your working area is well-lit. Many sewists spend most of their time in their sewing rooms, so it is essential to have good lighting to avoid eye strain and headaches from poor lighting.
Here are ten of the best sewing machine lights in 2023:
1. OttLite Ultimate 3-in-1 Craft Lamp
The OttLite can be used as a floor lamp, table lamp, or clamp-on lamp, called a 3-in-1 craft lamp. Adjusting the height of the light is possible to turn it into a floor lamp, then a table lamp, and vice versa.
The design of the OttLite lamp is to provide natural daylight indoors. The light quality allows you to see the finer details of your work. It also shows the colors of your threads or fabrics with excellent accuracy.
OttLite bulbs produce natural light indoors to help reduce eye fatigue and glare, so you can do what you love for the longest time possible.
The lamp includes a 24W Type C bulb lasting up to 10,000 hours. You need not worry about a busted light.
A unique feature of this ideal lamp is a 2x optical-grade LED-illuminated magnifier, plus a hands-free clip to hold your patterns, charts, or instructions.
It has long, flexible arms that allow various positions and ranges of motion. You can also find a convenient outlet to charge your power craft tools, glue gun, or mobile phone.
Key Features:
It provides natural light to avoid eye strain
Long-lasting light bulb
Adjustable lamp height
Buy it here: OttLite Ultimate 3-in-1 Craft Lamp.
2. Brightech Leaf LED Floor Lamp
The Brightech Leaf LED lamp is a modern floor lamp with a bulb producing 1150 lumens of light, perfect for precise and detail-oriented tasks.
The Brightech Leaf standing lamp has a vintage aesthetic that would fit in any corner of your home without occupying too much space. With its adjustable arm and head, you can focus your light exactly where you need it in your working area or reading nook.
Equipped with a 3-way dimmer, the Brightech Leaf standing lamp can provide three light levels for your different tasks of the day. If you need a lively environment, turn your light on 100%. Switch to a 25% light setting for more relaxing and cozy lighting.
The Brightech Leaf lamp has a 12.5W energy-saving LED light bulb expected to last 20,000 hours with regular use. This modern, energy-efficient lamp offers 3000k warm white light, outdoing CFL, halogen, and incandescent bulbs.
The Leaf floor lamp has a sturdy base. It lowers the risk of the lamp falling over.
The makers of the Brightech Leaf lamp built it to last; that is why this sturdy lamp has the company's backing, with a 3-year warranty covering defects, malfunctions, and sudden failures.
Key Features:
12.5W Energy-efficient LED light bulb
It has a 3-way dimmer with three levels of light
With adjustable arm and head
Buy it here: Brightech Leaf LED Floor Lamp.
3. LudoPam LED Sewing Machine Light
The LudoPam is a LED table lamp offering ultra-bright and energy-saving light to make your sewing work easier.
You can mount the magnetic base to any metallic surface to brighten a specific area on your sewing table. It also has a flexible neck that lets you adjust the light without sagging or drooping.
The multifunctional LudoPam table lamp is perfect for your sewing area and for lighting other locations in the home, like the garage or music room.
Key Features:
Magnetic mount
Flexible neck
Energy-saving LED light
Buy it here: LudoPam LED Sewing Machine Light.
4. EVISWIY Sewing Machine Light LED Lighting
The EVISWIY LED lighting offers bright and natural light with vision protection. This table lamp has 30 pieces of LED lights providing very bright light but will not harm your vision despite long hours of sewing.
Attaching the lamp to any metal surface and the solid magnetic base ensures its stability despite vibrations during sewing.
The EVISWIY LED lamp has a flexible gooseneck that adjusts the lighting to any angle. The portable lamp will let you take it anywhere you need extra lighting.
This small LED lamp is efficient and multifunctional. You can use it at home for reading or doing other craftwork than sewing.
This LED lamp saves up to 90% of energy compared to traditional lights. EVISWIY Sewing Machine Light is more durable and will last longer than incandescent lights.
Key Features:
Bright light with vision protection
360 degrees rotation gooseneck
Energy-efficient with a long life expectancy
Buy it here: EVISWIY Sewing Machine Light LED Lighting.
5. Brightech LightView Pro Flex 2-in-1 Magnifying Glass Lamp
The Brightech Lightview Pro Flex is a magnifying glass with light. This lamp is helpful for people who need help to reduce eye fatigue or for those whose work requires them to focus up close.
The 2-in-1 magnifying glass lamp has a 3″ lens made of genuine diopter glass, perfect for sewing, cross-stitching, reading, painting, and any needlework.
The Brightech lamp has a 13.5″ adjustable and flexible gooseneck which you can adjust up and down and arrange according to your need to free both hands to perform more critical work than keeping your light up close.
The magnifying glass is scratch-resistant and does not warp with time or heat, unlike cheap acrylic/plastic magnifying lenses. Expect the built-in 6W and 570-lumen LED lights to last 20,000 hours with regular daily use of 3 hours per day.
The lamp has a heavy base and a strong clamp, ensuring the light does not tip over while you work. Another good thing is that it stays cool after many hours of use.
The magnifying lamp has a 3-year limited warranty ensuring a long-lasting product with a company and all-star customer support that stand behind its quality.
Key Features:
Magnifying glass with light ideal for up-close work
With adjustable and flexible gooseneck
Can last 20,000 hours for 3 hours/day use
Buy it here: Brightech LightView Pro Flex 2-in-1 Magnifying Glass Lamp.
6. Addlon LED Floor Lamp
The Addlon floor lamp offers four levels of brightness (25%, 50%, 75%, and 100%) and three types of color temperatures (3000K, 4000K, and 5000K) which can satisfy your multiple light requirements at a reasonable price.
Save 40% of your electricity bill annually using LED bulbs. You can also be sure that your light will not flicker to protect your eyes and provide a comfortable area to do your work. You can swivel the adjustable and flexible neck of the lamp to light up any room as needed.
The Addlon lamp has a touch panel control on the lamp head. You can efficiently operate the light with a long press to turn it on/off; a short press to adjust the brightness. To change the color temperature setting, short-press the mode key.
The Addlon lamp has a square base that keeps it stable, providing safety and preventing it from tipping over.
Key Features:
Adjustable brightness and color
Touch Panel Control
Energy efficiency and eye care
Buy it here: Addlon LED Floor Lamp.
7. Verilux SmartLight
The Verilux SmartLight uses longer-lasting LED light that produces a brighter, more accurate color for sewing, reading, and other detailed tasks.
Customize your lighting experience by choosing among five light intensity levels and three color temperature settings ranging from warm white to daylight.
The Verilux SmartLight is a modern take on the traditional gooseneck floor lamp that can fit any space.
This contemporary floor lamp can mimic natural daylight, is flicker-free, and has an Optix lens that controls glare and help reduce eye strain and fatigue.
The company, which has more than 60 years of experience with healthy lighting, offers live support and one year warranty.
Key Features:
Sleek, modern design
Customized Settings
Reduce eye strain and fatigue
Buy it here: Verilux SmartLight.
8. TOMSOO 3-in-1 Magnifying Glass Floor Lamp
The TOMSOO 3-in-1 is a magnifying glass floor lamp with a 4.4″ real glass with a 2.25X magnification. Unlike cheap acrylic or plastic lenses, you can view your work without distortion and fogging.
This lamp, composed of 60 pieces of LED, gives a brightness of up to 960 lumens, providing a more evenly lit area. You can choose from warm white or daylight settings to help reduce eye strain.
You can use the magnifying lamp as a floor lamp or clamp lamp. You can also position the lens where you need the light and free your hands for other tasks.
This magnifying lamp is perfect for sewing, reading, beading, and other hobbies requiring up-close work. It is a perfect selection for those with vision problems like macular degeneration.
Key Features:
2.25X magnification glass lamp
Warm white or daylight settings
It can be a floor lamp or clamp lamp
Buy it here: TOMSOO 3-in-1 Magnifying Glass Floor Lamp.
9. Amazing Power Sewing Machine Light
The Amazing Power sewing machine light has 30 pcs LED light, making it very bright. The lamp emits no radiation, has no flickering, and will not harm your eyes when sewing for long hours.
The lamp has a 360˚ rotation gooseneck, making it bendable and flexible, which you can easily adjust to brighten areas that need extra lighting. In addition, this gooseneck LED lamp is easy to bend and light; you can take it anywhere you need.
A solid magnetic base holds the lamp to any metal surface, such as a workbench, drill, or sewing machine. The light is small and lightweight, so you can carry it wherever you need to brighten a work area.
The LED light on this lamp has a lifespan of up to 50,000 hours, reducing the need for bulb replacement.
Key Features:
Bright light
360 degrees rotation gooseneck
Strong magnetic base
Buy it here: Amazing Power Sewing Machine Light.
10. LANCOSC LED Magnifying Desk Lamp
The LANCOSC LED lamp is a magnifying desk lamp with a 4.3″ actual glass lens with 5X magnification, clear, and no optical distortion. This lamp is perfect for cross-stitching, sewing, reading, beading, and various types of needlework.
The lamp has a 23″ flexible metal gooseneck, longer than other models, with about 9″, allowing a good balance of firmness and flexibility. You will not worry about your light falling or shaking while you work, and you can position the lens where you need it.
The LANCOSC magnifying lamp has a dimming switch allowing you to adjust the settings to three color modes. Experience daylight illumination, soft light, and no glare to help protect your eyes.
This lamp is multifunctional, and you can use it for various activities and hobbies other than sewing.
Key Features:
5X magnification
Has a dimming switch to adjust to 3 color modes
Multifunctional Lamp
Buy it here: LANCOSC LED Magnifying Desk Lamp.
Buyer's Guide
You must get a suitable lamp for your sewing tasks. They are vital tools to help you create smooth and straight stitches to sew your masterpieces.
Design
The usual designs for sewing lamps are either floor or tabletop options. The floor models are rightfully supported by sturdy bases, ensuring your light will not topple easily. The tabletop models, on the other hand, are mounted on the sewing table.
They are usually smaller than the floor-mounted ones. You can often see them on top of the sewing table, and they equally give good lighting when placed appropriately in areas that need proper lighting.
Table lamps are standard for professionals who frequently use their sewing machines. A floor model lamp is more versatile because you can place it near your sewing table or move it near your couch if you prefer to sew by hand.
Type of Bulb Used
Bulbs most often used in sewing lamps are halogen bulbs, CFL, and LED. Gone are the days when the casted lights are yellow from the traditional incandescent bulbs of old table lamps.
LED and CFL bulbs are the best option because they produce cool light perfect for color matching and intricate work. Halogen bulbs, although still used often for lamps, have less contrasting light and are less energy-efficient than LED and CFL bulbs.
Color Temperature
Color temperature is an essential factor that you must consider when choosing a sewing lamp.
Sunlight or natural lighting is the best lighting you need for sewing.
You can classify the brightness of the light can as white, sunlight, and tungsten. Natural lighting is the ideal quality for sewing among the three, but the other two are still suitable for specific situations.
White daylight is perfect for minimizing eye strain, but it causes a bit of distortion in color. Since it lessens eye fatigue, it is the best option for those who sew daily.
Cold sunlight gives more accurate colors at the 5000K to 6000K color temperature range. The problem with this type of light is that it can be uncomfortable for the eyes.
Tungsten lighting, produced below 4000K, has a yellowish glow. This lighting type is fit for daytime sewing in a window-accessed sewing area.
The recommended color temperature for sewing is 4000K to 6000K, where you can see the colors of your threads crisply and clearly. But for day-to-day sewing, the best option is still white daylight which helps reduce eye strain.
Versatility
When choosing a lamp for sewing, ensure it has various lighting options to produce the right light for your sewing needs.
Look for a lamp with adjustable settings to switch between bright lighting for sewing and crafting and soft lighting when you need to relax your eyes.
Age of User
It is also crucial to consider the user's age when choosing the ideal sewing lamp. Older people need more light to fulfill specific tasks than younger people.
So, in choosing a sewing lamp, consider the age of the person who will often use it to illuminate the working area.
Special Features
When picking a sewing lamp, look for one that will provide proper lighting and additional features that you can benefit from.
The unique features you must look for in a sewing lamp depend on the specific sewing projects you intend to make. Some sewing lamps have adjustable heights to give your sewing area ample light. Some have a flexible gooseneck to customize the position of your light according to what you need.
You can also find lamps having magnifier glasses for people who need them for more intricate and detailed work.
FAQs
What is proper lighting for sewing?
The perfect light for sewing is ambient natural light. Ambient lighting should be the primary source of light in your sewing room.
A daylight color temperature of 5000K to 6500K with a CRI rating of a minimum of 90-95 or higher is the ideal lighting for sewing rooms that consider color an essential factor in their workspace.
The temperature of light and the Color Rendering Index (CRI) determines the proper lighting for a sewing room. A higher CRI rating has a better color rendering ability across a broader spectrum.
A high Kelvin or daylight color temperature (5000K-6500K) provides excellent lighting for your sewing room. The right combination of color temperature and CRI will give you the more accurate color of your fabrics, so finding the proper lighting for your sewing area is essential.
Which is the best light for cross-stitch?
The best light for cross-stitching is anything to brighten your sewing spot. It may be a floor or desk lamp, depending on what is convenient to light up your sewing space.
Choose a cool light so your thread colors do not look different. Daylight bulbs produce cool light that is ideal for cross-stitching.
What is the best light for embroidery?
Choosing a white light lamp for hand embroidery projects would be best.Yellowish light can distort the colors of the thread you are using. For more efficient sewing, find a lamp that is flexible, easy to move, or turns to provide you with the right amount of brightness you require.
What range of lumens is needed for sewing?
The recommended range of lumens needed for sewing is 1000-1500 lumens.
Adjusting the brightness of the lights of modern sewing machine lamps is more accessible now. Most come with a high lumen count. This range of intelligence is an excellent option because sewing is time-consuming and complicated.