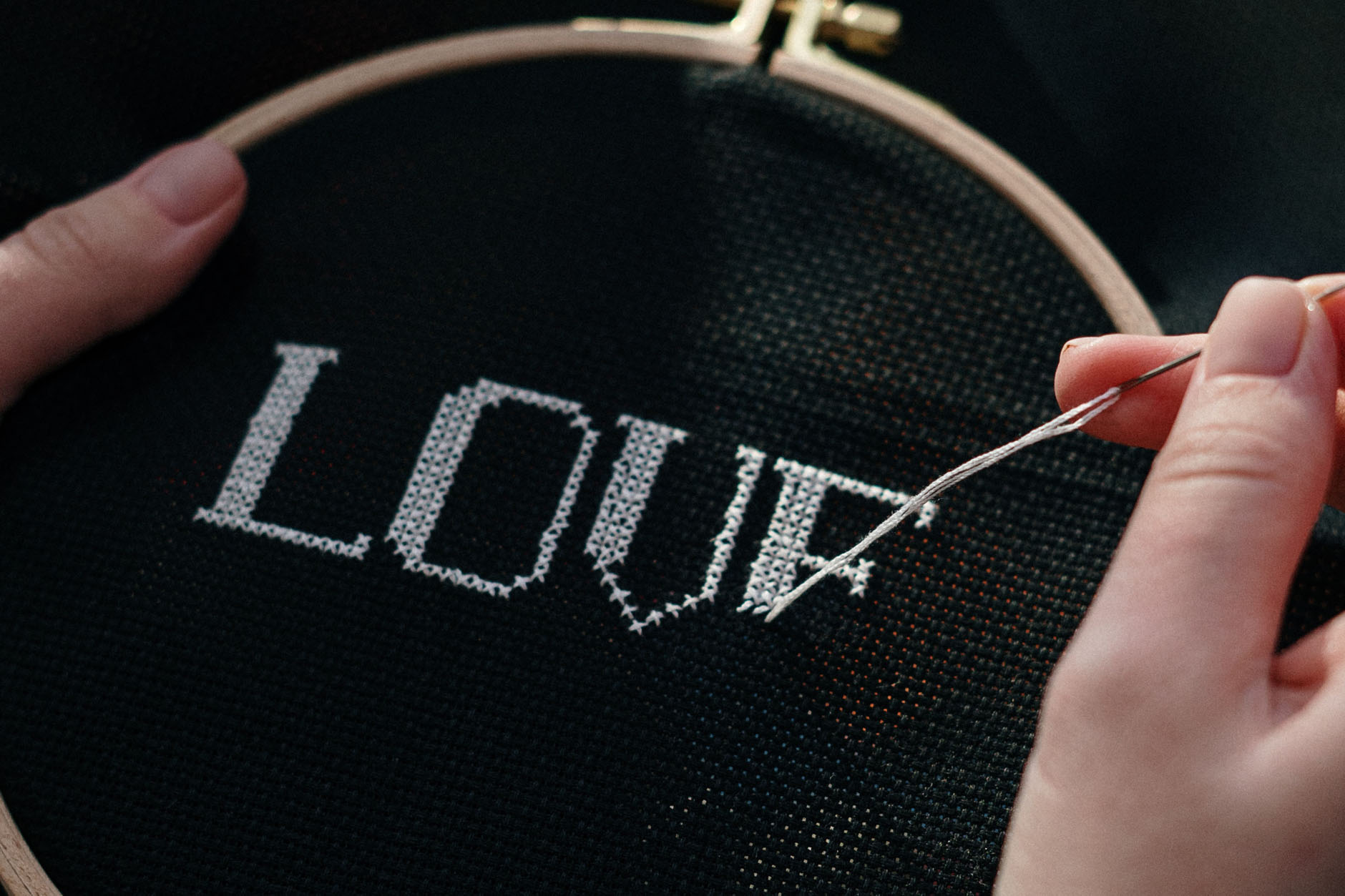 Want to start your counted cross stitch project, but don't know where to start? You are in the right spot. Counted cross stitch is easy and fun. This is one of the most enjoyable yet uncomplicated crafting methods you can do. As long as you can count from 1 to 6, then you're good to go.
Counted cross stitch is versatile because you can buy the threads you want for your projects. You can also buy your materials in kits with fabric, printed chart or pattern, cotton floss, and needle. The blank fabric could either be Aida or linen. All you need to do is follow the pattern on your blank fabric.
Difference Between Cross Stitch And Counted Cross Stitch
Before you get all confused with the various names and types of cross-stitching. It is wise to start by understanding stamped cross stitch and counted cross stitch.
Stamped Cross Stitch comes with a printed fabric. This means that the pattern or design is "stamped" on the linen or Aida. You need to be careful in following the pattern. Make sure that you stitch exactly over the prints to cover the markings.
Counted Cross Stitch comes in blank Aida or linen. The design is printed on a separate paper. Many prefers counted cross stitch because there is no printed X's the peak out of the thread.
Regardless of which method you prefer, both produce beautiful and satisfying projects.
Is Cross Stitching The Same As Embroidery?
It's best to know the difference between cross stitch and embroidery. It's crucial before you get into the nitty-gritty of cross-stitching.
Embroidery is an art of decorative stitching on fabric. This art of stitching encompasses many techniques to design a wide range of fabrics. Embroidery also incorporates other materials to create beautiful designs. These include pearls, sequins, and beads.
Cross Stitch is a type of embroidery. It has a specific style of stitching that creates small X patterns on the fabric. You can do this technique on evenly woven textiles, such as Aida, linen, Lugana, and Jobelan.
Uses of Cross Stitching
You may have seen cross-stitch projects framed and hung on walls. But, guess what? Cross stitch has been around for centuries. Many countries and cultures used this sewing method for the following:
colorful designs for clothes
borders for linens
embellishments for tablecloths, napkins, and pillowcases
greeting cards design
insert designs for trivets and coasters
decorate doilies and mats
You can do so many projects with cross-stitching. You just have to learn the basics, and in no time, you can make stunning art pieces.
Is Counted Cross Stitch Still Popular?
If cross stitch has been around for years, you may be asking – Is it still popular? The straight answer is YES. Cross stitch remains popular these days. It's booming to say the least.
You can see lots of blogs, websites, and videos teaching this hobby. The growing number of online shops and craft stores selling cross stitch supplies. All these prove that this hobby is thriving.
How Do You Count Squares In Cross Stitch?
First thing first. You must learn to count the squares in cross-stitch. Note that most patterns and kits have instructions in inches. To make it easy for you, remember that 1 inch equals 2.54 centimeters. Let's start.
Keep in mind that the number of squares in every inch (2.54cms.) determines the count of the linen or fabric. For instance, the 14-count Aida has 14 squares in every inch. This means that cross-stitching on it gives 14 stitches for every inch.
Most cross-stitch hobbyists use Aida fabric for their projects. If you also prefer this, make sure to note its fabric counts. Aida fabric counts range from 10 to 22 squares in every inch (2.54 cm). The higher the fabric count, the smaller the stitches.
How Many Threads Do You Use For Cross Stitch?
Excited to get started? Before you start your project, you must understand threads, and thread counts. This will help you follow the cross-stitch pattern on the dot.
It is important to note that you can buy threads and fabrics by the yard, by meter, or parts thereof. This is crucial to determine the number of threads per inch (2.54 cm.) in every fabric count.
To determine the fabric count.
Lay a ruler on the linen or fabric.
Then, count the number of blocks or threads in one inch (2.54 cm).
Use your needle to count the threads.
Note that if there are 14 blocks or threads, then the fabric count is 14 (14-count). The fabric with 28 threads or blacks per inch is 28-count.
When you use 14-count and 16-count Aida, use two strands of cotton floss on your stitches. Some projects may need you to mix a varying number of threads. This is to create texture in the design.
It's easy to determine the right number of threads for your fabric count. Check out this guideline below.
a. For Aida fabric
11-count Aida, use 3 strands of thread
14-count Aida, you can use either 2 or 3 strands of thread
16-count Aida, use 2 strands of thread
18-count Aida, use either 1 or 2 strands of thread
b. For Evenweave fabric
25-count Evenweave over 2 threads of the fabric, use 3 strands of thread
28-count Evenweave over 2 threads of the fabric, use 2 strands of thread
c. For Hardanger fabric
22-count Hardanger, use 1 strand of thread
Kinds of Threads for Cross Stitch
Cotton Threads (DMC)
Perlé cotton
Silk Thread
Metallic floss
Wool yarn
What Does DMC Stand For in Cross Stitch?
Now that you know what thread and fabric count means. It's time to know where to get quality threads or floss for your projects.
DMC or DOLLFUS-MIEG & Compagnie is a textile company in Mulhouse, France. Jean-Henri Dollfus established it in 1746. Up until now, DMC has been producing high-quality textile and embroidery threads.
DMC threads are soft and resistant to fading. So, if you want vivid and colorfast projects, DMC is a smart choice for your threads.
What Is A Lazy Daisy Stitch?
You might have heard or read about this type of stitch. So, what is it, and is it useful to your cross-stitch projects?
Lazy Daisy stitch or simply detached chain stitch is an embroidery technique. Many embroidery and cross-stitch enthusiasts use this technique to create floral patterns. This is a simple stitch you can use for making flowers and leaves in your design.
You can also use the Lazy Daisy stitch on intricate designs by using double or triple loops. But for beginners, single-loop Lazy Daisy is a good start.
What Is A Basting Stitch?
Before you can start with your cross stitch project, you must learn the basting technique. This stitch is necessary to temporarily sew two fabrics together. Basting on your fabric helps you keep your fabric in place and not ruin its edges. This will also help you finish the project faster.
Tips In Doing Basting Stitch
When you do basting stitch, better choose a different thread.
Put the stitch away from where you plan to sew your permanent stitches.
Use a different thread for your basting. Otherwise, use a color that contrasts with your permanent stitch thread. This prevents confusion when you make your permanent stitches.
How to Do Counted Cross-Stitch?
For beginners, it is important to know the essentials of this art. This is to make sure that you learn accordingly. It also prepares you for more intricate projects in the future. The following tips will help you begin your cross stitch adventure.
Choose the right materials

light-colored Aida fabric
Threads or floss needed for the pattern
A pack of needles
Embroidery hoop
Pair of scissors.
For newbies, these materials are enough to create your first cross stitch project. You may add other tools or materials as you level up on your skills and design choices.
First Stitch
Cross stitch is easier when you understand the fabric count. Just follow your pattern and make even X stitches on the fabric.
Know the Fabric
Among the popular fabrics in cross stitch are:
Aida
Linen
Lugana
Jobelan
Plastic canvas
Waste canvas
Newbies often use Aida fabric for their initial projects. You also need to pay attention to the fabric count. If you are still nervous about the process, you can simply buy a kit. Follow the instructions in your pattern or kit, and you'll be fine. You do not want to deviate from its recommendations at this point.
Needles and Embroidery Hoop
There are two specialty tools required for cross stitch:
Needles do the actual stitching
Embroidery hoop keeps your fabric in place and flat.

Threads or Floss
You can buy threads or floss in eight yards (7.32 meters) long, and made up of six strands. There are many colors to choose from, but make sure to follow what your pattern recommends. The pattern indicates the specific color of your thread. They contain code corresponding to the DMC standard.
Choose a Basic Pattern
As a newbie, you do not want to get overwhelmed with the technicalities of this craft. At this phase, your concern is to get the hang of stitching and following the pattern. It is safe to buy a kit with simple design and easy-to-follow patterns.
Understanding the Pattern
Cross stitch patterns are different from knitting and crochet patterns. Here, you see instructions on a grid of numbers. But don't get intimidated, those codes are just the threads or floss that you need to use for a specific area.
How To Finish The Back Of A Cross Stitch?
Before you finish your project, make sure that you have tied the knots of the threads. Finishing your cross stitch project is permanent. Hence, it will be difficult to undo your work if there are loose threads and stitches.
At this portion, you need your completed project, long cut floss, and a needle.
At the back of the fabric, tie a strong knot at the outer portion. This is the area outside the hoop. You can do a double-knot through two squares.
Then, make stitches around the fabric. Each stitch must be about 1 centimeter apart.
Do this until your needle returns to the large knot you created. You should have enough thread at this point.
Then pull the thread until the edge of the fabric folds inward. Make a firm pull to ensure that the fabric is not loose or sagging.
Tie the ends of the thread.
Sew the backing
Many recommend using felt for the back. Some use canvas for the backing material. Start by threading your needle, and sew the felt or cloth at the back of your hoop. You may use a whip stitch or blanket stitch to do this. Make sure that the color of your thread is the same as the felt or cloth. This will make the thread blend with the backing material. Another option is to use a contrasting thread color. This will serve as an additional design to its border.
Continue sewing around the entire hoop. Finally, tie the thread neatly inside the felt or backing material.
Bottom Line
Counted cross stitch is a unique embroidery technique. It is relatively the easiest fabric decorating technique that anyone can do. This has been around for years. Yet, it continues to gain popularity among arts and crafts enthusiasts. The process is straightforward and follows a standard rule.
There are two ways to express your creativity through cross-stitch. You can use a counted cross stitch or the stamped method. Some cross stitch enthusiasts prefer counted cross stitch, while others prefer the stamped. Either way, cross stitch is a simple and enjoyable hobby to create art pieces on the fabric.