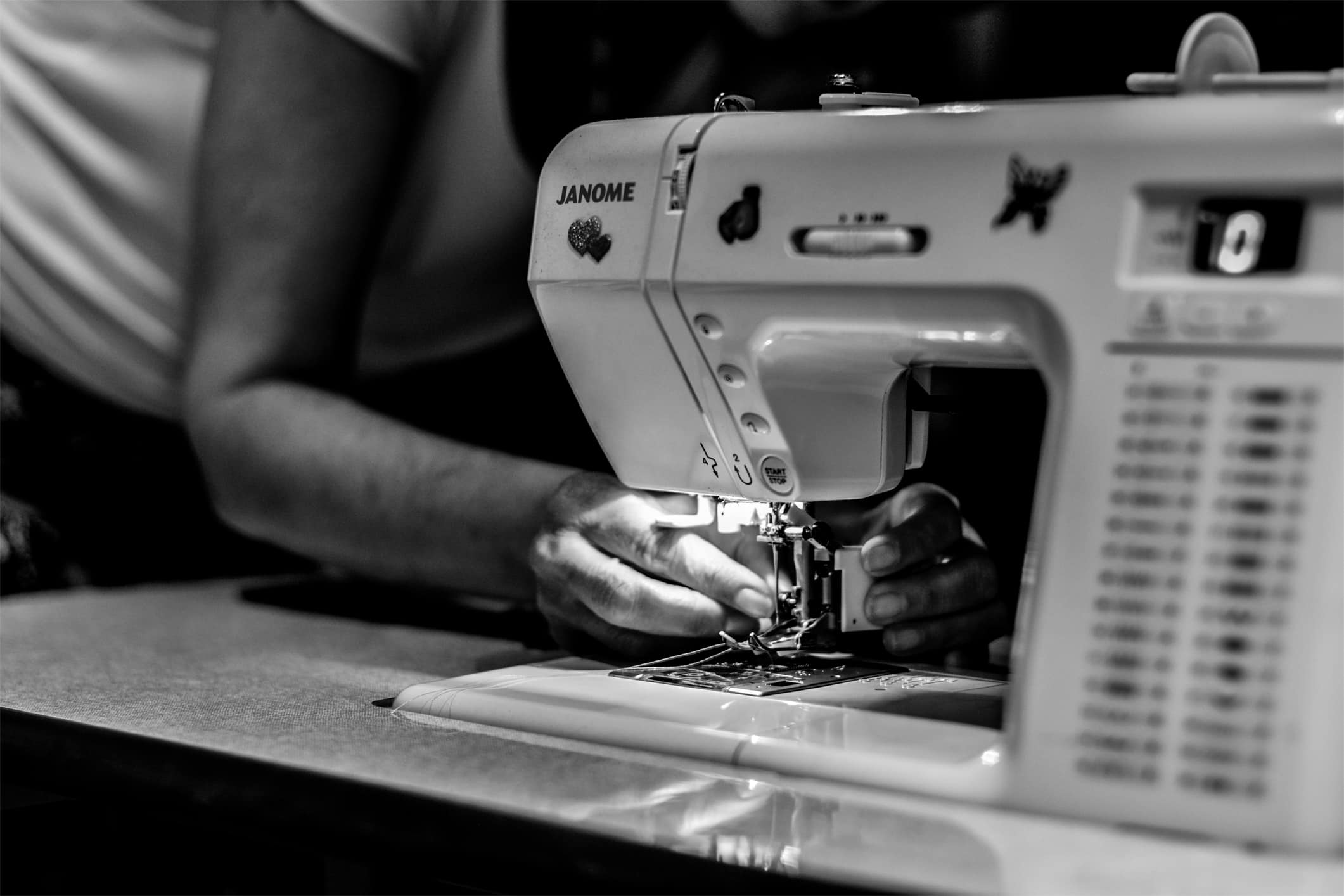 Keeping your sewing machine well-oiled is important to ensure its smooth functions. Most of its moving parts are iron performing mechanical processes as you sew. Oiling these iron parts is crucial to maintain the smooth mechanisms of the machine.
There are 6 major reasons why sewing machines need oiling.
1. Lessen Friction
The main purpose of oil is to prevent friction damage between the moving parts. This is not only for sewing machines. Lubricants or oil are also important for bike chains, fans, and mowers.
Sewing machines rely on its mechanical functions. This means you should not underestimate its long-term effects on its parts. Continuous friction can cause inefficient movements of the parts in your machine.
2. Reduce Potential Damage
When the friction is under control, you get to reduce the possible wear and tear of your machines. Proper lubrication of your machine will result in fewer problems with worn-out parts.
The oil acts as a barrier between the moving parts. It stops the awful grinding of metal-on-metal that wears down these moving parts. The oil also serves as prevention to rust and other kinds of corrosion. It keeps your sewing machine protected as long as you maintain its lubrication.
3. Prevent Machine Downtime
When your Handi Quilter machine is not well-oiled, it will not function well. This means downtime to your production. There will be a domino effect if your machine does not have proper lubrication.
There will be greater friction that will soon wear off the parts. Once you get one or two worn-out parts, your sewing gets derailed. You do not want this to happen, especially if sewing is your source of income.
Greasing up your machine will prevent this problem. It will also prolong the lifespan of your machine.
4. Reduce maintenance costs
Frequent visits to the service and maintenance shops are costly. Most sewing machine repair shops charge not less than $100 for basic service. They even charge higher for advanced or computerized machines.
If you want to avoid spending much on repairs and maintenance, take care of your machine. Simple cleaning and regular oiling can make a huge difference. It will keep your machine running smoothly every time you use it.
5. Prevent parts from rusting
Greasing up your machine prevents rusting and other forms of corrosion. Since rusting is an early sign of damage from the metal friction. One way to avoid this is by regular application of sewing machine oil.
6. Prevent Overheating
When you apply oil on the moving parts of the machine, there will be less friction. Less friction means there will be less heat produced as the parts move.
You have to keep in mind that metal grinding can increase the temperature between parts. Constant high temperatures can lead to overheating and potential damage to your machine.
Proper maintenance and lubrication help your machine to function at its best. This is the simplest solution to keep your machine in tip-top shape.
How Often Should A Sewing Machine Be Oiled?
The frequency of lubricating your machine depends on how often you use it. It is ideal to clean and oil your machine every after use. Although this can be tasking, here are some practical tips you can consider.
If you are using your machine every day, then oil your machine at least three times each week.
Another option is to oil your machine after 50 hours of use.
If you seldom use your sewing machine, you do not have to lubricate it often. Say you only use it once a month, then grease it up once every three months only. Over lubrication is not good either because it will cause the oil to drip on your machine.
It is also advisable to have your machine tuned up by a qualified technician every 3 to 4 years. This will keep your sewing machine in perfect running condition.
Is 3 In 1 Oil The Same As Sewing Machine Oil?
There is a specific oil or lubrication for sewing machines. These lubricants are specially formulated to ensure the smooth operation of the machine. But with a lot of mechanical and household oil on the market, you might think that any oil will work on your machine.
One popular lubrication on the market is the 3-in-1 oil. This is a common greasing agent on bicycle chains, fans, and power tools. Although some recommend this for sewing machines, you need to be cautious.
The 3-in-1 oil evaporates and leaves a sticky residue on the parts. This can be harmful to your machine in the long run. This motor oil is ideal for electric appliances or machines with ¼ horsepower or more.
Sewing machines are an investment, so use the appropriate oil as much as possible. To help you understand which oil is best for your machines, here are the 3 types of sewing machine oil.
1. Mineral Oil
This type of oil is from Vaseline-based petrochemicals. It is odorless and does not leave residue on parts. This makes it ideal for sewing machines as it leaves the parts clean after the greasing process.
2. Synthetic Oil
This type is more expensive than mineral oil. This oil works well on sewing machines since it also works on rubber and plastic surfaces.
3. Natural Oil
This oil comes from natural sources such as coconut oil, jojoba, and ester oils. Natural oil works fine on sewing machines, but the mineral and synthetic types are better.
To avoid damaging your machine over time, check the manual of the machine, and see what it recommends. You may also seek the help of an authorized technician to determine which oil is best for your machine.
How Long Does Sewing Machine Oil Last?
Most sewing machine oils can last up to five years. But if you do not store them well, you could reduce their shelf life. If you want to maximize its use and shelf life, here are some tips to consider.
Avoid storing your sewing machine oil in direct sunlight or extreme cold. This affects the amount of air moving in and out of the container. This will speed up its degeneration.
Prevent oil from condensation and contact with water. Moisture or water can promote bacterial growth in the oil.
Make sure you store the oil in undamaged containers with a tight lid or cover.
Avoid mixing different types of oils.
It is also best to store oil in transparent containers or bottles. This will let you see and determine whether the oil is still good to use. You have to take note that if there is a change in color, it means the oil is no longer good to use.
Mineral oil can last up to five years. Synthetic oil has a longer shelf life, but poor storage can spoil it fast. A lot of natural oil brands claim that they don't expire, but do not trust this claim.
Natural oil tends to oxidize. They can also evaporate.
What Can I Substitute For Sewing Machine Oil?
If you are at home and you run out of your usual synthetic oil for your machine, you may use coconut or jojoba oil. But in case you want to save by purchasing an all-in-one oil, consider the Tri-flow oil.
You may substitute your sewing machine oil with Tri-flow oil. This oil comes from petroleum products that contain suspended micro-particles of Teflon. The Teflon particles are what give non-stick cookware their smooth and slippery features.
The Tri-flow oil keeps gears moving well, even under high heat and pressure. This lubricating agent also works well on metal, wood, plastic, or rubber surfaces.
This lubricating agent is multi-use. You can use it for almost all motor and mechanical gadgets at home. It is more expensive than your regular sewing machine oil, but it does multiple jobs.
Can I Use Baby Oil On My Sewing Machine?
There are other substitutes for sewing machine oil but never use baby oil. Although baby oil is mineral oil, it has a perfume component. Using this often can damage your sewing machine parts.
You may use coconut, ester, or jojoba oils if you run out of your usual synthetic or mineral lubricants.
What Is The Best Sewing Machine Oil?
If you are keen on the kind of oil to use for your sewing machine, here are three brands to consider.
1. Singer Machine Oil
This oil is 100 percent synthetic and works well on painted and plastic surfaces. It is multi-purpose and has a strategic container. Its pout can access even the most hidden parts of your sewing machine.
It is also affordable and works well on most sewing machines, especially on Singer brands.
2. Zoom Spout Sewing Machine Oil
This is highly-refined mineral oil. It has a clear consistency and is not harmful to textiles. Aside from greasing up your machine, this oil has an anti-rust property. This makes it a great cleaning agent to the other parts of the sewing machine.
3. Liberty Oil
This oil is a 100 percent pure synthetic oil. It contains paraffin as its main ingredient. It has an anti-oxidizing property which is good for your sewing machine parts.
Can You Use WD-40 On A Sewing Machine?
By all means, do not use WD-40 on your sewing machines. The WD in WD-40 stands for water displacement, and it does not lubricate at all. This agent can cause graphite or carbon on the gears and lose its lubricating properties.
Using WD-40 can even worsen the condition of your sewing machine.
How Do You Clean A Sewing Machine With Oil?
If you plan to do the cleaning and oiling of your sewing machine, read its manual first. Make sure that you understand all the safety guidelines. If the manufacturer recommended a specific oil, use it.
The following are general rules in cleaning and oiling your sewing machine. Let's start with machines with a front-loading bobbin.
Machines With A Front-Loading Bobbin
In this type of machine, the lint accumulates under the needle plate and the feed dog. This is inside the housing and the bobbin case. To start the process, remove the bed so you can access the housing. Then, do the following steps.
You need to open the bobbin housing door. Next is to pull the spring and take out the bobbin case.
Get your lint brush and clean the inner parts. If possible, try to remove the needle plate and brush all-around the feed dog.
If you cannot remove the plate, you may brush the top and underneath parts of the feed dog.
Then, push the shuttle hook cover and take it out. Make sure to remove the shuttle hook.
Brush again the removed parts and inner parts of the bobbin case. You should include the area under the needle plate.
Once done, put all the sewing machine parts back in their respective places.
Make sure that you have removed all the lint and dust.
Then, put 1 drop of oil into the bobbin case.
Turn the handwheel forward and backward to spread the oil well.
Next is you need to load the bobbin with a thread.
Put a piece of cloth on the needle plate and make several stitches. These stitches will remove extra oil from the bobbin case.
Machines With A Top-Loading Bobbin
If your machine has a top-loading bobbin, you must remove the feed dog and the needle first. You may use a screwdriver plate to do this. Once you have removed the needle, replace it with a new one. Then, follow these steps.
Take out all the screws holding the needle plate. Remove the needle plate and the bobbin housing door.
Lift the bobbin case, then brush off the lint and dust from the inner area. Do the same with the removed parts.
Drop oil on the center of the hook race. Then, spread it with a brush.
Once you have spread the oil, put the parts back on their respective places.
Do Modern Sewing Machines Need Oiling?
All electronic sewing and computerized sewing machines do not need oiling. You may clean it but refrain from putting oil on the working parts.
This can harm the electronic parts of the machine. If you are curious about how to clean your modern machine, read its manual. Follow it to a tee to avoid errors in its functions.
More pages: 
What Is The Average Lifespan Of A Sewing Machine?
On average, a sewing machine can last for about 5 years. But many top-quality machines can last more than five years. Some quality vintage machines are still working after 40 years.
The more advanced sewing machines can now last up to 25 years.
It is a matter of how you take care of your machine. If you clean, maintain, and tune-up your machine regularly, they will last for years. Whether you use an old model or the latest one, its lifespan depends on your care.
Of course, brands are also a factor. There are sewing machine brands that produce high-quality machines. But even if you have the best brand and you are careless with your machine, it will not serve you for so long.
To enjoy and maximize your investment on your machine, use it well, and maintain it according to the recommendations of the manufacturer.
Your sewing machine is an investment. Regardless of how much you paid for it, it is the bloodline of your hobby or business. Without a good working machine, your production is down. You will not be able to complete your projects.
This is why you need to clean, oil, and tune up your machine regularly. This will give you a smooth sewing experience and efficient production. It will give you better outputs at a much faster time. This could mean more production and more profits.
Proper maintenance of your machine is important. It is crucial, especially if your business relies on it. Learning how to clean and oil your machine is easy. You can read and follow its manuals or watch tutorials online.
The tools are basic and the sewing machine oil is cheap. So, there is no reason why you will not be able to maintain your machine.