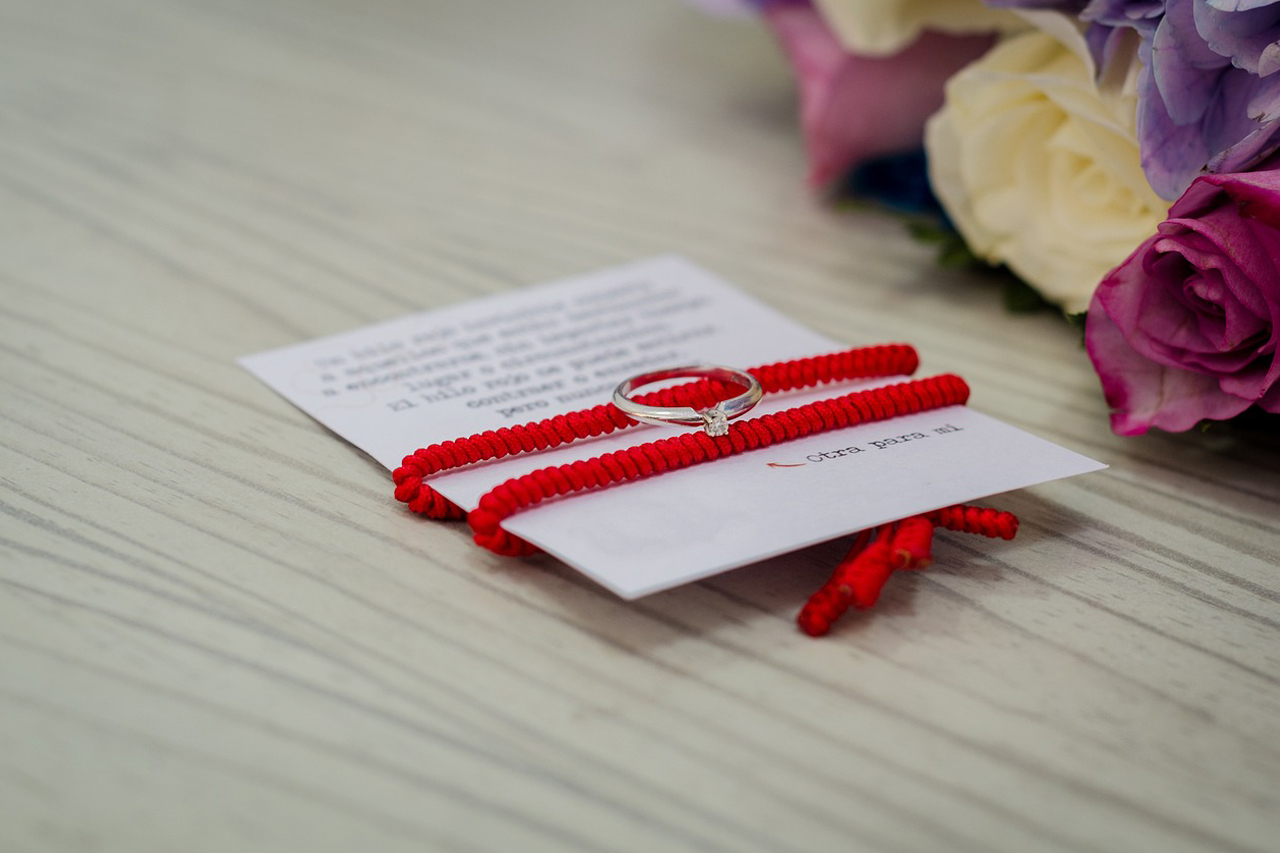 Many options are unique and fascinating that couples can both enjoy. Wedding rings are undoubtedly the most popular and eternal symbols of marriage. But many couples are finding alternatives for wedding rings as a sign of commitment.
A wedding ring is usually the first thing that tells people you are already married. It also reminds a couple of the vows they made to each other.
The simple wedding band holds so much meaning that most married people wear their wedding ring all the time, but not all people can wear or want to wear their wedding ring.
People have various reasons why they cannot always wear their wedding ring. It may not be practical to wear it at work. Some people may not be used to wearing rings or any jewelry at all.
Or you want to avoid joining the bandwagon of people wearing rings to symbolize their vows to each other.
If you are bent on going ringless, look at the other options that suit your lifestyle as a couple. Both parties should also be clear and agree to forego wearing their wedding bands every day.
You would be glad to know that there are other unique and creative options for sealing your marriage bond aside from putting a ring on it.
What can I use instead of a wedding ring?
Wedding rings are the most common and traditional way to express marriage commitment. Alternatives for wedding rings can vary from another form of jewelry, like bracelets or tree saplings.
Choose among these non-wedding ring options that best bind you and your partner.
1. Tattoos
If you are one of those couples who are not into wearing traditional wedding rings, you can have your wedding bands tattooed on your ring fingers. Having tattoos as a symbol of your union takes it a little step further because a tattoo is something you want to place permanently on your skin.
But before you decide to have your wedding bands inked on your fingers, think twice, even thrice, because the process can be painful.
With a tattoo as your wedding symbol, you can be as creative as you want. You can have your marriage bands drawn on your ring fingers instead of wedding rings. You can also choose your design and stamp it on whatever part of the body you both deem remarkable.
Using a tattoo to express your commitment can give you varied ideas than simply putting a ring on the finger. You can have a design tattooed on a particular part of your body that you and your partner can only see. Or you can flaunt your wedding tattoos where anyone can see them.
2. Matching Necklaces
Wearing a wedding ring may be too old school. Know that there are other ways to wear your commitment symbol. You can wear it on your neck instead of your ring finger.
You get to wear your wedding ring but not in the usual way. Some couples wear their wedding rings on their necklaces. Some want them on their ring fingers, and nothing is wrong with that. If you prefer not to wear the ring on your finger, you can use it as a pendant.
This couple's necklace representing eternal love or friendship. You can share it with your family, best friend, girlfriend or boyfriend
Use high-quality stainless steel, healthy materials, harmless to your body, durable, scratch-resistant. It can be used as a winter sweater necklace and is suitable for almost all clothes.
The chain is 22 inches long and the pendant is 0.79 inches long, suitable for most men and women.
Matching couple necklace is very suitable as a gift for your wife or husband, boyfriend or girlfriend. Best choice for any anniversary, birthday, wedding, graduation, Christmas, Valentine's Day, and any other holiday or special occasion.
Aftersale Service--365 day exchange or money back. We are committed to provide you with good services, all products have been inspected before packaging. If you are not satisfied with our product, please contact us by email, we will provide you a satisfactory solution in 24 hours.
3. Matching Bracelets
Another jewelry you can wear as a married couple is a pair of wedding bracelets. Bracelets are excellent alternatives to wedding rings. You can still have your name and the wedding date engraved on the bracelet to remind you of that particular day.
Wearing a bracelet is also less hassle than wearing a wedding ring if you have daily chores like cooking or baking. A wedding bracelet will not accumulate grime and dirt the same way a wedding ring can. Also, it will be easier to wear gloves or get them off if you wear a bracelet than a ring.
You can also avoid getting your wedding memento corroded if you make it a bracelet rather than a wedding ring. It will save you the hassle of wearing and removing your wedding ring if work requires you to take them off.
Instead of wedding rings, choose from these matching wedding bracelets or some Pandora jewelry to suit your lifestyle.
This Women's Jewellery Set is made of 18K White Gold Plated & Clear Cubic Zirconia. High Polished. Nickel-free, Hypoallergenic and Shiny Forever. Our Jewellery are suitable for almost all Of Sensitive Ears.
Necklace Length : 44cm. Dangle Earrings Size : 1cm * 3.7cm. Bracelet Length : Adjustable in 17 - 19cm. Lightweight and Comfortable to Wear. Perfect Jewelry Set for Women Ladies.
The Necklace Earrings Bracelet Set is perfect for Any Occasion to Wear: Party, Ball, Wedding, Anniversary, Engagement, Graduation, Events or any other Special Occasions. Suitable for Matching Evening Dress, Wedding Dress.
Hadskiss Wedding Jewellery Set comes in Jewelry Gift Box. A good Birthday / Wedding / Graduation / Mother's Day / Thanksgiving Day / Christmas / New Year / Valentines Day Gift for Yourself, Mom. Aunt, Wife, Sister, Niece, Daughter Girlfriend,Women Friends.
4. Engraved Wallet Cards
If you do not want to wear anything on you, you can exchange engraved wallet cards. Write your favorite quote or a personal message that you wish your special someone to be reminded of daily.
Engraved wallet cards are great alternatives to wedding bands, especially if you are planning a wedding on a budget. Pick out the metal ones so you will have no fear of them getting ripped or damaged, as you can bring them with you every day.
Have your love notes to each other engraved on wallet cards to remind you of your affection for each other.
Each metal card is approximately 3.5 x 2 x 0.02 inches (85mm x 55mm x 0.5mm). Perfect for any size wallet. Give your loved one a gift of love. Let them carry your love with you.
This cute engraved wallet insert is made of high quality stainless steel which looks thin but sturdy. Will not bend easily! Permanent etched engraved, will not fade or wear off.
No matter where you are, I'll always be with you. I love you!
Unique and full of meaning, is one of the best husband gifts. Perfect husband gifts, boyfriend gifts, anniversary gifts, deployment gifts, dating gifts, wedding gifts, Halloween, Thanksgiving, Valentine's Day, Christmas, wedding gifts and long-distance relationship gifts, etc.
Wallet Not Included! FAST & FREE SHIPPING via Amazon Prime! If anything wrong, please let us know! We'll do our best to help you solve them.
5. Wedding Vows
Similar to engraved wallet cards, you can give your partner a copy of your wedding vows that you can keep in your wallet. They will serve as a beautiful reminder of your promises to each other that you can easily access when you need to be prompted about that one particular day.
You can also have your wedding vows framed and displayed in your bedroom as a constant reminder of your testimonies for each other.
Satin White HER vows & Linen Grey HIS vows. Size of the Books: 5.125" x 7.25"
We've included two beautiful keepsake cards to be shared before the ceremony or the night before!
Hard cover book wrapped in a high quality grey/white linen sleeve embossed with silver leafing
Includes 19 lined sheets of durable, smudge free paper with silver edge trim
Need a little help getting started? We've included a vow library to guide you through your writers block.
6. Wallet Photos
In this digital day and age, a printed-out wallet photo can be a unique and precious alternative to wedding bands you can give to your particular person.
Print out candid happy shots of you and your partner and have them in wallet size. These can put a smile on your face whenever you need something from your wallet.
7. Planting a Tree Sapling
Planting a tree sapling is a symbolic activity that is an excellent alternative to wearing your wedding bands because it is not only economical but ecological as well. When you go this route, it is not only your marriage that you are nurturing but also the environment.
Planting as a symbol of your love should be something that you both want to do as a couple. You must agree on this particular activity and that no one is expecting a ring.
8. Wine
If you are not keen on spending a fortune on your wedding rings, you can have a unique substitute and have wine made for your special occasion.
Have a few bottles of excellent wine made in your wedding year that you can enjoy on your subsequent wedding anniversaries or special date nights. You can also choose to display a single bottle at home.
Choosing wine as a wedding ring alternative is also quite symbolic as the wine matures over time, and so is your marriage.
Like the tree sapling, this wedding ring substitute will only work if you and your partner enjoy wine as much. Otherwise, you can choose from the other options if you want to forgo wearing wedding bands.
9. Matching Pillow Cases
Now that you have decided to be in it for the long haul, you should be ready to spend your sleeping and waking hours together. In this case, matching pillowcases can be excellent wedding ring substitutes.
You can easily customize pillowcases to make them more unique and personalized. Add designs or photos that would blow your partner away.
Make it extra cozy and comfy that you want to cuddle into. No need to put your wedding photo but make sure that there is something that would remind you of each other such as a spritz of a favorite scent like lavender or any favorite scent of your partner.
Set of 2 pillowcases. Size: 20x30 inches. Pillows NOT included. Color: White. Fits most standard & queen size pillows. Envelope closure keeps the pillow from sliding out the side. Made of cotton/polyester mixed fabric.
Perfect Valentines gifts for girlfriend, wife, fiance, sister, daughter, and bride. Show your love for her with a beautiful gift she will cherish forever!
Cute girlfriend gifts and wife gifts. Perfect couples gifts for Valentine's Day, anniversary, 2nd anniversary, cotton anniversary, wedding, engagement, wedding anniversary, bridal shower, wedding registry, honeymoon, thinking of you, long distance relationships, Christmas, and just because.
Love gifts for girlfriend and wife. Feeling loved as soon as your loved ones unbox your gifts from us. High quality fabrics make our pillowcases more long lasting, less color fading and wrinkles resistant. Pillow cover is packed in a eco-friendly, gift-giving ready packaging box with signature graphics. You can also write your own love messages on the box to sweeten up your gifts for her.
Put a smile on her face! We offers couples gifts for boyfriend and girlfriend, husband and wife. Our couples gift ideas include unique couples drinking glasses, his and hers coffee mugs, adorable love pillowcases for him and her, and matching couples shirts.
10. Matching watches
For people who are not used to wearing jewelry and the first piece of jewelry they need to wear is the wedding ring, the feeling can be a little uncomfortable. A watch is still an accessory you can wear instead of a wedding band.
Customize matching watches, present them to your partner on your wedding day, and use them in place of exchanging wedding rings.
Make his and hers matching watches. These pair of watches would symbolize the time you have spent and will spend together for the rest of your life.
You can engrave your name and wedding date on the back of your matching watches to remind you of your beautiful wedding day.
High quality luxury stainless steel strap with classic gold round case,black face watch has been carefully designed to stand the test of time.
This stainless steel strap adjusts the strap length freely, we will give you an adjustment tool and instructions.
The display is clearer, the big face watch mirror is more beautiful.Date and week display window, 30ATM waterproof.
Suitable for indoor and outdoor sports such as work, running, fitness, hiking, travel, birthday gifts, anniversary, Valentine's Day, Father's Day, Mother's Day.
No need to worry about quality problems, 30 days watch quality problems free return exchange.Come with a OLVES brand box, a business and casual wristwatch.
11. Earrings
Earrings, instead of rings, can be a great substitute for your wedding bands. They are small pieces of jewelry you can wear if you do not want something that shouts out loud that you are married.
Choose the type of earrings that you would both appreciate. Select from studs, drops, or dangles.
You can choose a pair for each, or you can split one set of earrings so you will each wear one piece of the pair.
12. Poems
If you want the least expensive yet the most priceless alternative to your wedding rings, you can write poems for each other. If you and your partner have a way with words, exchanging poems is a more meaningful alternative to wearing a ring.
Again, this option will only work if you have similar tastes and likes; suppose you both appreciate the spoken or written words.
Is it OK not to wear a wedding ring?
It is perfectly OK not to wear a wedding ring. They are only practically a sign of bondage between two people who marry each other.
But in this day and age, many people are not limited by the old traditions and choose alternatives other than wedding rings.
Different types of people have various tastes and creativity, so they think of unique ideas to express their devotion to their loved ones.
For someone who is about to get married or is newly married, you are not obligated to wear your wedding ring once married.
Some people do not wear their wedding ring after their wedding day sometimes for reasons they cannot avoid. Some workplaces do not allow wearing jewelry at work. Sometimes, it is not practical to wear one at work, especially if it involves using your hands most of the time.
It may be so that you do not want rings, so do not be pressured about other people's traditions and beliefs. If they want to wear their wedding rings daily, that is their choice, and you have your own.
If you are uncomfortable expressing your commitment with a wedding ring, you can use your creativity and make something that suits your personality as a couple.
How do you show commitment without a ring?
There are many ways to show your commitment without a ring. Do something creative or think of ways to express your devotion to your special someone.
Instead of a wedding ring, you can give a unique token of your love for each other. It does not need to be as pricey as a ring, but something that your partner would appreciate.
While a wedding ring has been the tradition for commitment to marriage for the longest time, it does not mean that it is the only precious thing you can give to someone you love.
Consider not only the price but the lasting effect and meaning of something that symbolizes your commitment to your loved one.