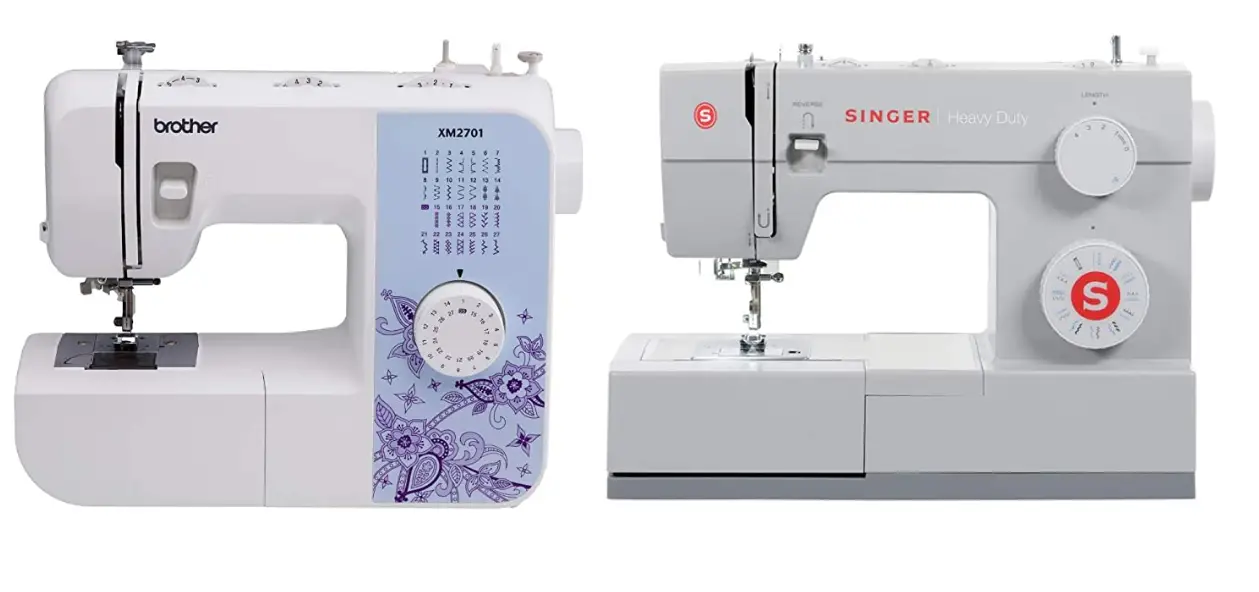 The Brother XM2701 and Singer 4423 are two of the most popular multi-functional sewing machines that you can find in the market that are beginner-friendly and will not break the bank.
The Brother XM2701 is a versatile machine that can handle your multiple everyday sewing projects. The user-friendly features are ideal for those who are just learning to sew, and its versatility is perfect for those who have advanced experiences in sewing.
The Singer 4423 is an easy-to-use heavy-duty sewing machine that is also beginner-friendly but will benefit more those looking for fast and tougher sewing machines that can handle thick and multiple layers of fabrics.
Of the two well-known branded sewing machines, the Brother XM2701 stands out and is a bestseller because of its great automated features that you can get at a surprisingly low cost.
Brother XM2701 Main Features
27 Built-in Stitches
The Brother XM2701 has 27 built-in stitches that beginners and sewing experts can use. The 27 stitch functions include basic, stretch, zigzag, blind hem, decorative and quilting stitches.
Lightweight
With its weight of 12.6 lbs., the Brother XM2701 is no wonder a favorite among beginner sewers. Its size and weight make it the perfect portable sewing machine you can carry to your sewing classes or club meetings.
6 Sewing Feet
The Brother XM2701 comes with six quick-change sewing feet that can match the variety of sewing jobs that this machine can handle. The sewing feet included in the package are zigzag, zipper, buttonhole, button, blind stitch and narrow hemmer.
Drop Feed Plate
For the Brother XM2701 sewing machine, the drop feed effect is created using a special needle plate.
Accessories
Accessories included with the Brother XM2701 sewing machine are a darning plate, a needle pack, twin needle, screwdriver, extra spool pin, three extra bobbins, a power cord, instructional DVD and the operation manual.
Singer 4423 Main Features
23 Built-in Stitches
The Singer 4423 has 23 built-in stitches, including six basic stitches, four stretch stitches, 12 decorative stitches and one buttonhole stitch. These 23 stitches are fair enough for a beginner and even for an experienced sewer looking for a variety of stitches in a sewing machine.
High-speed and Powerful Motor
The Singer brand is known for its high-speed and powerful motor that its sewing machines are equipped with. The Singer 4423 has these qualities, sewing thick fabrics such as denim a breeze. High-speed of 1100 stitches per minute allows you to finish your sewing projects in a short time.
Drop Feed for Free Motion
The Singer 4423 has a feed dog control set-up where dropping the feed dog is used for specialty sewing, such as free-motion sewing.
Accessories
The Singer 4423 sewing machine comes with four presser feet; an all-Purpose foot, zipper foot, buttonhole foot, button sewing foot. Other accessories included in the package are a seam ripper, a lint brush, a quilting guide, needles, bobbins, a screwdriver, an auxiliary spool pin, spool pin felt, and a soft-sided dust cover.
Similarities and Differences
The Brother XM2701 and Singer 4423 have similar functions that you can find in most basic sewing machines, but they also have unique features that set them apart from each other.
Similar Features
The Brother XM2701 and Singer 4423 both have an automatic needle threader that helps effortlessly thread the needle's eye, saving more time and effort in doing a basic task. The automatic needle threader reduces the risk of eye strain and frustration.
Both sewing machines have a top drop-in bobbin for easy re-threading of the machine. Also, it helps that the bobbin has a transparent cover to see the thread supply.
Both machines have a removable free arm cover that can serve as storage for small items like bobbins, needles, extra sewing feet, or a screwdriver. The free arm makes it easier to sew small parts of clothing such as cuffs, sleeves and hems.
Straightforward Stitch Dials
The Brother XM2701 and Singer 4423 both have easily accessible and clearly labeled stitch selector dials. It is a big help for beginners to have a visual guide on the machine and the stitch dial, making it easy to choose the right stitch for your sewing project.
As tried and tested brands of sewing machines, both Brother and Singer models are backed by a 25-year limited warranty.
Different Features
The leading edge of the Singer 4423 over the Brother XM2701 is the heavy-duty quality of sewing. The high-speed and motor power of the Singer 4423 makes it easier to pierce through thick fabrics like leather or multiple layers of fabrics. The Singer 4423 runs at 1100 stitches per minute, while the Brother XM2701 runs at only 800 stitches per minute.
Number of Built-in Stitches
For sewing experts looking for more varied stitches, the Brother XM2701 leads in this aspect. It has 27 built-in stitches to choose from, four more stitches than what the Singer 4423 has.
Price and availability
The Brother XM2701 is priced at around $163, while you can buy the Singer 4423 at around $180. The amazing modern features of the Brother at a very affordable price make it the more popular choice for newbies looking for an all-around sewing machine.
Both famous brands can be found online through local craft stores and distributors and most especially on Amazon.
Conclusion
The choice of what sewing machine purchase still depends on what sewing projects you are bound to make. If you want to own a sewing machine for common home sewing tasks like mending your clothes and creating simple craft projects, you may benefit more from the more attractive features that the Brother XM2701 offers. The machine is beginner-friendly and offers a bigger collection of stitches to sewing experts at a reasonable price.
But if your sewing projects deal more with thick fabrics and multiple layers of materials, the Brother XM2701 will not be able to serve your needs. The heavy-duty Singer 4423 is a better option for projects involving denim, upholstery, or leather.
Customer Reviews and Recommendations
Singer 4423
– I'd like to try my hand at leather luggage is my end goal, can't justify an industrial machine. This machine has gone through it all without an issue of any kind. I'm impressed for such an inexpensive machine that many talk bad about on the internet because it's a 'singer and they don't make their own stuff'. For us beginners wanting to do thick webbing/backpacking/ gear, I can highly recommend this Singer heavy duty.
– I'm a professional dressmaker; working for myself, I use a wide range of fabrics, from the finest silk chiffon to the heavy denim jeans that always need shortening. This machine does the lot; you just need to adjust the tension accordingly. I like it so much I've now ordered the singer heavy-duty overlocker too.
– If you are looking at buying a sewing machine for yourself or someone else, especially as a starter machine or a simple professional machine, I highly recommend skipping Singer's intro line (Simple, Basic, etc.) and moving straight to this one. It's a little more expensive, but there are always sales throughout the year (especially Black Friday currently, where it's downright affordable). A sewing machine – especially a Singer – can last for decades if taken care of; it's worth the investment to spend a little more and get a machine that works, and you won't regret this one!
– I am using this sewing machine for two months. Best sewing machine. You need to clean the cloth dust, which is settled under bobbin case for every one month for better sewing. Three extra needles and four plastic bobbins were also included.
Brother XM2701
– If you're a beginner looking to get a base knowledge of sewing and to have broad capabilities without spending a ton of money, this is DEFINITELY for you. I can't recommend it enough. With 20+ stitch patterns (including buttonholes) and a SUPER easy-to-use threading mechanism, this thing is the way to go. highly recommended.
– It fits out of the way when not in use and works just fine on a coffee table. It is much more durable than a "portable" or "mini" machine, which is great as my 13-year-old will be using it too, and has plenty of stitch options for our use. Not sure if this would be suitable for a full-time sewer or quilter, but for us DIY crafters, it is THE BOMB!!
– Took it out of the box. Set it up. Started to see, and stitch started skipping. Tried troubleshooting as per instructions. Then called the manufacturer. Was told to take for service!
– I love this machine! I took a very basic sewing class about ten years ago, and I was intimidated to try again, but this machine is so easy to use. Love the needle threader, the extra feet and the automatic bobbin drop-in feature. The stitching is nice and even. All over, it is a great machine for beginners. Only thing is it's not great for super thick Fabrics like jeans etc.
Also check: 
People Also Ask
Q: Can the Singer 4423 sew cloth diaper layers well?
A: Yes, it can sew knit, fleece, bamboo fleece, cotton, elastic, including denim and light leathers.
Q: Can the Singer 4423 sewing machine quilt?
A: The Singer model 4423 sewing machine has the capability to quilt. You would need to purchase the optional presser feet required for quilting as the Singer model 4423 sewing machine comes with only the basic presser feet: All-Purpose Foot (on the machine), Zipper Foot, Buttonhole Foot, and Button Sewing Foot.
Q: Does the Singer 4423 have plastic or metal parts?
A: It has some plastic parts. But it has a heavy-duty metal interior frame and a stainless -steel bed frame.
Q: Does the Singer 4423 have a cover or carrying case?
A: Yes, it has a little thin plastic cover. You may want to invest in a carrying case if you plan to move it often.
Q: Is the Brother XM2701 easy to use for beginners?
A: Yes, it was very easy to figure out. I was practicing stitches in no time! I highly recommend this machine for beginners.
Q: Can the Brother XM2701 sew denim material, like to fix a pair of jeans?
A: Yes, just make sure you have a jeans needle. It went through three layers of denim.
Q: Do bobbins come with the Brother XM2701 sewing machine?
A: It comes with four bobbins. One is already filled with white thread and installed in the machine, plus three extra bobbins. But you can buy more if you need more bobbins for different thread colors.
Q: Does the Brother XM2701 go bouncing all over the table? Is it heavy enough, and does it sew fast?
A: The machine does not bounce even if it is lightweight. It also sews fast and accurately.