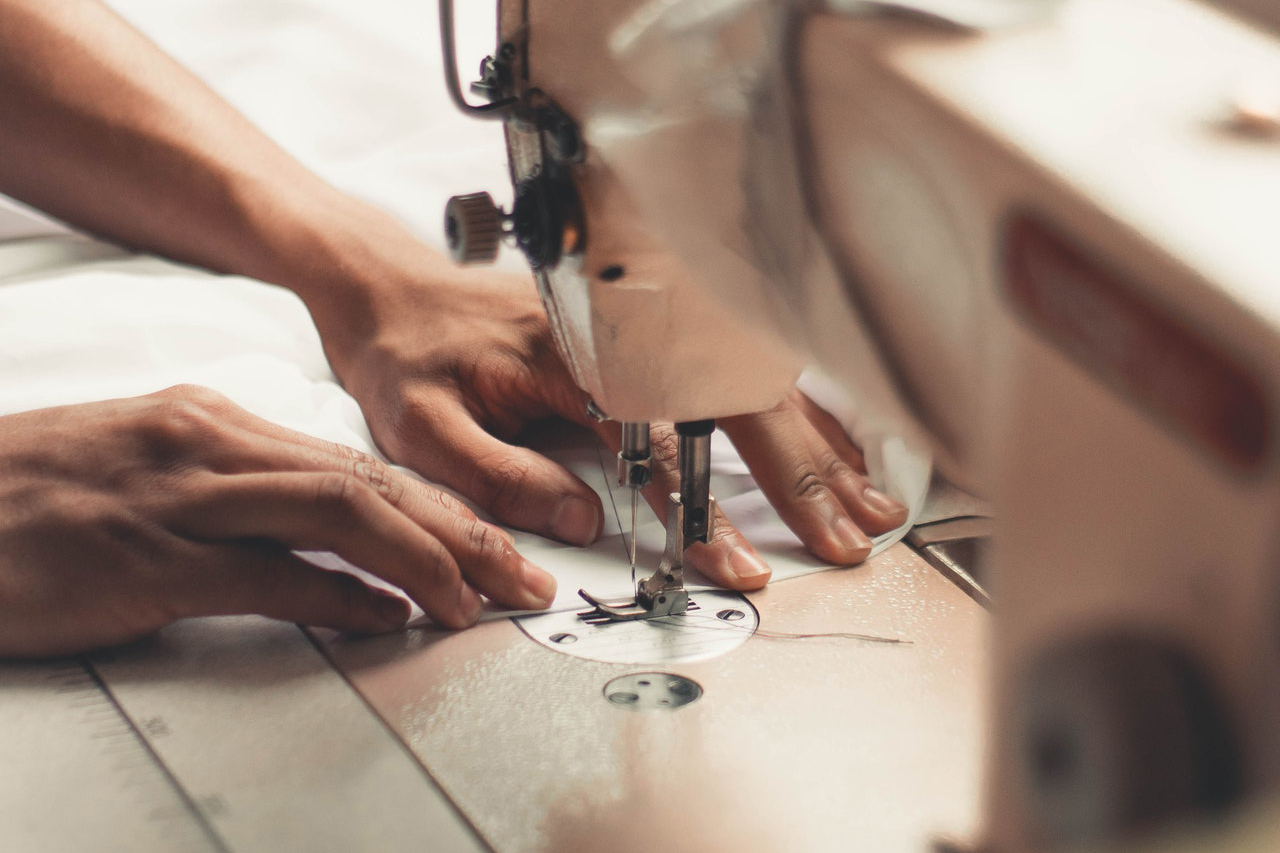 Free motion quilting involves moving the cloth under the needle to create designs on a quilt top. So, it is best to use a machine with various capabilities to quickly move the fabric and create beautiful designs and patterns in your quilt.
A device for free-motion quilting is a terrific alternative if you want to add some more flair to your quilts. A free-motion quilting foot, or darning foot, aids in keeping the cloth in position while working. Some machines even have pre-installed templates or design guides to assist you in getting started.
However, free motion quilting is not possible with all sewing machines. A machine with a zigzag stitch, which most modern machines have, is also vital for free motion quilting. So it's important to double-check before buying a machine if you want to practice free motion quilting.
The machine must also quickly move the fabric in all directions. Otherwise, the quilting would be uneven. In addition, it's pretty convenient to have a larger throat size.
If you're unsure if your Janome machine can do free motion quilting, I suggest consulting a sewing professional or seeking online free motion quilting tutorials for your specific device.
Given all this, and because I advocate investing in the best machine that your budget will allow, I came up with a list of the best domestic sewing machine for free-motion quilting. You save time, stress, and hassle by utilizing a high-quality quilting machine with the correct features.
Brother PQ1500SL

The Brother PQ1500SL sewing quilting device is my top pick for the best sewing machine for free-motion quilting. It is undoubtedly the best sewing machine for free-motion quilting, and it will make your tasks much more pleasurable and straightforward to complete.

It boasts an innovative needle threading mechanism with an automatic needle threader that makes threading the needle much more straightforward and saves time and effort. The jam-resistant drop-in top bobbin is also one less chore to deal with when working on your project!

The Brother PQ1500SL is a long-arm sewing machine with a large table that makes tremendous quilting projects simple to complete. It also has non-slip rubber feet and ruler marks to help you measure as you work on your quilting. You can fold the wide table away when you're not using it for simple storage.

This quilting machine comes with seven stitching feet, allowing you to choose the right foot for your project based on your fabric. Providing a wide range of feet is always a good idea, so you don't have to go out and buy more.

Another thing I love about the PQ1500SL is its knee lifter. Thanks to this handy feature, you won't have to take your hands from your stitching to lift the foot. Place your knee on the knee lifter, and the foot will rise on its own.

Brother also offers a precision pin feeding technology that makes feeding various fabric thicknesses simple. These characteristics will help you complete quilting jobs that a regular sewing machine can't.

Check the prices here: Brother PQ1500SL

JUKI HZL-F600

The Juki HZL-F600 computerized sewing machine is a heavy-duty, solid-built workhorse with over 200 built-in stitches and four lettering fonts.

Quilting, making professional-looking clothes, completing home decor sewing tasks, and crafting projects are all made easier with this sewing machine. It's a versatile device that can handle various tasks, and if you run a sewing business, you'll appreciate what it has to offer in terms of professional stitching.

The Juki HZL-F600 Quilt Pro Special is the computerized sewing machine you need if you desire creative freedom and various ways to finish your project in style.

It offers several features to ensure that you always obtain excellent stitch quality. Whether you're a novice or a seasoned seamstress, you'll be able to produce professional-looking clothes, home decor items, and quilting projects every time.

The touch panel of the Juki HZL-F600 lets you pick frequently used stitches and patterns. The LCD screen and navigation keys also provide access to the remaining 225 stitch and pattern options.

You can use the standard or knee lever on the back of the machine to lift the presser foot. Using the knee-lift lever, you can raise the presser foot to 12mm to suit your project's extra thick layers.

The sensor mechanism on the Juki HZL-F600 allows for creating 16 different sorts of buttonholes. It also contains an automatic threader to make threading your needle a breeze and an auto thread trimmer for when you need it. You can easily activate the trimmer using a button or the heel area of the foot controller.

Thanks to the LED lighting system with two brilliant lights, you can see every tiny detail of your machine and the project you're sewing. With the Juki HZL-F600, you will receive 29 accessories, including a durable cover to preserve your device and a broad extension table for larger jobs.

Check the prices here: Juki HZL-F600

Brother PQ1500SL

Quilters that are serious about their craft require a serious quilting machine. So, I recommend the Brother PQ1500SL quilting machine. It is ideal for professional-quality quilts, with a 1,500-stitch stitching speed, wide extension table, and automatic needle positioner.

Unless you have a $1,000+ budget, I think the Brother PQ1500SL is hard to beat when it comes to quilting machines. The beautiful thing about this machine is that you can use it for quilting and regular sewing chores, although it has a limited stitch selection.

The PQ1500SL is lightning quick, with a maximum stitching speed of 1,500 stitches per minute, which you can control by a foot pedal, like a traditional sewing machine. You can move as swiftly or slowly as you choose. The swift sewing speed lets you complete projects quickly or proceed carefully to execute designs properly.

With an automatic needle threader, thread trimmers, and needle positioner, the PQ1500SL makes machine quilting easier. All these functions work together to save you time, which you would rather spend sewing the quilt than setting up the machine.

I believe any quilter will appreciate this machine's knee lever. This built-in feature allows you to lift and lower the presser foot without using your hands, so you can concentrate on repositioning or removing your fabric.

The integrated extension table, which measures 12″ x 18″, is also an excellent addition, as is the built-in knee lever. The multiple tables provide additional workspace, allowing you to finish projects without constantly repositioning the fabric.

The feed dog's height adjustment option is a must-have if you appreciate free motion quilting. There are four different heights to choose from to fit almost any job.

A pin feed system is also included, allowing you to replace the feed dogs with a pin that extends neatly from underneath the machine. With this pin, you can easily slide your quilt layers together or deal with challenging materials like velvet without leaving feed dog markings.

Machine quilters who want to take their work to the next level will love the Brother PQ1500SL. This machine will have you finishing projects in no time because of its simple automatic features, built-in knee lever, and lightning-quick sewing pace.

Check the prices here: Brother PQ1500SL

SINGER 7258

The Singer 7258 sewing machine is an award-winning device with over 100 stitch possibilities, is computerized, and even includes an instructional DVD to help you get started quickly. It is the ideal machine for users of all skill levels, with ten different presser feet, a metal frame, and a range of stitch possibilities.

This model includes a wide range of stitches. With 100 stitch possibilities, you can choose from a wide range of crafts projects, including sewing garments, quilting, and decorative stitches in sewing crafts.

The LED display makes selecting stitches simple. It is a primary, non-colored display that is relatively easy to operate. This model appeals to me since all the stitches are on a diagram on the right side. The LED control directly above it is where you'll choose your stitches.

You'll also be glad to learn that the buttonholes are automatic and that you can choose seven distinct alternatives. Every time, the Singer 7258 produces perfectly sized buttonholes.

A button on the machine's left lets you program the needle position. Press the button and release your foot from the pedal to turn the fabric.

The needle will land in a downward position. It allows you to rotate your pattern while keeping it in place, ensuring that your stitches are always precisely matched. It is a more advanced feature that comes in helpful for quilting and other creative applications.

These are minor details that make a significant difference when sewing. I was also surprised to learn that you may use this function without using the foot pedal. There are speed options on the front of the machine that enables automatic sewing without using a pedal.

You still control how fast the needle moves across the pattern, but you don't have to use your foot. You can also change the stitch speed in the middle of a stitch by dragging the slider to the left or right. In addition, a handy LED light lights your desk, letting you see what you're working on without difficulty.

Check the prices here: Singer 7258

Janome MC6650

An extension table and a quilt kit are included with the Janome MC6650 computerized quilting sewing machine. It is a sewing machine you'll enjoy using for years, with hundreds of built-in stitches, an easy-to-use LCD control panel, and a slew of accessories.

Quilting machines from Janome are known for their high-quality construction, and this one is no exception. The Janome Memory Craft 6650 quilting sewing machine has 170 built-in stitches and six buttonholes to help you complete any sewing job.

Sewing is a breeze with the user-friendly control panel, which includes an LCD screen. There's also an automatic needle threader to take the pressure off your eyes. Pull the needle threader down, insert the thread into the hook, and pull back.

It's simple to change bobbins with the jam-proof top-loading bobbin system. Follow the track, and the machine automatically raises the bobbin thread.

There are also several useful function buttons on the control panel. There's a button that cuts both the top and bottom threads automatically. The reverse stitch button will help reinforce your stitching, and the lock stitch button will complete the stitch.

The MC6650's extension table and quilt kit make it an excellent alternative for professional free-motion quilters who also desire a machine that can handle everyday sewing chores.

Check the prices here: Janome MC6650

Brother HC1850
Because of its versatility, the Brother HC1850 sewing machine is one of my favorites. It offers over a hundred built-in stitches, a variety of buttonholes, and alphanumeric stitches. It's not only a sewing and quilting machine.
Automatic needle threading, a rapid set, a top drop-in bobbin, and an automatic drop feed are among the many beginner-friendly features of this computerized machine.
While the Brother HC1850 computerized sewing and quilting machine is more advanced than other sewing machines, it offers more options for more experienced sewers. It is, however, so simple to use that reading the user handbook and viewing the training DVD can educate even a beginner on how to use this feature-rich device.
You can sew and quilt with various alternatives, thanks to the 130 built-in stitches. There are eight varieties of automatic one-step buttonhole stitching among these stitches. Quilting, decorative sewing, heritage sewing, and garment fabrication are all possible with the 170 stitch functions.
You may change eight quick-change presser feet by pressing a lever in seconds. The presser foot is labeled with letters to assist you in identifying which is whose.
The LCD will show a letter corresponding to the correct presser foot when selecting a stitch on the machine. With the letter facing you, place the presser foot. In addition to an automatic drop feed, the HC1850 has an automatic needle threader and automatic bobbin winding mechanism.
Quilting is also simplified because of the built-in spring action quilting foot, allowing free-motion quilting. A 1/4′′ piecing foot and a walking foot, as previously stated, are not included. If you wish to add these extra feet to your collection, they shouldn't be too expensive.
Check the prices here: Brother HC1850
Best Domestic Sewing Machine for Free-Motion Quilting: Can you free-motion quilt without a special foot?
You can complete your free-motion quilting projects without a special or darning foot! You can move the fabric in all directions during free-motion quilting and control the stitch speed with your hands.
However, it would be best to consider if it is wise. I think you should try it if it works for your machine and quilting technique, but be aware that it is hazardous.
You're much more likely to get a finger caught in the needle if you don't have a foot. Simply put, you won't be able to notice the danger zone as clearly, which could result in a painful puncture. In addition, a darning foot can provide you stability and guidance when quilting on a small scale.
So, if you're unsure about this strategy, I wouldn't advocate it. A hoop, on the other hand, would be helpful. Select the larger one and move both around as you free motion quilt. It will take some practice because it is different from merely moving the quilt with your palm.
It is best to take note of specific issues when you try free-motion quilting without a unique foot. For example, there's more tendency that your quilt sandwich will sag.
In addition, tension is more difficult to control because of the tension fluctuations as the fabric moves up and down. The thread will break if the pressure is too high at some point.
If you're looking for a new darning foot, it is best to go for one with an open toe and an offset shank. If at all possible, one that is specifically for your machine.
Check the prices here: Darning Foot