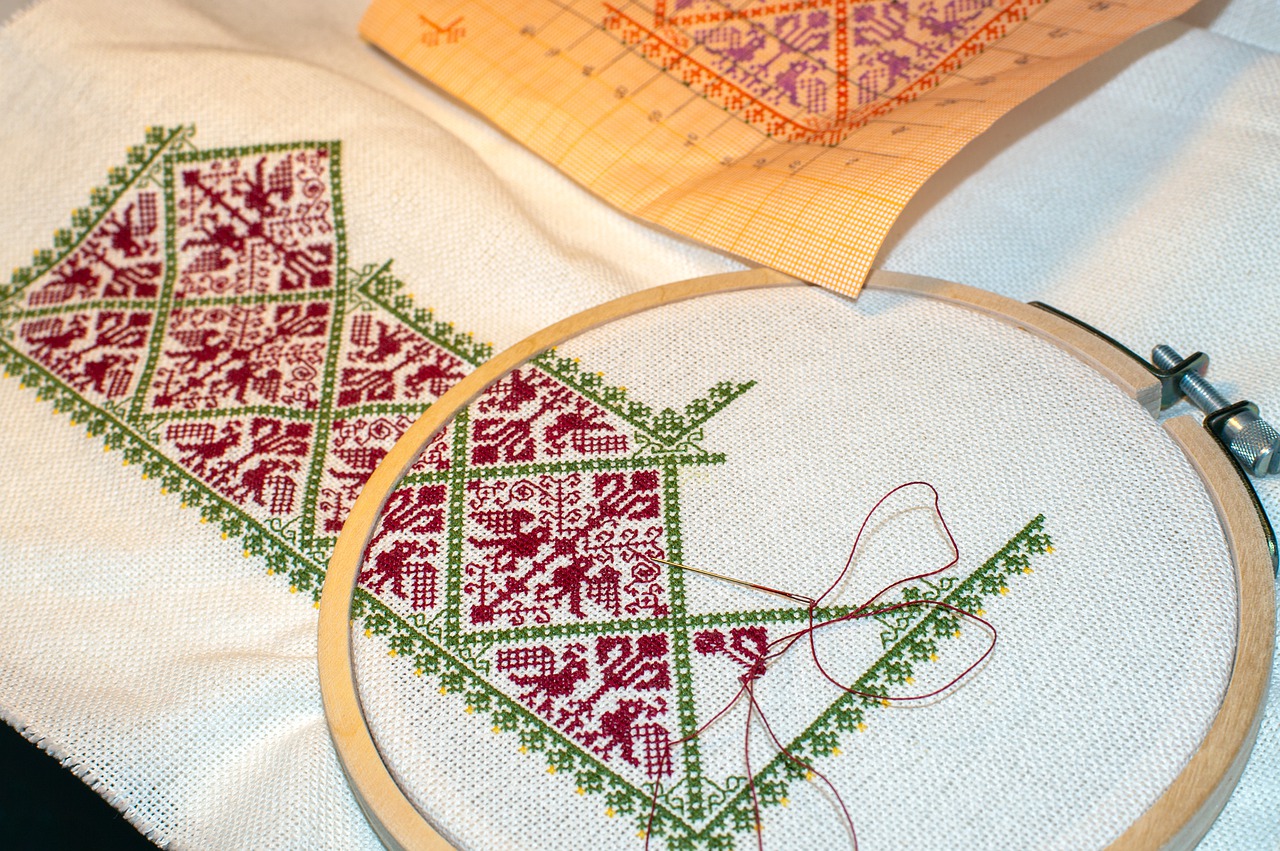 If you are an avid cross stitcher, you might have experienced mistakes in your cross stitch works. Do not fret if it happens again. As we all know, there is always a way to fix things, even the misplaced stitches on your cross stitch piece.
How do you fix cross stitch mistakes?
As with any craft or hobby you take part in, something might wrong as you go along with your cross-stitch project. But as with anything that you can mess up, there will always be a way (or even more) to fix it. With cross stitch, it depends on how far away from the wrong stitches you are working on.
If you are a few stitches away from your mistake, you can still undo the stitches. But if you are far from it, there are a few remedies to correct your wrong stitches.
Read on for some ideas that may work for you if you ever make mistakes on your cross stitch.
Undo the last few stitches.

The best way possible to fix cross stitch mistakes is to undo the last few stitches. It would be best to choose this method if you still haven't gone far with your project. It would be a bit harder to undo the last few stitches if many different colors have already overlapped.

Use a blunt needle to undo the wrong stitches. A pointy needle may split the threads making it more difficult to remove the wrong stitches.

Start by slipping your blunt needle under the last stitch. Loosen the stitch by lifting the needle a little. Then, lift the stitch below to loosen the stitch. Finally, lift the thread all the way through to undo the stitch. Lift the wrong stitches one by one so you will not affect the other stitches.

Snip out the wrong stitches.

You may have discovered some wrong stitches that you made far too late into your work. If they are too far from the current stitches you are making; you can snip the mistake. Then, stitch the right thread color.

It would be best to use tiny, sharp scissors or a thin seam reaper to do the job. Make sure that you will not snip the right stitches close by.

Snip at the wrong stitches in the front of your fabric, then pull the cut threads through the back. Then cross them over with the right color of thread to hold them better.

Make sure that your stitches are still secured at the back. Some cross stitchers suggest dabbing a bit of clear nail polish at the little thread edges at the back. Doing so can help prevent the unraveling of your work.

Stitch the right color over the wrong color.

What if you realized you made a mistake, but you have been working on your stitches for quite a long time? Check if you can stitch the right color over the wrong color. This remedy will only work if the threads are almost the same colors.

Similarly, it will work if the wrong thread used has the same color as your fabric. If you stitched one or two stitches wrong, it would be barely noticeable.

Leave in the mistake and work around it.
Sometimes, the effort of undoing the stitches is not worth it, and it would be best to let it be. For example, your mistake is in a foliage area where you use different shades of green. You can choose not to unpick the wrong stitches. See if you can redesign the area to look right even if you misplaced some stitches.
A good suggestion is to leave a gap next to the wrong stitches. Then, continue to stitch in an area where your counting is still correct. Fill in the gaps near the wrong stitches to complete the design. Make sure it would look nearest to the original pattern.
Nobody would check each stitch you placed on the fabric against the stitches on the chart.
How do you avoid cross stitch mistakes?
Making mistakes on your cross stitch work should not prevent you from continuing your hobby. Maybe you do not like the idea of having to undo your cross stitches. Keep in mind that there are things you can do to prevent mistakes from happening.
Concentrate on counting your stitches.
Counted cross stitch is one of the easiest embroidery forms. The needlecraft provides a printed pattern you can follow. Your role is to count your stitches and make sure that you stitch them in their proper places.
Cross stitching is a relaxing and enjoyable hobby. But it also requires your attention, especially when working on more complicated parts. Some cross stitch patterns have large areas that you need to fill with almost similar colors.
If you reach these challenging parts, it would be best to turn off the tv and focus on counting your stitches first.
Use a highlighter to mark off stitches on your pattern chart.
Working on a complicated cross stitch pattern chart is prone to making mistakes. It is also hard to count stitches in areas where you need to use many shades of the same color. You can use a highlighter to mark off stitches on your pattern chart as you go along.
The good thing about marking your pattern is that you know where to go back every time you need to put your work down. Highlighting your finished stitches is a good technique to help you avoid mistakes.
Put grids on your fabric.
Before starting with your stitches, you can put grids on your Aida fabric. The grids would look like the ones drawn on the cross stitch pattern chart. You can draw 10×10 squares with erasable ink. The grids would serve as your guide and make it easier for you to count stitches.
Putting grids on your fabric can make your cross stitching simpler. It can make your work less complicated, especially if you are doing a full coverage piece.
Use stamped cross stitch kits.
Another way of doing cross stitch embroidery is by using a stamped cross stitch. Your pattern chart is already printed on the fabric. Cross stitching in this manner can prevent miscounting. You will not need the same amount of concentration as you would on the counted cross stitch. Stamped cross stitch can also create beautiful projects like traditional cross stitch patterns.
How do you unpick cross stitch?
So, you made a mistake. Maybe you placed a stitch in the wrong place, stitched the wrong color, or you stitched more than you should have. Beyond the frustration, what can you do? One way of correcting your cross stitch mistakes is to unpick them.
To unpick your cross stitch, you can use the blunt part of an unthreaded needle. Gently pull one arm of the cross stitches, one at a time to loosen the thread and pull it from the fabric.
You can use different tools to unpick your stitches. The best one to use is the cross stitch needle against a seam reaper or a pointy pair of scissors. If you still want to use the thread after unpicking, it would be best to use the blunt part of your needle first. If you use the pointy part, you might break the threads as you unpick your stitches.
As much as possible, unpick stitches using the needle. Use the pointy pair of scissors or the seam reaper only when hard to unpick with the needle.
As you go unpicking stitches, you must recall your method of stitching. Each stitcher has a different way that is most comfortable for them to stitch. Some stitchers create the stitches by completing an X before moving on to the next cross stitch. Others stitch the bottom arm of the cross stitches first, then go back along the row to stitch the top arms.
You can also choose to make a full cross stitch first before moving on to the next. You have to unpick the top arm first and then the bottom arm. You can also decide to stitch all bottom parts first before crossing them off with the top part. To unpick, remove all the top parts first before you can undo the bottom parts.
Unpicking stitches is useful to correct a mistake that is close to the stitches you are working on. Stitchers who want to drop a cross stitch project can remove all the stitches by unpicking. By unpicking stitches, you can still reuse the fabric and the threads. But make sure that they did not break or get snipped during the unpicking of stitches.
What does frogging mean in cross stitch?
Frogging is the word used when you need to cut or rip out some of your cross stitches when you make mistakes. It came from the sound that frogs make "ribbit," which sounds like "rip it, rip it." It should be the next best thing to do once you misplaced several stitches.
So, now you know that frogging has nothing to do with the tiny green animal if you come across the frogging term. But know that it has a lot to do with solving the mistakes you made on your cross stitches.
You may also want to know a common belief that people were stitching who make mistakes scream frog, thus the term. Instead of a more popular expletive, they would shout FROG.
Frogging is a term also used by other needle crafts like embroidery, knitting and crochet. It only means the same thing; to rip or unravel your wrong stitches and replace them with the right ones. Frogging is something that you would want to avoid.
Frogging is a big no-no, especially when you are almost done with your craftwork.
Similar pages:
How do I make my back of cross stitch neat?
The front of your cross stitch is what's more important, as well as the enjoyment you get from this hobby. You can make the back of your cross stitch neat, but most times, it is not necessary. Some complicated patterns can also make it more impossible to make the backs neat. It is up to you whether you would exert the effort to achieve a cleaner look at the back of your design.
But there would be times when you would want your cross stitch backs to be neat. Below is a list of those situations that you might need to.
If you do not want lumpy knots at the back of your project, it will make the front look lumpy after you have it framed.
Suppose you enter your work in a competition. There is a possibility that judges will also view the back part of your work.
If you do not end and restart your thread when you travel far between stitches, you will use up more thread. Also, there will be several webs of thread that can make the back of your work look bulky and messy.
Suppose you use dark floss colors on fine and delicate fabric. You would not want to carry your floss too far across open areas at the back. The dark threads will be visible from the front and will not look good on your cross-stitch work.
If you do not frame your cross stitch piece, you can easily see the backside. It would be best to keep the back of your work neat if you are making your cross stitch banner. Nothing will cover the back, unlike when you have it in a hoop or frame.
There are ways you can make the backs of your cross stitch neat. But it is not possible for all patterns. Some will have messy backs like patterns full of different colors. When your skill in cross stitch improves, you will work out a cleaner and more organized back.
Some stitchers make an effort to make the backs look as neat as possible. In contrast, others do not worry so much about the state of their cross stitch backs. Whatever you decide to do with the back of your cross stitch is neither wrong nor right. What is more important is that you enjoyed the process of creating and finishing your needle art.