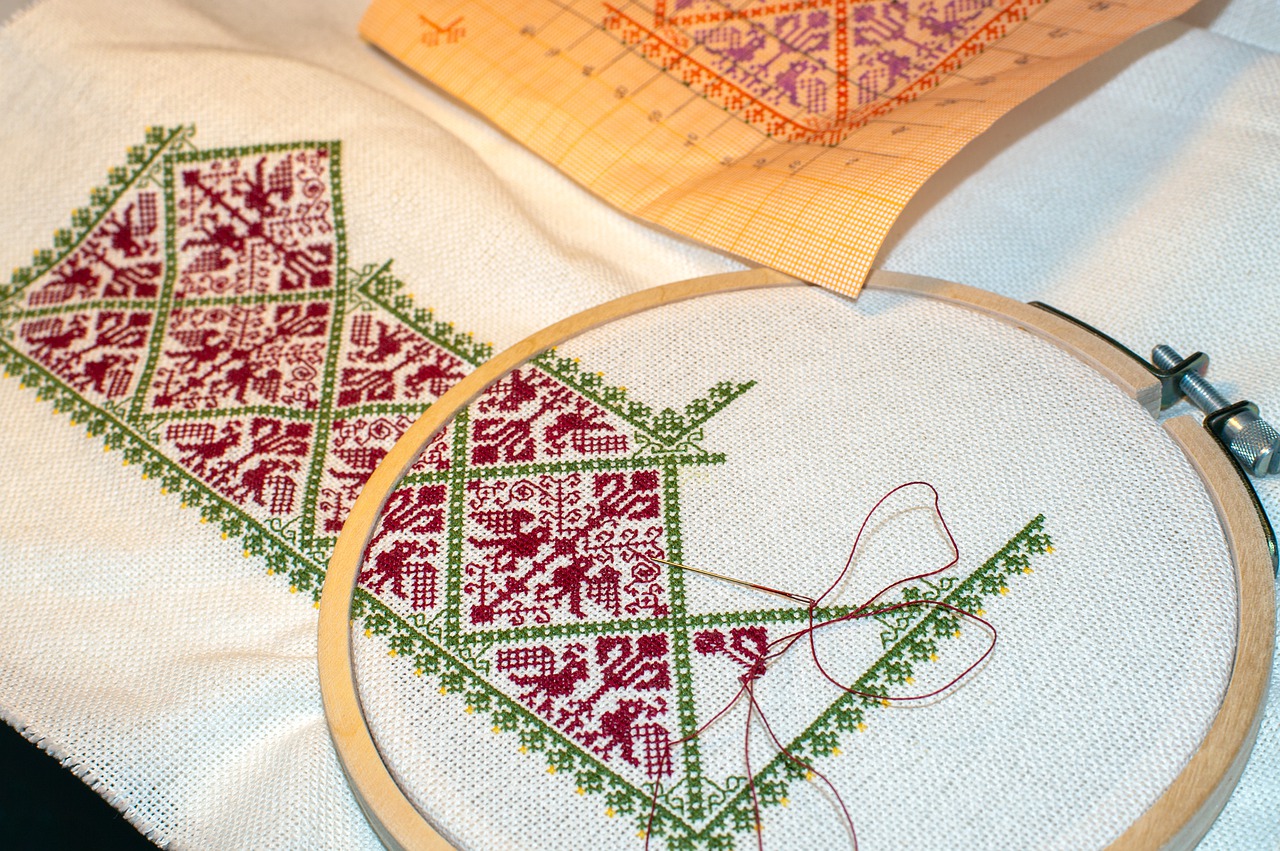 Like in knitting, you can choose to create different looks and make your designs more complex or straightforward. Cross-stitch and knitting are on a similar level of difficulty, but it depends mainly on your designs and techniques.
Cross-stitch is relatively easy to learn. Many knitters say that it is one of the easiest forms of embroidery. It is pretty simple and relaxing once you get used to it.
You can get cross-stitch kits with multiple colors and printed designs on the fabric and work on it. But there are others with mixed threads and more complex pattern charts that you need to follow. These patterns do not have printed designs, making them more challenging.
It is also common to make mistakes with cross-stitch. It is best to develop a level of skill to complete cross-stitch patterns beautifully and professionally. You can practice techniques to make your designs look tidy and have even stitches.
You should also note that cross-stitch pieces need patience and practice. It would help if you prepare your Aida fabric, navigate its center, and learn how to start and finish stitches.
But, like cross-stitch, knitting is also reasonably easy to learn. You can start with basic stitches and eventually learn to master them. Like in other crafts, it is also best if you practice a lot and be patient.
Is cross-stitch and embroidery the same thing?
Embroidery is the craft of using needles and thread to decorate fabrics. But, cross-stitch is a form of embroidery that uses mainly "x" stitches. So, no, cross-stitch and embroidery are not the same.
An embroidery is a decorative form of needlework that uses various stitches and embellishments. Besides cross stitch, there are other embroidery forms, including patchwork and candle-wicking embroidery.
Embroidery involves decorating fabrics. But as I mentioned, cross-stitch is only a form of embroidery that uses "x" stitches to create designs. So it is the key difference between the two.
Another difference between cross-stitch and embroidery lies in the type of fabrics you use for each craft. You generally use woven fabric for cross-stitch. But you can use a wide variety of materials for embroidery.
Is cross stitch easier than embroidery?
Embroidery allows you to be more flexible and creative than cross-stitch. There is a broader range of materials, stitches, and techniques you can use. It is why embroidery is usually easier than cross-stitch.
Cross-stitch is more controlled and less fluid, making it a bit more challenging. Although there are many various designs to follow, they can limit your creativity. It is also best to work on a specific fabric using specific stitches.
Is cross-stitch and needlepoint the same thing?
Needlepoint is a type of canvas work, one of counted thread embroidery's forms. It has a wide variety of stitches, unlike the single stitch in cross-stitch. So, no, cross-stitch and needlepoint are not the same.
Its main difference with cross-stitch is the type of stitch it uses. As I mentioned, you can use various stitches in needlework. But, the stitch you use will depend on the coverage you wish for your project and how durable it needs to be.
The traditional needlepoint stitch, known as a tent, uses stitches on the diagonal from bottom left to top right. As you learn more stitches, you will see that the most common needlepoint stitches came from this concept.
Another difference is the thread each embroidery form uses. Cross-stitch mainly uses DMC cotton embroidery flosses, which you can buy at any craft store. But, like the stitches, you can use a variety of threads for needlepoint.
Is cross stitch easier than needlepoint?
Like embroidery, needlepoint is not too specific with its stitches. You do not have to make the "x" stitches, which is usually quicker. It is why needlepoint can be far easier than cross-stitch.
Other aspects also make needlepoint much easier than cross-stitch. It helps that you do not need to count your stitches in needlepoint. Not having to count stitches allows you to focus more on your movements instead of getting distracted by counting.
How to make cross stitch easier?
Cross-stitch is relatively easy even for beginners. But, as I mentioned, it may not be as easy for others. You can follow these tips to make cross-stitch easier and more enjoyable!
1. Snip your threads.
Cross-stitch kits usually come with floss skeins. And the usual length of thread measures from your fingertips to your elbow. It will help if you snip the loops at the bottom of your skein to get shorter strands.
After snipping, you will get twenty-four shorts strands of floss. Cutting your threads shorter will help you prevent tangling at the back of your fabric. But, note that some people do not like short strands because of their length. It is best to find what works best for you.
2. Avoid pulling your needles too tight.
Beginners usually make the common mistake of pulling their needles too tight. Pulling your needle too tightly can flatten your stitches and ruin the fabric underneath. It is best to avoid doing so if you want a professional-looking result.
3. Snip loose threads.
It is best to snip loose threads at the back as you stitch along. Doing so will help you prevent them from getting caught in your new stitches.
5. Use natural light.
It will also help if you stitch your designs in natural light if you can. It is much easier to see your stitches and puts less strain on your eyes. Avoid stitching during the night unless you have high-quality lighting.
6. Iron your finished piece.
Ironing your finished piece is an excellent idea to make it look neat. But, it is best if you place a towel on your ironing board and put your fabric right side down. By doing so, you will see that ironing the back of your material will stop your stitches from going flat.
7. Wash your hands.
Few people know it, but your hands have oils and dirt that can leave stains on your fabric. Washing your hands before stitching will help you reduce the stains and oils that can ruin your fabric.
8. Untwist your needle.
Twisted needles are inevitable in stitching, and they may result in stitches that do not look neat. But, you can drop your needle now and then between your stitches to untwist it. You can also undo twisted stitches by threading back your needle and pulling it out.
9. Remove your hoop.
If you are using a hoop, it is best to remove your fabric from time to time. Doing so will help you reduce the creases from your hoop.
More pages: 
How to cross stitch faster?
Learning how to cross stitch faster can also make things easier for you. Besides using different techniques, you can also follow some general tips. Follow this guide on how to cross-stitch faster:
1. Use the right needle.
Using the correct needle is essential if you want to cross stitch faster. Remember that your needle is the right size for the fabric and has a blunt tip. You can also use gold-plated needles and smaller needles so that they could slide through better.
2. Use the right frame.
Unless you are using the in-hand technique, it is best if your frame is always as taught as possible. It should also be appropriate with the fabric size so you can work on your piece correctly.
3. Choose the best fabric.
There are different fabric types that you can use for cross-stitch, and some are easier to stitch on compared to others. It is always best to use an Aida fabric if you want to cross stitch faster. You can also try using a larger count fabric for faster stitching.
4. Pre-thread your needles.
One sure way to cross stitch faster is to pre-thread many needles. Doing so can help you save more time than you realize and makes use of all your needles.
5. Stitch with one color as long as possible.
When you pre-thread your needles, it is easier to stick with the same color for as long as possible. It will help you prevent awkward thread changes and give you many references for where to stitch next.
6. Use the correct thread length.
Many beginners believe that the longer your thread is, the less needle preparation you need. But, only a few people realize that the longer your yarn is, the more tangles you can have. So, it is better to snip your threads shorter to prevent twists and knots.
7. Organize your materials.
Although it can be a bit tedious, organizing your materials can save you so much time. For example, you can take your skeins off and onto thread cards to make them easier to grab.
8. Use Different Techniques:
Although there are general tips to help you cross stitch faster, you can also use other techniques. Use these simple techniques to help you increase your speed and finish your pieces quicker.
When using the Danish technique, you will lay down a line of stitches in one direction. Then, you go back in the other direction. You will see that doing this method makes things much faster.
It is best to get a hands-free frame if you wish to use the Two-Hand technique. Instead of flipping your frame over to find the needle, you will grab the needle with your other hand. Once you get the needle, you will push it back up through the fabric.
It makes things faster because you no longer have to spend time looking for your needle. You do not have to put your needle far to straighten the thread or take your eyes off the holes.
The In-Hand technique, also known as the sewing method, is a technique where you pucker the fabric. By doing so, you will see that you are placing an in and out hole in one go.
Use a Double-Sided Needle
Using a double-sided needle is another sure way to cross-stitch faster. It is a standard needle that you do not need to swing around, saving you much more time.