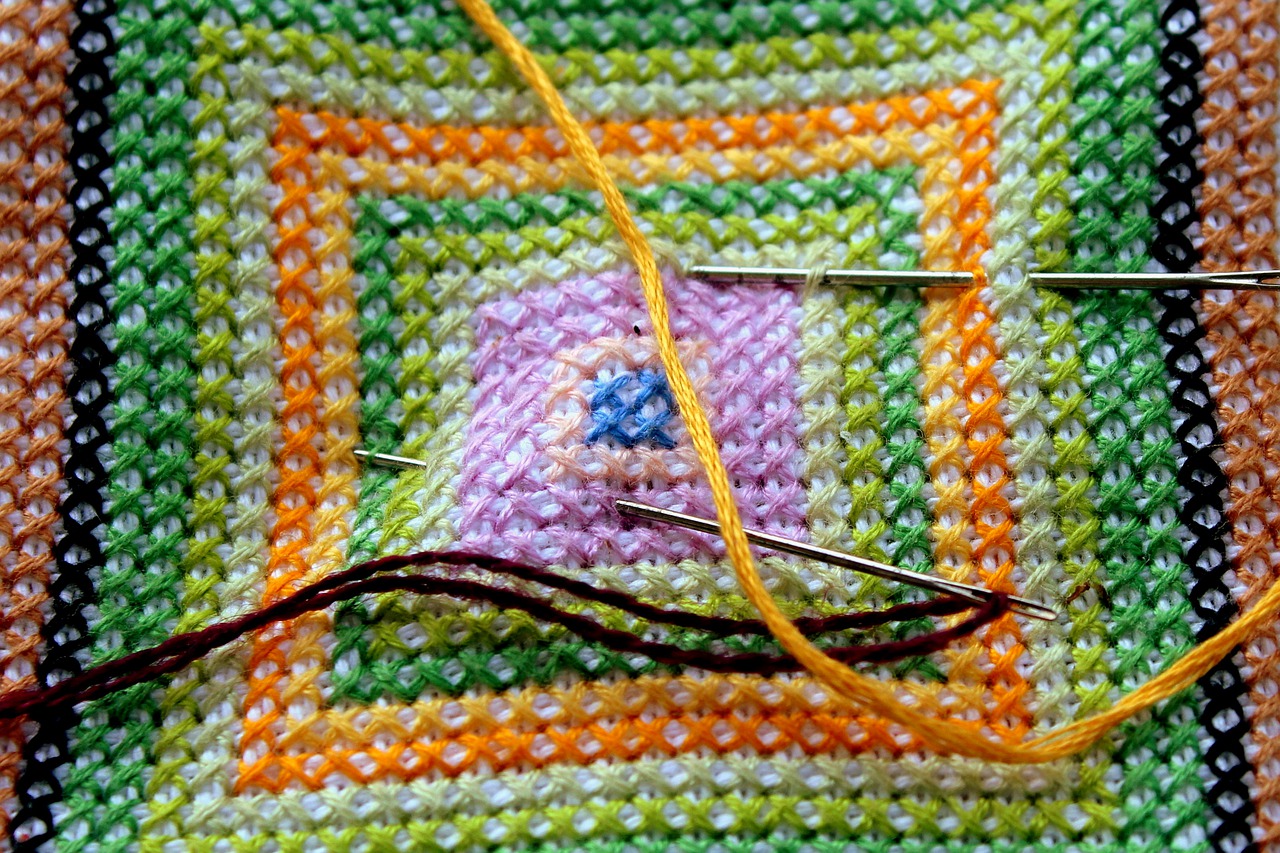 Cross stitching is one type of needlework that can get you hooked. The act of stitching is very relaxing but choosing from varied cross stitch patterns is most exciting. Often, stitchers forget about finished projects because of the excitement of moving on to the next pattern or design. Without knowing it, you have cross stitched a lot.
If you are one of those who have old cross stitch projects sitting in your drawers, it is time to bring them out and make use of them. You may have reasons why you cannot frame your work just yet. It is all good because there are many things you can do with your finished cross stitch projects aside from occupying your walls. Here are a few ideas you can try with your old cross stitch projects.
1. Cushion cover
If you lack wall space in your home to hang your completed cross stitches, you can showcase your finished needlework on your living room pillows. Cross stitch pieces can make great cushion covers. Aida fabric used in cross stitches is sturdy and a bit rough compared to your typical pillow covers. But using your completed cross stitches as designs for your cushion covers makes them unique and personal.
2. Make quilted blankets
After completing a cross stitch project, the excitement dies down a bit because you will wonder what you will do with your completed project. If you have more than one old, finished cross stitch projects lying around, do not let your time and resources creating these handiworks go to waste.
Gather them and make them into quilted blankets. You can make a patchwork of your old, finished cross stitch projects. You can use cross stitch instead of t-shirt designs as patches on your quilt. You can hang your cross stitch quilts on the wall, use them as a bed cover or a lap blanket.
3. Make coasters
If your old, finished projects are small, you can make them into pretty coasters. It does not matter if your coasters do not look alike. The varied designs of your tiny cross stitch pieces will make your coasters unique. Order the transparent coasters online so you will have something to protect your cross stitched coasters.
If your old, finished cross stitch projects are big, you can convert them into tablecloths or table runners for your living room. You will make your sleeping needlework in the drawer come to life and always in your sight.
4. Design on clothing
Wall space may not be enough in your home to hang your finished pieces. But there is another ingenious way you can display your completed cross stitch projects outside your home. Incorporate them into your clothing. You can make your shirt design look more exciting and more personal. Sew your completed cross stitch pieces as shirt pockets or shirt designs.
5. Make a pencil case
Do you want to bring your finished cross stitch around? Take them out of your storage area and make them into something useful. Your handiwork will not end up in your closets or drawers but your carry-on bags and get noticed by people around you.
You can turn completed cross stitches into pencil cases or make-up kits. You can use a small or large finished cross stitch, depending on what you want to use it for. The benefit of using your old, finished cross stitch is having a one-of-a-kind design for your pencil case.
6. Greeting Card Design
Small finished cross stitch pieces can be made into greeting cards. Frame these small cross stitch designs in cardboard and put some trimmings like a ribbon or tiny clay figures.
Arrange your small completed cross stitch projects in a binder and frame each one on colorful cardboard to create a scrapbook of your works. Small cross stitch pieces are fun projects to make and would make easy and quick gifts to friends and family.
It is impossible to run out of ideas on what you can do with your old cross stitch projects. Look around for things you want to see your cross stitch designs on, and you will make even the most mundane items in your home unique.
What can cross stitch be used for?
Cross stitch was typically used as a decoration on tablecloths, doilies, or household linen. Through time, the purpose of cross stitch has developed, and so did its appearance.
Designs vary from traditional to modern images that depict current trends. Cross stitch has also evolved from a hobby known only to the older generation to something that piques the young's interest.
Cross stitch has become appealing to people of all ages, and you can find varied and unique patterns that would get the interest of each one. Some even cross-stitch on perforated paper for easier projects.
If you are one of those who cannot resist buying a pattern that catches your eye, then prepare to bury yourself in cross stitch pieces. This craft can get quite addicting.
When you have a bunch of finished cross stitches piling up, know that there are a lot more things that you can do with them than framing or storing. Below are some of the ideas that experienced stitchers do with their completed cross stitch pieces.
Accessories – pendants, bracelets, rings, key holders, handbag design, shirt design, towel design
Useful kitchen items – coasters, fridge magnets, doilies, bottle cap covers
Living Room pieces – throw pillow covers, table runners, tablecloths, small blankets/quilts, lampshade covers, potpourri bags.
Bookmarks and book cover
Sewing Items – needle minders, fabric button designs, pincushions
Quilts, blankets and bed covers
Doll or plushy toy dresses
Wall hangings – traditional frames, embroidery hoop frames
Baby Items – a baby blanket, clothing designs
Now you know that your finished cross stitch pieces are not mean to occupy only wall space. They can also be many different things.
How do you store completed cross stitch?
If you like cross stitching with a passion, you will find yourself with too many finished pieces. Surely, you cannot frame everything simultaneously. It is inevitable that you would find ways to store some of your completed cross stitch pieces temporarily.
It would be best if you kept your finished cross stitch pieces properly if you do not want the work you have spent hours on to warp or get stained. You need to store your finished cross stitches so you can still sell them or pass them on to the younger generation. Read on for some tips on how you can store your cross stitch pieces.
In Cardboard Tubes
When you are finished working with big patterns and nowhere near framing it yet, cardboard tubes are the ideal choice to store your work. Your completed cross stitch pieces will be crease-free in these affordable cardboard tubes. A good thing about this kind of storage is that you can easily put them away by stacking them on top of each other or stack them in a box.
The downside of using this type of storage is that you need to make sure that the cardboard tubes are covered. Insects might find their way inside and ruin your work. Cardboard tubes cannot also protect your needlework from floodwater. Make sure that you store your cardboard tubes as high up as possible.
In Flat Portfolio Storage
Another great way to store your finished cross stitch works is by placing them in flat portfolio storage. There are many advantages that this method offers. If you find a big flat portfolio, you can store your huge finished projects without worrying about warping, insects, or getting wet.
Flat portfolios are also a cheap alternative because you can store many cross stitch pieces in a single portfolio. It is also easy to find an area where you can store your portfolio. You can store them under the bed or inside the closet. The only disadvantage is that it can get bulky.
In a Clear File or Binder
When you work more on smaller cross stitch pieces, the best storage you can find for your finished work is a clear file. You can put them together on one page that they may look like a pretty collage. Your storage binder will look like a book where your cross stitch pieces are showcased instead of hanging on walls.
You can make some scrapbooks with all your finished work, clean and crease-free. Your finished cross stitch pieces are safe and accessible, just in case you need to find a gift for a friend.
What do you do with cross stitch when finished?
Cross stitching can get addicting that you would not even notice how many projects you have already finished. Maybe you can't wait to get your hands off the next pattern. But what can you do so that your completed works do not pile up? You can keep them, but you can sell them, too.
You can earn some money by selling your finished cross stitch pieces. Why not sell your cross stitch instead of keeping them in storage? You may even get extra cash to fuel your hobby. Here are a few tips on how you can sell your completed cross stitch work.
You can take a picture of your finished project and put it up for sale on Etsy or eBay. Or you can also post on your social media sites to see if there is a market for your finished cross stitch projects. But note that you can sell your completed work, but you cannot sell the pattern. Instead, direct people who ask you where you got the patterns to the sites where you bought or got them.
To get an idea of the finished cross stitch projects, visit Sold Listings on eBay. You can check similar sizes or designs, so you can also put your completed cross stitches up for sale.
When listing your cross stitch work for sale, include important details such as the size, fabric count, and whether it is framed or unframed. Take a clear picture of the whole design of your cross stitch piece for sale. Take a close-up picture as well.
Manage your expectations when your cross stitch work does not sell quickly. If you are not selling it urgently, just put it up for sale online instead of leaving it in your drawer unseen and unappreciated.
You can also sell your finished cross stitches at craft fairs. Be on the lookout for upcoming events in your area. You may see some posted in public places or online. Reach out to organizers to secure a booth. Expect costs on booth fees, decorations, and transportation.
Make sure you have enough completed work to sell so you can get your expenses back. Participating in a craft fair can also be a good experience to see fellow crafters do their business.
Selling your completed finished cross stitches may or may not earn enough to be called a business. But having your completed works out there is a better option than putting them on storage. Think of the possibility of earning from something that you love doing and spent on many long and precious hours.