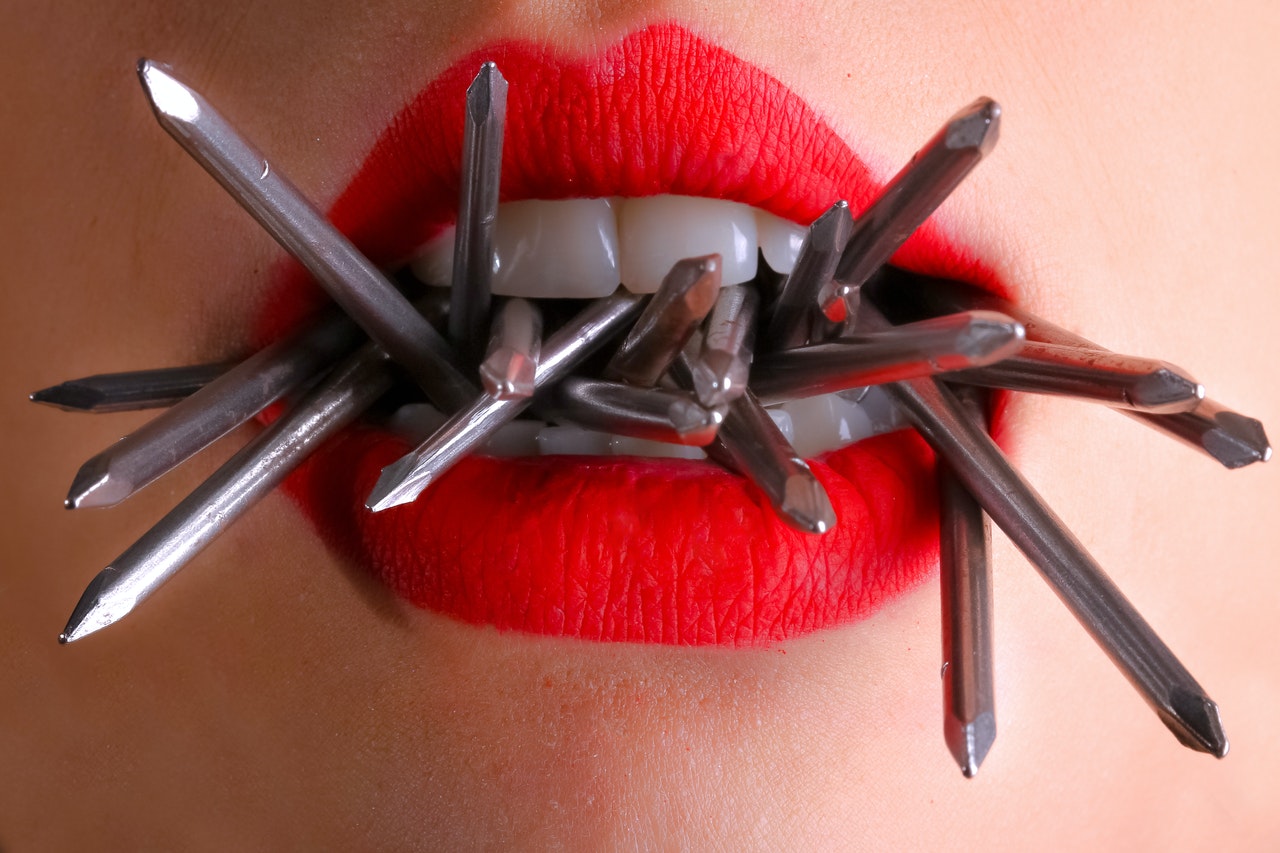 It may seem morbid to many people, but did you know that you can make jewelry out of teeth? As long as you maintain good cleanliness, you can use almost any tooth. Also, there are all sorts of jewelry pieces you can make out of teeth!
You can use shark teeth, baby teeth, or even your pet's teeth to make jewelry pieces. Also, you can use teeth that your dentist extracted from you.
We may know most Victorian practices as prim and proper. But some customs appear strange when we apply them in our modern society. For example, jewelry made from the hair and teeth of a loved one who died was widespread.
Tribal chiefs during the mid 19th century also wore human teeth necklaces. They embellished their tooth jewelry with a significant number of teeth from different people. Many people believe the teeth they used most probably are of their victims or adversaries.
Did you know that necklaces with up to 130 teeth were possible? Many leaders sought such necklaces to represent their authority and power.
For a while, the habit of using teeth as ornaments decreased as industrialization increased. But, many people are now becoming curious about jewelry made of teeth.
Many modern examples of tooth jewelry represent historical allusions to the past. Also, they are intensely and intimately personal and one-of-a-kind. But, they can also be edgy and avant-garde.
Nowadays, independent jewelers produce unique pieces that use teeth to make a statement. Also, some designers create this type of jewelry to keep the wearer linked to their loved ones. For example, mothers may choose to have their child's teeth mounted in resin or put in a ring.
But, modern tooth jewelry is not only restricted to rings, necklaces, and earrings. It does not matter if the designer sets the teeth in a gem setting or plates them with precious metals. Tooth jewelry elicits a strong reaction from nearly everyone who sees it.
How to Make Jewelry Out of Teeth?
As I mentioned, you can use pretty much any tooth you want for your jewelry. But, you must practice proper hygiene! Follow these four general steps to make your tooth jewelry:
Sanitize the tooth.
It is best to clean them first thoroughly after you get the teeth you wish to use, i. So, wash it with an old toothbrush, antibacterial soap, and hot water.
You can also whiten the teeth to make your jewelry more outstanding. If you want to whiten them, you can use hydrogen peroxide. Then, allow the teeth to soak in this solution for a few minutes or until they reach the desired hue.
Fill half of a pan halfway with water and bring your teeth to a boil. Doing so breaks down any excess flesh on the teeth while also killing germs and bacteria. Then, after around 30-40 minutes of boiling, turn off the heat and let the wisdom teeth.
When the teeth have cooled, wipe them clean with paper towels. Also, note that you can remove the roots with tweezers if they did not fully develop.
Start wire wrapping or drill holes on the tooth.
Wire wrapping:

It is best to use a lengthy wire to wrap around the tooth you wish to use if you choose wire wrapping for your tooth jewelry. Then, using a jump ring, attach them to a thread or chain of your choice.

Drilling a hole:

Make a tiny hole in the tooth with a drill. But, note that this step is a delicate procedure as it might shatter and split the teeth you are using. So, it is best not to drill too close to the edge.

It will help if you use the tiniest bit size that allows your jump ring to pass through it.
Also, it is best to drill gradually and steadily to prevent damaging the teeth. Then, through the hole you drilled, insert a metal jump ring. You can then attach the ring to a necklace or chain.
Other options:
Do not worry if you do not want to wire a tooth directly to a thread or chain because there are other options for you. For example, you can use a vial to place the tooth and preserve it with transparent wax.
Instead of stringing the tooth, you can link this vial to the metal chain or thread. But, not that a plastic vial is preferable, although you can also use glass vials with cork covers.
Add jump rings.
A jump ring is a small, open-sided metal ring that you can find in any jewelry-making or craft supply store. To do this step, using needle-nose pliers, you will open the ring. Next, slide it through the teeth, then push it closed again.
Add the string.
Finally, string the jump ring onto a chain or string for a necklace, an ear wire for earrings, or a jewelry charm bracelet.
How to Preserve Teeth for Jewelry?
If you plan to create jewelry out of your extracted tooth, it is best to learn how to preserve it properly. Follow these seven steps to preserve teeth for jewelry:
First, get your dentist to extract the tooth.
Give a heads up to your dentist.

Dentists and oral surgeons do not carry an obligation to return your teeth after they extract your tooth. So, it is best to tell your dentist that you want to save your teeth ahead of time.

Have your dentist clean the tooth.

After your dentist or oral surgeon extracts your tooth, ask them to clean it correctly. This process includes cleaning the teeth of any blood, then rinsing them with clean water. Also, your dentist should apply a disinfectant to ensure that it is safe to use.

Clean the tooth if you extracted it.

But, if you extracted your tooth, it is best to learn how to clean it properly. First, wash your hands before you handle the tooth. Next, use soap and water to remove any blood or other residues.

Then, dampen a cotton ball with rubbing alcohol before gently applying it to the teeth to disinfect them. After that, rinse the tooth with clean water. Finally, make sure to wash your hands thoroughly again.

Place the tooth in a sealed bag.
Place the extracted tooth in a sealable bag once you or the dentist clean and disinfect them. Often, your dentist will do this for you. But if they do not, you can request a little bag or tooth container to place your pulled teeth in.
Preserve the tooth properly.
Place the extracted tooth in a sealable container.

Get a sealable container to keep your extracted tooth. Also, note that this container should be long-lasting and leak-proof. So, it is best to use glass jars with an airtight lid.
– If you wish, you can also place the container in a sealable plastic bag to prevent any leakage.

For short-term storage, you can add a hydrating liquid to the container.

If you do not want the tooth to be too brittle to work on, it is best to keep it hydrated. To do so, you can use distilled water or saline to keep your extracted teeth moisturized.

But, if you want to use water, it is best to change the water daily to avoid the formation of bacteria. Also, if you wish to store your tooth for a long time, it would help to change the water or saline from time to time.

Use a liquid to prevent contamination.
Household bleach is an excellent disinfectant and aids in the prevention of bacteria growth on extracted teeth. So, to ensure disinfection, you will dilute home bleach 1:10 with tap water.
Other Options:
When storing extracted teeth, the most common method is placing them in a container without any liquid. So, after cleaning and disinfecting the extracted tooth, you can put it in an airtight container.
More pages:
How to Make Earrings Out of Teeth?
Do you want to try making tooth jewelry but do not know where to start? You found the right place! Here are six steps to follow to make earrings out of teeth:
1. Gather your materials.
Teeth
Mold-making medium
Resin that sets in the color white
Heavy-duty glue
Earring backs
2. Make the mold.
For this step, it is best to check the instructions included in your mold-making medium pack. But, it is best to make sure that all the teeth you wish to use will fit in the mold.
Also, be careful not to stick the teeth through the mold, which can ruin the results. But, make sure that your mold is deep enough to get a good impression of the teeth.
You can choose whether to use the roots or not for your earrings. But, note that doing so might be more challenging. So, it is best to consider the design first before you make the mold.
3. Set the mold you made.
Again, it is best to follow the instructions that came with your mold package for this step. Doing so will give you the best results. But, you can also ask for guidance from other experts.
4. Mix and pour the resin.
If you got the resin that sets quickly, it would help if you know how to do things correctly and rapidly. After a short while, you might notice the resin getting slightly cloudy as you mix it. But, it is best to keep going when it happens.
Once your resin becomes clear again, you will know that you mixed it thoroughly, and it is now ready to pour. So, pour it carefully into the mold to prevent it from overflowing. But, if you accidentally pour too much, you can easily cut off the excess.
5. Remove the teeth from the mold.
It is best to wait for your resin to set until it is hard enough to work on to make earrings. Once they set entirely, pop them out of your mold and get your materials for the next step.
6. Glue on the earring backs.
Use heavy-duty glue to attach your chosen earring backs to the teeth. Then, let them sit for at least a whole day without touching them. Finally, wait for them to completely dry and add more decorations if you want.