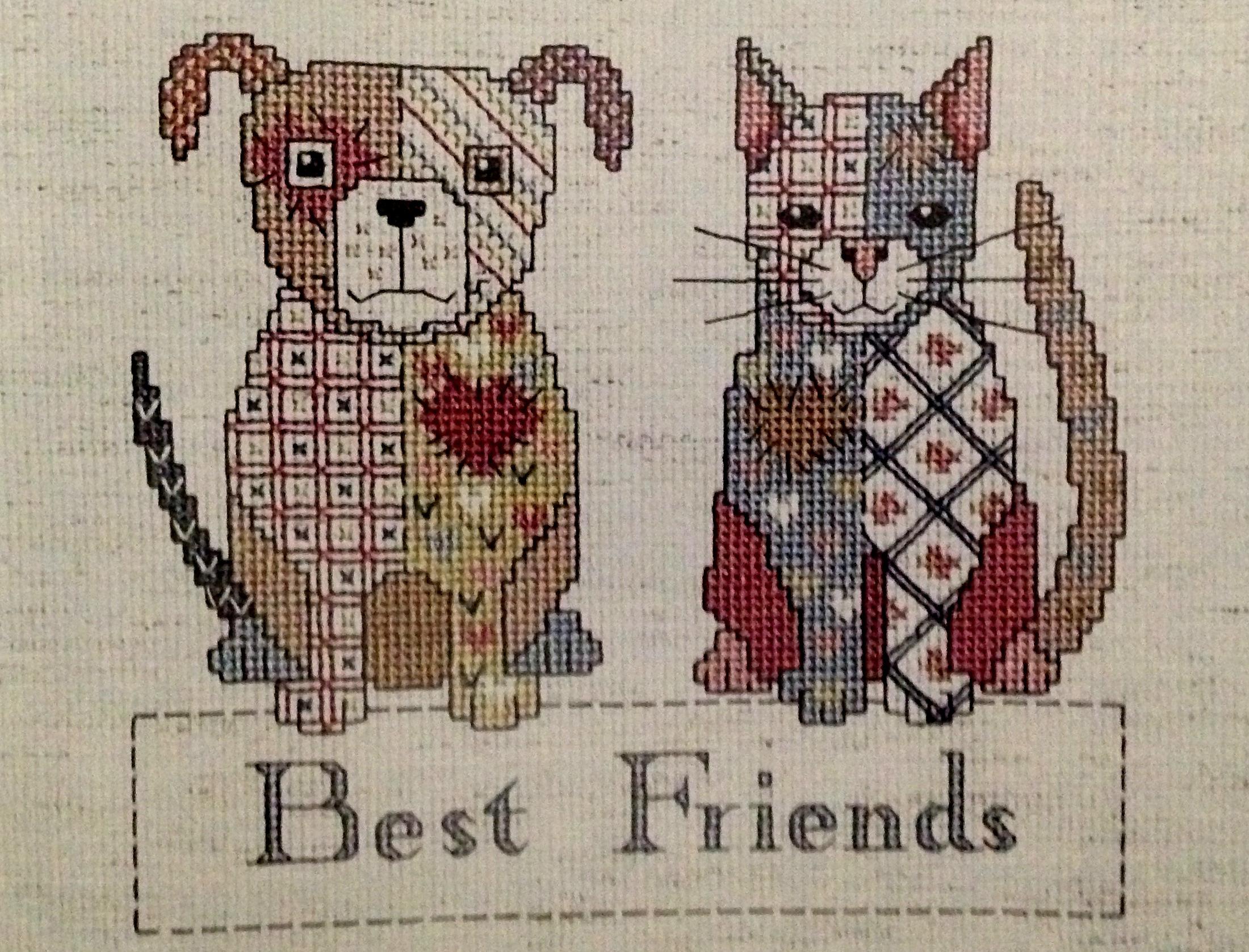 How have you been doing with your cross-stitch projects? Did you frame all of them? I hope not, because you can do a lot of things to showcase your cross-stitch projects.
You might have seen articles online wherein cross-stitch works are only framed displays. Do not follow the herd because your cross-stitch stitch pieces can go a long way.
The following are 20 creative ways on how you can showcase your works.
1: Stitch onto Clothes
You can use your cross-stitch projects as a patch-on design on your clothes. They will look great on your jackets, aprons, and jeans. You can stitch on your small pieces to any fabric the same as the embroidery patches.
These cross-stitch pieces will give your outfits some fresh and unique makeover. You can also use them to patch up damage or holes in your favorite shirt or jeans.
Your outfit now becomes unique and personalized because you made these cross-stitch patches.
When you do this, make sure that you trim the sides of your cross-stitch projects and sew them as the seam. Then, get a thin fabric and sew it on the back of the project. This will serve as the backing material to protect the stitches.
Once you have prepped up your cross-stitch pieces, attach them to your garments. You sew them on the same as you attach embroidery patches.
2: Throw Pillowcase
This is one of the most beautiful ways to showcase your cross-stitch works. You may create a new throw pillowcase and use these cross-stitch pieces as your design. Another option is to sew these pieces onto your existing cases.
This will give your throw pillowcases new looks and a bit of personal touch. Doing this will allow you to display your works of art in a more creative and practical way.
3: Purse Cover
Another option to display your cross-stitch pieces is by using them as designs for your purse. Instead of putting a direct embroidery on your purse, attach these cross-stitch patches. This is less damaging to the material of your purse.
What you can do is to stitch in the patches on the actual stitches of the purse edges. This way, you will not have to create new punctures on your purse.
4: Holiday Ornaments
Want to make use of your small cross-stitch pieces? Use them as holiday ornaments that you can hang on your Christmas tree. You can make tiny pillow-like ornaments using your cross-stitch projects. Add some ribbon hangers, and you're all set.
You may also make bigger ones and have them displayed under the Christmas tree. You can also hang your doorknob and make it as a holiday door hanger. Small cross-stitch pieces make beautiful rustic-inspired decors.
5: Photo Album or Planner Cover
You might have not thought about this, but it is a great avenue to display your works. Since friends and guests often look at your photo albums, why not show off your masterpieces to them?
It is easy to do. You measure your photo album and choose among your projects large enough to cover it. Then, get some fabric glue to attach the fabric to the inner cover of the album. Make sure that you sew the edges of your cross-stitch fabric to avoid fraying.
You can do the same process for your planner. This way, your friends can see your cross-stitch projects without going to your place.
6: Table Runner
Another creative way to display your cross-stitch pieces is to use them as table runners. You can create one by getting a long piece of plain fabric. Cut it according to the width and length you want.
Then, attach your chosen cross-stitch project at the center of your table runner. You may also add a few more pieces to cover the entire fabric with your cross-stitch pieces.
If you do not want to use a separate fabric, you can use your cross-stitch pieces to make the runner. Get several pieces that are complementary to each other. Join their edges to form a long fabric the size of your table runner.
Then, attach a thin backing fabric on your cross-stitch table runner. This will protect the stitches from damage and make its reverse side neat. This kind of table runner will add that farmhouse rustic feel into your dining area.
7: Placemats
If you can make a table runner, then making cross-stitch placemats is a good idea. You can use these matching placemats and runners on special occasions and gatherings. This way, family and friends can see your beautiful works.
Make sure that you put a good backing material on your placemats. Use a waterproofing spray on your placemats to protect them against any liquid spill.
8: Tote Bag
Making a tote bag is easy. But you can make it extra special if you use your cross-stitch projects on it. You may use your projects as designs or as the actual materials for the bag.
If you want your cross-stitch pieces as designs, you only need to sew the pieces onto the fabric of your tote.
In case you want to use them as the actual materials for the bag, you need to join them according to your desired size. Once you have joined your chosen pieces, add a coordinating backing fabric.
Keep in mind that this backing will serve as the interior of your tote bag, so choose thicker material. Another option is to attach your cross-stitch fabrics on your current or old tote bag.
This will give your tote a brand new look. Now, you can showcase your works anywhere you go as long as you take your tote with you.
9: Hanging Organizer for Bills and Mails
This is another creative yet practical way to display your cross-stitch works. Make a hanging holder for your letters and bills. It is like making a long series of pockets where you put the utility bills and mails.
Add in a cute ribbon hanger to complete the look. It's a great way to transform the pile of bills and mails from an eyesore view to a fantastic sight.
10: Stool or Ottoman Upholstery
Revamp your boring ottoman by replacing its upholstery with your cross-stitch projects. This is another creative way to display and use your cross-stitch projects. Take out the old upholstery of your ottoman and replace it with your cross-stitch pieces.
You may choose to replace the top upholstery and make a full overhaul. This will look perfect with your cross-stitch throw pillowcases. Be careful not to damage the cushion of your ottoman during the process.
11: Bed Cover Design
Using your cross-stitch projects as beddings design is a perfect alternative to quilts. You can stitch on your cross-stitch pieces on one of your blankets to mimic the look of a Patchwork quilt. This and your framed pieces will look perfect in your room.
You may also buy a new plain blanket and attach your cross-stitch pieces. This will make a great gift for family and friends.
12: Portfolio Envelope Cover
Forget your dull-looking portfolio envelopes. Add some color, personal touch, and creativity on them using your cross-stitch pieces. Yes, your cross-stitch projects will make gorgeous covers to your portfolio envelopes.
13: Mittens
Making mittens using your cross-stitch projects is another option to display your artworks. These cross-stitch mittens are also practical holiday gifts for your family and friends.
14: Potholders
If you also love cooking, then cross-stitch potholders are a must-have. Your small projects will look adorable on your potholders. They will also add that farmhouse feel in your kitchen
15: Baby Pillows
Your cross-stitch pieces will make beautiful baby pillows. You only need to add cushions or soft cotton fibers inside, and you have these cute pillows.
16: Craft Box Cover
You can refurbish your boring carton boxes by covering them with cross-stitch projects. Choose a few of your earlier projects and use them to cover these boxes.
Make sure to use glue instead of tape to make sure you will have a neat and secure cover. Now, you have transformed your plain-looking craft boxes into charming cases.
17: Table Cover Embellishments
If you love the table runners and placemats, then you will also love this idea. Use your cross-stitch projects to embellish your tablecloths and covers. This will work wonders on plain table covers.
Attach a few cross-stitch pieces on your tablecloth and witness its beautiful transformation.
18: Picnic Blanket
There are two ways to make picnic blankets using your cross-stitch projects. You can use them as a design on the top part of the blanket, or use them as the actual blanket.
The first option is simple. All you have to do is attach your chosen projects on the blanket. The second option is to join several cross-stitch pieces to make the size of a blanket. Then, put a thick backing material to protect the stitches.
19: Drawstring Pouches
Cross-stitch drawstring pouches are one of our favorites. You can make pouches using your cross-stitch pieces. What makes these pouches adorable and useful is you can use them to hold your trinkets and mobile phone.
You can make varying sizes depending on the size of your projects. These pouches will make great gift items for your friends and loved ones.
20: Infant Bibs
Another creative and cute way to display your cross-stitch projects is to make them as bibs. The unique texture and pattern of cross-stitch are fitting to design infant bibs. Select your cross-stitch projects with cute designs and transform them into adorable bibs.
Making a bib is simple. You can use one of your child's bibs as a template or check online for some free bib tutorials.
Tips for Washing and Caring of Cross Stitch Projects
Cross-stitch pieces are no different than embroidery works. They need the utmost care and handling. The following are some tips to help you care for your cross-stitch projects.
Separate Washing
Since you opt to use your projects as pillowcases or blankets, you must wash them separately. This is to prevent abrasion on your stitches from other fabrics. You also need to turn them inside out to protect the designs.It is best to hand wash small cross-stitch items like bibs and placemats. Machine washing can be damaging to the design and fabric weave of your projects. If possible, bring your big cross-stitch pieces like blankets to dry cleaning professionals.
Use Room-Temperature Water
When washing your cross-stitch projects, use room-temperature water. Your project may not shrink, but the fabric that you attached it to might.For safety purposes, use your regular tap water to wash your cross-stitch pieces.
Soak Before Washing
Before you hand wash your cross-stitch projects, soak them in water and detergent. Allow the water to cover the entire project and leave it for 20 to 30 minutes.This will loosen the dirt without scrubbing the fabric. You have to remember that you cannot rub or use abrasive motion to wash it. This can damage your stitches.
Avoid Using Bleach
Bleach can fade the colors of your cross-stitch floss, so avoid using this at all costs. If you stain your cross-stitch project, bring it to a dry cleaning shop.
Do Not Wring the Fabric
When you remove the excess water on your cross-stitch project, do not wring the fabric. This could damage or break the floss and distort fabric weave.
Press the Fabric
To ensure that the design remains in perfect shape, press the fabric once dried. Make sure that you do it on its reverse side. If you want to press the actual stitches, cover them with thin fabric to avoid burning or breaking the floss.
Cross-stitching is a fun and rewarding hobby. You can make tons of designs and use them in various ways. You can frame them or use them as embellishments for blankets, purse, and more.
Do not limit your options on what you can do with your cross-stitch pieces. Like embroidery, cross-stitch projects have limitless applications. All you need is to combine creativity with practical use.
So, next time you finish a cross-stitch project, why not use it to make a purse or a pouch?