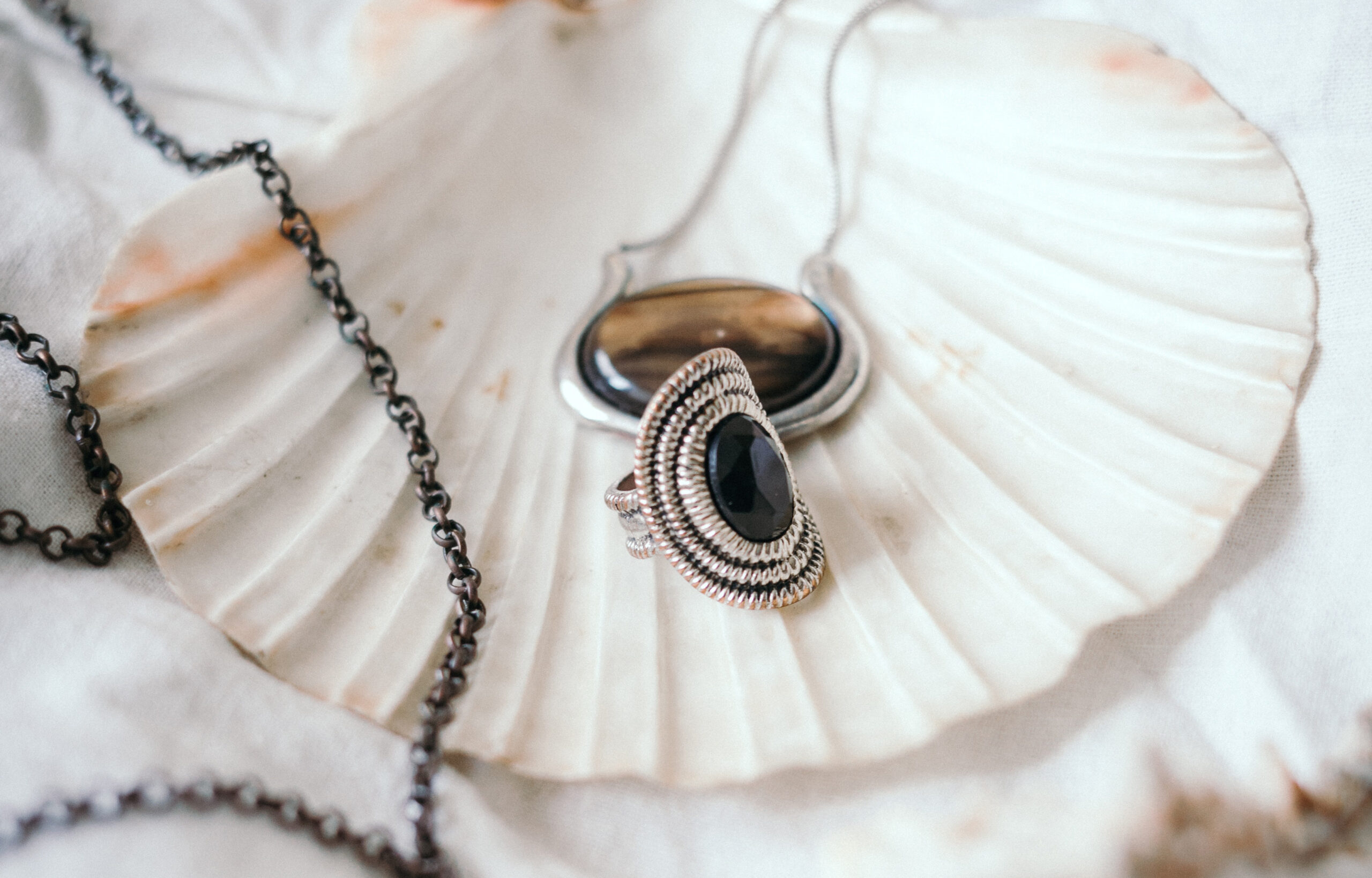 Making crafts out of shells is an excellent idea, but it is best to clean and prepare them beforehand to remove the odors and dirt. First, you will remove the remaining animal tissue. Next, you will clean them by soaking them in water for a week or bleaching them after doing so. Then, you will polish them by rubbing mineral oil over each shell.
Seashells can be a lovely reminder of a happy memory of a vacation to the beach. Plus, you can use them to add decorations to your home or as part of a DIY project. But, if you collect seashells from the shore, it is best to clean and polish the shells inside and out to preserve them.
However, it would be best to avoid collecting live seashells that house crabs and other living things. But, even if you only gather dead seashells, they can still contain enough organisms. So, it is critical to clean shells as soon as possible after collecting them. Doing so will prevent them from beginning to smell, mainly because it does not take long for the smelly factor to kick in!
Step 1: Collect Your Shells
Collect your shells from your favorite shelling location, which could be a nearby beach or one you visit while on vacation. Also, you can find some in craft stores and on the internet.
a. Take no shells containing living sea animals. Instead, respect nature by leaving seashells with living critters alone. Then, if you turn one over and find a creature inside, you know it is still alive.
Ascertain whether a seashell is alive or dead. A live seashell still has animal tissue connected to it, which differs from a living seashell in that the animal tissue in a live shell is dead.
Step 2: Remove Any Remaining Animal Tissue
Boil Your Shells
Boiling a living seashell softens any animal tissues inside and makes it easier to remove. To remove the animal tissue, you will need a pot and tweezers or a similar tool. Follow these three steps to remove your shells' remaining animal tissue by boiling:
Place the seashells in a big saucepan of warm water, covering the shells with an extra two inches of water.
a. It is critical to use room temperature water and place the shells in the pot before heating them, as any abrupt heat may cause a fracture.
Boil a pot of water, allowing it to run for around five minutes. But, you can add extra boiling time if you are boiling many shells. Also, remember that larger ones may need more boiling time.
Using tongs, remove the shells and set them gently on a soft surface, like a heated towel. Then, pull out any animal tissue from them using tweezers or another tool and discard it.
Bury Your Shells
Burying a live shell protects it from injury and is a natural technique to clean out animal tissues, as long as you do it in a safe spot. So, although this method of cleaning out a living shell takes the longest, many people prefer it to avoid damages.
Create a hole in the ground, making sure it is large enough to accommodate all of your shells and that there is enough room between them. Also, the pit should be deep enough to prevent unwanted animals from digging up your seashells or humans from treading on top and crushing them.
Fill the hole with shells, leaving enough space between them. Then, you could fill up the gaps between them with dirt.
Allow insects, larvae, worms, and bacteria a few months to remove the tissue inside the shell. The longer you leave your shells, the better your results will be.
Check to determine if you removed all indications of animal flesh from the shells.
Freeze Your Shells
Freezing your shells kills any leftover animal tissue inside, making removal easier. So, follow these steps to clean a live seashell, use the following method:
Put the shells in a Ziplock bag and fill it with water until you submerge all of them.
Place the freezer bag in the freezer and allow it to solidify for a few days.
Allow it to thaw thoroughly after removing it from the freezer. Then, extract the animal tissue from within the shells.
Step 3: Clean Your Shells
Cleaning shells is vital if you do not want your crafts to produce unpleasant odors. So, check these four different ways to clean your seashells before using them for your projects:
Soak Your Shells in Water
Soaking your shells in water is one of the most common and easiest ways to clean them. So, if you want to try this method, you must let the water dissolve any dirt on your seashells. You will notice that the shells look brighter and cleaner after a week.
But, it is better to change the water every day to increase the amount of fresh water in your seashell soak, which results in even cleaner seashells. Additionally, you can boil your dead seashells after a week to ensure you removed all particles or animal tissue from the shells.
Bleach Your Shells
You can remove any dirt, pollutants, or animal tissue from your seashells by using bleach. However, some seashell collectors caution that using bleach may ruin the color of your shells and leave them smelling like bleach. But, if you want to do this method, follow these steps to clean yours using bleach:
Fill a pot halfway with water and half with bleach. Then, soak the shells in the solution for a few minutes. After a while, you may observe a flaky, leathery layer peeling away. But, do not worry because it is the shell's organic layer or "skin."
Once you remove the coating, you can remove the shells from the solution. Also, you can use a toothbrush to remove debris.
Allow your shells to dry completely after thoroughly rinsing them. Finally, to restore the gloss, rub baby oil or mineral oil on them.
Clean Your Shells with Toothpaste
Toothpaste is a gentler option for whitening your seashells, so follow these steps if you wish to clean a dead shell using this method:
Apply a thin layer of toothpaste to one side of the shell at a time. Then, allow them to sit for at least five hours to allow the toothpaste to soak in thoroughly. But, you can also leave it overnight to ensure that the toothpaste is effective.
Get an old toothbrush and a glass of warm water and scrape the shells well once it has become tacky or hard, depending on the thickness of the layer of toothpaste you applied. But, to get the best results, it is better to make sure to get into all of the small cracks and difficult-to-see gaps.
Make sure to remove all traces of toothpaste, even if this requires rinsing the shells under running water for a second time after you wash them. Doing so will remove the grit and other particles in the toothpaste and any rough or sharp edges, leaving the surface very smooth and with few faults.
Use a Toothbrush to Scrub Your Shells
If you notice barnacles on your shells, you can use a dental tool, soft toothbrush, or wire brush to remove them. But, note that this method works best if you clean the shells beforehand, either by soaking or bleaching.
Step 4: Polish Your Shells
To give each shell a lustrous luster, you can rub mineral oil over it and allow them to dry for at least one day before rubbing oil.
a. Mineral oil not only restores the shell's sheen but also helps to preserve it. You can use WD-40 can also be used in this situation. However, when working with this material, use gloves to protect your hands from the shells.
Spray the shells with water either with satin-finish polyurethane or clear nail polish to finish. Doing so will keep the shell's organic appearance while adding a glossy shine.
Each day, complete one side of the shell. Also, note that this process can take up to a day for each side to dry, so it is better to allow them to dry completely before beginning the opposite side.
Similar topics:
What Can I Make Out of Shells?
Do you often think of what to do with the shells you collect every time you go to the beach? Do not worry because there are limitless options if you are looking for creative ways to reuse them! You can create home decors like wreaths, candleholders, and flower pots. But, you can also make other DIY crafts like necklaces, earrings, and pendants.
Here are five fantastic and simple DIY projects you can create using your shells:
Flower Pots

You can attach your shells to your flower pots to spruce up your spring and summer flowers. This project is quite simple, and you can only imagine how lovely they will look on your porch or inside your home! Also, you can make them in a variety of sizes to truly spice up your planting.

Centerpiece

Make a stunning centerpiece out of shells, ideal for adorning the table throughout the summer months. So, if you want to do this project, you will fill a larger one with potting soil and place the plant inside.

Tea Light Candles

These lovely little shell tealights are incredibly simple to make, and the best part is that you can fill them with whatever smell you like. So, if you want to create these candles, you only need to clean your seashells, melt some wax, add your preferred essential oils, and fill the shells.

Necklaces

You only need a little clamshell, a glass tone, and a few other craft things like glitter and glue to make every little girl's fantasy come true. These adorable shell necklaces are pretty simple to create, so they will also be perfect for gatherings at the beach – you can even use them as party favors!

Check: What do the colors mean on a mood necklace?

Shell Wreath
A shell wreath makes a beautiful statement piece for your front door, or anyplace else in the house you want to hang it. Another amazing thing about this craft is that you can shape your shells using various sizes and colors or make them consistent to make the wreath more attractive.