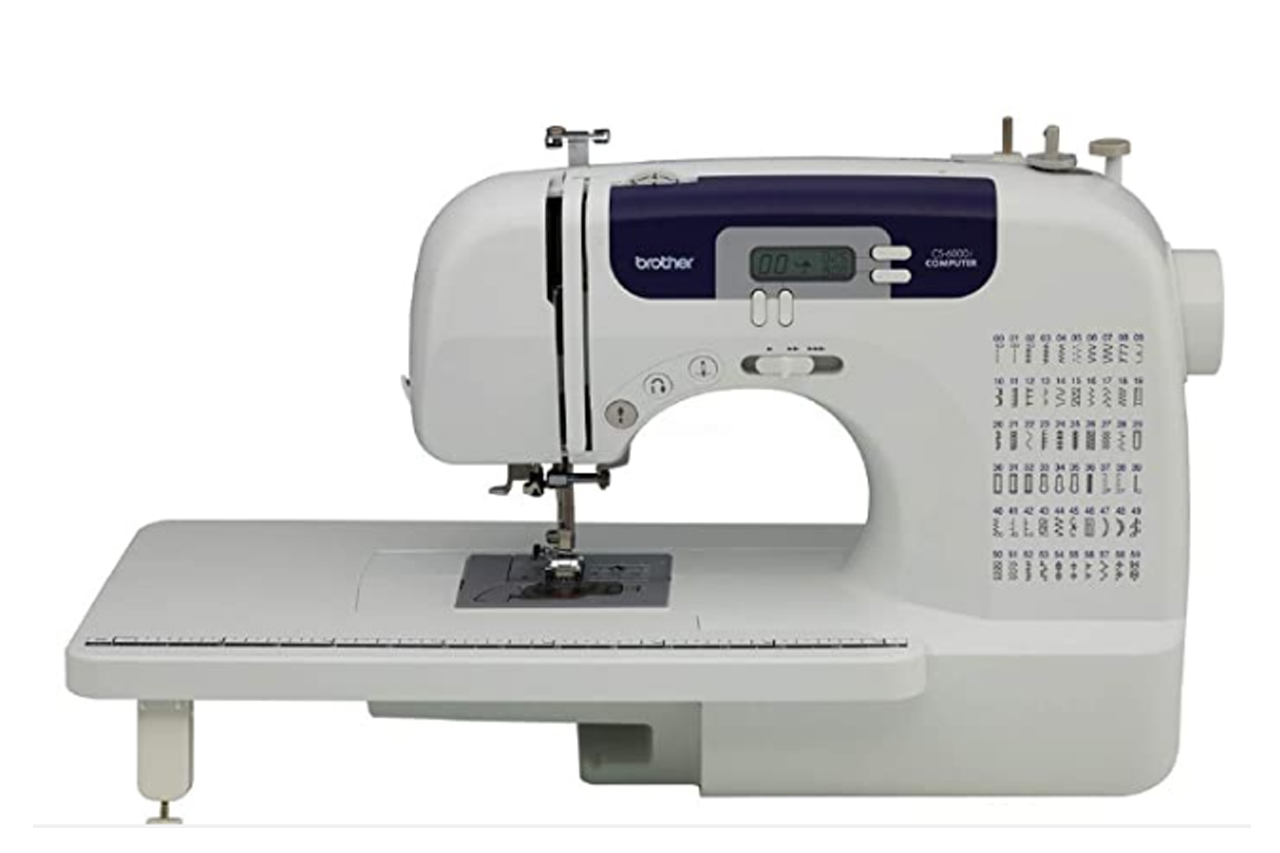 Are you new to sewing and are looking for the best partner you can have to accomplish your craft? When it comes to reliable sewing machines that newbies and even experts can trust, you can be assured that the Brother brand provides you with the Best Brother Sewing Machine for Beginners.
Knowing the trusted sewing machine brand is just half of the task done. As a beginner sewist, you must get a suitable sewing machine that would work for you.
No sewing machine is perfect, so choosing one must be up to your personal choice and depends on your specific needs. Every Brother Sewing machine has its essential qualities and advantages, so you must be keen on scrutinizing your starter machine before purchasing.
Choose from these Brother Sewing machines for beginners available on Amazon.
1. Brother CS6000i
As a newbie sewist on a limited budget, you would want a starter machine that would give you the best value for your money. Nothing could be a better option than the Brother CS6000i.
The CS6000i is probably the best-selling Brother sewing machine on Amazon. It is an affordable option for a beginner machine with all the necessary features.
It is computerized, meaning you can shift to different stitch settings with a touch of a button on the LCD.
When you have advanced your skills from the basic sewing and mending of clothing, you can move forward to the many quilting features of the CS6000i.
It comes with nine presser feet and a hard protective case, a great bonus for its very reasonable price. You can get the Brother CS6000i as your beginner sewing machine with all the bells and whistles for a little more than a hundred dollars.
Buy it here: Brother CS6000i
2. Brother SE600
If you are a beginner sewist geared more to embroidery, the Brother SE600 is the excellent choice for you.
With a variety of 103 stitches to choose from, there is a stitch to suit any specific sewing project that comes to mind. This embroidery sewing machine runs at 710 stitches per minute, an ideal speed for newbies.
The machine also comes with seven presser foot accessories making it possible to achieve different sewing projects.
The machine is user-friendly with its automatic needle threader that helps speed up the work. It also has a convertible free arm making it possible to sew narrow dimensions such as leg and armholes.
The Brother SE600 has an LCD screen and a built-in USB port; the latest technology lets you download or design your patterns.
The unique accessories and the wide variety of stitches make this Brother machine a perfect option for someone with a great interest in embroidery.
Buy it here: Brother SE600
3. Brother ST371HD
If you want a basic sewing machine that can handle heavy-duty sewing, the Brother ST371HD is the best option. The 37 built-in stitches are enough to finish a wide range of sewing projects, from clothing to home decors.
The Brother ST371HD is a durable and robust sewing machine that can handle various fabric weights and thicknesses.
You may choose the ST371HD as your starter sewing machine, but this heavy-duty primary sewing machine can last you many years.
Buy it here: Brother ST371HD
4. Brother RLX3817G
The Brother RLX3817G is a basic sewing machine that is friendly to the user and easy on the budget.
This beginner sewing machine is easy to use because of its automatic bobbin winding and quick-set bobbin. As a newbie, your first sewing device must be easy to thread. The RL3817G has an automatic needle threader to start work quickly.
The Brother RLX3817G is one of the best starter sewing machines because of its simple design and features. It is so affordable that it will not cost you so much if you are still deciding if sewing is your craft or not.
Buy it here: Brother RLX3817G
5. Brother XM2701
The XM2701 is a mechanical sewing machine that is easy to use and reasonably priced. The sewing machine does not have electronic controls but uses a dial for selecting stitches.
Despite being a regular sewing machine, it comes with several accessories, such as six presser feet. This sewing equipment is very inexpensive and costs only less than a hundred dollars. It is very lightweight, weighing only 12.6 lbs.
If you only need an ordinary sewing machine with only basic features, the XM2701 should be your go-to sewing machine.
Buy it here: Brother XM2701
6. Brother XR3774
The XR3774 has multi-features and is best for fashion sewing, quilting, and monogramming. You can enjoy 130 built-in stitches and eight styles of one-step automatic buttonholes, including 14 quilting stitch functions.
Other benefits of the machine are the automatic needle threader for easy threading and easy bobbin winding. It also has the advantage of having a free arm to sew calf and sleeves easily.
The XR3774 sewing machine includes an extra-large extension table which is excellent for your quilting needs.
A flip chart on the front of the sewing machine can show the 130 built-in stitches, while an LCD screen can display your chosen stitch. You can choose a stitch setting by pushing a button below the LCD screen.
Like the usual starter sewing machines, the Brother XR3774 has automatic bobbin winding, a top drop quick-set bobbin, and an automatic threader to make life easier.
Other notable features that might interest you are the single monogramming font that you can use to decorate your clothing or simple items like a handkerchief.
The machine is easy to work on because of the bright LED lights and comes with eight specialty presser feet.
Buy it here: Brother XR3774
7. Brother XM1010
The Brother XM1010 is one of the basic and the most affordable beginner sewing machines. It is a mechanical sewing machine with ten built-in stitches and one 4-step buttonhole.
It is a simple sewing machine that is very user-friendly, perfect for someone just starting with sewing. The XM1010 is also very light. You can easily transport it to your sewing classes when you need to.
The machine comes with six presser feet and a DVD that can give you instructions to operate your mechanical sewing machine efficiently.
Buy it here: Brother XM1010
8. Brother XM2701
Brother XM2701 can be considered one of the best Brother starter sewing machines. Its features are beginner-friendly and relatively affordable to begin your projects quickly.
This basic Brother sewing machine is easy to thread and has the easy bobbin winding feature on the top of the sewing machine. You would also quickly set up the bobbin with its top drop-in bobbin.
The brother XM2701 is your perfect sewing machine that can do the basic sewing and mending tasks. And simple as it is, the machine can help you with your other sewing goals, such as quilting, dressmaking, and home décor projects.
Buy it here: Brother XM2701
9. Brother GX37
If you are only looking for a sewing machine for everyday sewing and mending, the Brother GX37 is excellent for a newbie.
It has a free arm that allows an easy way to cut on difficult areas such as the cuffs and hems. The automatic needle threader is a big help to those who take forever to thread a needle.
Another vital feature of this primary sewing machine is the drop-in bobbin system that easily loads up with thread. You can quickly check if you need to refill your bobbin through the transparent case.
Buy it here: Brother GX37
10. Brother XR9550PRW
Even if you are new at sewing, you should ensure that the starter machine is versatile yet reasonably priced. Such is the XR9550PRW, which is packed with many features for sewing and includes quilting features.
It has 100 built-in stitches plus 55 alphanumeric stitches you can use for the lettering or basic monogramming. You can choose your stitch settings using the LCD screen and touch controls.
The Brother XR9550PRW has a vast tablespace which is ideal if you are leaning into more quilting projects. It is a very versatile sewing machine that can open up potential future sewing projects.
Over the years, Brother sewing machines have been proven and tested as reliable sewing equipment for beginners to experts at sewing. The good thing about the Brother brand is they can provide affordable yet high-quality sewing machines that you can use as you start your sewing journey. Brother is one of the most popular brands you can expect to last as you further increase your sewing skills.
For a few dollars more than a hundred, you can get yourself a basic but reliable sewing machine from Brother, one of the top brands. Hopefully, one of these beginner Brother models meets the type of sewing you specifically need.
Buy it here: Brother XR9550PRW
Is the Brother sewing machine good for a beginner?
The Brother brand is one of the best go-to sewing machine brands for beginners. A few of the reasons you would want a Brother sewing machine when starting is that you can get a good quality machine without breaking the bank.
You can buy a good Brother model with all the necessary features you will need for basic sewing and mending for as low as a hundred bucks.
You can choose from mechanical or computerized Brother sewing machines to grow your skills as you go through your sewing journey.
Brother is one of the best sewing machine manufacturers around the globe and has been garnering awards for its sewing machines for many years.
The Brother brand started in Nagoya, Japan, in 1908 and has since been producing high-quality sewing machines spreading to various countries worldwide.
Brother is the epitome of a reliable, durable, and affordable brand that can be attested by all kinds of sewists worldwide. Even their mini sewing machines for beginners are reliable and proven to be efficient for sewing.
Best Brother Sewing Machine for Beginners: How long do Brother sewing machines last?
Brother is a tough, durable, and trusted brand, and their sewing machines last a long time, as can be attested by Brother users. A Brother sewing machine may last for many years depending on the frequency of use and its condition daily. Sewing machines, in general, will serve you for more than five years and may even last up to 25 years or more.
In general, mechanical sewing machines last longer than computerized ones as they are primarily built for thick and heavy-duty fabrics. On the other hand, computerized sewing machines are more prone to damage as more intricate and complex parts are involved.
So, in choosing your Brother sewing machines, it is vital to consider the sewing projects you intend to achieve to get the most out of their unique features.