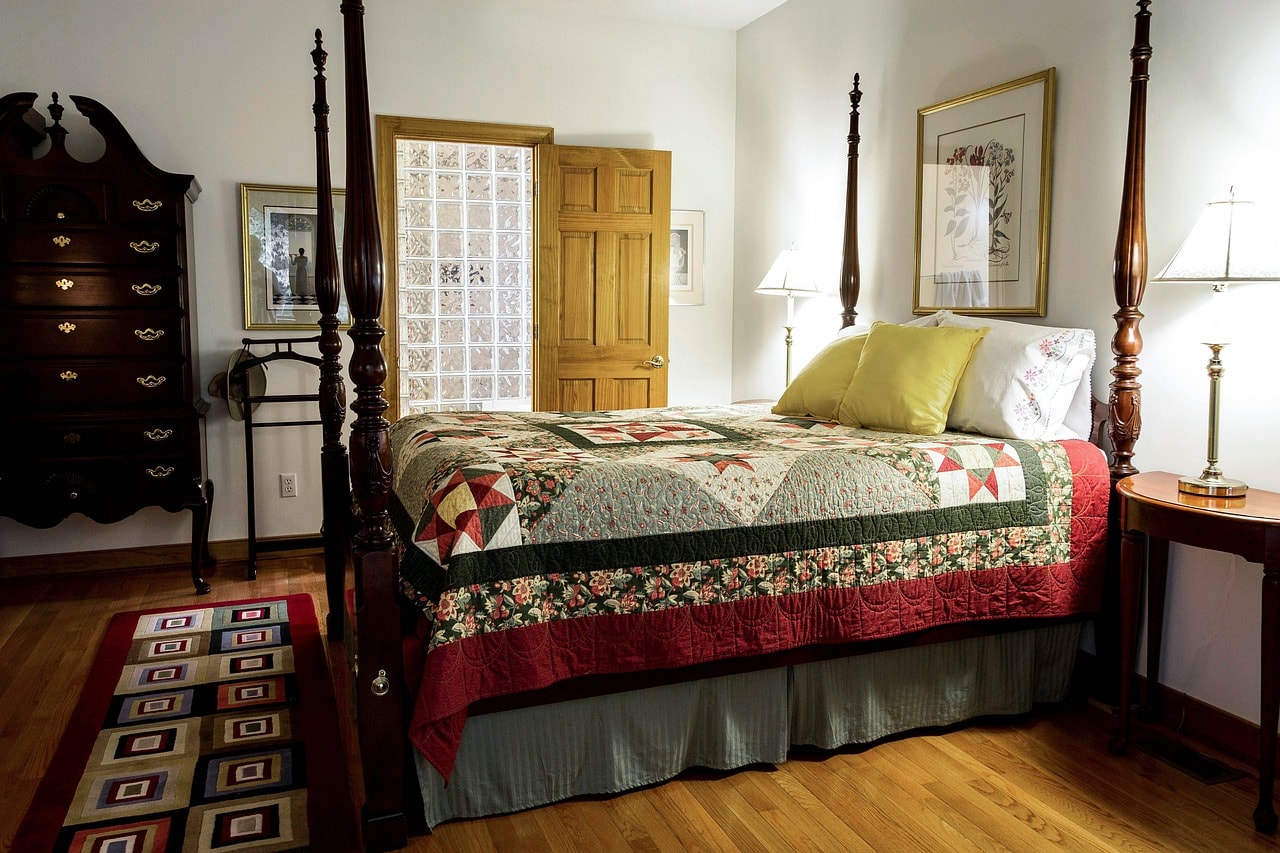 The cold air during winter captures the heat from our bodies, making us feel cold. But the cotton in quilts traps the cold air, which is why we feel warm. This fact is the reason why we use quilts in winter.
Which is warmer quilt or comforter?
Because comforters are extra fluffy and lofty, they are usually warmer than quilts. There is better insulation, especially when the comforter is the heavy, soft down comforter type with a baffle box design.
Quilts feature three layers: the top layer, batting, and the bottom layer. These different layers have varying materials, which all contribute to the quilt's quality and the warmth that it gives.
The top layer usually features different pieces of fabric sewn together in a grid or an intricate design. The inner batting is the quilts fill and can be various materials, including wool, down, or polyester. The bottom layer is usually just a single piece of fabric.
Comforters consist of two pieces of identical materials that crafters sew together in a grid format. They feature either sewn-through or baffle box construction. Sewn-through comforters consist of stitches that go all the way through both sides of the comforter.
But baffle box comforters have extra pieces of fabric between the top and bottom layers of the comforter. It creates a more three-dimensional shape to the comforter.
There is some type of fill inside each square or box, which can be down or down alternative. Down comes from animals such as ducks or geese, while down alternatives consist of hypoallergenic material like polyester.
In general, comforters are usually loftier than quilts, which make them generally warmer than quilts. Quilts usually look flatter and lie more flush against the bed.
If you are not sure about getting a comforter or a quilt, here is a simple guide to know which is more suitable for you:
Choose quilts if:

You are a hot sleeper. If you are a hot sleeper, you may want something lighter to give you just enough insulation to prevent feeling too hot.
You want to add more detail to your bed. Quilts offer many stylish designs and can add a different look to any bed or bedroom.

Choose comforters if:

You need warm bedding for cold nights. Comforters are usually warmer, so they are ideal if you are looking for more warmth during sleep.
You want something fluffier. If you prefer sleeping while wrapped in cloud-like bedding, then comforters are perfect for you.
What type of quilt is the warmest?
Many believe that Hungarian goose down and Canadian goose down quilts are the warmest quilts and the best natural insulators.
Finding the perfect quilt for you depends on your preferences: Are you a hot or cold sleeper? Do you have allergies? Do you prefer something light or heavy? Here is a simple guide to the different basic types of quilt:
Wool quilts are low loft, breathable, and help regulate your body temperature. They are suitable for all types of sleepers and for those who suffer from allergies and asthma.
These types of quilts offer luxurious comfort for a restful sleep. They are lightweight quilts with lofty fill that retains heat. Because of this, feather and down quilts provide a high warmth rating, which is suitable for cold sleepers.
This type of quilts consists of man-made fiber, which provides a medium to high warmth rating suitable for cold sleepers. Microfiber quilts are also light, lofty, and ideal for those who suffer from allergies and asthma.
Cotton quilts consist of breathable fiber and offer a low warmth rating. Because of this, it is more suitable for hot sleepers. It is tumble dry safe, and ideal for those who suffer from allergies and asthma.
Bamboo quilts provide moderate warmth and help naturally regulate body temperature. Bamboo fibers are hypoallergenic and offer a perfect combination of comfort and breathability.
Does a quilt go over a comforter?
Many people prefer placing their quilts on top of their down comforters. They usually do this because of the stylish designs on quilts that add beautiful detail to a bed or bedroom.
You need to choose a lightweight quilt if you would like to place it over your comforter. Doing so will keep your comforter fluffy and prevent you from having sleeping concerns.
You can lay your quilt lightly over your entire bed as the last step in making your bed. Do this step after you fix your sheets, blanket, and comforter.
Can I use an old blanket as quilt batting?
Many crafters often use old cotton and wool blankets, towels, and other pieces of the same material as quilt batting. You can cut the fabric to fit your projects and use them for the quilt sandwich.
After using your old blanket, you can just continue with your quilt as you would typically do. Doing so will help you finish it faster, and finally, you can tie your quilt.
You can also use a flannel sheet if you are looking for other earth-friendly alternatives for your quilt batting. It is an ideal quilt batting option, but you need to make sure that your pattern will not show through the top or bottom's material.
Also read: 
How to make a quilted blanket
1. Decide what size of blanket you want to make.
You can decide more quickly if you know who the blanket is for: Will your blanket cover a baby, a toddler, or an adult?General dimensions of blankets:
Baby blanket – 36" by 42"
Adult blanket – 54" by 74" or 66" by 90"
Throw blanket – 50" by 60"
Note that these dimensions are for a single person only — they are not for bedspreads.
2. Choose a comfy type of fabric.
Many crafters usually make their quilted blankets with two or three layers, depending on the thickness and weight that they want. You can use batting or flannel as the inner layer, which will give you a warmer blanket.You can use a simple single piece of fabric for the bottom layer. You can choose a fabric design as grand or as simple as you want for the top layer. You can also use several pieces of fabric to make it look more like a quilt.Similar to making a rag quilt, you need to decide on the size of your square fabric pieces. Calculate how much squares you need to complete your blanket top. Keep in mind that you need half an inch for the seam allowance. Remember to prewash and press your fabric before cutting and sewing.
3. Sew the pieces together.
a. Arrange your pieces on the floor first to know how you should place them.
b. Stack them up according to columns and rows and take them to your sewing machine and start assembling.
c. Sew the pieces together using a ¼-inch-seam allowance. Make sure to be consistent with it. If not, your pieces may have different sizes and will not align. Use a ¼-inch quilting foot to ensure that you maintain your seam allowance.
d. Sew the rows, then join them together to form the blanket top.
e. In the bottom layer, cut the fabric a little bigger on all sides – one to two inches bigger.
4. Pin the fabric layers together to keep them in place.
5. Mark quilting lines on your fabric and start quilt-stitching along the seam of your fabric pieces.
6. Sew along the outer edges, which will pack all of your fabric layers.
7. Bind your pieces together using a contrasting fabric.
a. Measure the perimeter of your blanket top and add extra 15 inches. Your width can be from three to four inches. Cut them out after finishing your measurements.
b. Keep your binding strips wrong side up in front of you.
c. Fold the edges diagonally and cut it out.
d. Fold the diagonal side edge to the inside ⅛", then fold your strip up.
e. Keep your blanket wrong side up.
f. Stitch it in place with a ¼ inch seam allowance. Stop 1/4inch from the edge as you reach the corner.
g. Fold the binding tape upwards. Then, fold it downwards.
h. Start stitching your binding from the other corner now with a ¼ inch seam allowance. Repeat this step for the other three corners, then overlap the starting edge by a few inches when you reach it.
i. Turn the blanket front side up, then turn the binding to the front of the blanket.
j. Stitch the binding in place as you fold it to the front.
k. Make a mitered corner by folding the binding when you reach the corner.
l. Sew your binding in place, then sew the mitered corner diagonal seam. Do not forget to sew the outer edges too.