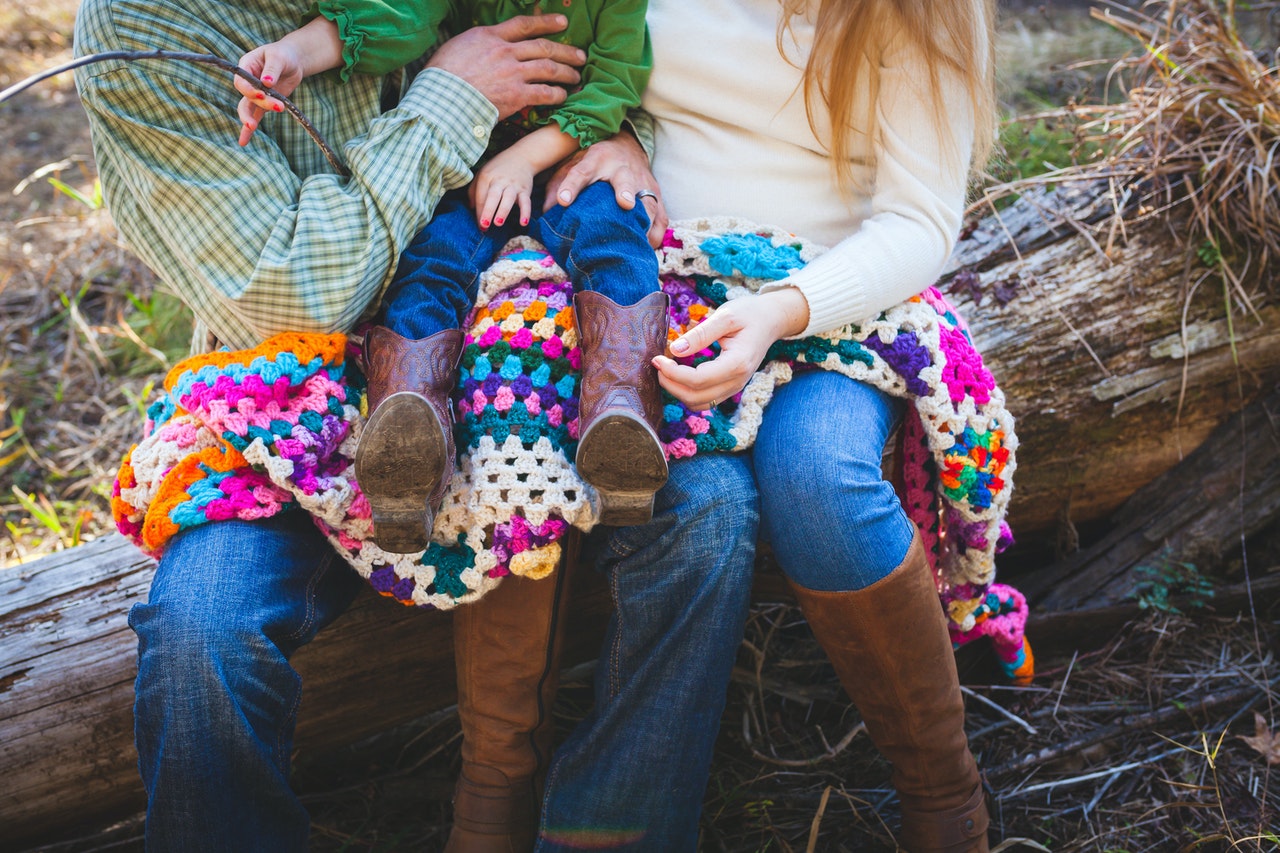 A baby blanket is one of the best gifts you can give to a friend or a family member expecting a new bundle of joy. It is one of the handcrafted items that are quick and easy to make by knitting or crochet. But which is the best one to use?
Is it better to knit or crochet a baby blanket?
Crocheting tends to be faster than knitting, so crocheting is a better option if you want to complete a baby blanket in less time. But you should also consider the skill of the knitter or crocheter.
Knitting and crocheting are similar in that they both use needles and yarn to make items that you can use, such as a baby blanket. They differ in the processes and the specific tools used. Knitting usually needs two pointed needles to create stitches, while crochet uses only one needle/hook to make the stitches.
You can use both crafts to create various handmade items. Choosing which one to use for a particular fiber craft boils down to your personal preferences.
Should I crochet or knit a baby blanket?
You can either knit or crochet a baby blanket. The method you choose will depend on the outcome you want for your item. Some handcrafted items look better when knitted, while some are nicer when crocheted.
But a baby blanket is a different case. You can make a gorgeous baby blanket by knitting and also by crocheting. You can use either technique, but you will discover that each has its benefits and limitations as you become more skilled in each craft.
If you are only skilled in one craft, it will not be a hard decision. But if you are knowledgeable at both, you can weigh the pros and cons of each technique. You can filter what qualities you want to see on your finished project.
Knitting: Pros
Knitted clothing is better to look at because it is less bulky than crocheted clothing and has more drape.
Many people find knitting easier to learn.
Knitted items have more stretch on the fabric.
There is a wide range of knitting patterns available for beginner or advanced knitters.
Knitting: Cons
There is a huge tendency to drop stitches when knitting, which can be a bit frustrating. You cast several stitches on a needle in knitting, and the live stitches are worked back and forth across the needles.
Knitting requires two needles that should be kept attached to your work because there are live stitches.
Knitting needles can be slippery or feel cold on the hand.
The sound of the clicking of bumping needles may be annoying to some people.
It can take you a long time to complete a project, so knitting takes a lot of patience.
Crocheting: Pros
You are less likely to drop or unravel stitches when crocheting. This property can be quite useful, especially when you are just learning the ropes, I mean, the loops of crocheting.
Crochet produces a stiffer fabric, making it excellent for making blankets and other items that do not require a nice drape.
Once you know the basic crochet stitches, crocheting becomes easier than knitting. This way, you do not need to transfer stitches from one needle to the other.
Crochet needs only one crochet hook instead of two needles.
Crocheting is usually done faster than knitting. Crocheting your baby blanket, for example, can save you more time than knitting it.
Crocheting is more versatile in creating shapes than knitting.
It is easier to correct a mistake in crochet because you are only dealing with one live stitch on the hook.
Crocheting can create intricate and lacey designs that would be hard to knit.
Crocheting: Cons
There are fewer crochet patterns available than knitting patterns.
Some crafters believe that crocheting needs more yarn so, it can be more expensive.
Knowing the pros and cons of knitting and crocheting gives us a better idea of which technique to choose to create a baby blanket. You can reason that each method has different applications that it can shine on. But if you are skilled in both of these crafts, there is no stopping you from using either of them to create the baby blanket you envision.
Why is crochet faster than knitting?
Crochet is faster than knitting because you only use one hook, which is relatively easier to maneuver. In knitting, you use two needles to cast on stitches to a needle. Then, you move them back and forth across the needles to form the knit fabric, which can take a lot more time.
Many knitters and crocheters can attest that crocheting is faster than knitting. Some crafters even went to the point of knitting and crocheting the same blanket pattern simultaneously. They want to know which one finishes the project first. The crocheted blanket was finished in a few days, while the knitter completed the blanket in a week.
Completing a blanket depends on many factors. You have to consider the crafter's experience, the type of stitch used, the size of the project, the size of hook and thread, color shifts, and many more.
More people favor crocheting bigger items such as a blanket because it tends to finish faster than when it is knitted.
What is the best crochet stitch for a baby blanket?
The best crochet stitch for a baby blanket is the single crochet or the half-double crochet stitch. The single crochet and half double crochet stitches are basic crochet stitches that will produce a dense fabric ideal for a baby blanket.
You may be making a welcome gift for a friend or a relative who is expecting. A baby blanket is a perfect choice because they are small and uncomplicated. After all, blankets are only either square or rectangle. Using the basic crochet stitches will make crocheting a baby blanket faster and create a long-lasting fabric.
As much as you want to crochet with more intricate or lacey stitches, keep in mind that a tiny person will use the blanket you are making. A baby has tiny fingers that may get caught up on the loose stitches. Also, it may need to be washed very often. So, it would be best to stick to the basic stitches as much as possible.
Using the basic crochet stitches for your baby blanket allows you to learn and have fun at the same time, especially if you are just a newbie in this craft. It allows you to become more comfortable guiding the hook and thread to form the loops of your crochet fabric. You can finally create a baby blanket that you can give to an expecting mom-friend or relative.
What type of yarn is best for baby blankets?
When you are planning to make a baby blanket, there are more things you have to consider than when you are making an adult scarf or sweater. Remember, you are knitting for a precious little one.
Here are some of the things you must consider before casting on the needles for your baby blanket project.
Yarn Fiber

Is there yarn made for baby items? Apparently, there are. So, if you are not sure what to buy, check the labels of the yarns in the craft store and look for the baby yarn brands. You can be sure that the fibers these yarns are made are chosen with the tiny tots in mind.

The top yarn choices for knitting baby blankets include cotton, bamboo, acrylic, and superwash wool. These fiber types are commonly used for knitting baby items, especially baby blankets. The softness of the fabric created is perfect for a baby's delicate skin.

Some fluffy yarns may look attractive to make baby things, but these are not recommended.

Angora, mohair, and alpaca may look great for knitting blankets. But the loose fibers from these yarns may get swallowed or may irritate a baby's sensitive skin.

Yarn Weight

Most baby yarns come in 4ply and DK yarn weights. These yarns are light but strong enough to withstand a wiggly baby. The yarn should not be weak to break with twisting movements. After all, that is the only movement that newborns are capable of.

When a baby grows a little older, chunky yarns are the better knitting yarn options to make baby blankets and clothing items.

Laundry Instructions

Washing instructions for knit baby blankets is one of the main considerations when choosing your knitting yarn. Knitted baby blankets are at the mercy of having spit-ups and can get easily soiled when used daily.

Make sure that the yarn you choose is durable and machine-washable. If possible, the baby blanket you knit can also be tumble-dried so, less laundry stress for the busy parents. Superwash wools are fibers specifically made to withstand frequent washing. You can wash knitted items without losing form. You can also find easy-care natural fiber blends in craft stores that are washer-friendly.

Color

Knit baby blankets these days need not be pink or blue pastels. There is a wide variety of yarn colors available that you can combine that would please not only the baby's eyes but also impress the mom-to-be or the new mom.

To switch from the traditional pastels, you can experiment with combining the primary colors. You can also play with the rainbow color palette. A monochromatic baby blanket is already common these days. You can also try to combine different shades from the color wheel to create restful colors pleasing to the eyes.

Tension
Another way to check if your chosen yarn to knit your baby blanket is right is to knit a swatch. Knit a square that is 10 cm by 10cm using the stitch indicated in your pattern. When you are done knitting the swatch, wash and dry it. Now, you can measure your swatch. If it comes out too small, you can use a bigger needle size and make another swatch. If it came out bigger, you could use a smaller needle size. Keep going until you get the right tension to knit the size of baby blanket you want.
Which is more relaxing, knitting or crocheting?
Both knitting and crocheting are crafts that offer a relaxing experience. The repetitive action of casting on stitches on the needle and working them off back and forth the needles can calm the mind and body. You can try to leave all worries behind for the time being. Similarly, crocheting gives off a relaxing feeling by repetitively pulling loops to form knots. Also, it is calming to know that you will get yourself a useful item when you have completed your work. A cozy baby blanket that you can give as a gift to an expecting mother is one great example.
Some people would claim that crocheting is more relaxing because you only have one needle to use. Also, there is only one loop on the hook left at all times, so you do not have to worry that your work will unravel. There is also no fear of misplacing your hook since you can put it away or use it for another project. You can place a stitch marker or a safety pin to hold the space if you need to put away your work for the day.
Some crafters find knitting more relaxing. The constant movement of the hands as you knit or purl can zone you out from the noise around you. Some can even knit while watching their favorite tv shows or listen to music without missing a stitch. But of course, it still depends on the knitter's skills, the complexity of the pattern or the type of yarn used to consider this craft relaxing.
Whichever of these two crafts you may choose, you can be assured that you will feel comforted and relaxed if you enjoy the process. Both of them can give you a meditative and calming feeling. It is your choice which one you will enjoy and benefit you most.
Related article: