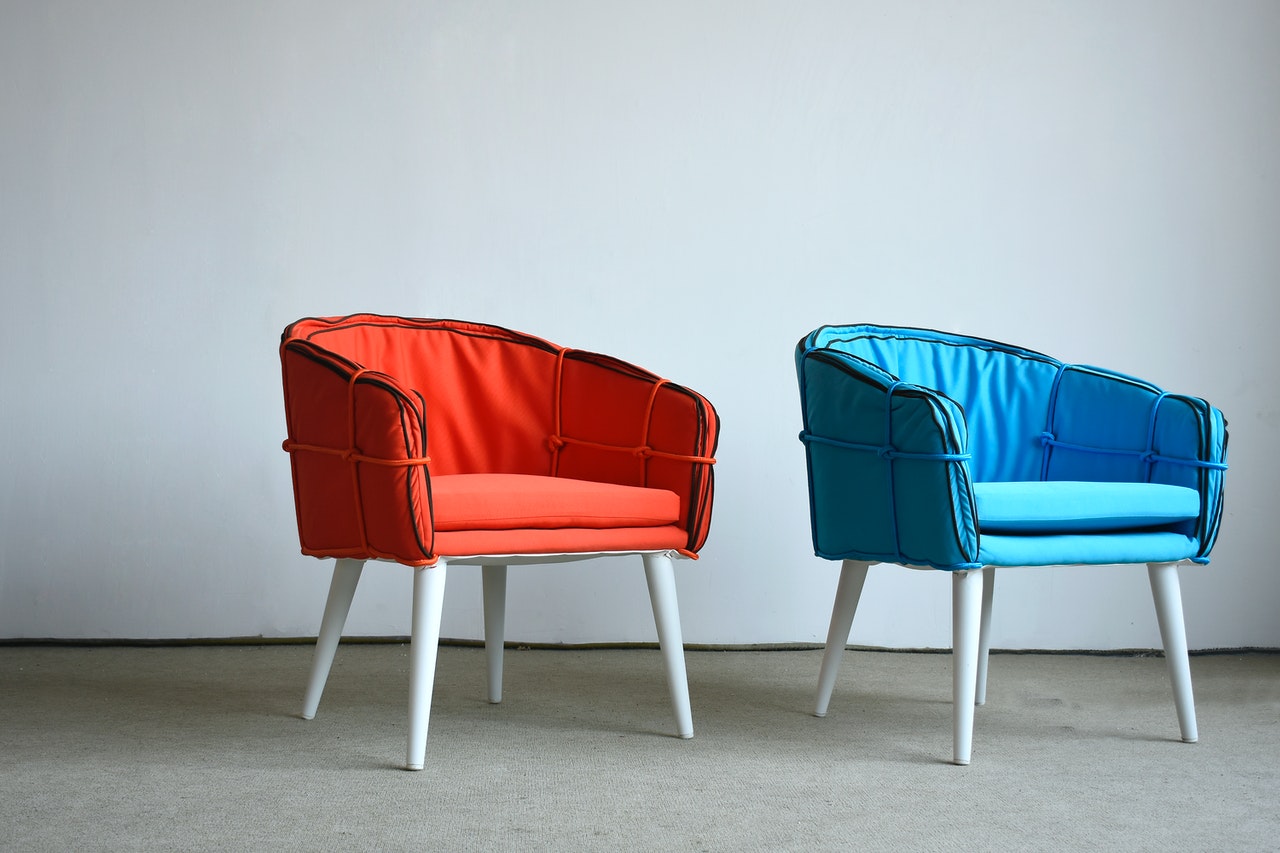 You can definitely sew upholstery with the proper skills and the right machine. You may not be aware of it yet, but a regular sewing machine you have at home might just do the trick.
In your sewing journey, you will encounter many sewing projects, and upholstery is just one of them.
There may come a time when you look at furniture and think you can make that one, too. With the right tools and skills, you can add upholstery to your list.
How do you sew upholstery fabric?
Sewing upholstery fabric is very similar to sewing light fabrics that you use for sewing clothing. The difference is that you will need a tougher sewing machine and thicker needles and threads to hold your fabrics together.
If you use a thin needle on upholstery fabric, there is always the risk of breaking your needle, and the resulting stitches will be uneven. It would also be costly to keep replacing your needle when it breaks.
Threads used on upholstery are also thicker since you are going to sew on heavier fabrics. Upholstery thread is usually made of nylon because of its "give" so that the stitches on your sofa will not break every time someone sits on it using this material.
Some upholstery threads are also made of cotton, silk, or polyester. Upholstery experts recommend using the same material of upholstery thread to upholstery fabric.
If you want to make sure that your stitches are tight and strong, you must use heavy-duty threads for both the top thread and the bobbin thread.
When sewing upholstery, expect to stitch thick fabrics or multiple layers of fabrics. Your upholstery may need backing, so you will need to sew multiple layers of fabrics. Thick and multiple layers of fabrics would require a tough and sturdy sewing machine.
Domestic sewing machines which can accommodate heavy fabrics and use thick threads can be used to sew upholstery. If the sewing machine you have at home is mechanical or computerized, as long as it can handle dense and multiple layers of fabrics, you can sew upholstery.
With a sturdy sewing machine on hand, you can create accents for your furniture, such as cushions and ottomans. You can even try fixing your upholstered furniture if you have enough practice working on thick fabrics on your machine.
Interesting read: Can sewing be considered an art?
How do you use upholstery on a sewing machine?
If you are using upholstery on your sewing machine, it must be able to accommodate heavy fabric. To join heavy fabrics together, you need to use a heavy thread and a thick needle.
Not all sewing machines can handle upholstery. If you have tried sewing thick fabrics on your domestic sewing machine, there is a great possibility that you can use it on upholstery.
For heavier fabrics and threads, you should use a bigger needle on your sewing machine. A regular sewing needle is bound to break if you use it on a thick fabric, much more when you use a heavy-weight thread. Also, an ordinary sewing machine needle will not be able to sew multiple layers of fabrics.
Heavy-weight fabrics like leather, canvas, denim, and upholstery should use 100/16, 110/18, and 120/20. A heavier fabric will require a larger-sized needle.
Do not fill your bobbin with thread.
Upholstery thread is thicker than regular thread; that is why it will take more space in the bobbin. The amount of upholstery thread you should wind on your bobbin will not be the same if you are winding a thin thread.
It would be best to wind a lesser amount of upholstery thread for it to get proper space in the bobbin and avoid jamming as you sew your thick fabric.
Adjust the top thread tension.
Using upholstery on your ordinary sewing machine will not work on the same tension as you use on a standard thread. To achieve the right tension, you can tighten the upper thread tension a little.
Adjust the bobbin case tension.
Thicker thread requires lesser tension in the bobbin case. Since there is no knob that you can set for the bobbin thread tension, you have to adjust the tension and see which works best for upholstery fabric.
Once you have reduced your bobbin thread tension and matched it to the tightened upper thread tension, you can expect uniform stitches on the thick fabric you plan to sew.
Fabric and thread material should be the same.
Another factor that can help you sew better on a regular sewing machine is matching your fabric material with the thread you will use.
For example, if you are sewing cotton, using cotton thread would be the best option. But if you are sewing a synthetic upholstery fabric, polyester and not cotton should be your choice of thread.
Related: 
What's a good upholstery sewing machine?
Regular sewing machines can also be good upholstery machines. If you own a regular sewing machine, you can always check if it is up for the job of sewing upholstery.
If you are interested in sewing upholstery, you can try your existing domestic sewing machine if it can handle upholstery fabrics.
When buying a new machine, you might want to consider a home-sewing machine that can tackle not only normal fabrics but thick fabrics like upholstery as well. You can check out the lineup of Juki sewing machines offering auto upholstery in the market.
There are a few different features that you should consider if you want a sewing machine that can sew upholstery. Read on to know which one of these features will affect your choice of an upholstery sewing machine.
Stitch Length and Width Adjustment
Consider yourself lucky if you can adjust the length and width of your stitches in your sewing machine. This feature offers versatility, especially if you are handling different fabric thicknesses.
Some materials such as leather would be better sewn using long stitches, while lightweight fabrics are better sewn with short stitches. A sewing machine with stitch length and width adjustment will allow you to create projects with a wide variety of thicknesses.
Construction Material
When sewing upholstery or heavy fabrics, it is also vital to know that your machine is made of durable materials. Domestic sewing machines with metal frames are usually the ones that can handle thick fabrics.
One of the reasons the mechanical sewing machines manufactured in the 1940s and even earlier can tackle lightweight to thick fabrics is that the parts are mostly made of metal which makes them sturdy and can last a very long time.
Size and Weight
If you are sewing upholstery as a hobby, you do not need an industrial sewing machine right away. Some home sewing machines including Janome or Bernette can handle upholstery fabrics.
Domestic sewing machines are commonly built for easy storage and transport. It would usually have enough space in a small corner of a room where you can work.
When sewing upholstery, you do not really need a bulky sewing machine. You need to choose one with the ability to tackle heavy fabrics even if its size is only that of a regular domestic sewing machine.
Motor Power
If you want your sewing machine to work on dense fabrics, look for heavy-duty models. These machines are manufactured with higher speeds than basic sewing machines.
Most heavy-duty domestic sewing machines have speeds from 1100 to 1500 stitches per minute, allowing you to stitch quicker and helps you finish your sewing projects faster. Sewing machines with higher motor power can sew fabrics with varying thicknesses, even dense upholstery fabrics.
Higher-powered sewing machines can also stitch multiple layers, as doing upholstery may require you to stitch fabric with foam or backing.
Additional Features and Accessories
When looking for a sewing machine that can help you with upholstery work, it would be best to look at the additional features and accessories included in the package.
These added accessories may add versatility and value to the sewing machine. Some models include a selection of sewing needles which may have one that can stitch heavy fabrics. Look for sewing machines that include sewing feet that may help you in sewing different types of fabrics.
Aside from having a sturdy machine that can handle dense upholstery fabric, it would be best to consider the consumables you need to use, such as upholstery needles and heavy-duty threads.
Choosing a sewing machine for your upholstery projects depends on the factors stated above, although it still depends on your personal preference, your budget, and what would work best for you.
Here are several regular sewing machines recommendable for sewing upholstery.
Brother XM2701

A good thing about getting a regular sewing machine first is that it has simple functions yet is durable and lightweight. For example, it has adjustable settings to account for changes in material thickness from a normal fabric to denim.

The Brother XM2701 might look like a regular sewing machine but is durable and can handle dense materials like upholstery fabrics.

If you want to keep a regular sewing machine and sew upholstery on the side, check out the Brother XM2701 on Amazon.

Janome HD1000

The Janome HD 1000 is a sturdy and heavy-duty sewing machine with an aluminum alloy body. A compact and durable sewing machine, the Janome HD 1000 can tackle thick fabrics because of its convenient sewing features like drop feed and foot pressure adjustment.

It is great for everyday sewing as well as on a wide variety of fabrics. Click the link to know more about the Janome HD1000 on Amazon.

Singer Heavy Duty 4411

The Singer Heavy Duty 4411 is a tough workhorse. It has enhanced speed and 50% more power, making it an ideal sewing machine for upholstery.

The machine's metal frame acts as rigid support that holds all the sewing mechanisms, allowing smooth sewing and machine durability.

It has 69 built-in stitches you can use for basic sewing, decorative sewing, crafting, mending, and many more. If you want to check out more upholstery-sewing features of the Singer Heavy Duty 4411, check out this link on Amazon.

Janome HD3000

The Janome HD3000, although known as a heavy-duty sewing machine, is still a perfect tool for a newbie sewist who wants to explore a wide range of sewing projects. It is a sturdy and durable machine with 18 built-in stitches.

It is known to handle various kinds of dense fabrics such as denim, vinyl, canvas, and upholstery. The metal frame of the Janome HD3000 provides stability and durability.

Check the high ratings and great reviews of this heavy-duty Janome HD3000 on Amazon.

Brother ST371HD

If you are looking for a lightweight sewing machine that can sew upholstery, the Brother ST371HD is a good choice. It is made of a solid metal frame and has a metal bracket plate making it sturdy enough to handle dense fabrics.

This small, compact, and affordable Brother ST371HD can be found on Amazon.

Singer Heavy Duty 4452

The Singer Heavy Duty 4452 is the best option if you are sewing upholstery on a budget. But since it comes from one of the most popular and trusted brands, you can expect outstanding features and quality at a reasonable price.

The features that make this model fit for upholstery are its powerful speed at 1100 stitches per minute and its sturdy stainless-steel bedplate and metal frame.

The Singer Heavy Duty 4452 is one of the highest-selling upholstery sewing machines on Amazon and maintains its 5-star ratings.

Rex Portable Walking Foot Sewing Machine

Most industrial-grade upholstery machines are bulky and take up a huge space. The Rex Portable Walking Foot Sewing Machine is a heavy-duty upholstery machine but is compact and lightweight. It is made from full cast iron and can handle up to four layers of soft leather, vinyl, canvas, or upholstery fabrics.

The Rex upholstery sewing machine is made for serious hobbyists, boat owners, and small businesses. This machine is your go-to sewing machine if you want to bring your upholstery sewing to the next level. It has a powerful motor and can sew up to 1200 stitches per minute.

Look for the Rex Portable Walking Foot Sewing Machine on Amazon if you are thinking to transition from an upholstery hobby to business.

Singer Quantum Stylist 9960
The only computerized sewing machine that made it on the list, the Singer Quantum Stylist9960 offers many advantages and upholstery designs. The sewing machine is also robust enough to sew thick and heavy fabrics.
It is made of a heavy-duty metal frame. With this rigid support holding all the mechanisms in place, expect skip-free sewing and long-lasting durability.
A popular and modern sewing machine as the Singer Quantum Stylist 9960 is available on Amazon.
Also check the list of excellent sewing machines for sailors here.