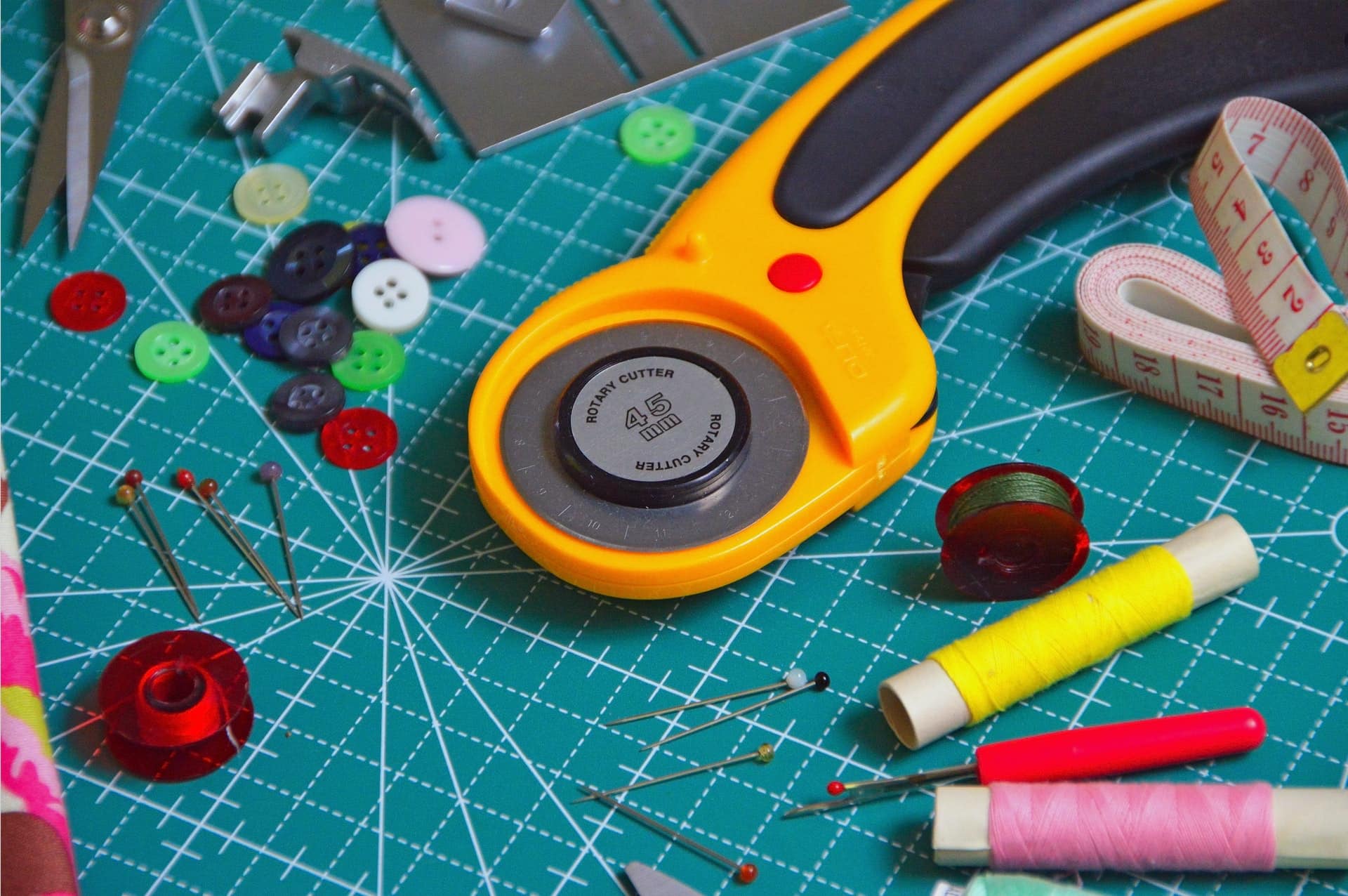 Many people believe that sewing is one of the world's oldest art forms. It is the craft of attaching pieces of garments with needle and thread, either by hand or with a sewing machine. Sewing involves a variety of arts and crafts, including embroidery, tapestry, quilt, and patchwork.
You can define art by a wide range of human activities that involve the creation of auditory, performing, or visual artworks. These pieces express the artist's imagination, ideas, skills, and individuality. So, yes, you can consider sewing an art.
Sewing garments allows you to create beautiful pieces out of your creativity and skills. You choose the fabrics and other materials you will use, representing the medium of your art. It is a form of self-expression, one of the factors that allow you to call sewing an art.
What is sewing art called?
You can call sewing art as needlework, a form of decorative sewing and textile art handicrafts. Anything that involves using needles for construction is a form of needlework. It can be the following crafts:
Can you sew on a painting canvas?
Aside from paints, many artists also use threads on their canvas artworks. But you need to avoid using oil paint when you decide to sew on your canvas.
Canvases have primers that protect them from the oil, which could damage and deteriorate the canvas. Sewing on it would create holes that will allow the oil to have contact with your unprotected canvas.
If you want to use both paint and thread as your artwork's media, you need to use acrylics. They will not cause any problems with the needle and thread going through it.
What thread should I use to sew canvas?
Many people prefer using heavy-duty threads (size 40): polyester, cotton-wrapped polyester, or cotton. Some also use wool and upholstery thread, which have excellent strength.
But you need to remember that using thicker threads may not work appropriately on your machine's bobbin. You may have to make some adjustments to the bobbin tension settings if you want to work with thicker threads.
Best needle for sewing canvas?
Use a 90 to 100 universal or jeans needles to sew heavy fabrics like canvas. Since canvases are closely-woven, heavy fabrics, you need to use the appropriate needles. Doing so will help you prevent breaking your needles and having difficulty sewing through the layers.
If you want to add decorative finishes to the seams, you can also try using a topstitch needle along with topstitch threads to give your work a professional look.
How to sew canvas with a sewing machine?
Like sewing leather and vinyl, it can be challenging to push your sewing pins into the canvas's many layers and still keep your pieces lined up. You need to use clips and double-stick tapes to hold your pattern pieces together.
You also need to extend the stitch length to around 3.0 to 3.5. Doing so will help your standard sewing machine move the fabric along. It will also give your work a more professional finish. Follow these simple steps to know how to sew canvas with a sewing machine:
Prepping:
Adjust the pressure on your presser foot. It is best to lessen the pressure to help your heavy fabric to slide more quickly.
Use a 100/16 or 110/18 jeans needle.
Use heavy-duty threads like polyester, cotton-wrapped polyester, or cotton.
Make needed adjustments to your bobbin tension settings.
Adjust the upper tension.
Create an overlapping seam:
Use an overlapping seam for simple projects.
Mark your seam allowance with a washable soapstone pen.
Apply a strip of basting tape over the seam to keep it in place.
Press and stick two pieces of canvas together using your basting tape.
Feed your fabric through the machine around 0.32cm away from one edge.
a. Arrange your canvas pieces so you can align the material's edges beneath your sewing machine's foot.
b. Turn on your machine and stitch in a straight line along with one of the seam edges.
c. Do this step twice, so be careful not to stitch in the center of the seam allowance.
Flip your material and place it at the foot of your sewing machine. Then, realign the sewing needle, keeping it about 0.32cm from the opposite.
Stitch down the fabric around 0.32cm from the opposite edge.
a. Feed the canvas through your machine again, keeping the needle in a straight line.
b. Work to the opposite end of the seam, forming an identical parallel line to the stitches row.
c. Remove the canvas from your machine after finishing the stitches.
Trim off any excess thread from your material.
Stitching a flat fell seam:
Choose a flat fell seam if you do not want to be as visible.
Mark your seam allowance at around 1.3 to 2.5cm using a washable soapstone marker or pencil.
Overlap both pieces of canvas and pin them together into place. Make sure that you pin the bottom and top edges of the canvas.
Feed the overlapped pieces of the canvas through your sewing machine.
a. Use a basic stitch to connect both pieces.
b. Remove the pins as you go through them, continuing to stitch until you reach the opposite end.
c. Trim away any excess fabric after finishing the stitches.
Fold your material over its hem and press it down to create a fold on the seam.
Flip the canvas over, so you get to work on the front side.
Fold and press the canvas over the seam.
Stitch the edge of the seam. You need to see a single parallel line of stitches along the edge of your seam.
Sew along the edge of the opposite seam.
Trim away any loose threads hanging from the canvas.
How to sew canvas by hand?
Use heavy-duty needles and threads like polyester, cotton-wrapped polyester, or cotton.
Use a round stitch if you need a basic seam.
a. Work the threaded needle into the canvas's connected edges, stitching in a loop formation down the seam.
b. Pull the thread or twine it tightly until you reach your material's ends.
Thread an awl to stitch more efficiently. Check that you loop your thread through the central needle before you start any stitch work.
Loop the thread with the awl to create a series of stitches.
a. Use a firm block of wood or another sturdy surface to arrange and display your canvas.
b. Stick the tip of the awl into the part of the canvas that you like to stitch.
c. Measure out your desired stitch length and add three extra inches to this sum.
d. Loop this amount of thread around the thread before removing the awl from your canvas.
e. Pull both ends of your thread to tighten it and form the first stitch.
f. Continue this step to finish your needlework.
More pages:
Are sewing machine feet interchangeable?
How to sew tote bags?
Prepare your fabric:
Choose the perfect fabric for your bag. You can use any type of material, but here are a few things to remember:
a. Use a sturdy fabric if you want to use your tote bag to carry heavy items. You can use heavy cotton, corduroy, or some type of thick polyester.
b. Note that you need to use heavy-duty needles, threads, and sewing machines to sew heavy fabrics.
Cut two fabric rectangles of equal sizes.
a. Measure out a rectangle and use a pencil or a fabric pen to mark where you will cut.
b. Use fabric scissors to cut the rectangle out neatly.
c. Repeat this step with the second piece of fabric.
Mark the place where the handles will go. Fold the rectangles in thirds lengthwise and use a fabric pen or pencil mark the two inside creases.
Sew the body bag:
Hem the top edges of the rectangles
a. Lay out the rectangles, so the wrong side is facing up.
b. Fold the top edge of the fabric down by one inch.
c. Use straight pins to keep the fold in place, and run an iron along its edge to make a crease.
d. Repeat these steps with the other rectangle so that the hem will be the same on both pieces.
e. Use a sewing machine or work by hand to create a straight stitch half an inch below the fabric's folded edge on both rectangles.
Sew the two rectangles together.
a. Place the hemmed rectangles back-to-back so that the wrong sides are facing out.
b. Sew along the sides and bottom using a straight stitch.
Miter each bottom corner.
a. Fold the bag so that the bottom and side seam are on top of one another.
b. Sew across the corner, keeping the new seam perpendicular to the existing seams.
c. Repeat these steps until you reach the corners so that your corners are blunt when you flip the bag right-side-out.
Create handles:
Cut handles from your fabric.
a. Decide how long you want the handles to be.
b. Cut two 2-inch-wide strips of equal length from the fabric.
c. Fold each strip in half so that the inside will face outward.
d. Use an iron crease the fold.
Sew the long edges together.
a. Use a sewing machine or work it by hand to make straight stitches along the long edges of both handles.
b. Turn the handles right-side-out by feeding wire from a coat hanger through the tube, Doing so will attach it end to end, and pulling it back through to invert the tube.
c. Flatten the handle with an iron.
Get the handles ready to sew the bag,
a. Fold your handles' ends under by half an inch and iron them to create a crease.
b. Place the end over the marks you made to show where the handles should go.
c. Place them approximately 1.5 inches below the edge of your bag opening and pin or baste them in place.
Stitch the handles to the bag.
Lastly, you can add decorations to your tote bag to express your creativity. You can use screen prints, add rhinestones, sew buttons, add an applique, or paint it.