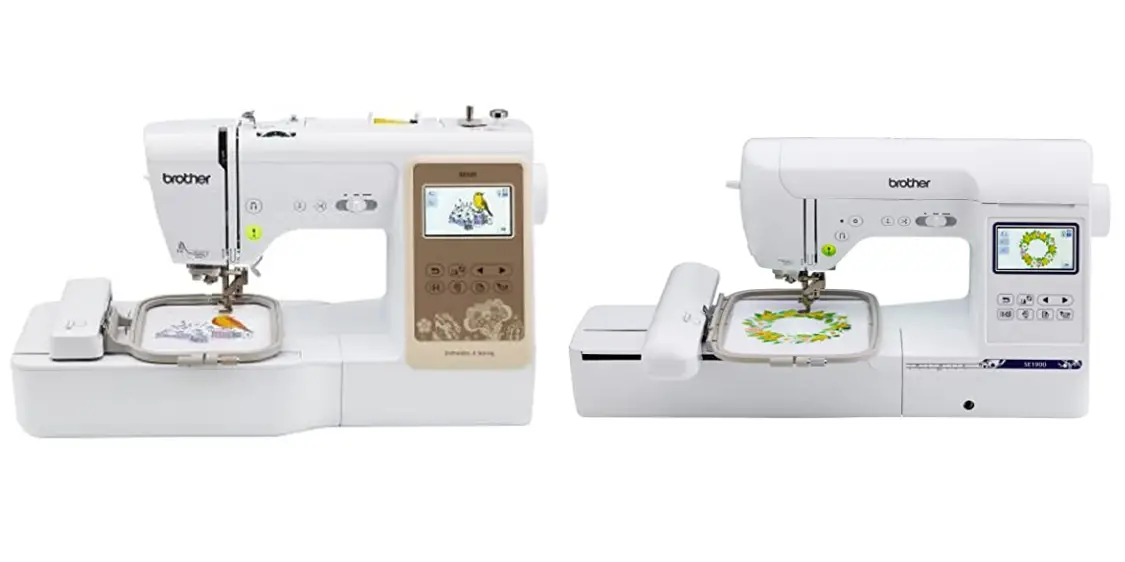 The Brother SE625 and SE1900 are both popular and reliable combination sewing and embroidery machines. Both are also Brother's products, a leading and trusted brand of all types of sewing machines, so you are sure to get long-lasting and durable sewing equipment, whichever one you choose.
Both Brother SE625 and SE1900 are computerized and feature-rich sewing machines, but if you go through all the specifications, you will see that the SE1900 is an upgrade of the SE625.
Suppose you want the computerized sewing machine that can sew, quilt, and embroider, with a large selection of stitches and embroidery designs, all at a reasonable price. In that case, you should opt for the all-around crafting sewing machine Brother SE1900.
For a beginner in embroidery wanting a combination sewing and embroidery machine, the SE625 is an ideal choice. It has a smaller selection of stitches and embroidery designs than the SE1900 but also gives great value for its price.
Brother SE625 Main Features
80 Built-in Embroidery Designs
The Brother SE625 has 280 embroidery designs that you can choose from. There are 80 embroidery designs built in the machine, and 200 are on the CD included in the package, which you can access through your computer by using the USB port. Samples of embroidery designs included are Greek applique, borders, florals, holiday, sports, kids, nature designs, and beautiful decorative alphabet.
103 Built-in Sewing Stitches
including beautiful decorative stitches and eight styles of one-step, auto-sized buttonholes.
4″ x 4″ Embroidery Field
The Brother SE625 has a 4″ x 4″ embroidery area which is a bit small for embroidery experts who are used to embroidering large pieces but still a convenient size for embroidery newbies trying out the embroidery designs on the machine.
710spm Maximum Sewing Speed
The maximum sewing speed of the Brother SE625 is 710 stitches per minute which is sufficient speed for a full machine that can handle embroidery, quilting and home sewing tasks.
Accessories
The Brother SE625 is a multi-function sewing machine that can quilt, embroider, and sew for various projects as clothing and home decors. Several accessories are included with the machine for various functions to make the finished projects more creative.
Sewing accessories: 7 sewing presser feet
Embroidery accessories: Embroidery arm, 4″x4″ embroidery hoop, and embroidery foot
Other tools and accessories: 4 bobbins, three bobbin clips, three pre-wound bobbins with embroidery thread, scissors, disk-shaped screwdriver, cleaning brush, four spool caps, spool net, and darning plate
Needles: 6-piece needle set (2 75/11 needles, 2 90/14 needles, and 2 90/14 ballpoint needles) and twin needle (2/11)
Dust cover
Bilingual operations manual, quick reference guide, and embroidery design guide
SE1900 Main Features
5″ x 7″ Embroidery Area
The SE1900 has an embroidery area of 5″ x 7″, making it more capable of working on broader embroidery designs.
138 Built-in Embroidery Designs
This embroidery and sewing machine combo has 138 built-in embroidery designs but can access more by using the USB port provided on the machine. Aside from the wide variety of embroidery designs to choose from, the machine also has five built-in lettering fonts that you can use to personalize your embroidery work. The Brother SE1900 is undoubtedly an upgrade from its similar machine-type SE625 by having a hundred more, with 240 built-in sewing stitches to its name.
850spm Maximum Sewing Speed
The Brother SE1900 has a maximum sewing speed of 850 stitches per minute, making you create more and finish your projects faster. The powerful motor speed also allows the SE1900 to handle a wider range of fabric thicknesses to work on.
Accessories
The Brother SE1900 comes with a hoard of accessories needed for its various embroidery, quilting, and sewing functions.
Sewing accessories: 7 sewing machine presser feet, knee lifter
Embroidery accessories: embroidery arm, embroidery foot, one spool embroidery bobbin thread (60 weight, white), embroidery foot, and 5″x7″ embroidery hoop
Other tools and accessories: 4 bobbins, four spool caps, extra spool pin contraption for twin needle sewing, spool net, scissors, three screwdrivers, cleaning brush, seam ripper, and eyelet punch
Needles: one twin needle (2/11 size), 2 75/11 needles, 2 90/14 needles, and 2 90/14 ballpoint needles
Grid sheet set
Operator manual, quick reference guide, embroidery design guide, one free pattern coupon for iBroidery.com, warranty information
Similarities and Differences
Similar Features
Embroidery Pattern Drag and Drop Feature
Both machines allow you to move and position your embroidery design on the touch screen display with just a touch of your finger.
Built-in Color Palette
Both the combination embroidery and sewing machines have a built-in color palette that can help you change individual thread colors in your embroidery designs with the help of the LCD screen.
3.2″ Touch Screen LCD
The Brother SE625 and SE1900 are equipped with a 3.2″ touch screen LCD where you can access all the embroidery and sewing features of your machine. You can edit your designs on-screen on both sewing machines. Both machines are also capable of importing additional embroidery designs from other sources using USB connectivity.
No. of Included Presser Feet
The Brother SE625 and SE1900 offer more flexibility and variability in sewing, quilting, and embroidery with the help of the seven sewing feet included in the package.
LED Lighting
Both combi sewing machines are armed with LED lighting above the stitching area, making it easier to work on your embroidery, quilting, or sewing projects.
Warranty
The SE625 and SE1900 are both manufactured by Brother, known for quality and durability. A 25-year limited warranty backs both machines.
Different Features
The Brother SE625 and SE1900 have more things and features in common rather than differences. Only these three are the obvious differences between the two combination sewing machines.
No. of Built-in Sewing and Embroidery Stitches
The SE1900 has more built-in sewing and embroidery stitches than the SE625. But if you are not yet an embroidery expert, the SE625 has more than enough stitches and embroidery designs to practice on.
Sewing Speed
The Brother SE1900 is more of a workhorse with a motor speed of 850 stitches per minute than the 710 stitches per minute of the SE625.
Included Hoops
The Brother SE265 has only one hoop included with a 4″ x 4″ size, while the SE1900 also has one hoop with a 5″ x 7″ size. Note that the SE625 hoop is not compatible with the SE1900.
Price and Availability
The Brother SE625 is priced at $603 but is sometimes sold at a third of the price of SE1900. The Brother SE1900 may seem like a big investment at $999 but considering built-in features, they will most probably outweigh the price.
You can find these two known, embroidery and sewing machine combo on Amazon and in most craft and sewing shops online.
Conclusion
Both combination embroidery and sewing machines have great and advanced features for their purposes of sewing, embroidering and quilting. The type of projects you plan to do will be a better gauge of which sewing machine to buy.
If the purpose of your machine is for home sewing and embroidery, the SE625 is a piece of durable and affordable equipment with fine embroidery and sewing stitches that you may need for your projects.
The SE1900 is the ideal sewing machine with a wide range of embroidery and sewing stitches offered at a very reasonable budget for more advanced sewing and embroidery projects.
Customer Reviews and Recommendations
Brother SE625
The Brother SE625 computerized sewing and embroidery machine is wonderful! I love how easy and simple it is to use. It makes embroidery crafts so easy to do! While I was a little intimidated at first but really, there isn't anything to be intimidated by. I love that it came with a cover to cover your machine when it's not in use. Comes with all of the accessories needed to get started too. Just need fabric or whatever project you're working on and thread to start sewing. I love how smooth it runs. I truly saw no flaws or issues with this machine. It's a new favorite, and I already have a ton of new ideas I am going to do!
-The sewing process was easy. The machine is quiet and very smooth. The machine is capable of doing a bunch of different types of stitches and patterns, more than I'll ever use. The embroidering was something I didn't think I would ever do, but it too was pretty simple.
-I love this machine! As a beginner, I thought it's gonna take me some time to be able to understand and use this machine, but no, the machine is easy to use. Instruction is easy to understand, plus the machine has small pictures on it of how to do threading and such. The machine has a good size touchscreen display, which really helps to see the design and color how it will be. I love embroidery functions! It's so much fun. And the quality is amazing! There are some designs already saved in the machine, plus some extra designs come in a CD, or you can make yours and download it to the machine. This machine is great for sewing and embroidery and beginners friendly! I definitely recommend it!
– This Brother SE625 sewing and embroidery machine has definitely taken my projects to another level. I couldn't be happier! I love the versatility of this machine and how easy it is to use all its features. I am a beginner when it comes to sewing, but more complex projects have come to life while using this machine!
Brother SE1900
-I love this product a lot. It is very easy to use, and the instructions are great. Usually, when there is a snag, it's because I did something wrong. Somehow though, my machine is getting louder and louder, and I haven't had it that long. When I sew, it sounds like it is pounding down. It still is working perfectly fine. I just don't know why it is making the noise.
-I am new to embroidering and have been so pleased with my SE1900. Although I have just begun my embroidery experience, I am quickly learning how to use the different features and Love the things I have been able to make! The instruction manual is easy to follow and has provided me with directions on how to use each feature. I plan to use it to a greater degree when I retire! Great machine! I look forward to having more time to check out all the wonderful things I will be able to create when I have more time at home!
– I hesitated to buy this machine- and I'm so glad to have added this to my cart! I researched many machines, and this one had all the bells and whistles I wanted- color touch screen, easy threading, sewing and embroidery in one, and lacked the things I didn't need (Disney designs).
– I would have preferred to have a 4X4 hoop as part of the purchase/investment. I tried the 4X4 hoop from my Brother SE400, and it does not work with this machine. The machine works great; however, not all embroidery designs require a 5X7 hoop.
Related: 
People Also Ask
Q: Can I change the 4″ x4″ hoop of Brother SE625 to a 5"x7" hoop?
A: You can go up to 4"x6.75". They are sold on Amazon -just make sure you buy the one for the SE625.
Q: Can you load custom stitches on the Brother SE625? Not embroidery patterns, but decorative stitches.
A: I use Embrilliance software, and as long as it is a PES file and a 4"x4" hoop, you can load anything on this machine via flash drive.
Q: Will the Brother SE625 embroider hats?
A: It uses a frame to secure the fabric and engage the embroidery function. If the brim of the hat can be secured in the frame, then yes. If not, you can embroider a separate piece and secure it to the hat (sew or glue).
Q: Can you use the Brother SE625 to sew on leather if you buy the appropriate needles for it?
A: Yes, you can sew on leather it using the appropriate needles.
Q: Is there a compatible endless hoop for the Brother SE1900?
A: No, the Brother SE1900 does not have an endless hoop.
Q: Can I use a 5"x12" hoop on the Brother SE1900?
A: Yes, you can use a 5"x12″ hoop on this machine. The part number for the hoop is SA445. The embroidery area of this machine is a 5"x7″ max.
Q: Would the Brother SE1900 work for thicker materials?
A: The maximum recommended thickness for the SE1900 is no more than 6mm. If your thickness meets this requirement, you will want to be sure to use a larger needle for the thickness.
Q: Will the Brother SE1900 do an entire poem, or do I need additional software?
A: The SE1900 maximum embroidery area is 5″ x 7″. Multiple lines of text can be entered. Each line becomes a group, each of which can be edited one at a time. Yes, additional digitizing software is needed to make this process easier.