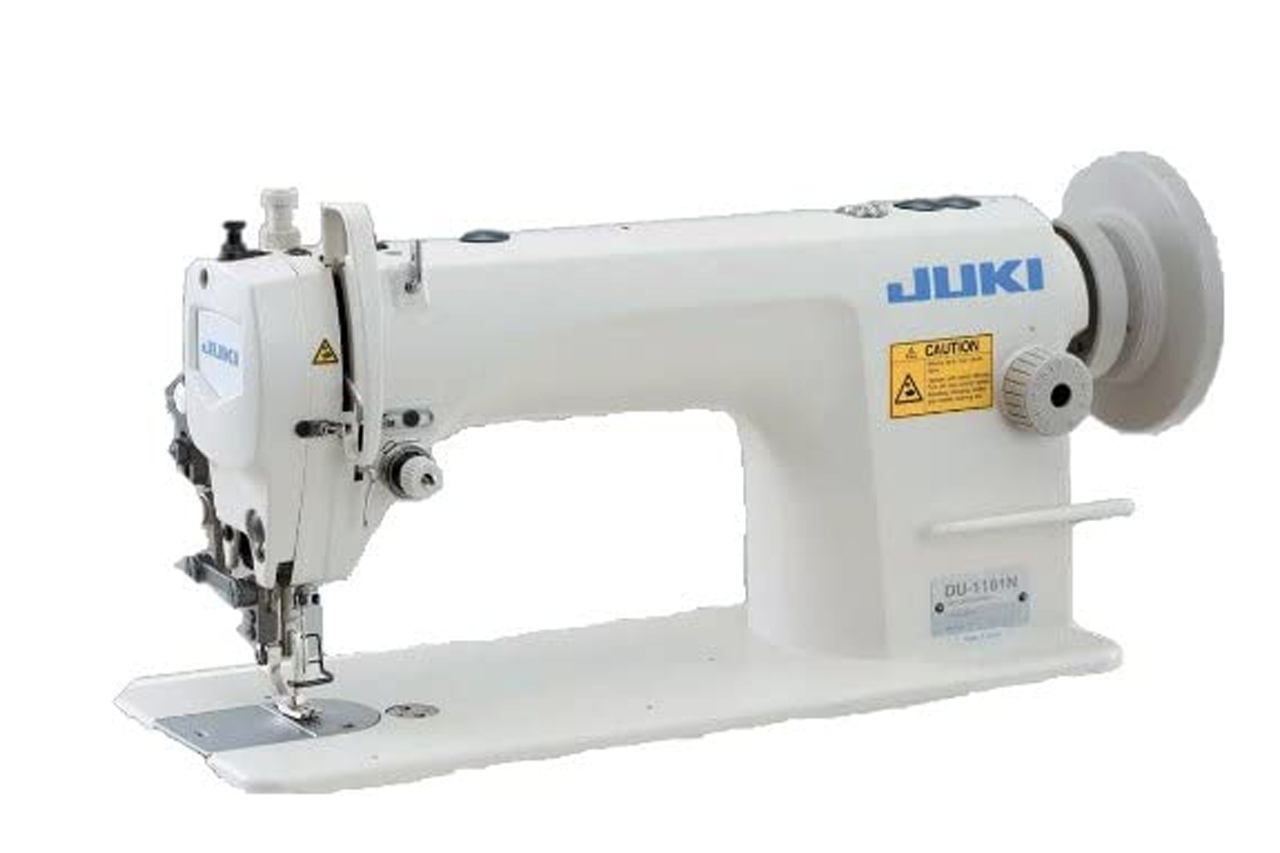 You will always think of a heavy-duty sewing machine when you hear Juki. Juki is a Japanese brand globally known for its sewing quality and innovation.
Juki sewing machines are industrial sewing machines that run on industrial power and are usually meant for one specialized sewing work.
Since a Juki sewing machine is considered an industrial sewing machine, its capabilities are somehow limited. But it performs the job it is meant to do best. There are tasks that an industrial sewing machine cannot accomplish which is not in its area of expertise.
The Juki sewing machine can be an excellent option for sewing auto upholstery and other dense fabrics. Here is the best Juki sewing machine for auto upholstery.
1. JUKI DU-1181
Juki sewing machines are made by a world leader in manufacturing industrial and home sewing machines.
One of its most popular industrial sewing machine models is the Juki DU-1181. The machine features a single-needle, straight stitch, and top and bottom feed system.
This machine is excellent for auto upholstery because of its single-needle and straight stitch sewing, making it work best on heavy-duty tasks.
The top and bottom feed system prevent the top or bottom fabrics from sliding accidentally. You will also have no problems sewing together different types of materials. It would also be best to use the walking foot with the Juki DU-1181 to finish your work faster and easier.
The Juki DU-1181 can run at 2000 stitches per minute so that you can finish your sewing projects quickly. It also comes with an extensive working table that can allow you to sew larger sizes of fabrics better.
You must sew heavy fabrics like auto upholstery using longer stitches to make your sewing more effective. The maximum stitch length of the Juki DU-1181 is nine millimeters.
A built-in light that illuminates the workspace will help you sew darker fabrics and gives you the option to sew during nighttime.
The Juki DU-1181 is perfect for medium to dense fabrics like auto upholstery because it has sharp feed dogs. It cannot work on delicate fabrics like silk or satin as it may rip the fabric apart by accident.
Juki industrial sewing machines are usually more costly than ordinary, but their durability and the quality of work they offer can pay off the high price.
Buy it here: JUKI DU-1181
2. JUKI DDL8700
The Juki DDL8700 is an impressively durable sewing machine because of its 110V industrial servo motor, which allows 5500 stitches per minute and is perfect for auto upholstery and other sewing projects using medium to thick fabrics.
The convenient features of this upholstery include adjustable foot pressure and stitch length.
Juki sewing machine's common valuable properties are the large thread bobbin systems that make it easier to remove and load bobbins and the large working area. The Juki industrial machine is already mounted on a table when delivered and is ready to sew.
Buy it here: JUKI DDL-8700
3. JUKI TL-2000Qi
Auto upholstery is mainly made of thick fabrics like leather or canvas, so it is just right that you find a sewing machine that can handle the toughness of these fabrics.
The Juki TL-2000Qi sews at 1500 stitches per minute, making it work faster than your ordinary sewing machine, which usually runs at 1100 to 1300 stitches per minute. The faster speed will allow you to finish your sewing projects more quickly.
Expect a sturdy and stable sewing experience using the Juki TL-2000Qi. It has an aluminum die-cast arm and bed to reduce the vibration caused by the motor.
This industrial sewing machine has a speed adjustment feature to regulate the speed based on the type of material you are working on. For dense auto upholstery fabrics, you may need to use a slower rate to feed the fabric smoothly and produce even stitches.
An automatic thread trimmer can cut the thread ends for you. You can either push a button on the machine or use the foot controller to cut the thread ends. This practical feature can save you time as you do not need to put your sewing down just to cut threads.
The Juki TL-2000Qi has an LED light that brightly lit your working space, reducing eyestrain, especially when you need to spend many hours finishing your sewing projects.
Buy it here: JUKI TL-2000Qi
4. JUKI TL-2010Q
The Juki TL-2010Q is a high-performance sewing machine that can deliver industrial-quality sewing.
It has a sewing speed of 1500 stitches per minute which can speed up the sewing of auto upholstery or any dense fabrics.
The machine offers a huge working area of up to 23 inches when the attached extension table. You can efficiently work on large sewing projects like quilts or auto furniture covers. The machine also produces clean and professionally-made stitches.
The Juki TL-2010Q has the thread tension scale feature, allowing you to adjust the tension on your threads to suit the specific needs of your project.
The machine's automatic thread trimming function trims the needle and the bobbin threads simultaneously at the push of a button. It has several convenient features, such as an automatic needle threader, a knee lifter lever, and an automatic thread trimmer. You only need to push a lever to thread your needle easily so you can start sewing quickly.
It has an easy bobbin replacement feature. The Juki TL-2010Q has an enlarged bobbin case and a new bobbin case latch that makes removing and loading the bobbin easier. The auxiliary table has a sliding plate which gives convenient access to the bobbin to remove and replace it quickly.
The machine has a knee lifter lever that can raise the presser foot without using your hands. You can lift the presser foot as high as 12mm, so it is easier to push your thick auto upholstery fabric through the machine easily.
Other essential features included in the machine are the LED light to brighten the work area and the thread tension scale.
This ever-reliable Juki sewing machine is lightweight, and you can carry it around whenever and wherever you need it. The Juki TL-2010Q produces some of the smoothest and most even stitches you will see.
Buy it here: JUKI TL-2010Q
5. JUKI DNU-1541
The Juki DNU-1541 is a single needle, straight stitch, lockstitch sewing machine. This machine offers excellent sewing capability and consistent stitch quality, especially on thick materials like auto upholstery.
It can run at a maximum sewing speed of 2500 stitches per minute with a maximum stitch length of 9mm. You can easily choose your desired stitch length using a stitch dial located in front of the machine.
The Juki DNU-1541 uses 110V with the industrial clutch motor, a walking foot technology, rectangular feed, and a higher needle stroke, making this machine an excellent option for sewing heavy-weight fabrics.
The machine is easy to use because of the proper location of the bobbin thread winder at the front of the machine arm, a clear view of the area around the needle, and a huge handwheel.
The JUKI DNU-1541 has a lubricating mechanism that uses a centralized oil wick that helps lessen the time and effort used for oiling the machine.
You can purchase the machine as a complete unit which includes the machine head, table, stand, motor, LED light, and all the essential components installed and ready to sew.
Buy it here: JUKI DNU-1541
6. JUKI LU-1508NS<
The Juki LU-1508NS may have the highest price, but it is the best option for sewing auto upholstery. It lives up to the characteristics of being an industrial sewing machine that is durable and reliable.
This sturdy sewing equipment has the specifications needed to sew medium to thick fabrics of car seats. The maximum stitch length for this machine is nine millimeters used for straight stitching.
It uses a rectangular feed system that allows sufficient feeding of dense fabrics and avoids gathering stitches.
When handling large and heavy sewing projects such as car upholstery, you need a sewing machine that can sew fast. The Juki LU-1508NS runs at a speed of 2500 stitches per minute, fast enough to help you finish your work in a short amount of time.
Despite being an industrial sewing machine, the Juki LU-1508NS works quietly because of its servo motor. You can worry less about disturbing people at home while you work.
Buy it here: JUKI LU-1508NS
Best Juki Sewing Machine for Auto Upholstery: Can you sew Leather on a JUKI sewing machine?
You can sew leather on a JUKI sewing machine. Juki manufactures industrial-grade sewing machines, meaning they can handle heavy-weight types of fabrics like leather.
The Juki brand is synonymous with heavy-duty, so whichever model you choose, you get to sew leather and other thick fabrics for your various sewing projects.
Leather is a versatile material with which you can create many things, like purses, bags, jackets, skirts, or upholstery covers. But a dense material like leather will need more than an ordinary sewing machine.
It is good that there are sewing machine manufacturers such as Juki who make excellent sewing machines that can handle thick fabrics like leather.
Juki sewing machines have unique specifications that make them the best choice for heavy-duty sewing fabrics.
Basic
Usually, the sewing machines used for leather have one primary purpose; to sew the leather pieces together. Juki sewing machines may not come with many different stitches, features, and accessories, but they can surely make smooth and even straight stitches on leather.
Sturdy
Industrial sewing machines that sew leather and other dense fabrics are heavy because they are usually made mostly from metal. The lesser plastic components used, the more durable your sewing equipment will be. The machine's heavy weight keeps it in place to avoid missed stitches and reduce bouncing as you sew.
Fast
A sewing machine that can sew leather should be able to sew at high speed to finish massive projects fast and produce smooth and even stitches.
Powerful Motor
A sewing machine that sews leather should have a powerful motor that can help feed the thick material through the sewing machine. It would also be best for your sewing device to have a quiet motor like the Servo motor of Juki sewing machines that makes it possible to sew any fabric without the unnecessary hum of the sewing machine.