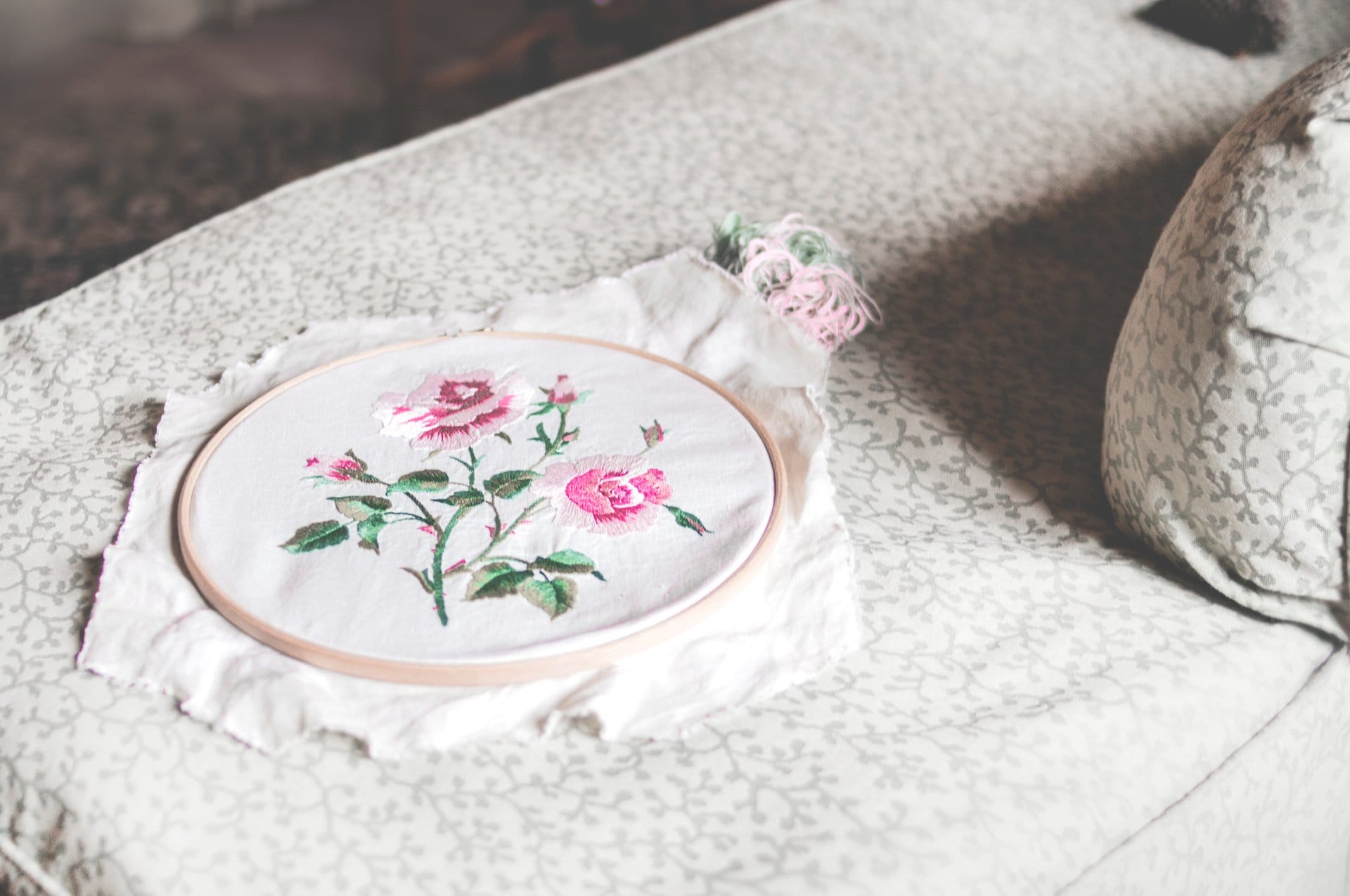 After doing your embroidery or your cross-stitch, keep your hoops. You can still use them. Yes, hoops are reusable.
There are tons of ways to use your embroidery hoops. If you do not want to use it as your frame for your projects, you can still repurpose it. You can use it as a DIY wreath for the holidays or transform it into wall decor.
There are so many ways to up-cycle your embroidery hoops, so don't throw them away. Here are 10 creative ways to reuse your embroidery hoops.
Embroidery hoop craft supply pockets

Get your used embroidery hoops, and stitch in a fabric with several pockets. You can sew this fabric on the entire hoop or half of it. Attach a cute ribbon for hanging.

Winter holiday wreath

This is easy to do and useful for any occasion. Get your used hoops, glue gun, and ornaments of your choice. Stick the ornaments on the bottom edge of the hoop. Then add a rope twine or ribbon on the other end for hanging.

Embroidery hoop hanging planter

You can do this in two ways. One option is to use one of the hoops and attach your plant pot using a glue gun. Make sure that it is balanced. Then, add a hanging twine or rope.

The second option is to put the smaller hop across inside the bigger hoop. Then. secure the intersections of these hoops with your glue gun. Once dry, bond the plant pot inside the crisscrossed hoops.

Make sure you attached the pot well and at the center. Then, add a twine hanger on the top of the hoops.

Dream Catcher

This is easy and fun to do. You may need a few strands of ribbons or ropes. You can choose the colors of your ribbons or ropes. Start making the dream catcher weaves on one of the hoops using your ribbons or ropes.

Then, tie the remaining ribbons or ropes at the bottom. These will serve as the tail of your dream catcher. You may also add other ornaments like feathers or beads.

Do the same process on the other hoop. Then put a rope or ribbon hanger on the top of each hoop.

Corkboard base

This is a simple project. Get your hoops and separate them. Get a used corkboard and trace one or both hoops. Make sure you trace on the inner part of the hoop, so you can put the cut out cork board well.

After tracing, cut out the circle figure of the board. Then, apply an adhesive or glue around the inner part of the hoop. Wait a few seconds until the glue gets tacky.

The next step is you put the cut out board inside the hoop. Set it aside to dry, and you have a round shape corkboard.

Memo board

The process is like how you put the fabric inside the hoop before you embroider. Get your used hoops and your desired fabric. Put the fabric on the hoop and secure it.

Make sure that the fabric is taut. Then, trim the fabric overhang but set a least one-centimeter fabric allowance. You will stitch this fabric allowance to cover the hoops.

Once done, add a rope or ribbon on top for hanging. Now, you

Round Photo Frame

You may use your creativity to execute this. You may put a plain thick fabric on the hoops to serve as its picture base. You may also use a cardboard cut out instead.

Once you have the photo base, stick your photo either by an adhesive or double-sided tape. Then, add a hanger rope or ribbon.

You may also cover the photo with clear plastic or acetate film.

Embroidery Hoop Clock

You may embroider or cross-stitch a clock and use the hoops as its frame. You may also use the hoops to replace your broken clock frame. This will give your clock a rustic farmhouse look.

Hoop wall decor

You can reuse your old hoops as wall art decors for your home. You may stitch in different colors of fabrics in each hoop. Then, hang them as accents on your gallery wall.

You may also create felt crafts and use the hoops as frames to display your or your kid's artworks.

Nursery mobile crib

This is simple. Get your hoops and tie around it are colorful toys that your baby will enjoy. You may cut different shapes or animals out of felt fabrics. Then attach a ribbon on each cut-out and tie it on the hoop.

There are so many ways to reuse your embroidery hoops. All you need is to explore your creativity.
Can You Take Embroidery Out Of The Hoop?
One of the common mistakes that embroiderers make, is not taking the hoops off the fabric. This can cause a few issues on your fabric over time.
Markings

If you do not take out the hoops on your fabric, they will leave unpleasant dents. If the hoops are on the fabric since you started it, the markings could be difficult to fix. You know that an embroidery project takes time to finish.

Say you keep the hoops on to your fabric for two weeks. The dent could create dents that are too deep to fix by washing or pressing. The worse scenario is when the hoops had damaged the area of the fabric that they clipped together.

Stretching

Embroidery hoops tend to stretch your fabric to keep good tension. If you do not remove the hoops on your fabric, it will stretch your fabric over time. By the time you finish the project, your fabric will look uneven.

Stretched fabric can be difficult to fix because of the distorted thread and weaves.

Dirt Accumulation

When you do not take off the hoops, the dust and dirt get in the stretched area of the fabric. The longer you stretch that area, the more dirt will get inside the fabric. This will cause an uneven color of your fabric because of the accumulated dirt within the area.

Damaging Stitches

Prolonged stretching of your embroidery can cause damage to your stitches. As you embroider, you may have to pull or adjust your fabric and hoops to keep the tension.

Constant pulling and stretching can break your embroidery floss. This is likely to happen to small and tight stitches on your work.
Hoops are useful for making great embroidery works. However, you must not overdo it. Always remove the hoops on your fabric when you are not embroidering it.
Removing the hoops allows your fabric to return to its original shape after each session. This will prevent unpleasant effects on your fabric.
How Tight Should An Embroidery Hoop Be?
Hoops should give your fabric the right tension. These keep the fabric taut to make embroidery easier. There is the right amount of fabric tension that you need to consider. Avoid overstretching your fabric to avoid thread distortion on your fabric.
Prepare the Hoops
The following are the steps on how you can place the fabric on the hoops.
Get your hoops and loosen the screw on the top. This allows you to separate the two hoops.
Wipe each hoop to make sure that they are clean before you put your fabric.
You may also get fine sandpaper to smooth out any nicks you see or feel around the hoops. Once clean and smooth, check which side of the hoop should be on top.
Place the Fabric
You may know this already, but again, make sure your fabric is bigger than your hoops. You also need to ensure that your design must be inside the hoops. You do not want to crush or clip on the embroidery threads in the future.
Put the smaller hoop on a flat and sturdy surface.
Put your fabric over this hoop. There will be fabric overhang or excess, don't worry about it.
Then, place the bigger hoop on top of the fabric. Adjust the fabric and ensure that it does not sag.
Tighten the screw of the bigger hoop.
Here are some tips you need to consider when placing the fabric.
Use both hands when pressing the bigger hoop onto the fabric. This will allow you to apply even pressure around the hoops.
Avoid pulling the fabric overhang when adjusting the fabric. Loosen the screw before you move the fabric.
The fabric should be taut and not overly stretched. Overstretched fabric or too tight hoops can cause dent or markings on your fabric.

What Do You Do With Embroidery Hoops?

Hoops consist of two rings with a tightening screw on one of the hoops. You place the fabric between these rings and tighten it with the screw. Hoops are available in wood, plastic, silicone, and other materials.

Hoops are great for embroidery and cross-stitching. These keep the fabric taut for easier needlework. These hoops also help embroiderers make even and top-notch stitches on the fabric.

The following are the benefits of using hoops.
Hoops keep and secure your fabric in place while working on your stitches.
These rings help you make even stitches, especially if you do cross-stitch. Hoops keep your fabric square up and allow you to find its center easily.
They give you a better view of the fabric weaves to see where to put your stitches.
Hoops are helpful when you work on thin, soft, and smooth fabrics. The hoops will keep your fabric in place and prevent it from sliding off your hands.
Hoops prevent your fabric from getting fold marks or creases. Holding your fabric without hoops tends to crumple or wrinkle it.
After you have completed your project, keep your embroidery hoops. You can reuse them again for your future projects. In case, you have lots of old hoops that are lying around your storage, repurpose them.
Aside from the 10 uses of hoops mentioned earlier, here are a few more.
Tambourine
Food cover
Plate or glass coaster
Door wreaths
Pincushions
There are many ways to reuse and repurpose your hoops. But if you intend to make more embroidery projects soon, keep them instead. You can use them in your future projects.
Even if hoops are inexpensive, you don't have to buy new ones every time you have a new project.
How Do You Keep Fabric Tight In An Embroidery Hoop?
Have you used wooden embroidery hoops that never seemed to fit together right? How about embroidery hoops that do not hold the fabric well? This could be frustrating since hoops are supposed to keep your fabric taut.
Now, there is an easy way to resolve this. Bind your hoops! Yes, you read it right, you need to bind your hoops before using them.
This is a simple process. All you need is wrap one of the hoops with ribbon, fabric strips, or tape. The ribbons and fabric strips work better.
The binding around the hoop will give extra thickness to the hoop to give it a good grip on your fabric. So, how do you do this? Here are the steps.
Get some cotton fabric strips or ribbons, glue, and scissors.
Get the outer or the bigger hoop. Apply adhesive on the outside edge of the hoop near the screw. Wait a few seconds to make the adhesive a bit tacky.
Once the adhesive is tacky, get the end of the fabric strip or ribbon. Stick its end in a slant position. Wait until the fabric or ribbon has bonded well on the hoop.
Then, turn the fabric and wrap the hoop. It will be better if you bond the fabric every few inches of wrapping. This will tighten and secure the bind. Make sure that the binding is tight so it will not unravel when you use it.
Complete wrapping the entire hoop. Cut the excess fabric or ribbon. Stick the end of the binding fabric outside the hoop. Let it dry, and you're done!
You can bind either of the hoops, but binding the outer hoop will be more convenient. Since it has the screw, you can adjust the tightness of the hoops easily.
There is no doubt that hoops are useful and practical tools for needlework. These rings make it easier for you to work on your projects. They keep your fabric in place for better and more polished stitches.
They are inexpensive, so buying and using hoops is a worthwhile thing to do. But even if they are inexpensive, it does not mean you treat them as disposable items. Hoops are reusable. You can use them again for your other projects in the future.
You may also repurpose and up-cycle them into different artistic crafts and decors. You may consider the suggestions given in this article. There are a lot of creative ideas to repurpose these hoops.
So, next time you finish using your hoops, don't throw them away. Keep or repurpose them. Who knows you can make more beautiful crafts out of these rings.