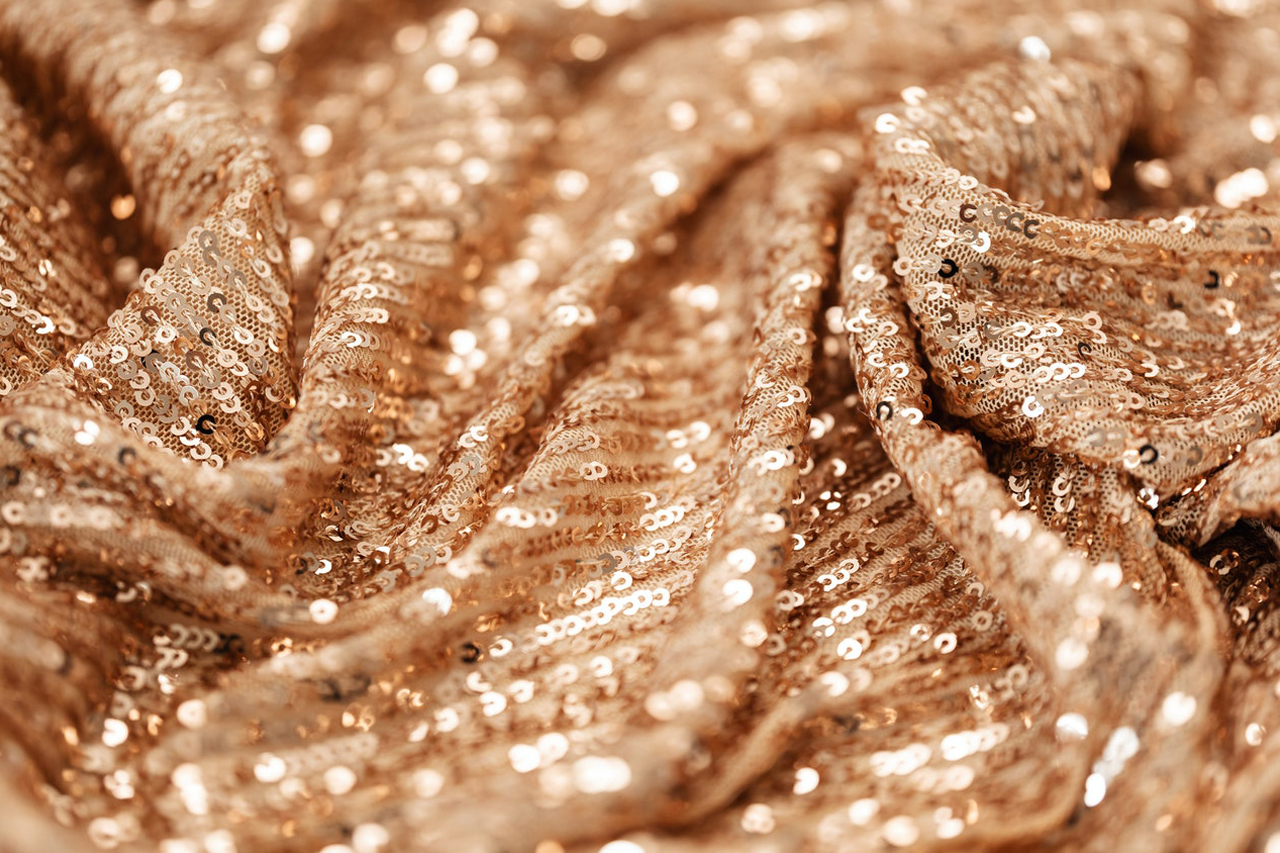 One of the best ways to Remove Sequins from clothes is to use acetone. You can dip one end of a cotton swab in acetone and apply it to the adhesive section. The acetone will loosen the adhesive's grip on the material and will easily remove the sequins.
Working with sequins could sometimes be tricky. For example, you may find yourself struggling to remove sequins. However, there is no need to worry because there are numerous ways to do so, like these five simple methods:
Glue Solvent

Using a super glue solvent is one of the most effective and quickest ways to remove sequins from clothing. The sequin glue will disintegrate in this solution, allowing you to wash it away. The solvent should dissolve even the most tenacious forms of adhesive.

First, place the garment in the sink and pour the solvent into the fabric until it trickles out. Let it soak for about fifteen minutes, then clean away any remaining residue with a toothbrush or cotton swab.

Clean your sink and let everything dry overnight before using your garment. Doing so will help you ensure that you properly set the solvent.

Tin Foil

You can also use tin foil to remove sequins off garments. Roll up a bit of your tin foil into a ball. Next, you must press down the ball with your fingertips to secure it to the top of the sequin.

Then, pull the tin foil away from the top of the sequin, taking it with you. Doing so should only leave one or two holes in your garment, compared to several dozen or more before you begin this process.

Lint Roller

Another excellent way to remove sequins from clothes is to use a lint roller. Grab sequins from materials like clothing and upholstery with the sticky side of the lint roller, then roll them off onto newspaper or another surface where they may be thrown away safely.

Follow the label's directions if you must wash your garments after removing sequins with the lint roller. In addition, it would be best to use lukewarm water and a gentle cycle with a light detergent.

Acetone

Acetone is another solvent that dissolves most glues used in garment manufacture. Before washing your clothes, you must place a small amount of acetone in a small bowl or cup on top of the glue sequin and wait for it to dissolve.

Goo Gone
Another solution for removing sequins from garments is Goo Gone. It is a solvent-based cleaner effective against various stains and adhesives, including glitter glue and hot glue used for sequins.
How to Remove Sequins from clothes and the Seam Allowance
If you want to remove sequins on your garment's seam allowance, it is best to use a seam ripper to remove them from the right side. You can also try cutting the strings keeping the sequins in place on the other side.
After removing them, you can use a matching color thread to go around the perimeter of the sequined area, anchoring the last sequin on each row. You can do the same thing with the darts; once you fill the spaces, there should be no visible seamline.
This method will help you untangle the sequins and leave them swinging freely. In addition, the broken and sliced edges are no longer on the seamline to irritate and harm you.
How to Remove Hotfix Rhinestones from Fabric
Removing rhinestones might result in patches and worn-out clothing if you do not properly know how to do it. So, it is best to use proper techniques like dipping a cotton swab in acetone and applying it to the glue portion to loosen its grip.
Are you trying to eliminate rhinestones from an old pair of trousers or a dress? You might have to do that often, especially when you want to go out but have nothing to wear. It's either an old dress or a gift with rhinestones that you want to remove from your clothing.
If you've tried before and ruined your dress, I'm here to show you how to remove them much easier and safer. Follow these easy methods to remove hotfix rhinestones from fabrics:
Removing Glued Rhinestones
Use a Steam Iron
Turn the dress inside out to use this approach. Then, place a protecting cloth on the back of the fabric, where the rhinestones are. Turn on your steam iron and disperse the steam around.
The steam and heat from the iron will weaken the glue, allowing the rhinestones to be removed. Please use caution because they will be quite hot! Assist using a pair of tweezers. You must act quickly with this procedure because the effect is lost once the glue has cooled.
Although this is a simple procedure, it does not work on all textiles. If the glue did not come loose like the rhinestones, follow the steps below to remove them.
Use acetone

Acetone is another approach that is worth a go. If at all possible, turn the fabric when using this procedure. The goal of using acetone is to loosen the adhesive's grip so you can remove both the rhinestones and the glue.

If you have spray bottles, fill one with acetone and spray a small amount on the stones on the back of the clothing. If you don't have a spray container, dip one end of a cotton swab in acetone. Then apply it to the adhesive spot.

The stones will lose their grip if you do this often enough (but not too much). Using a cotton cloth, remove the adhesive from the front. Then, if the glue becomes soft and gel-like due to the methods above, you can attempt to remove it using regular gum.

Use soap

If you don't feel fully at ease using the preceding approaches, you can use this one instead. You will use an ordinary piece of soap to clean the region where the rhinestones are glued with water and soap.

You can touch the fabric's sides against each other, with rhinestones in the middle. After doing so, the rhinestones will fall off after a few minutes.

Some adhesive may remain on your outfit. However, removing it is simple. You have to scratch it off with your index fingernail or gum. Then, you can reuse the stones by sticking them on again with hotfix glue.

Use a Glue Solvent

If you don't like any primary ways or believe the goods are too dangerous to use on your outfit, you can purchase a solvent and test it first. Apply it to both sides of the rhinestones and set it aside to dry.

Use Nail Polish Remover

Using an acetone-based nail polish remover is another effective way to remove sequins. You must apply it using a cotton swab and wait approximately 2 minutes. Then, repeat the process if there is any remaining adhesive.

Use Goo Gone
Goo Gone is one option that has received a lot of positive feedback. The rhinestones and glue will come out of the fabric without staining or soiling. You need to apply the Goo Gone to the glued area using tissue paper.
Removing Rhinestones with Pronged Rhines
On the other hand, if your apparel has pronged rhinestones rather than glued rhinestones, it is best to pull the prongs outward in opposing directions. Using needle-nosed pliers, a knife, or a seam ripper would be best.
Using these tools will allow the rhinestone to exit via the opening. You must remove it, and the metal fixture will follow. So, instead of removing all the rhinestones, you can draw a couple and leave a few on your garment.
How to Remove Rhinestone Glue?
Although removing rhinestones from cloth appears to be a challenging task at first, it is not as difficult as it seems. The best way is to dab the area with acetone using a cotton swab to loosen the adhesive's grip.
However, there are more ways to remove rhinestone glue. Other glue removal solutions include using a solvent to dissolve the hot glue. On the other hand, it would be better to use a cleaner with ethyl acetate or methoxy propanol to remove glue gun traces.
Moreover, you can use Dimexide, available at pharmacies, to clean secondary acrylic adhesives. You can remove acrylic adhesives with nitromethane (a fuel additive), acetone-free nail polish removers, and specialty products like Antikley.
Lastly, you can use a 1:1 mixture of turpentine and alcohol, or other acetone-containing solvents, to remove resin-based adhesives.
However, I think it's crucial to remember that when using chemicals, it is best to be aware that things can go wrong. As a result, if the possibility arises, it is preferable to try to avoid using methods that are too aggressive.
How can you avoid damaging your clothes?
When removing glue from items, it's crucial to know how to remove rhinestones from garments without leaving a trace and avoid damaging the fabric. So, it would be best to follow the rules listed below:
Rule 1:
When working with acetone or alcohol, turning everything inside out is best, and using a cotton swab or pad to apply the solvent to the contaminants. Put a paper towel under the fabric simultaneously to prevent or lessen the damage to your garment.
Rule 2:
It is best to work on the cloth's front and use a cotton swab or pad if you plan to use sprays.
Rule 3:
You can use turpentine on any side. But, it would be best to wait 2-3 minutes after wetting the fabric before removing dirt with a cotton pad.
Rule 4:
When using cotton pads, ensure the stain does not spread farther on the fabric. You can use soft napkins or paper towels instead of cotton pads.
Rule 5:
If the glue has become soft and jelly-like under the pressure of various methods, you can try to remove it with an ordinary eraser.
How to Remove Pearl Beads from Clothes?
Although pearl beads are trendy, they can be difficult to remove from clothing. There are various ways to remove pearl beads from clothes. But the two best ways to do so are water, soap, or alcohol.
Water and Soap

Washing pearl beads with soap and water is the simplest way to remove them from garments. First, wash the entire clothing in cold water on a delicate cycle using a moderate detergent.

Then, you can hand wash your garment in warm water with a moderate detergent if necessary. Finally, allow it to air dry after rinsing it with lukewarm water.

Rubbing alcohol
You can also use rubbing alcohol to remove pearl beads from clothes. You need to apply alcohol to a cotton ball or cloth and gently massage it over the pearl bead until it breaks loose from the clothing. But, be careful not to rub too hard, or you might damage your garment.
Recommended topics: