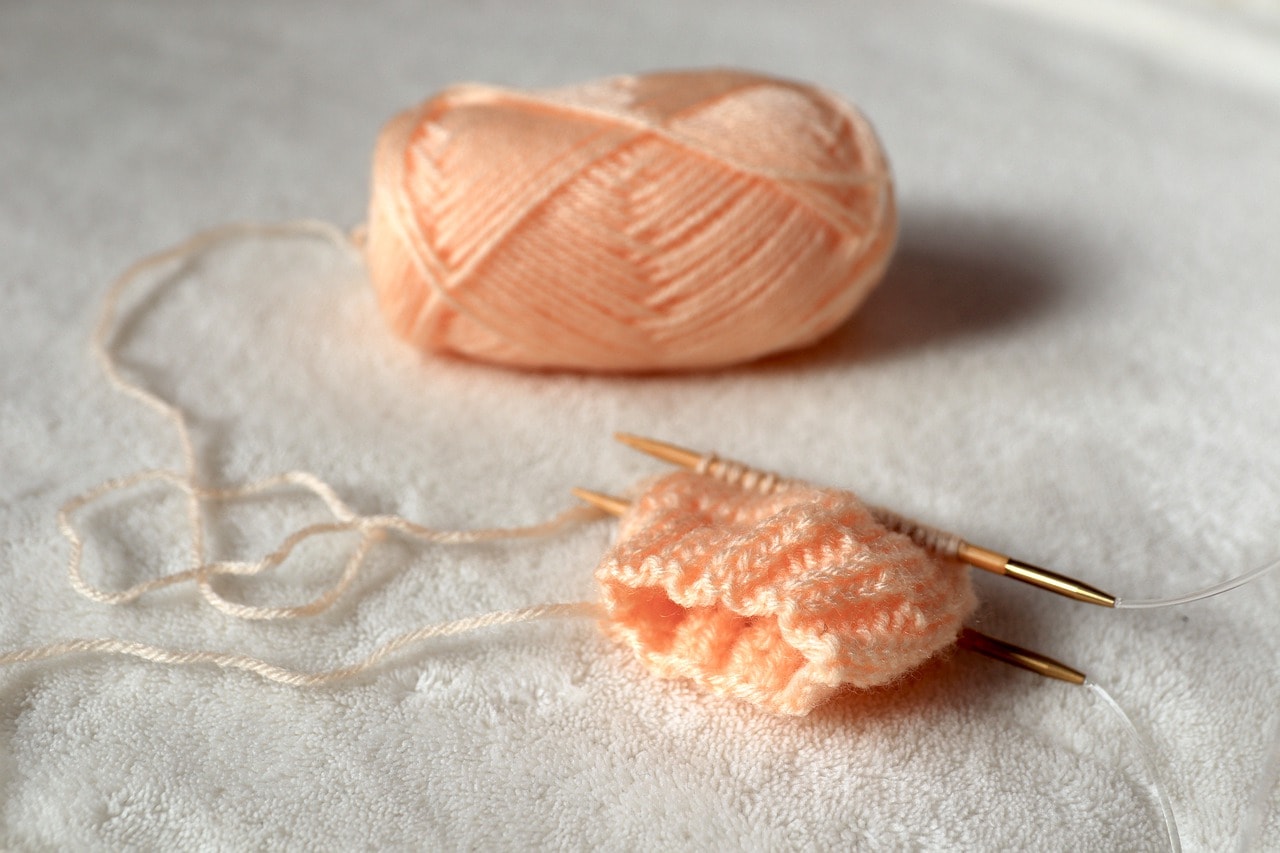 Make a slipknot, which will count as your first cast-on stitch.

a. Loop your yarn around your middle and index fingers twice.
b. Slip the first loop over your second loop.
c. Pull the tail of your working yarn to tighten the knot around the loop's base.
d. Slip the loop onto your right-hand needle.

Cast on.

a. Hold one needle in each hand with the central cable hanging down in front of you.
b. Loop the yarn around the left-hand needle.
c. Insert the right-hand needle into it.
d. Yarn over again, and use the right-hand needle to pull the new yarn through the loop on your left-hand needle.
e. Repeat this process until you reach your desired number of cast-on stitches.

Turn your knitting project to have your yarn on your right side.
Place a stitch marker between your first and last stitches in the round. Doing so will make it quicker to keep track of where you are on your pattern.
Join the stitches in a round by knitting into your first stitch. Then, continue knitting the round, according to your pattern.

a. Keep knitting in one direction to work rounds on circular needles.
b. Knit back and forth across the rows and turn your work after each row if you are working rows on circular needles.

Make sure to check the direction of your stitches when you knit.
Transfer to double-pointed needles to decrease in the round.

a. When you are ready to transfer your stitches, you can begin your next round. Do it with the circular needle on your left hand, and a double-pointed needle in your right hand.
b. Knit ¼ of the total number of stitches onto the double-pointed needle to transfer them.
c. Pick up a new double-pointed needle and work the next ¼ of the stitches onto the round.
d. Continue working the stitches onto the double-pointed needles until you transfer all.
e. Work the rest of your project on the double-pointed needles.

Cast off.

a. Bind off the last row or round of stitches by knitting the first two stitches in the row or round.
b. Then, use the left-hand needle to lift the first stitch you knit onto the right-hand needle up and over the second stitch.
c. Knit one and lift the old stitch over this new one.
d. Repeat these steps until you cast off all stitches in the row or round.

Tie off and cut excess yarn.
What are circular knitting needles used for?
Using circular needles helps you distribute your work's weight, especially when working with a high number of stitches. It reduces the strain on your hands, wrists, and shoulders.
Are circular knitting needles better?
Circular needles are useful when working on big projects like afghans, wraps, or throws. They hold the stitches a little bit better and make it easier for you since they carry more weight. Because of this, they help reduce the strain on your hands, wrists, and shoulders.
How do you knit a blanket on circular needles?
Cast on the required number of stitches with your circular knitting needles.
Knit as you would normally do using straight needles, with stitches on the left hand.
Work across the stitches as your pattern indicates, moving the stitches to the right-hand needle.
Turn your work once you finish all the stitches onto the right-hand needle. Doing so should transfer the needle with all the stitches on your left hand.
Does the length of circular knitting needles matter?
Length does not matter when it comes to circular needles. But there may be specific sizes that will be more appropriate for a particular knitting project.
Circular knitting needles sizes
Circular needles range from 22cm to 150cm. But the most common lengths knitters use are 40, 60, and 80 centimeters.
The length from tip to tip determines the size of this type of knitting needles, so it includes two needle points and the connecting tube. Knowing this information is useful if you plan to use interchangeable needles.
If you are knitting in the round, you cannot use circular needles longer than your project. You need to use a magic loop or knit two circular needles at once. But there is more flexibility if you are not knitting in the round. Your needles' length depends on the number of your stitches.
When choosing your needle length, you need to remember that you cannot use circular needles longer than the diameter of the knitting tube. You also cannot use needles that are too short that cannot accommodate the number of stitches on your pattern.
Personal preferences are also a factor. You can choose needle sizes that work best for you, although they might not work well for other people.
Needles shorter than 16 inches
You can use these needle for knitting projects with a small circumference. Your needles must be short to accommodate the cord's short length.
16-inch needles
16" circular needles are ideal for knitting hats. If you want to create a hat by knitting in the round, 16 inches will be your go-to length. You can also use them to knit baby pullovers, baby cardigans, or the collars and sleeves of adult sweaters.
24-inch needles
Many knitters believe that 24" needles are the perfect size of circular needles. You can use this for almost everything – anything larger than a hat.
29 to 32-inch needles
These lengths are perfect for knitting shawls. They are also ideal for knitting medium-sized pullovers in the round, cardigans, and baby blankets. It gives some room on the needles without having too much.
36 to 40-inch needles
Using these needles is perfect for knitting big chunky blankets, large pullovers, larger cardigans, circular shawls, or men's pullovers in the round. These are also ideal lengths if you want to try using magic loops.
Needles longer than 40 inches
Using circular needles longer than 40 inches will let you lay them out while working. But it will leave you with a lot of extra needle length that can be difficult to deal with.
What size circular needles for a hat?
16-inch circular needles usually work well when knitting a hat. But you may prefer 12-inch needles if you are knitting a small baby's hat.
What size circular needles for socks?
You may find that 32 to 40-inch needles work ell when knitting socks. They will give you enough room on the needles without having to worry about having too much.
What size circular needles for a blanket?
36-inch needles are perfect for large knitting projects like blankets. But some knitters believe that the best knitting needles for large blankets are circular wooden needles that range from 36 to 40 inches.
What if my circular needles are too long?
If you think that your circular needles are too long for your knitting project, you can change them to one with the same size but a shorter cable. But you need to make sure that they will fit inside your stitches.
Although this is an obvious solution, you may find it difficult and awkward to knit with shorter cables. They may not give you enough room to move your tips.
What are double-pointed knitting needles?
Double-pointed needles or DPNs are perfect for knitting projects that are too small to fit on fixed or interchangeable circular needles. You can use them in knitting projects such as:
Washcloths
Headbands
Socks
Sleeves
Mittens
Children's garments
What are fixed circular knitting needles?
Fixed circular knitting needles are short, single-point needles. A flexible cord connects them, which can range from 8 to 40 inches long.
Their needle tips come in 4 or 5 inches lengths, and since they are fixed, you cannot change the size of these needles. You need to be precise with your project requirements before you start knitting.
What are interchangeable circular needles?
Unlike fixed circular needles, you need to screw or snap the parts of interchangeable needles together. After doing so, you must lock the interchangeable pieces in place so you can use them without difficulty.
Many knitters prefer this type of circular knitting needles because of many factors:
Their cord lengths are adjustable in progress. You do not have to worry about having excess or not enough room for your project.
Their needle tip sizes are also adjustable in progress.
These needles come in a handy case for protection, travel, and quick access.
Their joining cable prevents dropper or lost needles.
They can be useful in knitting flat or in the round.
They are perfect for large knitting projects because they distribute your work's weight evenly.