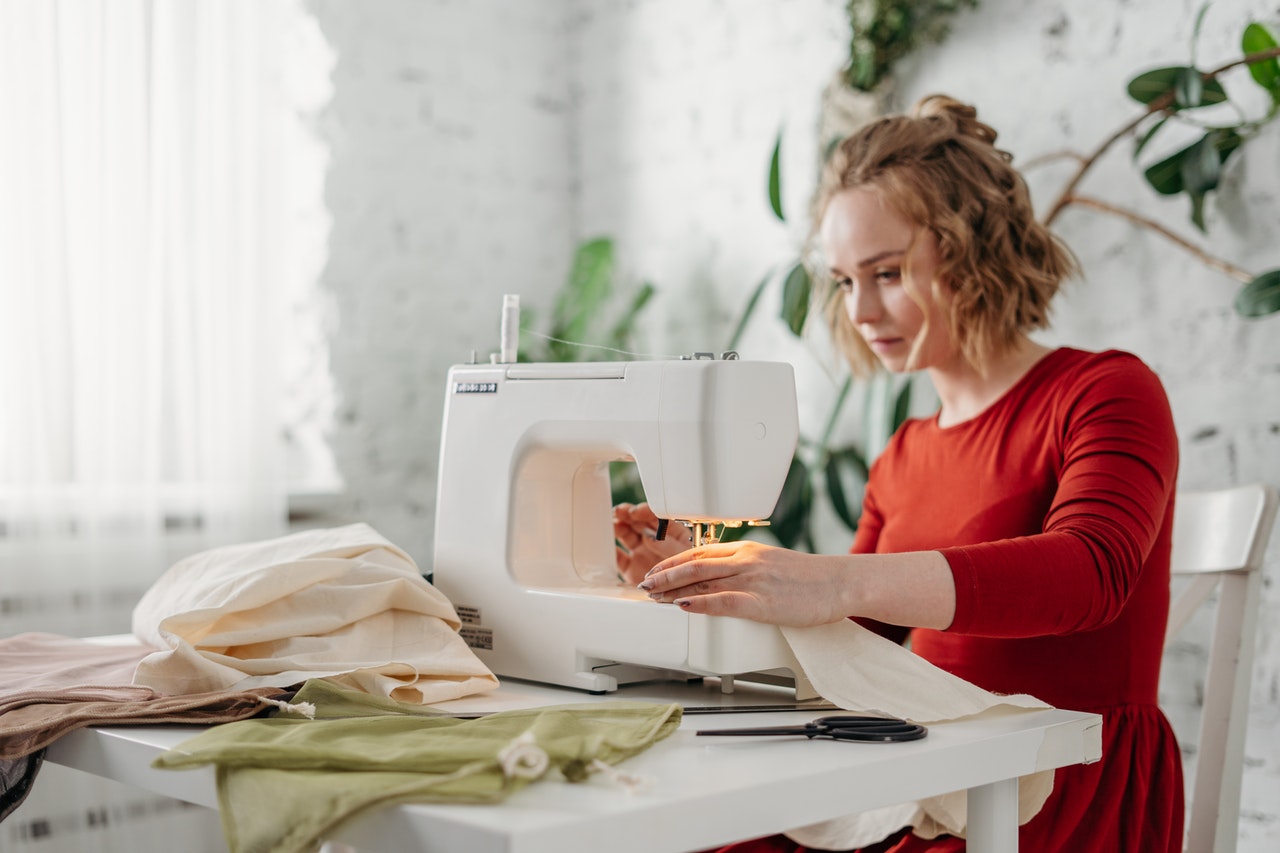 You can sew without interfacing, but you should expect your fabric to sag, which could look less professional. So, it is always best to use interfacing in structural areas like collars to avoid sagging and looking distorted.
You can either sew or fuse your interfacing between layers of cloth to provide structure and body to your garment. So, you could say that it is one of the keys to giving your project a professional appearance.
You might not have encountered interfacing if you are new to sewing because it does not show in finished garments. But you may be more familiar with well-structured collars and cuffs, which bury the interfacing inside responsible for their stiffness.
Understanding the use of interfacing in the textile business is not always straightforward, especially for beginners. So, to make it simpler for you, I included some interfacing must-knows in this blog to help you make the right choices in your projects.
What is Interfacing in Sewing?
Interfacing is a fabric that helps stabilize particular areas of a garment. You can use it as an additional layer on the inside of garments, like collars, cuffs, waistbands, and pockets, to provide firmness, shape, structure, and support.
Several dressmaking parts are more durable and last longer when strengthened using interfacing fabric. For example, if you construct a pair of pants with buttons, it is best to use interfacing to keep the buttons from pulling off and ruining the cloth.
Without interfacing and good technique, your garment would hang and sag, giving it a less-than-professional look. Use caution when using alternate methods, store-bought adhesive, or sewn-in interfacing. The interfacing will make or break the final appearance of the project.
If you prefer working on bag and tote projects in addition to dressmaking, you can also use interfacing to make them! It adds strength and structure to the fabric, resulting in soft, flexible, or firm finished products that you or your recipient will love.
What are the Types of Interfacing?
In general, interfacing is available in two types: fusible and sew-in. But, you can also categorize it into three weaves: non-woven, woven, and knit. It also comes in various weights: light, medium, and featherweight, midweight, and heavyweight.
Types of Interfacing in Sewing
Non-woven interfacing, woven interfacing, and knit interfacing are the three significant types of interfacing. You can use woven and non-woven interfacing for non-stretch woven textiles. In contrast, knit interfacing is more suitable for stretch knit fabrics or stretchy woven fabrics through the addition of spandex.
But, whatever interfacing you use to finish your garment, make sure that it does not overwhelm your garment or lack the adequate support it needs. Instead, it is best if your interfacing complements and reinforces the garment.
Furthermore, your chosen interfacing should have the same care recommendations as your garment, which reduces the possibility of it coming undone in the wash and receiving damages.
As a beginner in sewing, you will most likely go through trial and error when selecting the proper interface. In addition, specific varieties of fusible interfacing cannot resist standard machine washing, so always read the care instructions before applying it to a garment.
As I mentioned, besides the care requirements, interfacing can come undone in the wash owing to poor application. So it is best always to follow the proper methods to ensure that you properly sew or bond the interfacing to the wrong side of your fabric as you work on it.
Woven Interfacing
Woven interfacing, like ordinary fabrics, comes in a range of fiber compositions and has a grain that requires you to cut it properly. It has no stretch and is therefore appropriate for non-stretch garments.
If you need or want additional stretch, you can cut your woven interfacing on the bias, allowing for more mobility in the grain.
Non-Woven Interfacing
Non-woven interfacing contains fibers (typically polyester) bonded together to form a fabric-like structure. It does not have a grain as opposed to woven interfacing, meaning you can cut it in any direction.
But, you should avoid using it with knit fabrics that have a lot of elasticity. Not only will it hinder knits from expanding correctly, but it may also cause the interfacing to come apart, causing the stretch knit garment to lose its shape during wear, resulting in some severe fit/design difficulties.
Knit Interfacing
Knit interfacing contains strands knitted together to provide for one-way or all-way stretch (depending on the weave). You can use it on knit textiles such as jerseys, Ponte knit, and interlocks, to name just a few.
This stretch interfacing provides rigidity without sacrificing movement. But remember that you should cut it on the exact grain as its intended knit fabric. Additionally, because of the informal, free-flowing nature, most knit garment items do not require the use of interfacing.
It is best to use interfacing for waistbands, cuffs, and collars when working with heavier knits. Additionally, woven clothes with some elasticity might benefit from a knit interfacing, which offers stability while allowing for additional movement and stretch in the finished garment.
Sew-In or Non-Fusible Interfacing
Unlike fusible interfacing, you should sew non-fusible interfacing into the garment. Also, note that its surface will not attach to the inside surface of the garment in the same way that fusible interfacing does.
However, non-fusible interfacing takes a little longer to install using various sewing techniques to minimize bulk and achieve the desired drape. So, it is usually best to use hand sewing cat-stitch when working with very thick, dense interfacing.
Another way to reduce bulk in heavier woven interfacing is to overlap the interfacing seams and join them with a zig-zag stitch or grade and trim the seam allowance.
As a beginner, you do not need to worry about these tactics because they are frequently for customized clothing items with facings and thicker linings. But, note that you still need a bit more expertise and practice when working with sew-in interfacing.
Iron-On or Fusible Interfacing
The most common type of interfacing used in garment construction is light to medium weight iron-on interfacing. It is available in a variety of contents ranging from polyester fiber to 100 percent cotton.
The term "iron-on" refers to the method of applying fusible interfacing with a hot iron. When you look at the backside of fusible interfacing, you will find tiny, uniformly dispersed specks of a specific glue that are dry until they come into contact with the heat of the iron.
But, it is best to avoid touching them with the iron. So, you will need an ironing cloth (ideally somewhat damp) to use as a protective screen on the face side of the interfacing while the adhesive on the back bonds to the garment's fabric.
Although all fusible interfacing requires heat to cling to the garment, it is always best to read the directions that accompany your purchase because various fusible interfacing will require different processes based on style and content.
Compared to sew-in interfacing, fusible interfacing requires less knowledge of fit and garment structure to be effectively applied. However, take in mind that not all fabrics are suitable for iron-on interfacing.
You cannot use fusible interfacing on fabrics with a lot of texture, a nap, or a lot of open waving since the interfacing will not stick to them. Furthermore, this type of interfacing might harm heat-sensitive fabrics during the fusible interfacing application procedure.
The bulk reduction also applies to fusible interfacing. So, it is best to avoid interfacing with the inside of the darts, pleats, tucks or gathers when backing the garment.
In most circumstances, you will need to trim the fusible interfacing piece's seam allowance down to the seam lines before you bond them to the garment piece. Doing so prevents the garment's seam allowance from becoming stiff or bulky, allowing it to lay flat and be less noticeable.
However, in other circumstances, you may want to add interfacing to the back of the entire garment piece to offer more stability or thickness. For example, you can apply interfacing along certain seam allowance fold lines on the inside of a woven waistband, collars, and hems.
What Weight Interfacing Should I Use?
As a general rule, the weight or thickness of your interfacing should match the weight or thickness of your fabric. So, it is best to use medium weight interfacing with medium weight textiles, featherweight for light fabrics, and heavyweight for heavier materials.
If you want your projects to look more professional, it is best to select interfacing based on the weight of the cloth you are working on and whether you need a soft or rigid drape. So, in general, please do not use a thicker weight interfacing than the fabric, as it will overwhelm the garment and impart an unnatural structure.
For most dressmaking projects, lightweight interfacing is adequate. But, medium-weight interfacings may be a better alternative when working with stiffer cotton. Meanwhile, you can use heavyweight interfacing when sewing heavier fabrics or provide strength to apparel.
Also check: 
What Can I Use Instead of Interfacing?
If you do not have available interfacing, you can use DIY methods, craft fabric stiffening, and commercial stiffening materials for stiffening fabric. These stiffening techniques will give your sewing project a cutting-edge fabric finish.
Here are six ways you can stiffen your fabric without using interfacing:
Combine a cup of water and a tablespoon of wood glue to make a solution.
Mix a tablespoon of cornflour or potato starch into two glasses of water.
You can use gelatin to stiffen silk and chiffon materials. First, you need to combine a tablespoon of gelatin and two cups of water to make a solution. Next, allow it to sit for an hour before adding four cups of boiling water to the mixture. Then, to stiffen the cloth, dip it into the solution and let it dry.
To stiffen natural fabrics, you can use Elmer's Glue mixed with equal parts glue and water.
Boil water and sugar in equal portions on the burner. First, you will soak the garment, remove it from the mixture, and lay it flat to air dry.
You can also bring white rice to a boil and drain the water. Next, you will allow the rice water to cool before dipping the fabric into it to remove extra water. Then, allow the fabric to air dry until it stiffens.