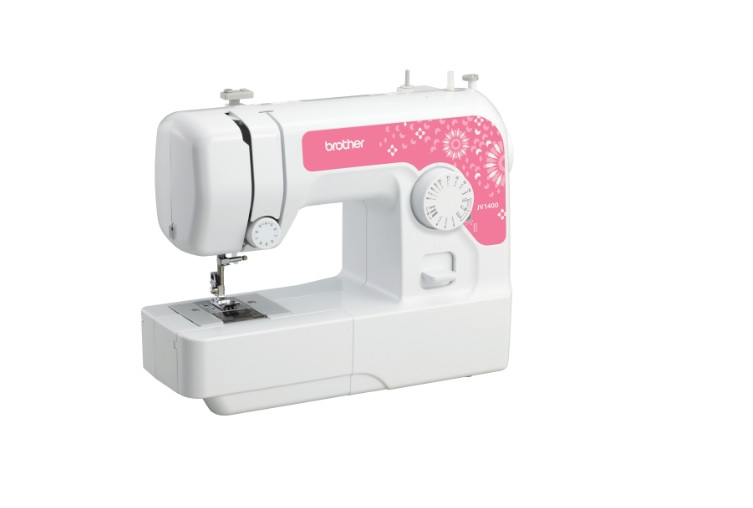 Sewing as a hobby is one of the most gratifying of hobbies. You get a piece of clothing that you can wear or sell when you finish your project with the help of an efficient sewing machine. Whether you are new in this craft or have been sewing for a while, you may want your sewing machine to handle simple sewing tasks. That is what Brother JV1400 sewing machine is all about.
Brother is one of the leading sewing machine brands. And this brand is always in pursuit of making sewing machines that are easy to use and accessible to everyone. Brother sewing machines are available for all skill levels, whether you are a professional seamstress or a beginner.
Brother makes sewing machines specifically designed for many different uses. The company also makes Brother sewing equipment for free-motion, sergers, embroidery, quilting, and industrial sewing machines. The company is also a famous maker of printers, photocopiers, and other office equipment. The company Brother Industries originates from Nagoya, Japan.
What is a Brother JV1400 Sewing Machine?
This compact and easy-to-use sewing machine is a great choice for people who love sewing. It can also be a good choice for home sewing tasks such as mending clothes, attaching pockets, and sewing the hem. It has 14 built-in stitches, a 4-step buttonhole, and auto stitch length and width. Another convenient feature of the machine is the free arm sewing surface's convertibility. You can transform it from a traditional flatbed to become a free arm for sewing cuffs and sleeves.
The Brother JV 1400 sewing machine also comes with a DVD that gives step-by-step sewing instructions. It also includes the instructions for two great starting projects. The machine provides easy to understand instructions ideal for beginners who want to learn dressmaking or at the very least make clothing alterations.
Machine weight is 5 kg. It is super lightweight that it is easy to move from your working table to your storage. Its weight and size are ideal for when you have to bring your sewing machine to class.
What are the key features and specifications of Brother JV1400 Sewing Machine?
14 Built-in stitches
Top load bobbin
LED sewing light
Auto set stitch length & width.
4-step buttonhole
Free arm sewing
Maximum 5mm stitch width
Maximum 4mm stitch length
Dial selection
Instructional DVD
What accessories are included with the Brother JV1400 sewing machine?
Buttonhole foot
Zipper foot
Zigzag foot (on the machine)
4 Bobbins (one on the machine)
Needle set
Screwdriver
Foot controller
Instructional DVD
FAQs
Is the product easy to use?
The Portable Free Arm Brother JV1400 Sewing Machine is a basic sewing machine that is very easy to use. The directions on the machine are clear and easy to understand. The sewing machine can perform all the basic stitching functions that a beginner or an occasional seamstress needs.
It is best to use it on simple sewing projects and mending pieces of clothing. The Brother JV1400 is highly recommended for beginners.
Is it of high quality?
The Brother brand, along with Singer, is recognized worldwide as belonging to the top tier in sewing machine manufacturing. Brother sewing machines are known for their high quality in terms of functionality and aesthetics.
What are the pros and cons of the product?
As with any product, there will always be positive and negative feedback from users. Read on to know how the pros of this model outweigh the cons.
Pros
Easy to use
Durable
Reasonably-priced
Lightweight
With 14 built-in stitches
With LED lighting
Built-in free arm
Has instructions on the machine itself
Comes with demo video and manual
Cons
not very good with thick fabrics
not very good with very light fabrics because the needle is a bit big
Whom is the Brother JV1400 geared towards?
The Brother JV1400 Sewing Machine is manufactured with beginners and the occasional seamstress in mind. Since it is a Brother sewing equipment for beginners, it is not complicated to operate. Directions written on the manual are easy to follow and come with a demo video on a DVD that you can view as often as needed.
The Brother JV1400 is a basic sewing machine that can sew simple clothing like pajamas, simple skirts, shorts, and tops. It has the basic stitches needed for simple sewing tasks like hem repair, attaching ribbons, or mending torn pockets.
Have others had a good experience with the Brother JV1400?
The Brother JV1400 sewing machine has rave reviews. Most of them come from customers who are new in the craft, making this Brother sewing machine model an excellent option for starters. Here is a compilation of the top constructive comments from happy clients.
The sewing machine is so easy to use.
Perfect for a beginner.
The machine is portable and lightweight.
It has good quality.
It is good value for money.
It runs nice and smooth.
The sewing machine is easy to set up.
It has a very good value in comparison to the competition.
Is the Brother JV1400 worth my money?
Brother sewing machine brands are known for good quality worldwide. The Brother JV1400 sewing machine is a simple and easy-to-use model, yet it gives great value for your money. It is a basic sewing machine that does more than you would expect for its price.
The Brother JV1400 is recommended as a low-cost sewing machine for a beginner. You can find it in online stores for a reasonable cost of not more than $200 but not less than $100.
Overall, the Brother JV1400 is a high-quality machine for its price. It can perform all the basic sewing functions that a beginner needs to make clean stitches in creating simple outfits.