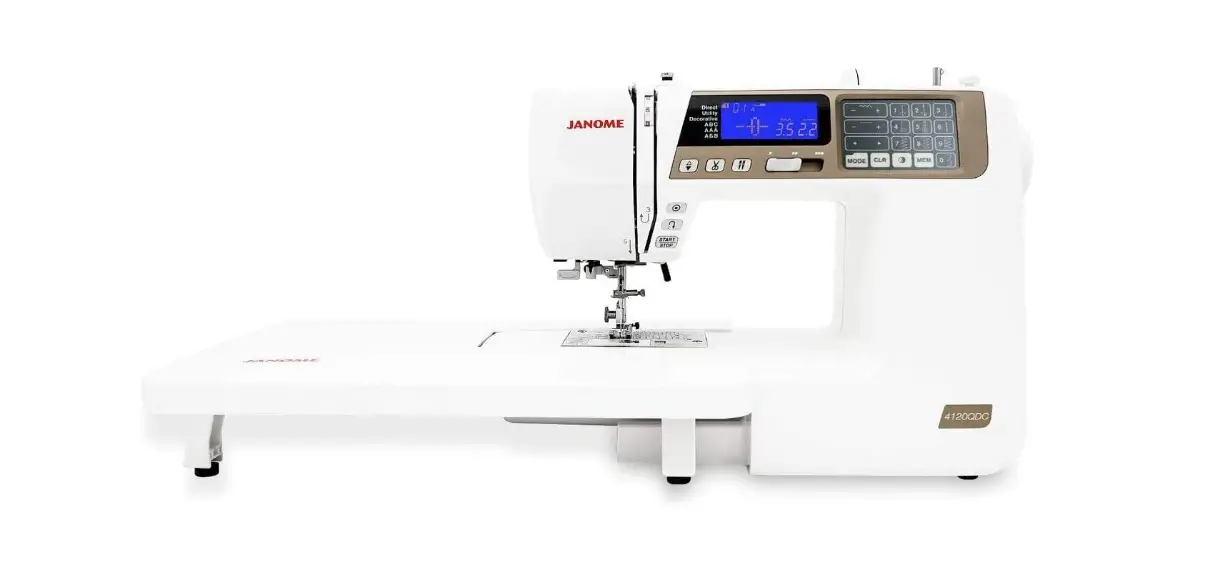 A sewing machine that uses straight stitches is theoretically enough if you simply need to join two fabrics together. But there are situations in your sewing journey that you will need to do more than straight stitches.
The next basic stitch to a straight stitch is a zigzag stitch. Many vintage machines already come with the zigzag stitch feature and are still fully functional up to the present.
Zigzag sewing machines can be set to straight stitch or zigzag stitch with a flip of a switch or a button. Other zigzag sewing machines have accessories included that you can attach to the needle shaft.
You can spot a zigzag machine by looking for two levers or large knobs; one for stitch length and one for stitch (zigzag) width. Notice that the needle hole is oval and large enough to accommodate the zigs and zags. The presser foot of a zigzagger also has a much wider opening than on a straight stitch machine.
If you want a vintage machine that is a notch higher than your straight stitcher, experts suggest these vintage zigzaggers:
Kenmore 30

The Kenmore 30 is a highly-recommended vintage sewing machine from Kenmore brand that can make a zigzag stitch. This versatile sewing machine has 30 stitch patterns, including the zigzag stitch. It has enough stitches to sew different projects, which is not overwhelming to a newbie at sewing.

The Kenmore 30 is an affordable, high-quality machine made in the 80s. You can still find them in good working condition at $100 to $200. For a vintage sewing machine, the Kenmore 30 is light and portable with a hand-carrying handle.

Singer 223

The Singer 223 is a vintage metal sewing machine made in the Singer factories in Japan. It does not only offer perfect straight stitching but offers zigzag stitching in different widths and stitch lengths. You can also use the machine for blind stitching by flipping a switch.

Singer 237

The Singer 237 is one of the last all-metal sewing machines by Singer. It was made in Italy from 1967 to 1971 and was sold as a budget alternative to the more expensive models. It has high performance for the basic straight and zigzag stitch. You can also use the machine for free-hand sewing by lowering the feed dogs.

Aside from the basic straight and zigzag stitches, the Singer 237 can make satin stitches comparable to the more expensive sewing machines of its time. The Singer 237 is a decent vintage zigzag sewing machine that can handle common sewing projects and a useful machine you can purchase at a very affordable price.

Elna 62C

The Elna 62C is one model among the Supermatic Star Series of the Elna brand built more than fifty years ago. This vintage zigzag sewing machine's engineering and build quality are excellent and at par with the other Swiss-made machines built during its launch.

The Elna 62C zigzag sewing machine is known for its reliable, smooth, quiet, and robust quality.

Brother Prestige 30

The Brother Prestige 30 is a very smoothly running vintage zigzag machine. It has 21 built-in stitches: straight stitch, buttonhole stitch, feather stitch, blind hem stitch, tricot stitch, zigzag stitch, etc. It also includes several presser feet like the standard foot, zigzag, rolled hem, and zipper foot.

Singer Touch and Sew 626

The Singer Touch and Sew 626 is a special zigzag sewing machine. It has seven decorative and practical stitches, including the straight and zigzag stitches. You can stitch from the ample number of stitches the machine has by pushing the selector button in, then slide left or right to bring the indicator to the chosen setting. Then, release the button.

Not only can you choose stitches using a button, but you can also set the stitch width using the stitch width selector.

Bernina 117L

The Bernina 117L was made in 1938 and is considered one of the first domestic zigzag sewing machines manufactured. For a machine that was made almost four decades ago, its features are somehow modern. This vintage zigzag sewing machine has a pressure control knob, automatic winding bobbin, stitch length and width control, feed dog drop, and a knee lift to keep both hands on your sewing project.

You can also shift the needle position from the left, center, and right. The Bernina 117L runs on either the treadle or the motor. It is a vintage workhorse, sewing even six layers of thick fabrics.

Singer 252

The vintage zigzag sewing machine Singer 252 is one of the Fashion Mates series. The Fashion Mate 252 has only three stitches; the straight, zigzag, and blind stitches. Even though the Fashion Mate 252 was one of Singer's entry-level offerings, it gives a nice stitch quality and does not sew noisily.

Singer 328

The Singer Style-O-Matic 328 is an all-metal heavy-duty, zigzag sewing machine. Singer produced the machine from 1963 to 1965 in Scotland and Canada. Aside from the conventional straight and zigzag stitches, the singer 328 also has decorative stitch capability. The Style-O-Matic sewing machine can sew dense fabrics like leather, denim, duck canvas, upholstery fabric, and marine vinyl.

Singer 401A

The Singer 401A Slant-O-Matic is considered one of the finest sewing machines made by Singer as early as the 1960s. It uses a slanting needle and offers a variety of practical and decorative stitches.

The Singer 401A is a very reliable and heavy-duty machine that remains popular for zigzagging even at present. It is the last all-metal sewing machine created by Singer but typically sells for around $150 because many of these machines have been produced by Singer over the years.

Bernina 930
The Bernina 930 Record Electronic sewing machine is another sought-after vintage zigzag sewing machine. The emphasis on this Bernina is not only on having a zigzag-sewing feature. It has 30 different stitches, not counting the straight and zigzag stitches, even the stretch triple zigzag and the stretch triple straight stitches.
Another reason why a vintage Bernina 930 is precious is because of its special automatic tension adjustment. It usually takes a long time to get the right tension between the bobbin and the upper tension, but Bernina's automatic tension takes care of that.
The machine sold for $1200 – $1500 back in the 80s but still sells at that price today, especially if the accessories are still intact. You would be lucky to find a Bernina 930 selling for $450 these days.
What was the first zigzag sewing machine?
The Singer 206k, the first zigzag sewing machine made for the consumer market, was launched in 1936. The first zigzag sewing machine was invented by Helen Blanchard in 1873 and was patented under her name.
The zigzag sewing machine stitch moves from side to side instead of making a straight line of stitches. You can use the zigzag stitch to seal the edges of a seam, making it sturdier and preventing the unraveling of fabric at the edges. The zigzag stitch is also useful in sewing stretch fabrics and reinforced buttonholes.
The zigzag stitch is a variation of the lockstitch. The back-and-forth stitch that the zigzag stitch makes is used when a straight stitch will not do. You will need a zigzag stitch when you are temporarily joining two fabric pieces from edge to edge. The zigzag stitch is also best to use when sewing stretchable fabrics or making buttonholes. You can also use a zigzag machine to stitch needlework, applique, and lace.
Can vintage sewing machines do zigzag?
Some vintage sewing machines manufactured in the 60s and 70s can sew zigzag stitches and are also used to make buttonholes that use zigzag stitches.
The zigzag stitch is the next most useful stitch after the straight stitch. Most vintage sewing machines are straight stitch only and lack the capability of producing a zigzag stitch. Some vintage sewing machines like Pfaff models have a clever little attachment that allows any straight stitch machine to create zigzag stitches.
Some attach a zigzag sewing foot to a straight sewing machine, while some zigzag stitches are driven by cams, which are devices that create a variety of zigzag stitches and patterns.
What is the best zigzag sewing machine?
Many zigzag sewing machines have been manufactured post-vintage era. Some of these machines have all the bells and whistles, while others have retained the basic and simple stitches and qualities of vintage zigzag sewing machines.
Below are the best modern zigzag machines you can find in the market.
Janome 4120QDC Computerized Sewing Machine

The Janome 4120QDC has 120 built-in sewing stitches plus a built-in Alphabet stitch. You can use it to stitch your brand or any text on your clothing without the need to add tags. It has five different feet you can use for your various sewing projects, including the zigzag foot.

You can easily choose your stitches from an LCD panel, and it is easy to change bobbins in the middle of your work with the top-loading bobbin system. This computerized zigzag sewing machine can make 840 stitches per minute.

Barracuda 200ZW Zig-Zag Sewing Machine

The Barracuda 200ZW is an actual zigzag machine, not an ordinary sewing machine with a zigzag foot. It works at 800 stitches per minute, but speed can be reduced, especially when stitching delicate work.
The Barracuda can handle up to 8 layers of fabric at the same time. You can also adjust the stitch width depending on the design of your project. The machine has a strong carrying handle so that you can carry your sewing

Family Zig-zag Sewing Machine

The Family zigzag sewing machine is considered semi-industrial, which has twice the power of a domestic sewing machine. The machine is easy to carry, being only 35 pounds and easy to store as well.

This zigzag sewing machine is sturdy enough to sew through thick fabrics like leather, Sunbrella, vinyl, and sail using straight and zigzag stitches. You can sew up to 800 stitches per minute with this basic machine. It is a simple but complete sewing machine set with bobbins, needles, accessories, screwdriver, and oil.

Zoje ZigZag 20U33 Straight Reverse Sewing Machine

The Zoje ZigZag 20U33 is a straight, reverse, and zigzag sewing machine. Using the Zoje 20U33, you can adjust the width of the zigzag stitch up to 8mm in size. It can handle most types of material or fabric. The reverse lever, the three-needle position, and the manual lubrication features of this machine can help you sew efficiently and enjoyably.

Magicfly Portable Sewing Machine

The Magicfly is a small and portable sewing machine with three replaceable feet, including the zigzag foot. You can use it for many sewing applications, such as sewing zippers and buttons to your clothing.
This simple and tiny machine can accommodate three types of needles; lightweight, mediumweight, and heavyweight fabrics.

It comes with an expansion table when you need to sew large pieces of fabric. It also has an easy-to-carry handle making it very convenient to bring when you need it. It runs on two power supply options: battery and power supply.

Brother CS6000i

The Brother CS6000i has 60 built-in stitches, regular stitches including zigzag stitch, seven buttonhole stitches, and decorative stitches. It also has nine sewing feet included that you can choose from that would suit your project.

This sewing and quilting machine has two LCDs where you can easily choose your stitch options. It has an extension table, a free arm where you can work on sleeves and an automatic needle threader to make threading easier.

Usha Janome Wonder Stitch Sewing Machine

The Usha Janome Wonder Stitch is an automatic zigzag sewing machine. It has 21 different stitch functions, including straight and zigzag stitches. It can make 860 stitches per minute. The Wonder Stitch has an automatic needle threader and thread cutter for a more enjoyable sewing experience.

SINGER Start 1304

The Singer Start 1304 is a basic and lightweight zigzag sewing machine. It is an excellent starter machine for newbies, but experts can also benefit from it. It has six built-in stitches and 57 stitch applications that you can choose from for more creative sewing projects.

The Singer 1304 is a complete kit that includes several sewing feet, bobbins, needles and many more. It only weighs 11.46 pounds, so it is very easy to carry around.

Usha Janome Dream Stitch

The Usha Janome Dream Stitch is an automatic zigzag electric sewing machine that runs at 550 stitches per minute. It comes with seven different stitches, including the zigzag stitch. It is a compact and very easy-to-use automatic machine. It is also a free arm machine equipped with circulating stitching. The machine is a carrying handle and very light to carry when needed.

Usha Janome Magic Stitch
The Usha Janome automatic Magic sewing machine has 23 built-in stitches, with the regular zigzag stitch included. The stitch setting can be changed using an easy dial pad. The stitches in this machine have triple strength than normal stitches. You can work with ease with the free arm for circular stitching.
There is not one perfect zigzag sewing machine you can find that has all the best qualities that a sewist may want in a single machine. The secret to choosing the best machine is to pick the one you can work with most comfortably and confidently.