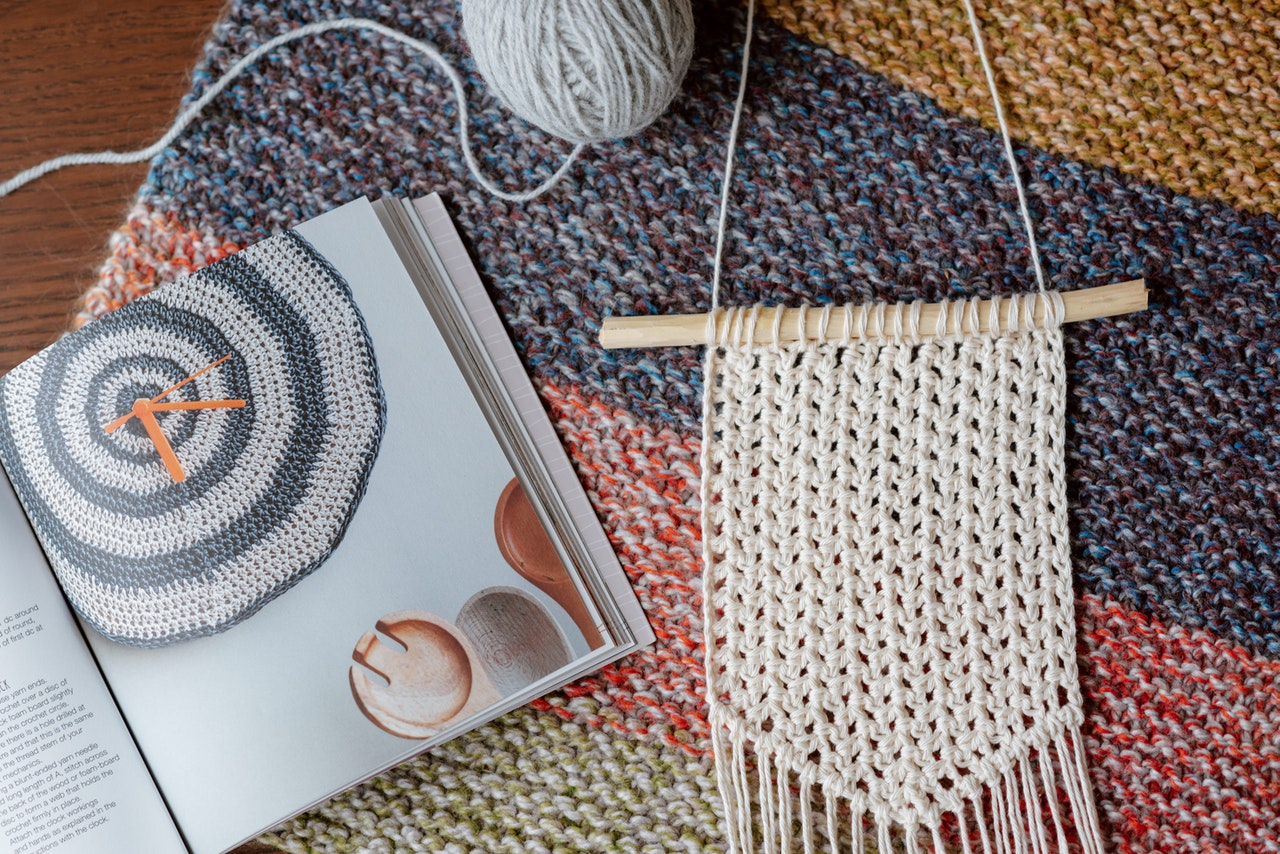 Macrame, a fiber art form involving the tying of knots, is a very popular hobby for people who love working with their hands. The knotting art of macrame is used to create a bohemian flair on various lovely items like wall hangings, jewelry, plant hangers, and clothing. A good thing about macrame as a hobby is you can make different projects, big or small, from any string materials you have on hand.
Can you use knitting yarn for macrame?
Anything that you can tie a knot with can be used for macrame. Knitting yarn is something that you can knot. If you are into fiber crafts, you can use any string, rope, embroidery floss, or knitting yarn in your stash to do macrame projects. Macrame can be your time out from your full-time knitting or other needlecrafts. Who knows, maybe it can answer how you can use excess yarns that are just lying around.
Macrame is a versatile fiber craft that can use any material possible that you can knot. Knitting yarns for sweaters, just like other string materials, can be used for macrame. Before creating your macrame project, you must think about your finished item and how you will use it.
You can use both natural and synthetic knitting yarns for macrame. It is your personal choice whether to use one or the other. Knitting yarn comes from various fibers of different yarn weights. So, you must carefully consider these are factors before creating your macrame project.
The best sizes of knitting yarns for macrame are medium (3mm – 4mm), bulky (5mm – 6mm), and super bulky (8mm – 9mm). Note that yarn compresses so much that the knots formed are smaller than what you would expect. With the yarn size, weight, and knotting properties of knitting yarn, macrame projects you can make with it is varied.
Natural knitting yarns made of wool are best made into clothing using macrame. But, synthetic wool yarns are best made into small items like toys or decorations.
Knitting yarn is not as strong as the other types of strings or ropes commonly used for macrame. Thus, it will not be suitable for projects that will need to support some weight, such as a plant hanger. But with the huge selection of colors of knitting yarn, it is a perfect macrame material for home decors, clothing, toys, and accessories.
What material is best for macrame?
Even if you can use just about anything to make macrame, this revived fiber art mostly uses simple and natural materials. Common samples are cotton twine, hemp, jute, or yarn to imbibe a bohemian vibe. Macrame also uses synthetic cords such as polypropylene, Paracord, and nylon. Synthetic strings are usually used to create other projects such as toys, accessories, or home items.
For the most familiar form of macrame, the wall hangings, the best material to use, according to fiber artists, is the cotton cord. Its classic off-white color is a favorite for those who appreciate natural and earthy décor style.
But macrame is not all about bohemian and natural textures. You can create a macrame with any string, rope, or cord to make knotted art pieces that you like. Here are some of the natural and synthetic materials that you can use for your macrame projects.
Cotton cord is the most common material most crafters use for macrame because its fibers are soft and easy to knot. Its natural color is creamy white, but it is very easy to dye fiber, so you can also use it in any color you want.
Cotton cord sizes range from 0.75mm to 4mm. Cotton cords that are 5mm and above are called ropes. Because of its very wide size range, you can use it to make jewelry, plant hangers and even large items as hammocks. It is an ideal material when you are making items that need to hold weight.
If you are new at macrame, cotton cord is the best one to practice with before you try other types of material to get you inspired to make more macrame pieces. For some macrame enthusiasts, cotton cord is the best material to use.
Jute twine or cord is the least popular among the natural materials used for macrame. It is mostly found in its natural brown color. It is used to make sacks, coarse cloths, and other home furnishings. Jute cord is mostly used as string to tie wrapped or unwrapped things together like gifts or food packaging. You can also make it into baskets, bags, plant hangers, rugs and many more. It is stiff and coarse, so it is not advisable material for a beginner to learn macrame.
The hemp cord or twine is a common material used for arts and crafts. It is also the most popular material used in macrame. You can find it in its natural color, light brown, but dyed hemp is also available in single or mixed colors. Hemp is available as twine, cord and yarn. Hemp twine is the type usually used to make jewelry.
Hemp cord is ideal for making macrame jewelry like bracelets or necklaces. This cord is thin enough to put beads through and create small intricate patterns. But it is also perfect to use for wall hanging decors and plant hangers because it is easy to knot, soft to the touch but is sturdy and can hold weight.
Natural yarns are usually used for knitting, crocheting, and other types of needlecrafts. These fiber crafts usually create a fabric as a finished product. Natural yarns are also great materials for macrame, considering the wide variety of available colors.
Yarns are known to compress so much that the knots you will produce will be smaller than what you expect. Most natural yarns are soft and delicate, ideal macrame material to make clothing.
The most popular macrame material on the synthetic section is polyester. It is a cord that is easy to work on because it is smooth and comfortable to the skin. In addition, it produces tight knots, is strong, and has little or no stretch; that is why it is ideal to use on projects that need to carry heavy items.
Another benefit of a synthetic cord such as polyester is that it can be washed and dried without changing its shape. A smaller size polyester cord is used for micro-Macrame and beading. In contrast, you can use medium to large size polyester cords to make handbags, placemats, or plant hangers.
Parachute cord, or more popularly known as Paracord, is made of nylon. It is a very strong type of cord because it has several core yarns and an outer sleeve. It is usually made into safety bracelets and survival gear.
The smaller cord sizes are used to make jewelry, while the large sizes are made into swings or hammocks. Water can weaken Paracord, so when using this for projects that will stay outdoors, check for signs of weakening from time to time.
Satin cord is usually mistaken for silk and vice versa. This is because both cord types look shiny and luxurious. But a satin cord is way cheaper, so if you are into knotting cords, this material is the more practical option. It is usually available in 1mm to 3mm size, so it is mostly used to make jewelry and accessories.
The satin cord is slippery, so it would be difficult to make tight knots.
Yarns that are made from synthetic materials have different qualities from the usual cords used in macrame. But still, you can use yarn for many different macrame projects. The common synthetic yarns are acrylic and polyester. Like natural yarns, synthetic yarns compress more than other synthetic cords. So, they form extremely tight knots that are hard to remove.
Synthetic yarn for macrame is best used on small projects such as toys or home decors.
Is macrame an expensive hobby?
The price of making macrame depends on the size of your project and the materials you plan to use. The quality of the materials will also play a big part in the cost of maintaining a hobby like macrame.
Macrame is the art of tying knots using different ropes or cords to create various wall hangings, accessories, or clothing. The most familiar macrame projects are of bohemian style. But you can also use macrame to create various items of different sizes and purposes.
If you want to be practical with this hobby, you can use your existing yarns from your other fiber crafts. Macrame can use any material that you can knot with. It also does not require any heavy equipment or tools such as needles to create a piece.
On the other hand, you will also need some materials to mount your work and those come at a price. You can choose to mount your macrame on rings, dowels, on a thick piece of rope, or a tree limb. The good thing about these materials is that you can get them in packs rather than buy them by piece. The most practical thing to do is to look for a tree limb. It does not cost a cent, yet you will create a piece that is one of a kind.
For the cord, if you will use common natural fibers such as jute, you will save up on cord costs because they come in a big spool for a fair price. However, if you want to use cotton cord, the most common fiber used for macrame, be prepared to shell out a larger amount.