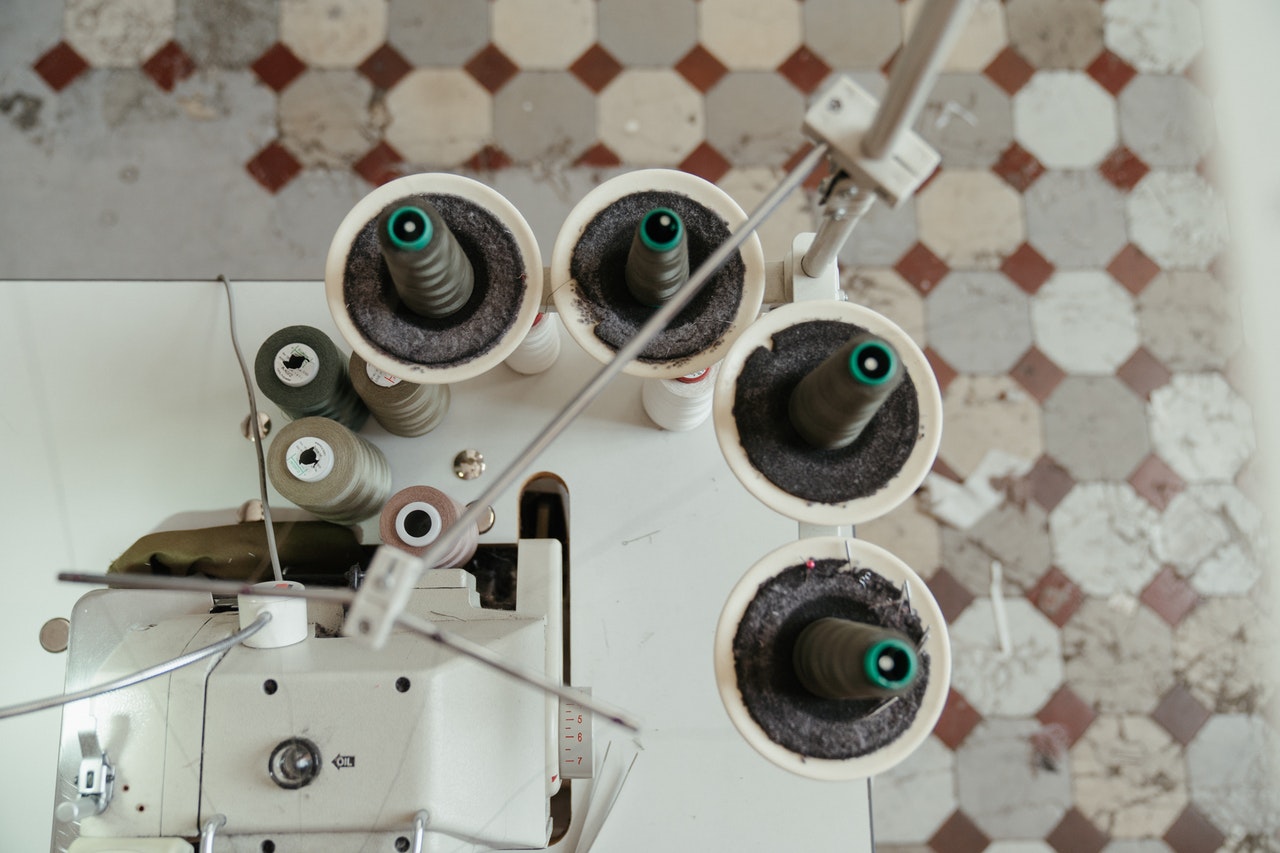 The best grease for sewing machine gears is the one that is non-flowing and has a low melting point.
The grease you use for your sewing machine must have these basic properties to be most effective on the gears. It should stay where it is put so that it will not reach other parts of your sewing machine and affect its performance. It must also have a low melting point so that it can slowly melt under low heat and serve its lubricating purpose.
How do I grease my sewing machine gears?
Sewing machine gears are greased with sewing machine grease, not just any kind of grease. Brush a small amount onto the grooves of the gears to help your machine run smoothly.
Like a car, your sewing machine needs occasional upkeep to keep it running efficiently. Part of the maintenance procedures for a sewing machine is lubricating its gears.
Another secret to keeping your sewing machine running as long as you want is to use the right type of grease for your machine. There are different types of grease you can find in the market, but not all will be good for your sewing equipment.
Here are some tips on how you can grease your sewing machine gears:
Check instructions in your manual
Check your manual first to ensure that you are doing the maintenance process right. Some sewing machines such as those from the JCPenney brand have specific instructions. Modern sewing machines are recommended to be lubricated by technicians by manufacturers. Some parts should not come in contact with grease and oil. Here are some tips to properly grease your sewing machine gears:
Run your machine for a few minutes regularly
Using your machine at least once a month is vital for the maintenance procedure. This is a step you should not neglect because, as the sewists observe, a machine that is not used often does not last as long as the one used regularly.
If you rarely use your machine, try running it for a few minutes at least once a month. All sewing machines use grease or oil, and over time the grease or oil can harden or get stickier and cause your machine to slow down.
Run your machine for a few minutes to see if it is running slowly. If it does not speed up after running for a minute, your machine needs to be cleaned and lubricated. But if your machine makes loud noises or smokes, discontinue running it.
Not using your sewing machine for a long time or even just a few months will cause it to run slow or, worse, make it stop working. So, better mark a day every month on your calendar for a few minutes to run your machine to keep it working.
Before you think of greasing or oiling any part of your sewing machine, make sure it is free from dust, lint, or excess threads. If your machine is threaded, remove the thread and the bobbin. If your bobbin case is removable, you can also take it away before cleaning.
Use a soft-bristle brush to remove the lint or thread that you see on any part of your machine. Some sewists advise not to use compressed air as it may push the lint more into the machine and get stuck on your sewing machine's gears and other parts.
Greasing the gears of your sewing machine is less often done than oiling it. But the frequency of greasing your machine also depends on how often you use your machine.
Normal greasing of a sewing machine does not require removing the old. If you do not know how long the machine has been greased, sewing machine technicians recommend cleaning the gears first before applying fresh grease.
Cleaning the sewing machine gears first would take more time, but you will eventually see the effect of cleaning them when running your sewing machine.
Take an inexpensive artist brush with short bristles to apply your sewing machine grease. Get a small amount of the grease on your brush, then spread it onto the grooves of the gear.
The gears are applied with grease while the metal-to-metal parts are oiled. Wipe the grease on the gears and not on the other areas of your machine that will gather dirt and dust. Also, note that you should grease only the steel gears; you should not lubricate plastic gears.
If you are looking for good-quality grease for your sewing machine, sewists suggest the Tri-flow sewing machine grease, which you can find on Amazon.
What oil is sewing machine oil?
Sewing machine oil is clear and odorless mineral oil. The oil has the consistency of water, meaning it has a low viscosity and will not collect on the gears of your sewing machine.
Note that oil has a shelf life, and if your sewing machine oil has turned yellow and has a distinct odor, you should not use it anymore. Oil breaks down over time and will not function as the fresh sewing machine oil.
You should also be aware that you cannot just use any oil on your sewing machine. Your machine may be smoothly running when you put it away but, some oils may thicken with age and can clog the moving parts of your machine.
Make sure that what you use is labeled as a sewing machine oil like the Singer All Purpose Sewing Machine Oil, a tried and tested brand for many sewing machines.
Also check:
How do I lubricate my sewing machine?
Lubricating your sewing machine is done by oiling or greasing the moving metal parts inside your machine. Lubricating is done to keep your machine running smoothly and quietly.
The metal sewing machines that were manufactured before the 70s can be oiled on most parts but oiling the modern and computerized sewing machines should be handled by technicians as some parts like the boards may get damaged if you accidentally drop oil on it.
Part of maintaining your sewing machine is oiling it to keep it running efficiently and prevent rusting and easily wearing out the moving parts.
If you want to know how to oil your sewing machine, here are a few tips to guide you.
Clean your sewing machine from lint and thread ends using a lint brush then a clean rag. Some sewing machines come with a lint brush that you can regularly use to remove the lint and threads after sewing.If your sewing machine does not include one, you can use a small and stiff paintbrush, a mascara brush or a pair of tweezers to remove hard-to-reach lint lodged in the gaps between the machine parts.
Before oiling your machine, check its manual first if it really needs oiling. Some sewing machines are self-lubricating. Some machines are designed with oil impregnated in the bearing casings, so they do not need oiling. These sewing machines still need to be maintained, but if the manual says do not oil them, then do not oil them and keep the machines clean.
The instruction manual also indicates the areas where you need to put oil. A drop of oil is usually enough to drop on each oil hole after using your sewing machine after 8 to 10 hours of use each day. If you do not use your machine often, you need to oil it occasionally to make sure it does not dry up.
Some sewing machines including Juki and Janome have parts that are made of plastic or nylon, which do not need oiling. Only the metal-to-metal parts of your machine need oiling.
Do not put oil on machine parts such as the needle, presser foot, bobbin or plate. It would be best to remove these parts first before oiling. Leaving them as you oil your machine may stain your fabric.
Avoid using any kind of oil not specifically-made for sewing machines. Using cooking oil, automotive oil, 3-in-1 oil may clog the gears and damage the fabric that you are going to use on your machine.
Use only a small amount of oil when lubricating your sewing machine. Do your oiling sparingly during regular maintenance unless you need to apply some more if your machine is not moving due to lack of lubrication or making a lot of noise which is not common for your machine.
If you turn the handwheel towards you and it feels very tight to move, oil the metal parts that rotate. This step will make sure that the machine will get oiled in all the parts that need to move as you sew.
Know the oiling points of your sewing machine:
When oiling your machine, start from the top. Try removing the top cover. If you can open the top, you can easily see the moving parts inside of your machine that needs oiling.
Bobbin Winder Shaft
You can a drop of oil to the bobbin winder shaft but avoid having oil on the handwheel, motor
belts, and the bobbin winder ring. These are parts that do not need oiling, and contact with it may cause damage.
Needle Bar
The needle bar, which moves up and down with great speed and also moves left to right, needs to be oiled. Of course, you need to remove the needle first when oiling the needle bar. You do not want oil stains on a fabric that you will be sewing.
The needle bar requires regular oiling in its bushings because these parts move a lot during the sewing process. It is vital to keep the needle bar area lubricated to avoid wearing out the bushings, which may lead to a sloppy fit. Keeping your needle bar in its bushings well fit can give you smooth and even stitches for a long time.
Around the bobbin case
Add a drop of oil around the bobbin case and under the machine if it can be accessible. Oil the bush bearings of the bottom shaft as well as the gears and feed cams.
If you have grease for the gears, then apply a small amount, but if oil is the only lubricant available, it will also serve its purpose on the gears. Some sewists buy only oil because it is more practical to buy oil than buying both oil and grease.
Avoid getting oil on any belts that you may encounter while working under the machine.
Related: How To Make Puff Sleeves Smaller 
Oil your motor
Different types of sewing machines have different motor types. If yours is the one with a wick inside, you can put three to four drops of oil on the wick to help extend the life of your motor and also prevent the noise, which indicates that it needs lubrication.
If your sewing machine has tunnels instead of a wick leading to the motor, it would be more advisable to use grease. Apply a small part of grease on the tunnels leading to the motor.
Simply put, you oil the metal-to-metal moving parts, and you grease the gears in your machine. When in doubt about how to lubricate your specific model of the sewing machine, you can seek out the help of an expert sewing machine technician.