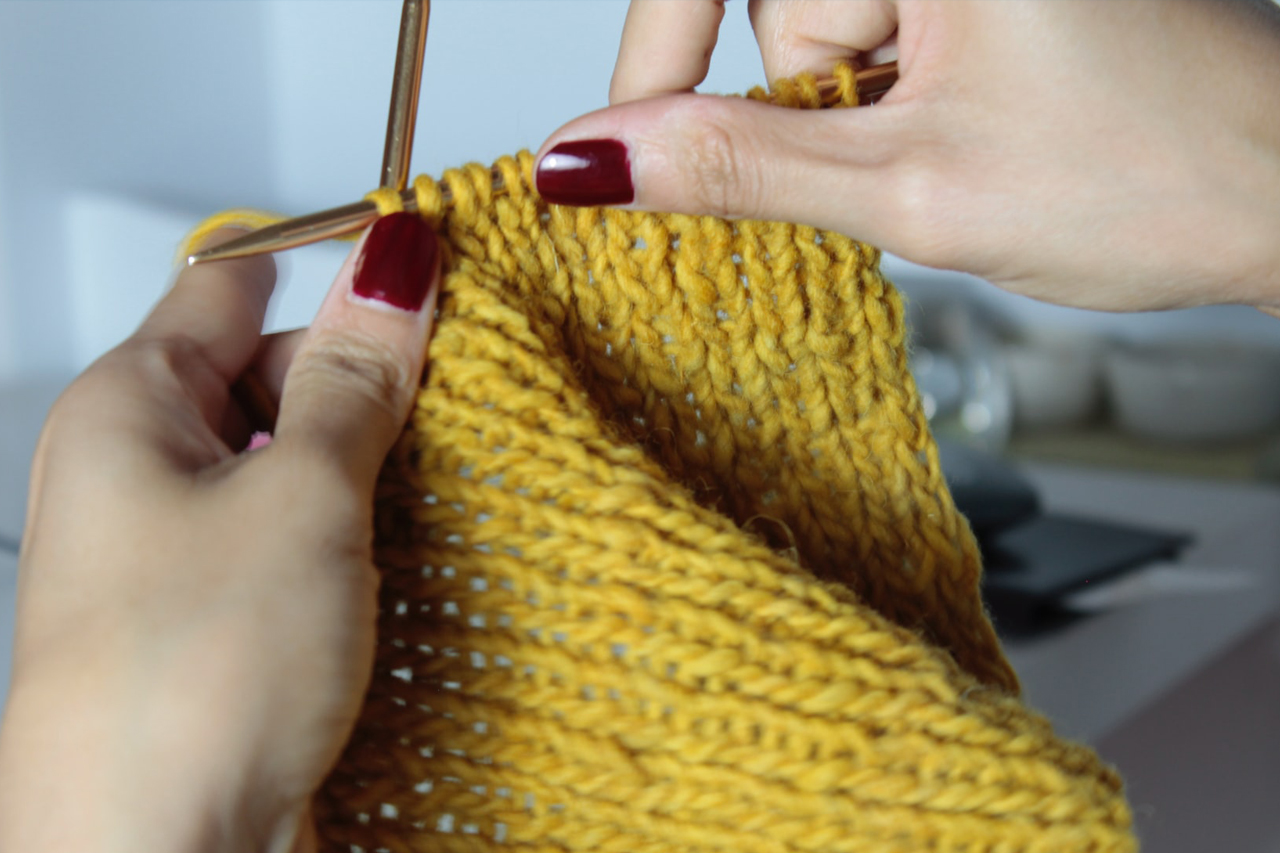 Slub knit is a fabric made with yarn that produces an uneven texture. The yarn used to make the fabric has rough places that are thicker than the rest, called slubs. These slubs create an irregular texture when the yarn is made into fabric.
Slubs were a sort of a nuisance to an otherwise perfect fabric. But it has been gaining popularity, especially when the fabric is made into casual clothing. it is a great alternative if you lack wool for knitting. The slubs are now made intentionally to create a heathered look and texture on the fabric.
There was a time when fiber was spun into yarn by hand and then woven into fabric. During weaving, some parts of the yarn become thicker than the rest. These so-called slubs were undesirable and were usually removed and thrown away.
When a machine can do the fiber spinning, the slubs were intentionally included in the fabric. Instead of looking imperfect, they added dimension and personality to an otherwise plain fabric.
Using a machine for spinning can also create equally spaced slubs that are less messy and look more pleasing to the eyes than using the handspun yarns.
The textured fabric became desirable and popular because of its unique look, making it more attractive than plain knit fabric.
What kind of fabric is slub?
A piece of slub fabric is made from yarn without uniform thickness. Some parts of the fabric are thicker than the rest and create a heathered look due to the slubs.
You may have seen this unique type of fabric many times but have no idea what it is called and what its properties are. To know more about this fascinating fabric, here are some of slub fabric's characteristics.
Fiber Type
Many people assume that slub fabric is only made from cotton. Initially, slub fabric was only produced from pure cotton when cotton was the most accessible fiber. These days, many slub knits are still made of cotton and cotton blends.
Slub knit is also made from other natural materials like linen, wool, and silk. But these materials are not ideal for clothing and are rarely slub knit. Most slub fabric manufacturers prefer cotton or cotton blends to make garments because it is the less expensive option.
Synthetic fibers are also used to make slubs. Unlike natural fibers, which are less uniform, they are smooth and even. The use of modern machinery can help add more fibers to create slubs. Polyester seemingly matches the production and demand for cotton slubs among synthetic fibers.
Slub knits have higher production costs than normal fabrics and more so if you use synthetic fibers. To offset the cost of production, polyester or another synthetic fiber is combined with cotton to produce a more reasonably priced slub fabric.
Acrylic cotton, poly-cotton, and elastane cotton are examples of these cotton blends available in the market.
You can also find woolen slub fabric, which is best woven and is excellent for making winter clothing.
Weight and Thickness
The thickness of a slub knit fabric is based on the slub yarn's weight. You can find thin fabrics with a nice drape that you can use to make a scarf or a dress. Heavy and thick fabrics are also available to make warmer clothing for the cold seasons.
You can choose from different weights of slub knits. It is available thin as in the cotton t-shirts you commonly find in stores or thick as in terry cloth for jackets or skirts. Slub knit fabric has the same physical characteristics as regular knits and only differs due to its irregular texture.
Texture
The feature of slub knit fabric that makes it look special is the heathered look. It may look coarse because slubs take on a different color than the rest of the yarn, creating a textured effect.
Do not be deceived by the look because cotton slub fabric has the same texture as the standard cotton fabric. The ripples and bumps on the fabric create a beautiful visual effect for some slub knit fabrics, while some really add texture to the fabric.
Higher-quality slub knit fabrics are softer and feel better on the skin.
Stretchiness
Slub knit fabric is generally stretchy because of the construction of the fabric. Knits are stretchier than woven fabrics because the parallel threads and loops give the fabric more stretch horizontally. The slubs do not have much effect on the stretchiness of the fabric.
The stretchiness of a slub knit fabric also depends on the fiber used. Natural fibers like cotton are stretchier than synthetic fibers like polyester or acrylic.
So, if your slub knit is made of poly-cotton, expect it to be less stretched than a pure cotton one. On the other hand, Elastane is a stretchy fabric and will have more give when combined with cotton.
Choose the double yarn knit fabric if you prefer your slub knit without much stretch. It has less stretch because two single yarn knits interlock instead of one.
Fabric Care
You treat slub knit fabrics like how you treat other normal fabrics. But first, you must know the fabric type and look for washing and drying instructions.
If your slub knit is made of cotton, make sure to set your washer to the gentle cycle using warm or cool water temperature. Please do not use a dryer for your cotton slub knit and air dry it instead.
If your slub fabric is a blend with a fussy material, follow the special washing and drying instructions for the frilly fiber to retain its shape and texture.
It must also be good to note that slub knit fabric is not as strong as a normal fabric due to its thin and thick areas, which can be prone to wear and tear easily. Always give it a gentle treatment.
Slub knit fabric is the type that does not need ironing. Pressing the fabric may destroy or flatten the uneven texture that makes it unique. Folding it properly or hanging it in the closet can keep it wrinkle-free.
Is cotton slub a good material?
Cotton slub is a good material; it is the most popular among slub fabrics. Cotton slub is a favorite material for making shirts because it is airy, light, and does not cling to the body.
Natural fabrics make slub fabrics, and cotton is the most accessible and common natural fabric. It is an ideal material to use for making slub yarn or fabric.
Slub cotton may not feel as smooth as the high-end brushed cotton but is famous for its heathered look and irregular texture.
The slub jersey knit fabric is one of the popular materials used to make casual garments. It is made using a single yarn knit with interlocking loops facing one direction. A slub jersey knit fabric clothing has vertical rows on the front side and flat loops on the wrong side.
When you closely inspect slub knit clothing, bumps and ridges create a textured effect on the fabric. With this uneven texture, your clothing does not need ironing.
Most slub knit fabrics are stretchy and can lose shape over time, so they are not commonly used for upholstery. Slub fabric is not commonly used for formal clothing, although some slub silk fabrics are made for formal wear.
Does slub knit shrink?
Slub knit fabric can shrink. Many slub knit fabrics are made of cotton, known to shrink after washing. Slub knit from synthetic fibers can also shrink when washed in high heat.
To prevent your slub knit fabric from shrinking, you can check the fabric label for the right temperature to wash your garment.
Slub knit, especially cotton and cotton blends, would be better air-dried to prevent shrinking and help keep its shape. It is possible to give your slub knit clothing a brief tumble dry in a low heat setting.
It would be best to remove it from the dryer still a bit damp, then hang it to dry completely. Air drying the slub knit fabric will keep it from shrinking and will help it last longer.
Is slub fabric for winter or summer?
Slub fabric is more commonly used for the summer season than for winter. Cotton, polyester, and cotton blends are the usual fibers used for making slub fabrics. Slub knit fabrics are made into tank tops and shirts, light and airy garments perfect for the summer. But you can also use slub fabric in the winter in the form of sweaters and socks.
Slub knit fabric has become so popular for making shirts because of the knobbles and the slight lumps in the fabric that gives a more natural look to your clothing. The irregular texture makes it look more interesting than the ordinary cotton or polyester fabric.
The most common garment made of slub knit fabric is a shirt. You can also see this textile in sweatshirts, sweatpants, shirt dresses, pajamas, and other casual clothing.
The visual effect of the slub knit is not its only advantage but its breathability and lightweight properties, which are essential for the summer season. The uneven texture of this material is an advantage because there is no need to iron the fabric. Your shirt is ready to wear after washing and drying.
There are also slub fabrics made of wool or fleece for heavier slub fabrics that you can layer with your winter clothing.
What is slub knit yarn?
Slub knit yarn is the type of yarn with slubs that you can use for hand-knitting. Slub is not only for sewing but also for knitting. The slub yarn can be produced using the same spinning technique using the machines that make fine threads.
Slub yarn can also achieve a fabric with a texture that looks interesting by knitting. The parts of the yarn with slubs will create thicker stitches than the rest of the yarn.
It would help if you loosened your tension for the thinner stitches to make your rows look even. You need to adjust more if your slub yarn has larger slubs so that your finished fabric will not look uneven.
Before starting to knit with slub yarn, you must know that it is not the yarn type that is easy to knit. Experienced knitters of slub yarn recommend using stockinette, ribbing, seed, or moss stitch for best results. These stitches are easy and repetitive and will let the slubs stand out and show the textured effect.
Knitting slub knit yarn is quite challenging and can be a bit frustrating for those who are experienced knitters using even-weight yarns. The uneven parts of the thread make it prone to missing a stitch. So, if you are determined to use slub yarn, be ready for a bit of work, but you will be sure that your finished product will be unique.