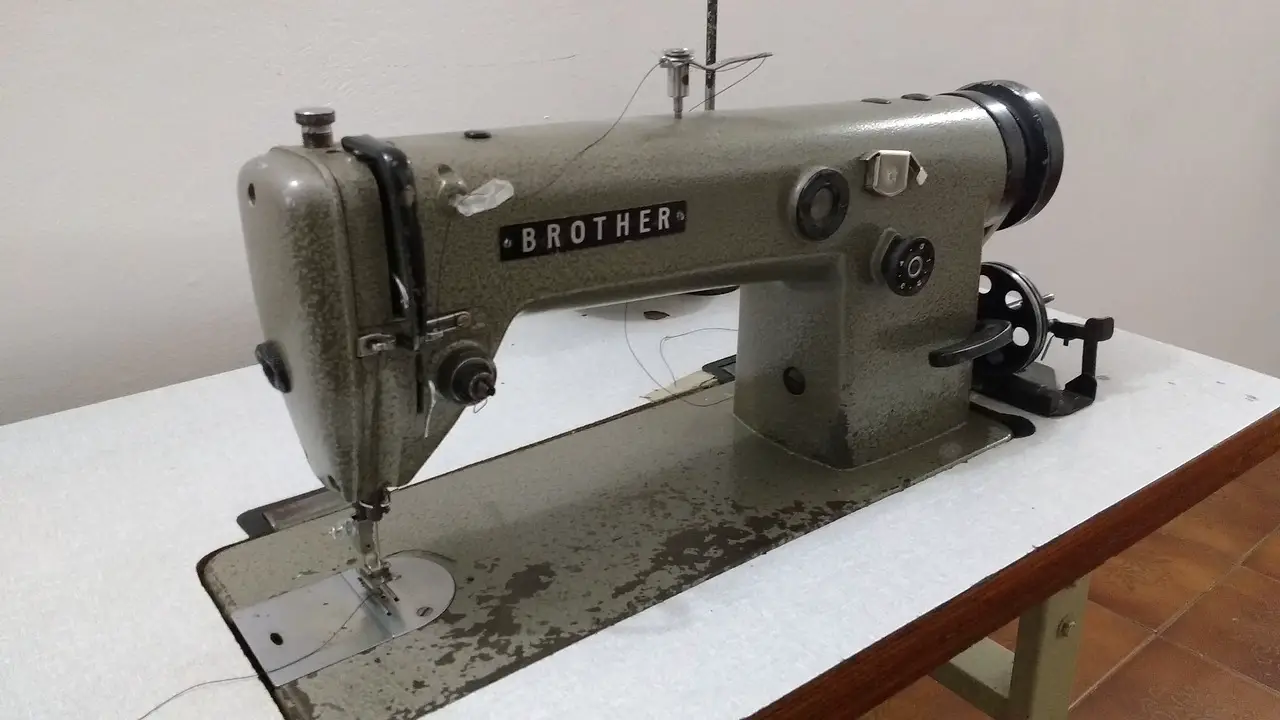 A lot of the sewing machines available in the market today come in plastic frames. It is understandable because using plastic to build the machine frames is a cheaper option. There is also a benefit to having a plastic frame. It would be easier to carry your machine around when you need to.
Some Brother sewing machines today come with a metal frame under a plastic case. Some do not come with metal frames anymore but only use plastic as a frame for the sewing machine. Plastic sewing machines are less expensive than metal machines since plastic machines are cheaper to make. Also, they are lighter and easier to carry around for sewing lessons or sewing club meetings.
The vintage metal sewing machines are known for durability but are also expected to be pricey and harder to find. Modern sewing machines with plastic frames have many options to choose from and come with automatic features. Despite being more advanced, you can still buy them cheaper than their metal counterparts.
Are Brother sewing machines good quality?
Brother sewing machines belong to the top brands of sewing machines. You may see most of their sewing machine models now in plastic frames or casings, but many users can attest that they give good value for your money. Most modern Brother sewing machines are lightweight yet give that sturdy feel. It is relatively less expensive and easy to use, perfect for beginners or those who have not touched a sewing machine again since the metal ones.
Modern Brother sewing machines are computerized and offer above 100 different stitches. Still, some customers find it user-friendly and cheap.
Other types of Brother sewing machines including JV1400 are made for other specific sewing types, such as quilting and embroidery. But newbies and experts still find the machine easy to operate.
How long does a brother sewing machine last?
High-quality modern sewing machines such as the Brother brand should have at least 6 to 10 years of in-warranty service. Even if these sewing machines already come in plastic frames these days, you can still expect superior sewing quality. If you keep your sewing machines clean and well-maintained after each use, you can enjoy them for three decades at most.
You can expect a longer life expectancy for your sewing machine, which depends on some factors other than its warranty. Most sewing machines go beyond what the warranty specifies. Here are some of the factors that can affect the length of time your sewing machine can last.
Contemporary sewing machines have aluminum, steel, wood, or plastic casing. Most machines you see at stores use plastic casing, which comes in different colors and designs. The material used for your sewing machine's casing has a big effect if your machine will last a long time. A sewing machine with a plastic casing is known to have the shortest lifespan among the mentioned materials.
Exposure to different elements can significantly affect the length of time your sewing machine will last. You can expect your sewing machine to last longer if you find a safe place for it, such as a closed workshop with little humidity and other elements. If you keep your sewing machine exposed to the elements, its physical integrity may be affected, making it deteriorate over time.
How frequently you use your machine also has a significant impact on the lifespan of your sewing machine. If you are using your machine for long hours almost every day, expect it not to last as long as a machine used occasionally. If you use your sewing machine very often, wear and tear will cause it to have a shorter lifespan.
The length of time your sewing machine can be used also depends on the person's expertise using it. A sewing expert can extend a sewing machine's lifespan, while a newbie may cause some problems due to mishandling of the machine.
You can also extend your sewing machine's life if you have another sewing machine (probably an older one) that you can use alternately.
Sewing Machine Maintenance
For your sewing machine to work efficiently as long as you wish it to be, then you must keep it well-maintained. Ensuring that your machine is clean every time you use it and cleaning it after use will make it last long as it will not breakdown while you work.
When your machine is experiencing minor faults, have it checked by an expert and refrain from repairing yourself. It may do your sewing machine some good and prolong its service. A yearly visit to a machine professional for some annual cleaning and parts check-up will lengthen the life of your sewing instrument.
How do you take care of the sewing machine?
Now that you know what factors can help maintain your sewing machine's quality in top shape, here are a few tips and techniques to extend its lifespan.
Keep your sewing machine covered when not in use.
When your machine is not in use, it would be best to cover it. Please keep it away from areas where it can gather a lot of dust, which can compromise its functions.
Turn off and unplug your machine when not in use.
If you are giving your machine a bit of rest from work, kindly turn the machine off and unplug it. It would help you avoid the surge of power, which can cause damage to your sewing machine. Unplug your machine, especially when you do not use it often.
Use the right accessories as indicated in the manual.
For your machine to work efficiently, use the right bobbin, thread, and needles specified in the manual. The wrong size of needles or threads can cause problems in how your stitches are formed and may cause damage to your machine. Bobbin type and size must also match what the sewing machine needs; else, your bobbin case might get ruined as you work.
Use compressed air for the removal of lint.
If a sewing machine is used almost every day, it may accumulate lint, which may cause your machine to malfunction. It is good to have a regular schedule of cleaning your sewing machine to avoid collecting too much lint. Using compressed air is the most effective for the removal of lint from your sewing machine. However, you must remember to keep the nozzle at least 4 inches away from the machine.
Clean parts of the machine one at a time.
Sewing machines have a lot of tiny parts attached. If it is time to clean your sewing machine, make it a point to clean the parts one at a time. You may get confused about putting the parts back in their proper positions if you disassemble and clean the parts all at once.
Change your needles regularly.
It is important to make your sewing machine function efficiently. You can make your machine work all the time smoothly by checking your needle if it is still sharp and straight. If your machine is working many hours on end, you should find time to check on your needles and find out if it needs to be changed. Also, make sure that you are using the right needle for your machine. Using a different one may give you problems as you sew.
Oil your sewing machine regularly.
Whether you have a basic or a Brother sewing machine for free-motion quilting, it is vital to grease it with the right oil. You should not use any oil. Look for the one that is designed specifically for your machine. Regularly oiling your machine will keep it working smoothly and in tip-top shape.
Ask the help of a sewing machine professional for repairs.
It is a good habit to have a sewing machine repairman check and do routine maintenance at least once a year. A machine expert can see the tiny details that can cause your machine to stop working. Just like a car, your sewing machine can benefit from a yearly thorough cleaning and maintenance.
Clean your machine after every use.
Probably the best advice for any equipment there is to clean it after use. Your machine will be ready the next time you need to use it. Cleaning your machine every time after using it helps you avoid delays, which may be caused by the accumulation of dirt, lint, or dust.
Also check: 
Is it worth repairing an old sewing machine?
If you have old sewing machines, the vintage, metal ones, they can be great back-ups for your main sewing machine sometimes to give it a rest. Old metal sewing machines tend to last longer than the new ones in the plastic casing. You can have your old sewing machine checked by an expert to see if it can still run efficiently or needs repair before you make it sun again.
When your vintage sewing machine has a few minor problems, it will be worth it to have it repaired so you can something you can alternate with your new one. Old machines usually hold up better than modern plastic ones. These old machines may only have straight and zigzag stitches but are usually more efficient and easier to use as they are more mechanical.
The downside to having your old machines repaired is the lack of parts if any part needs replacement. Since these machines are vintage and were manufactured decades ago, parts needed may be obsolete.