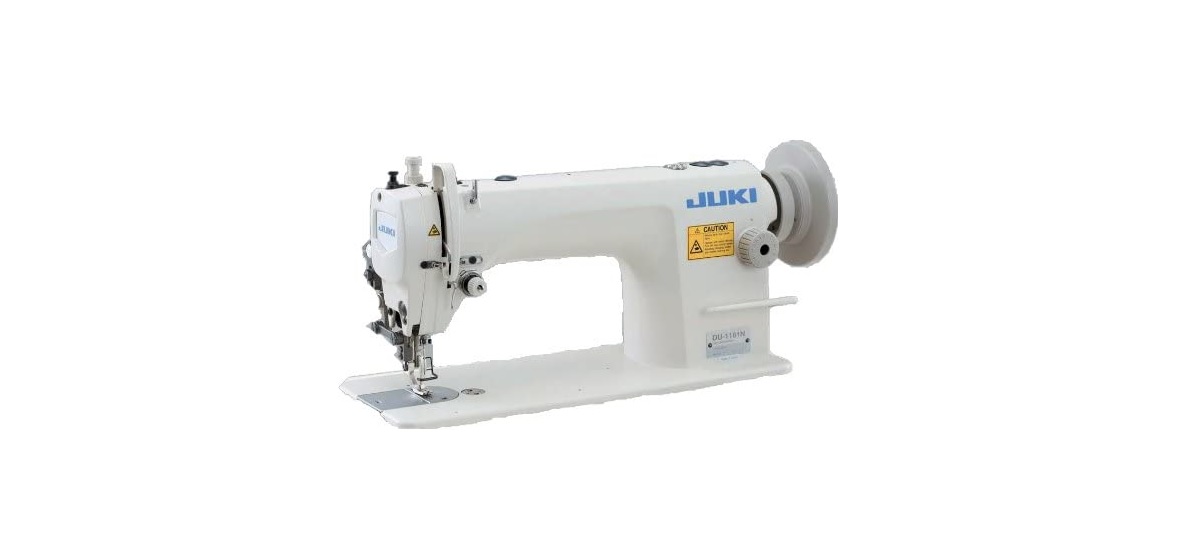 The best machine for marine vinyl is an industrial sewing machine or a heavy-duty domestic sewing machine that can work on thick and difficult fabrics.
Marine vinyl comes in a range of 0.6mm to 1.5mm thickness. It consists of layered materials such as knitted polyester fabric, adhesive, foam, and vinyl skin. The foam used makes the vinyl material stiff or soft and adds thickness to the vinyl.
Additives that provide UV protection, mold/mildew protection, yellowing and stain protection are added to the vinyl skin to make it marine-grade. You can also find thick or thin, smooth or textured vinyl skin to make them look unique.
Marine vinyl is a thick fabric, but a regular sewing machine can still handle such a dense fabric with a few tricks and tweaks. The machine features, needle, and thread that you must use should be suited to stitch on tough material like marine vinyl.
Below is a list of some of the best sewing machines marine experts recommend to sew marine vinyl.
Barracuda 200ZW

The Barracuda 200ZW can sew thick fabrics like eight layers Sunbrella. The 8mm clearance under the sewing foot allows ten or more layers of thick upholstery fabric like canvas and easily handle marine vinyl.

It has a built-in speed reducer to help you get through thick fabrics which belong to the toughest jobs. It is also equipped with a reverse lever mechanism to reinforce the seams by pushing down the reverse lever. The machine can make 800 stitches per minute and has stitch width adjustment.

Buy it here: Barracuda 200ZW

Rex Portable Walking-Foot Sewing Machine

The Rex Portable Walking-Foot sewing machine is a piece of sturdy sewing equipment made of full cast iron metal. It is an excellent machine for sewing canvas, leather, denim, or thick fabrics. It can easily handle eight layers of marine vinyl. The recommended thread is bonded nylon #69 and a needle size 22.

The Rex Portable sewing machine is a great buy for its price. It is also excellent to sew thick materials like fur, cotton webbing, and sheepskin.

Buy it here: Rex Portable Walking-Foot Sewing Machine

Juki DU1181N

The Juki DU-1181N is one of the industrial sewing machines excellent for home use. The unit has a servo sewing motor making it whisper quiet.
This Juki model is a single-needle, straight stitch, top and bottom feed sewing machine. The top and bottom feed technology of this industrial sewing machine helps in allowing the fabrics to go through the machine easily.

The Juki DU1181N sewing machine is sold as a complete unit, including the machine head, table, stand, motor, sewing light, drawer, with all the necessary components installed and ready to sew.

Buy it here: Juki DU1181N

Singer 4423

The Singer 4423 is considered the best-selling sewing machine. This machine is a true workhorse with its heavy-duty metal frame, stainless steel metal frame, extra-high sewing speed, and powerful motor, making it capable of sewing through various heavy-weight fabrics.

It has 23 built-in stitches, including basic, stretch, decorative, and other stitches that can help you sew various projects such as clothing, home decors, crafts, etc.

The Singer 4423 has a sewing speed of 1100 stitches per minute and a 60% stronger motor, providing greater piercing power for thick fabrics; a perfect machine to handle marine vinyl.

Buy it here: Singer 4423

Vevor Sewing Machine

The Vevor DDL-8700 is a highly-recommended sewing machine for curtains, tailoring, home decors, bridal dresses, and more. The machine has a high-speed servo motor that can handle lightweight, medium, and heavy fabrics.

It uses the latest 3D-CAD technology and has many extra functions such as automatic trimming, automatic reinforcement, and automatic rewinding to increase the tightness. It also comes with a table stand, making it more reliable and stable to sew, with low noise and low vibration.

Buy it here: Vevor Sewing Machine

Consew CP206RL

The Consew CP206RL is a portable walking-foot sewing machine designed for sewing light to heavy-weight materials like vinyl, leather, upholstery, and different coated and laminated materials. The new style of this machine has a longer arm allowing more space to move your fabrics. This sewing machine is a single needle machine with a horizontal oscillating hook.

The machine is specifically designed to handle various sewing projects such as auto, boat and furniture upholstery, tarpaulins, covers, sails, tents, camping trailer covers, awnings, umbrellas, tops, bags, luggage, handbags, sports and camping equipment, outdoor clothing, canvas shoes, slippers, orthopedic appliances, and many more.

Buy it here: Consew CP206RL

Yamata FY5318
The Yamata FY5318 is a heavy-duty walking-foot lockstitch sewing machine. It has a sewing speed of 1350 stitches per minute and a stitch length you can adjust up to 8mm. You can sew material up to 3/8 inches thick. The walking foot provides great feeding action for thick and difficult materials.
This sewing machine is perfect for sewing car and boats seats, upholstery and leather articles, belts, canvas, tents, awnings, handbags, outdoor wear, camping goods, denim, marine vinyl and a lot more. It can sew multiple layers of vinyl without any issues.
Buy it here: Yamata FY5318
Do you need a special sewing machine for vinyl?
You can use a regular sewing machine if your marine vinyl is not too thick. If you are sewing very thick marine vinyl fabric, you might need the assistance of an industrial sewing machine.
Marine vinyl can also be easy to sew like regular fabrics. But it would be best if you matched the thickness with the right equipment and tools to sew machine vinyl more efficiently.
Here are a few tips and tricks on how you can go about sewing marine vinyl with your regular sewing machine:
Use the correct presser foot.

Marine vinyl tends to stick to the bottom of a regular presser foot and cause your fabric to bunch. To avoid this sticky situation, you can use a different presser foot more suited for marine vinyl. You can attach a walking foot to help your fabric move easily through your sewing machine.

Marine vinyl is also among the thick and heavier fabrics, so using a walking foot is an excellent choice for handling these fabrics. The walking foot can also help you sew multiple layers of marine vinyl.
You can also use a roller foot or a Teflon foot to ease moving your vinyl material through your machine.

If any of these presser feet are not available, a great hack in sewing vinyl is to stick a piece of Scotch tape to the bottom of a standard presser foot. The bottom of the presser foot is smoother with the plastic tape, making it easier for the marine vinyl fabric to move across your machine.

Choose the correct needle size.

Marine vinyl is a heavy-weight fabric, and you would need a heavy-duty needle that will not break as you repeatedly poke through a dense fabric.

Experts recommend using the following needle sizes: 16, 17,18, 21, and 22. You can also use a leather or denim needle size 90/14. It would be best to try which one would work on your machine and your marine vinyl.

Match the needle with a proper thread

For a dense fabric like marine vinyl, using a strong and durable thread like an all-purpose polyester thread would be best. If the seams of your sewing project will be under a lot of stress, you can use a nylon type of thread that is less prone to breakage.

Also, if you plan on using your marine vinyl outdoors, it would be better to use an outdoor UV-treated thread such as a V-69 or a V-92.

Avoid using pins

If you need to join your vinyl materials together as you sew, never use pins. You can use double-sided craft tape instead. Pins will leave holes in your vinyl fabric. You can also use binder clips or quilting clips. The clips can hold your fabrics well without leaving permanent holes in your fabric.

Using fabric glue at the seams is also a good option. It will make the stitches stronger and more durable. One drop of glue for every two inches of the seam is enough to hold them together. You should also note that you cannot backstitch when sewing vinyl.

Another trick to make marine vinyl glide easily through your machine is to sandwich it between two pieces of tissue paper. The tissue provides the sewing machine's feed dogs something to hold onto and will help the marine vinyl move through the machine easily.

Use Tailor's chalk

When marking your vinyl, it would be best to use the Tailor's chalk instead of a washable pencil. Chalk will wipe off easier from the surface of the porous marine vinyl fabric.

Do not iron

Removing creases from your vinyl fabric before sewing can be challenging because you cannot iron marine vinyl. To remove the crease on your fabric, you can hang it outside and let the sun's heat do its work. To prevent creases from forming when storing your fabrics, avoid folding them. Store them by rolling them up instead.

Use a longer stitch length.

When sewing marine vinyl, a good piece of advice is to use a longer stitch length, a stitch length of 3mm is the ideal stitch length to sew marine vinyl fabric. Sewing small stitches closer together will be prone to tearing like perforations on paper are very easy to tear. Longer stitches will make your stitches sturdier.

Setting the stitch length to two and three stitches per inch will help keep the thicker marine vinyl fabric from bunching.

Pre-wash a small sample of your vinyl material

Before you start sewing your marine vinyl, it would be best if you could check if it would shrink or warp when washed. Different types of vinyl may have different reactions to washing, so before you pre-shrink your whole stash of vinyl, cut a 6″ square of your fabric and wash it.

Test your machine settings on a scrap vinyl fabric

You must test your stitch length on a scrap of the marine vinyl fabric of the same type you will sew. Getting the right tension for your sewing project will get you smooth and straight stitches on your vinyl fabric. You can also adjust the tension by testing to sew the vinyl fabric before you sew the actual fabric.

Use a rotary blade to cut your marine vinyl.
A rotary blade will do the job of creating smooth lines when cutting your vinyl fabrics. A good pair of fabric scissors will be a great substitute, but the continuous blade of the rotary cutter will produce even and smooth edges.
Related: 
How do you hand sew marine vinyl?
Sewing marine vinyl by hand is possible, but it will take a long time to do. Marine vinyl is also a tough material to sew and can hurt your hands if you do it for a long time.
If you need to sew long stretches of marine vinyl fabric, it would be best to get the assistance of a sturdy sewing machine and serger combo that can handle dense fabrics. But if you only need to sew small parts of your marine vinyl project, such as securing ends and corners, the task will be worth it.
Follow the steps below for sewing marine vinyl by hand.
Make sure you use a thimble or two on your fingers to protect them as you push your needle through the thick marine vinyl fabric.
Make your stitches longer to better hold the materials together. Short stitches are prone to ripping early.
Use a strong and sharp needle made to handle thick and tough fabrics that are difficult to sew. Experts usually use needle sizes between 16 to 22.
Match your tough needle with a heavy-duty thread such as polyester or nylon.
Avoid using pins to hold your seams together. Use a double-sided tape or a few drops of fabric glue instead.
Some marine vinyl fabrics can be very thick to be sewn by hand, so always work with safety and caution.