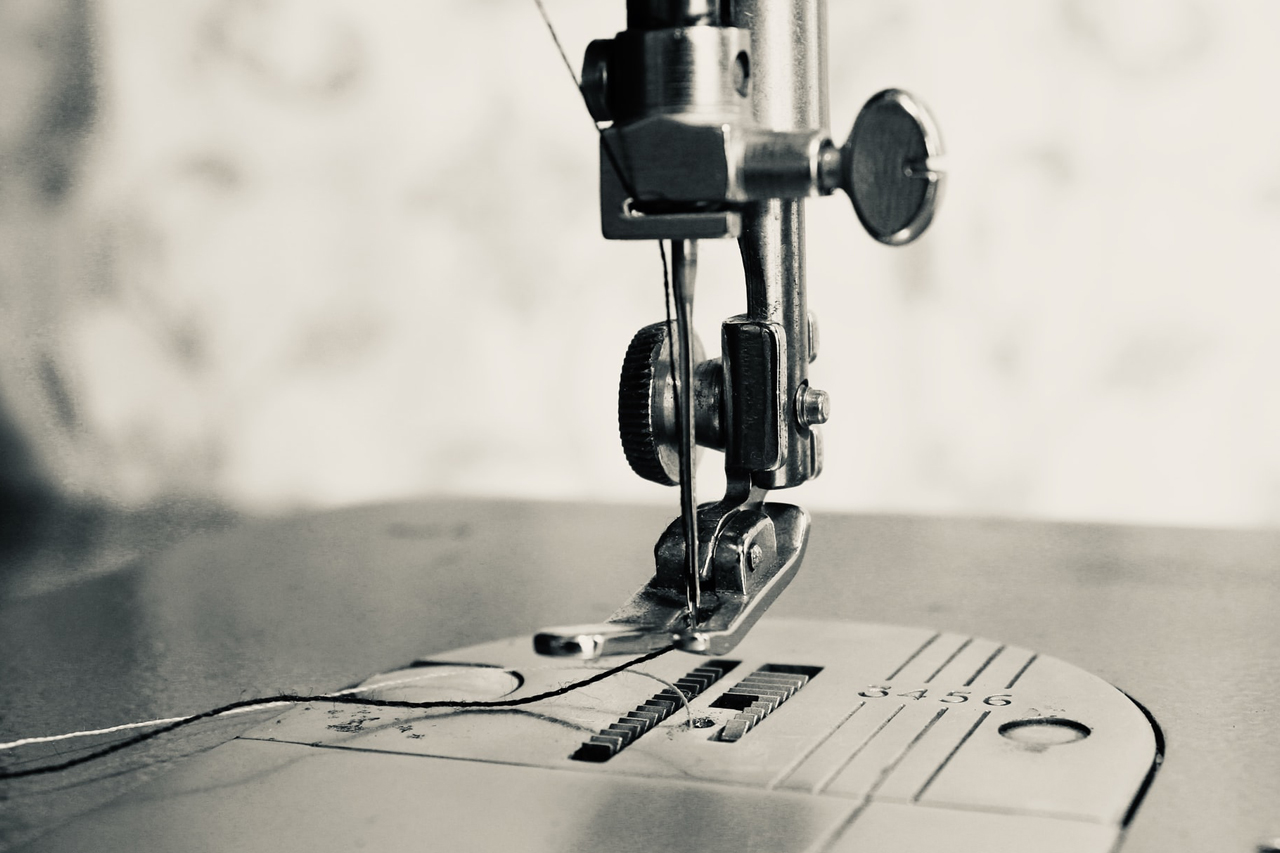 Denim is probably one of the most popular fabrics used for clothing these days. Gone are the days when denim is only used for making jeans because now you can see various applications for this versatile fabric. You can even say that denim is the most worn fabric globally.
Many people like denim because it suits all types of climates and weather. It is also very casual so you can wear it day in or day out.
So, whether you want to sew a denim outfit for yourself or your business, you must be well-equipped with the best heavy-duty sewing machine for denim to handle this thick fabulous fabric.
Below are several tried and tested sewing machines that work excellently with denim.
Brother CS5055

The metal frame and the fixed needle bar are the unique properties of the Brother CS5055, making it a durable and versatile machine that can deal with light to heavy fabrics. Its unique feed system can effortlessly sew many thick fabrics like denim or tweed.

You will never want more stitches with the 60 built-in stitches and seven styles of auto-size buttonholes to embellish and personalize your clothing.

Some time-saving features include the automatic needle threader and the jam-resistant drop-in top bobbin that keeps the bobbin in place and is easy to load.

The Brother CS5055 has a large needle-to-arm workspace, making it easier to work on larger projects. The accessory tray is removable to efficiently sew cuffs, sleeves, jeans, and other cylindrical items.

The Brother CS5055 is one of the most affordable sewing machines for denim, considering the variety of essential sewing features it has.

Buy it here: Brother CS5055

Brother ST371HD

The Brother ST371HD is an ideal sewing machine for thick fabrics like denim. It is designed to tackle even several layers of thick denim. This machine can give you the best value for your money because it is dependable where it matters.

Many consider it an entry-level sewing machine because of its simplicity, but it can handle lightweight material to thick outdoor fabrics effortlessly.

The machine has 37 built-in stitches, including utility and decorative stitches that are useful for creating blind hems, buttonholes, stretch stitches, etc.

Convenient features include a high-pressure foot lift, a quick-set drop-in bobbin system, an automatic bobbin winder, an easy needle threader, and a free-arm beneficial for sewing jeans, cuffs, and sleeves.

This heavy-duty sewing machine also comes with a set of heavyweight needles ideal for sewing denim and six sewing feet, including a zigzag sewing foot with a spring action that can help with thick sewing seams.

Buy it here: Brother ST371HD

Singer 4423 Heavy-Duty Sewing Machine

One of the most popular sewing machines in the market today, the Singer 4423, is capable of sewing denim.

The machine can sew fast, making 1100 stitches per minute, allowing you to finish your projects quickly. It has a 60% stronger motor that gives greater piercing power when sewing at the seams.

The Singer 4423 is made with a strong metal frame that makes the machine tough and durable to handle denim and thick fabrics. The sturdy metal frame keeps the sewing device stable and the stitches even when sewing at high speed.

The Singer 4423 is one of the most inexpensive heavy-duty sewing machines you can get that can take care of sewing your denim.

Another feature that can add to its being a handy tool for stitching denim is its extra-high presser foot lifter that can accommodate several layers of thick material. It also has an automatic needle threader and automatic foot pressure.

Buy it here: Singer 4423 Heavy-Duty Sewing Machine

Janome HD1000

The Janome HD1000 is excellent sewing equipment for denim and other dense materials. It is specially manufactured using aluminum to make it sturdy and durable to handle thick and hard fabrics.

The machine has 14 built-in stitches and a four-step buttonhole to help you with basic sewing, embellishing, quilting, and other sewing needs.

It has a built-in needle threader to help you quickly get the needle through the eye to start your work. You can remove the storage compartment to release the free arm, allowing you to sew small openings such as cuffs, sleeves, and pants.

This heavy-duty sewing machine has a high-pressure foot that is ideal for sewing denim, leather, and thick fabrics.

Newbies and experienced sewists can appreciate this user-friendly and robust sewing equipment that you can get at a very affordable price.

Buy it here: Janome HD1000

Singer 4452

The Singer Heavy Duty 4452 is the best-selling sewing machine on Amazon because it truly delivers as its name suggests.

This sturdy and durable machine with stainless steel bedplate and a heavy-duty interior metal frame is designed to work on tough and thick fabrics like leather and denim.

It can boast an even feed where the walking foot can glide through dense fabrics and move through several layers of thick materials. It has 32 stitches and a fully automatic one-step buttonhole for various sewing projects.

The Singer 4452 is equipped with a heavy-duty duty motor which is 60% stronger than other models making leather and denim pass through the needle effortlessly.

Buy it here: Singer 4452

Singer 9960

The Singer 9960 is an excellent heavy-duty sewing machine with many convenient features and stitches to help you become more creative and make sewing more manageable and enjoyable.

The machine has 600 built-in stitches, including basic, stretch, decorative, and many other stitches, allowing you to be more creative with your clothing, home décor, and craft projects. It also has13 built-in one-step buttonholes and five alphanumeric fonts you can use to personalize your work.

The Singer 9960 is a high-speed sewing machine with a maximum sewing speed of 850 stitches per minute, which is fit to sew thick fabrics like denim and finish your projects quickly.

This sewing equipment may be more expensive, but it can sew a wide range of materials using countless stitches to add uniqueness to your sewing projects.

Buy it here: Singer 9960

Janome HD3000

The Janome HD3000 is a workhorse of equipment. Many sewists claim it can handle any fabric you push through the needle. Owning one can help you sew denim and a wide variety of tough or delicate materials.

The machine looks simple on the outside, but what is more important is the workings inside. It has 18 built-in stitches and a one-step buttonhole which are all very useful for your various projects.

It has several practical features, such as an efficient needle threading system, an automatic bobbin winder, a reverse stitch lever, and thread tension adjustment.

The Janome HD3000 may cost twice more as the usual heavy-duty sewing machines, but it has claims to sew up to six thick layers of fabric. It can be a good investment if you work more on denim, other dense materials, or multiple layers of fabrics.

Buy it here: Janome HD3000

Juki HZL- F600
The Juki HZL-F600 is a tough machine that can handle multiple layers of thick fabrics like leather and denim. It costs more than the other standard heavy-duty sewing machines available on the market, but many sewists can attest that it is worth your money.
Aside from being a reliable sewing machine for heavyweight fabrics, the equipment is also ideal for quilting. It comes with various sewing feet that would suit any of your sewing projects. It includes a handy extension table when you need a larger workspace.
You can navigate through all 255 sewing patterns and the 16 types of buttonhole styles with the easy-to-use control panel and view your changes on the LCD screen.
The Juki HZL-F600 has these convenient beginner-friendly features such as the automatic needle threading system, quick-set drop-in top bobbin, quick-set bobbin winder, quick-change presser feet, and adjustable thread tension control.
The machine delivers smooth and high-quality stitches for either lightweight fabrics or thick and heavy materials.
Buy it here: Juki HZL- F600
Best Heavy-duty Sewing Machine for Denim: Do you need a heavy-duty machine to sew denim?
When sewing denim, you will need a sturdy and heavy-duty sewing machine. Heavy-duty sewing machines are designed to handle thick fabrics like denim than a primary household sewing machine.
If you are planning to sew many items made of denim, there are several factors you should keep in mind before settling on a sewing machine. Consider the following features as you are looking for your denim sewing machine.
Metal Frame
You will notice that the most effective heavy-duty sewing machines have metal interior frames. A metal frame gives more support and durability to your sewing equipment. It also provides stability needed when you sew dense fabrics like leather, denim, vinyl, etc.
Sewing machines made of metal work harder than usual but usually last longer than those made with plastic.
Powerful Motor
A strong motor is crucial for a heavy-duty sewing machine to tackle denim and other thick fabrics. A powerful motor will help drive the needle through the denim fabric efficiently. It can also assist in sewing through multiple layers of dense materials.
Variable Stitch Length
It would be best if your sewing machine had a variable stitch length option when sewing denim. A longer stitch length is needed when sewing denim as shorter stitches cause needles to break or threads to snap as you sew.
If your sewing machine has an option for variable stitch length, you can choose the best stitch length to sew denim.
Higher Presser Foot Lifter
When you sew thick fabrics like denim, you would want your hands to be free to guide the material through the machine. It will help if your sewing machine has a high presser foot lifter to lift the presser foot and keep your hands free to do more critical tasks.
Jeans Presser Foot
The sewing foot you use is also vital to effectively sew denim. Thick fabrics can be hard to feed through the machine, so using the proper presser foot is crucial.
Some machines come with a jeans presser foot which is perfect for the task, but a walking foot can also do the job. A jeans presser foot or a walking foot will prevent the denim fabric from slipping or stretching as you sew.
Denim Needle
Heavy-duty sewing machines come with a denim needle. Denim needles are made to pierce through dense fabrics, making them sharper and thicker than the regular sewing needle.
Zigzag Stitch
Denim is a thick fabric but can easily fray. A zigzag stitch option in your vintage sewing machine is an advantage, especially when sewing seams of your denim items.
Do you need a special needle to sew denim?
Denim is a heavyweight fabric, so you need a stronger and sharper needle. Sewing needles should match the thickness of the material you are sewing. For light and medium-weight denim, you use a 90/14 size needle; for heavyweight denim, a 100/16 is appropriate.
These denim needles penetrate dense fabrics, making them thicker and sharper than the ordinary sewing needle. You will also notice that the eye of a denim needle is very slim for proper loop formation.
You may need to change your denim needle as needed because it will naturally dull with use over time.
If your sewing machine does not come with a denim needle, you can buy it separately from most tailor shops or online.