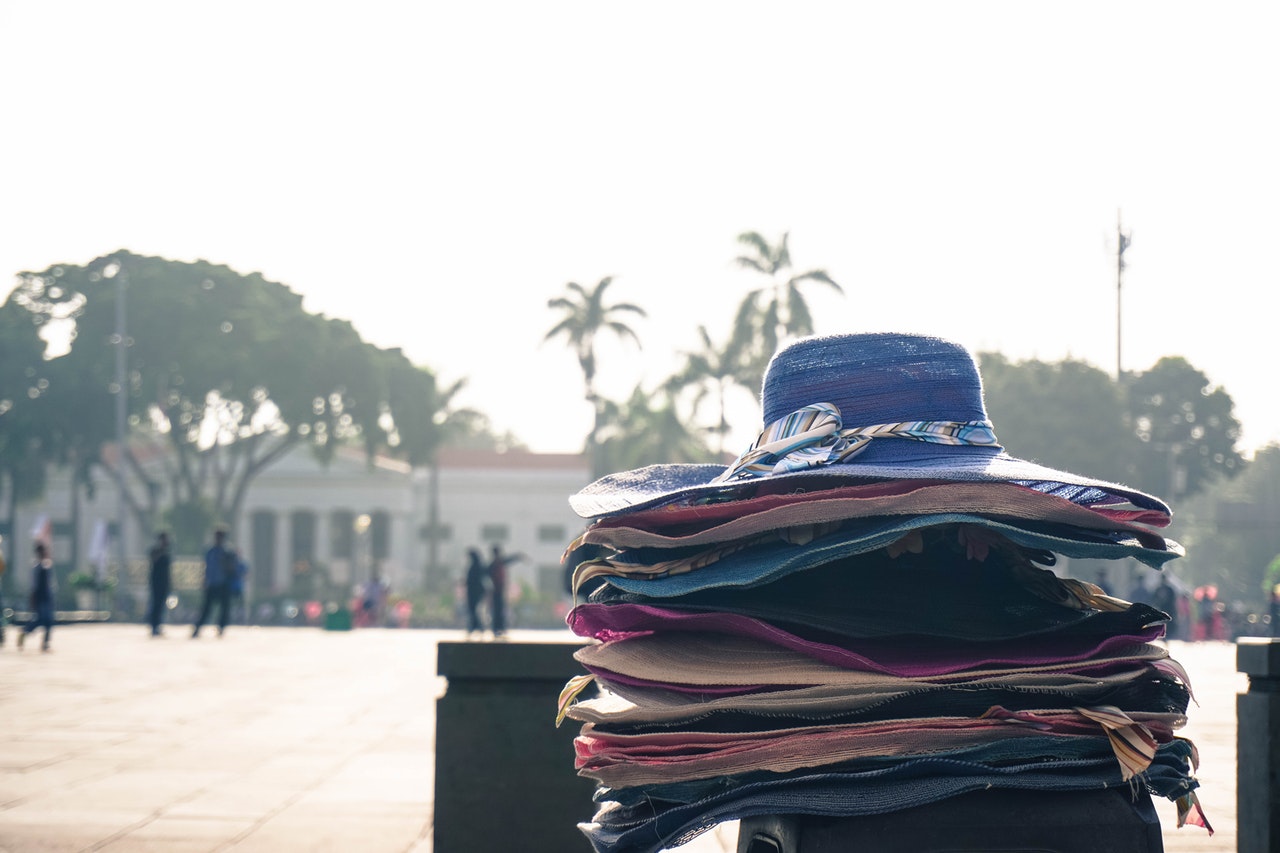 Hats get that certain personality when you put patches on them. There are many ways you can put a patch on your hat to make it look more suited to your taste.
One of the easy ways to put a patch on your hat is sewing. You can either sew it by hand or use a sewing machine if you want it quickly done.
Sewing a patch on a hat is just a quick task, but you must do it seamlessly because you would not want a skewed patch design on your hat.
The best sewing machine to sew patches on hats is a heavy-duty home sewing machine with an internal metal frame and a high presser foot to make room for a hat's rounded shape and dense fabric.
What kind of sewing machine do I need to sew patches on hats?
You can use a good-quality domestic sewing machine to sew patches on hats. You have to identify the features of the sewing machine to accommodate the hat's shape and the thickness of the fabrics you need to sew.
A home sewing machine with a high presser foot can take in multiple layers of dense fabrics; a specific example is sewing a thick patch on a dense hat fabric.
Here are six sewing machines that experts recommend using in sewing patches on hats.
The Barracuda 200ZW was introduced in 2007. It is a portable walking foot sewing machine that can handle medium to heavy-weight sewing jobs. It was designed and manufactured with boat owners, hobbyists, and small business entrepreneurs in mind.
It is an ideal machine for sewing patches on caps as it can produce stitches comparable to those of an industrial machine. The Barracuda is equipped with a top and bottom feeding, which produces smooth and even stitches and claims to sew over many challenging materials.
Buy it here: Barracuda 200ZW
The Singer HD6600C is a heavy-duty computerized sewing machine. It is an excellent machine to use when sewing patches on clothing, hats, bags, etc., as it has great piercing power for dense and multiple layers of fabrics.
It boasts extra-high sewing speed, which is useful to sew multiple layers of fabrics. The sewing machine is user-friendly for the newbie and expert hobbyist with a top drop-in bobbin making it easy to view if your bobbin needs threading and an automatic needle threader.
Buy it here: Singer HD6600
The Janome HD1000 is a sturdy and dependable sewing machine with a heavy-duty aluminum outer body. It has 14 built-in stitches and one four-step buttonhole, enough stitches to provide you with an efficient and enjoyable sewing experience. It is a basic but heavy-duty sewing machine ideal for any sewing project, clothing, accessory, or home décor.
Buy it here: Janome HD1000
The Janome HD3000 will give you the consistent quality of stitches even if you shift from thin to thick material. It can also sew multiple layers of dense fabrics typical of a heavy-duty domestic sewing machine. The Janome HD3000 is a true workhorse; you can use it for various sewing projects of different fabric thicknesses of cloth or leather.
Buy it here: Janome HD3000
The Juki HZL-LB5100 is a quiet and sturdy machine fit for beginners or even more advanced sewists. You will observe that it has no vibration as you sew, distinguishing the quality of a Juki sewing machine. It gives perfect stitch quality. It also gives a very even tension, producing straight and smooth stitches.
You will benefit greatly from the easy-sewing features such as auto-threading and start/stop features. The machine can also handle thick fabrics like denim. The machine is very lightweight at 15 lbs, which you can carry for your sewing lessons or travel.
Buy it here: Juki HZL-LB5100
This domestic but heavy-duty sewing machine has many advantages to give you a pleasant sewing experience. The Brother ST150HDH can sew several layers of thick fabrics and sew lightweight ones like silk. It has 50 built-in practical and decorative stitches and five styles of one-step buttonholes.
The sewing machine includes a walking foot to help feed difficult fabrics and multiple fabric layers. You can also choose from a wide stitch selection up to stitch width of 7mm.
It also has variable speed control, which allows you to sew at your preferred speed. The machine is equipped with a start/stop button which is very useful when pivoting your work when stitching. This feature will benefit you when sewing a small, circular patch which you will need to rotate as you sew.
Buy it here: Brother ST150HDH.
How do you sew a patch on a hat on a sewing machine?
You can sew a patch on a hat in two quick and easy steps; position it, then sew it on the hat.
Follow these quick and easy steps to sew a patch on a hat using a sewing machine.
Position the patch
Place the patch on the designated area on the hat. Pin the patch in place with the pointed ends at the center of the patch. Doing so will keep the sewing machine needle from hitting the pins. If the patch you are using is too small to pin, you can temporarily use washable fabric glue to position the patch.
Sew the patch
The first thing to do is to turn the hat inside out. Set your sewing machine tension according to the material you will use for your hat. Determine the correct needle and thread to use on your patch because most patches are thicker than traditional fabrics. Sewists usually use a thread size #69 and a needle size of 14.
Choose the color of the thread you want to use. You can pick a contrasting color to add a touch of decorative style. If you only want to attach the patch, you can choose a thread color that would blend in with the border of the patch.
Start sewing using the straight stitch to work around the patch. Remove the pins when you reach them to avoid hitting the pins with your needle and breaking it or damaging your machine. Stop stitching once you have reached your first stitch.
Is it better to sew or iron on a patch?
Sewing a patch is better if you permanently want the patch on your hat. Sewing the patch can withstand washes more than ironing the patch.
However, you may have reasons to choose one method from the other. If you want a permanent way of attaching your patch, you sew the patch to your hat. If you have no sewing machine or it will take too much of your time to hand-sew a patch, you can use a hot iron over it.
Here are the two methods you can use to embellish your blank hat with a patch.
Iron on a patch
Make sure that the fabric of the hat you need to iron on will not be damaged by heat.
Place your hat on a flat and heat-resistant surface.
Get your patch and place it on your preferred spot on your blank hat.
Heat your iron to its highest setting.
Turn off the heat setting and make sure that the iron is empty of water.
Place a thin towel over the patch for protection; careful not to move the patch from the area where you settled it in on the cap.
Press the iron on the patch for 10 to 15 seconds.
Finally, remove the iron and the towel covering the patch.
Allow the patch to cool down before touching or using it.
Sew on a patch
Find the position where you want to sew your patch on your hat.
Secure the patch on the hat using pins. Place the pins at the center or on areas that they will not get in the way when you sew the patch later on.
Another option to temporarily attach the patch on the fabric is a few drops of washable glue.
After securing the patch in its position, turn the hat inside out.
Choose a heavy-duty needle and the proper thread color, then set your machine to a zigzag stitch setting. It would be best to use the narrowest zigzag because hats' patches are usually small.
Start sewing around the edge of the patch. Stop sewing when you have reached the point where you started.
Both are easy and popular ways to enhance a plain hat with a patch. It is your personal choice which method suits your hat material and how often you need it washed.
What is the best stitch for patches?
Most sewists advise using the straight stitch when sewing a patch. The straight stitch will give the strongest hold, especially when you set the stitch length to 2mm or less.
The straight stitch is also the simplest stitch pattern you can use, whether by sewing by hand or using a machine. It is a basic stitch that does not require much effort to do. To ensure that you have secured the patch, backstitch at the start and at the end of sewing your patch.
The zigzag stitch is the next most common stitch used to sew a patch. You can use any stitch pattern to sew your patch as long as it serves the purpose of attaching the patch. Use the narrowest setting you can find in your machine, as patches usually come in small shapes and sizes. Also, avoid covering the design meant to be showcased by the patch.
More pages:
How long do sew-on patches last?
Patches will last as long as they are treated properly. They may even last longer than the items you attach them to.
There are various factors to consider when you sew on a patch. Patches on uniforms, caps, bags, clothing, etc., can last for decades or even longer if given the right treatment.
If the item where your patch is attached is used daily, expect it not to last a very long time, especially when you use it for rough jobs.
The kind of material you use for your patch will also define the length of time it will last. Using low-quality materials for your patch will not make it last as long if you use high-quality materials for your patch.
The placement of your patch also plays a big factor in its longevity. If the patch is placed on a clothing item that constantly experiences friction, it will surely not last long. A patch on a hat may last for many generations to come as compared to a patch over the knee of a child's pair of pants which may not even last a year.