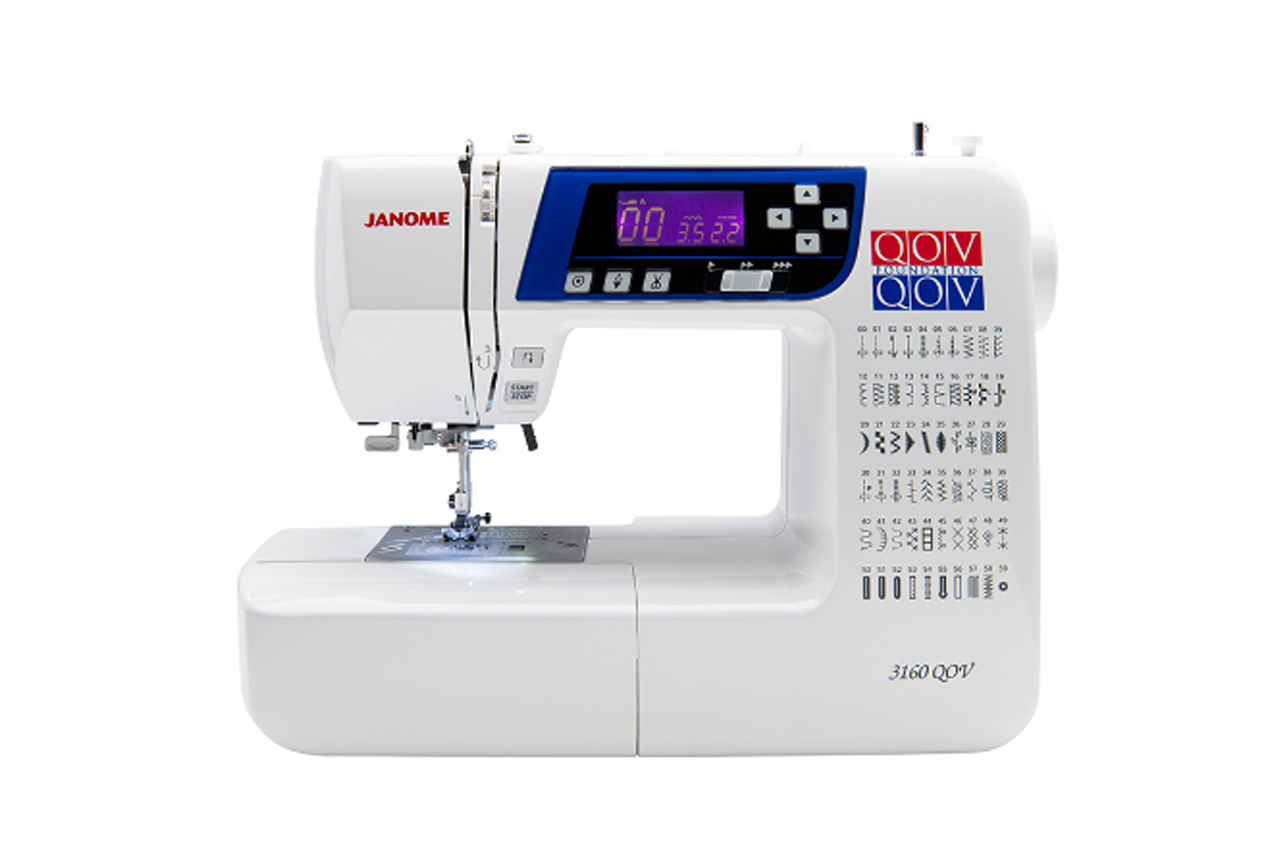 If you quilt intending to create unique designs on your quilt top, you are probably into free-motion quilting. You can do free-motion quilting by moving the fabric under the needle to form lovely artistic designs on the quilt top. It is a quilting process that will add exceptional designs, texture, or charm to your quilt creations.
For free-motion quilting domestic sewing machine, you will need a darning foot and a quilting hoop. You attach a darning foot to your machine so that you can move the fabric freely and prevent it from slipping. It would also be best if your sewing machine has a large throat of at least 6.5 inches, as quilting needs a larger workspace for the bulky materials.
One of the best and trusted brands for sewing and quilting worldwide is Janome. This Japanese sewing machine brand is known for its high-quality sewing machines that, in turn, produce excellent stitches.
So, pick from this list of the Best Janome sewing machine for free-motion quilting now:
Janome 3160QOV

Quilting sewing machines tend to cost more than ordinary ones. The Janome 3160QOV is the least expensive among the group. It is a perfect quilting machine below $1000 that can already perform much quilting, and regular sewing machines can do the everyday sewing tasks.

Other accessories are included in the package to help make quilting a more enjoyable and efficient experience for you. The machine comes with a darning foot which is one vital requirement for free motion quilting. Accessories included are an extension table and other sewing feet that you might need for your specific sewing projects.

The Janome 3160QOV has 60 built-in sewing stitches and six built-in buttonholes to help you be creative with your quilt work. Time-saving features like the automatic needle threader, the jam-proof easy-set top-loading bobbin, and a thread cutter button are convenient features of this quilting machine.

This versatile, full-featured sewing machine caters to the quilter's needs. The package has a quilting attachment kit which includes an open-toe even feed foot with a guide, an open-toe satin stitch foot, an open-toe darning foot, a quarter-inch seam foot, and a quilting guide.

The Janome 3160QOV is a full-sized sewing machine with a great throat space compared to those you can find on other standard-size sewing machines.

Buy it here: Janome 3160QOV

Janome 4120QDC

The Janome 4120QDC is a full-featured all-around sewing machine that can perform the superb type of sewing for everyday home use, making clothing, quilting, and patchwork. It is well-equipped with 120 built-in sewing stitches. You can also personalize your quilt using the built-in alphabet.

You can also expect the standard time-saving features in this versatile machine. It has an automatic needle threader that can prevent you from having eye strain and a jam-proof easy-set Top-loading bobbin system that can help you quickly change the bobbin.

The Janome 4120QDC has handy function buttons such as the thread cutter button, the reverse stitch button, the lock stitch button, and the start/stop button.

Each of these buttons has a specific purpose of making life easier for a beginner quilter or sewist. An LCD screen on the machine is quite helpful with its enhanced information display and an easy-to-use touch pad.

The package comes with many accessories to allow your creativity to shine through. You will get seven sewing feet with the machine: standard foot, zigzag foot, zipper foot, satin stitch foot, automatic buttonhole foot, blind hemming foot, and overedge foot.

Buy it here: Janome 4120QDC

Janome 1600P

The Janome 1600P is a high-speed, straight stitch sewing machine with fast speeds and an outstanding design. It is a fully-featured machine where you will find all the sewing functions you need. It is a machine perfect for both sewing and quilting.

The sewing speed of this machine is 1600 stitches per minute, making it one of the fastest sewing and quilting machines available in the market today. The speed is also ideal for working with multiple layers of fabric, such as a quilt.

With almost 9 inches by 6 inches area to the right of the needle plus a side-loading bobbin, the Janome 1600P can give you more working space needed for free-motion quilting.

The machine has an automatic thread cutter and an ergonomic knee lift. These multiple time-saving features will help you finish your quilt in no time.

Buy it here: Janome 1600P

Janome MC6650

If you want to take your free-motion quilting to the next level, try the Janome MC6650. This state-of-the-art sewing and quilting machine has a 10-inch, all-metal Seamless Flatbed and offers excellent speed and precision.

The machine has a wide variety of stitches, with 172 built-in stitches and nine one-step buttonholes. It also has block and script alphabet fonts in upper and lowercase that can help you personalize your quilt or other sewing projects.

You can navigate through the many stitches using an easy convenience button near the wide LCD screen. The display can provide comprehensive information about your stitch selection, width and length settings, feed dog position, and the recommended sewing foot for each stitch used.

It has an adjustable presser foot pressure, so you can change the pressure on the fabric as needed. Changing foot pressure is done by turning a dial. Also, the machine has seven-piece feed dogs that help pull the material through the needle quickly.

The drop feed lever is easy to locate as you can find it near the power switch. This drop feed feature is ideal for free-motion quilting, sewing buttons, and making buttonholes.

The Janome MC6550 also offers the option of switching between the straight stitch needle plate and the zigzag plate with a push of a button. You can easily change your metal plate as needed by your stitches.

The price point for this machine is relatively high, but the efficiency and speed outweigh the cost.

Buy it here: Janome MC6650

Janome Memory Craft Horizon 8200QCP
The most expensive on the list, the Janome Memory Craft is almost twice the cost of these sewing machines that can perform free-motion quilting.
The machine uses an Acufeed system to easily feed the fabrics through the sewing equipment. The Janome Memory Craft is probably the most modern among the Janome sewing and quilting models. It offers creativity as well as accuracy in working with your quilts.
The length of the arm space is 11 inches making it an excellent machine to use on large quilts, big home decors or furnishing projects, and bridal gowns. The extra sewing room is a huge advantage.
The machine can reach speeds of 860 stitches per minute but does not compromise the quality of the stitch. Choose from the 224 built-in stitches, alphabet and number fonts, and some great fun play stitches using the large touch panel LCD.
Other easy-to-use features of this sewing and quilting machine are:
You can also find an up/down button to set the needle to finish in the up or down position, which can help when sewing at the corners.
The Janome Memory Craft Horizon 8200QCP has a lock stitch button that can help you lock off each stitch pattern at the end and an automatic threader to trim the thread tails.
Buy it here: Janome Memory Craft Horizon 8200QCP
You may be a newbie or an expert quilter; without a doubt, there is a Janome quilting machine that would suit your budget and skill level. Janome is not only famous around the globe but a proven reliable and capable sewing and quilting machine brand that can last you many years to come.
Best Janome sewing machine for free-motion quilting: Is Janome good for quilting?
Janome is an excellent brand for quilting because it has the proper features and capabilities vital to a quilting machine that distinguishes it from an ordinary sewing machine.
Quilting involves a considerable volume of fabric, so having a suitable machine for quilting will allow you to be your most creative sans the limitations of the regular sewing machine.
Janome quilting machines have unique features that make them excellent machines that can give you a more efficient and more enjoyable quilting experience.
Below are some essential features you will find in most Janome quilting machines.
Work Space
One of the most apparent differences between a regular sewing machine and a quilting machine is the size of the workspace that the machine can provide.
The gauge for the amount of workspace you can use is the size of the machine's throat. The longer the sewing machine, the wider the throat, thus more space to work on.
Quilting is done better on a sewing machine with a wide throat, and a Janome quilting machine can provide just that.
Extension Table
Many Janome quilting machines come with the extension table accessory, which can add extra working space, which is ideal when working on big projects like quilts. The additional space that the extension table can provide will allow you to feed the bulky fabrics of your quilt more efficiently.
Number of Stitches
Most of the Janome quilting machines have more than 200 built-in stitches that you can choose from to bring more creativity to your quilts. You can use these decorative stitches to add an accent to the borders of your quilts or use them for quilting your quilt layers.
AcuFeed System
One of the unique features of a Janome quilting machine is the AcuFeed System, designed to move multiple layers of your quilt together through the needle from top to bottom. The AcuFeed System feature is valuable when piecing, hemming, quilting, or any other sewing process that requires precision.
Sewing Feet
Janome quilting machines have many foot options to help your various quilting projects.
You need a quarter-inch foot for quilting projects that require a narrow seam allowance. A Janome quilting machine may include a quarter-inch piecing foot with the sewing machine.
Many Janome machines such as those below $500 also include a free-motion or darning foot. The darning foot ensures proper stitch formation, reduces the occurrence of skipped stitches and puckering, and protects your fingers as you move the layers of fabrics under the needle. You can use it specifically for free-motion quilting projects.
Some of the Janome quilting machines come with a walking foot, an accessory that can assist you in feeding multiple layers of slippery and heavy fabrics through the machine. It is also a valuable tool when quilting in straight lines.
Most of the Janome quilting machines may include these sewing feet for quilting, but they are also available as optional accessories that you can purchase from Janome.
Motor Speed
Another vital quilting machine requirement is a high-speed motor. It would be best to have a quilting machine that runs at high speed to work on multiple layers of fabrics. Quilting machines with high motor speeds are sturdier and more stable.
Some of Janome's fastest quilting machines run at speeds up to 1600 stitches per minute and can help finish quilting and sewing projects in the quickest time possible.
Related: