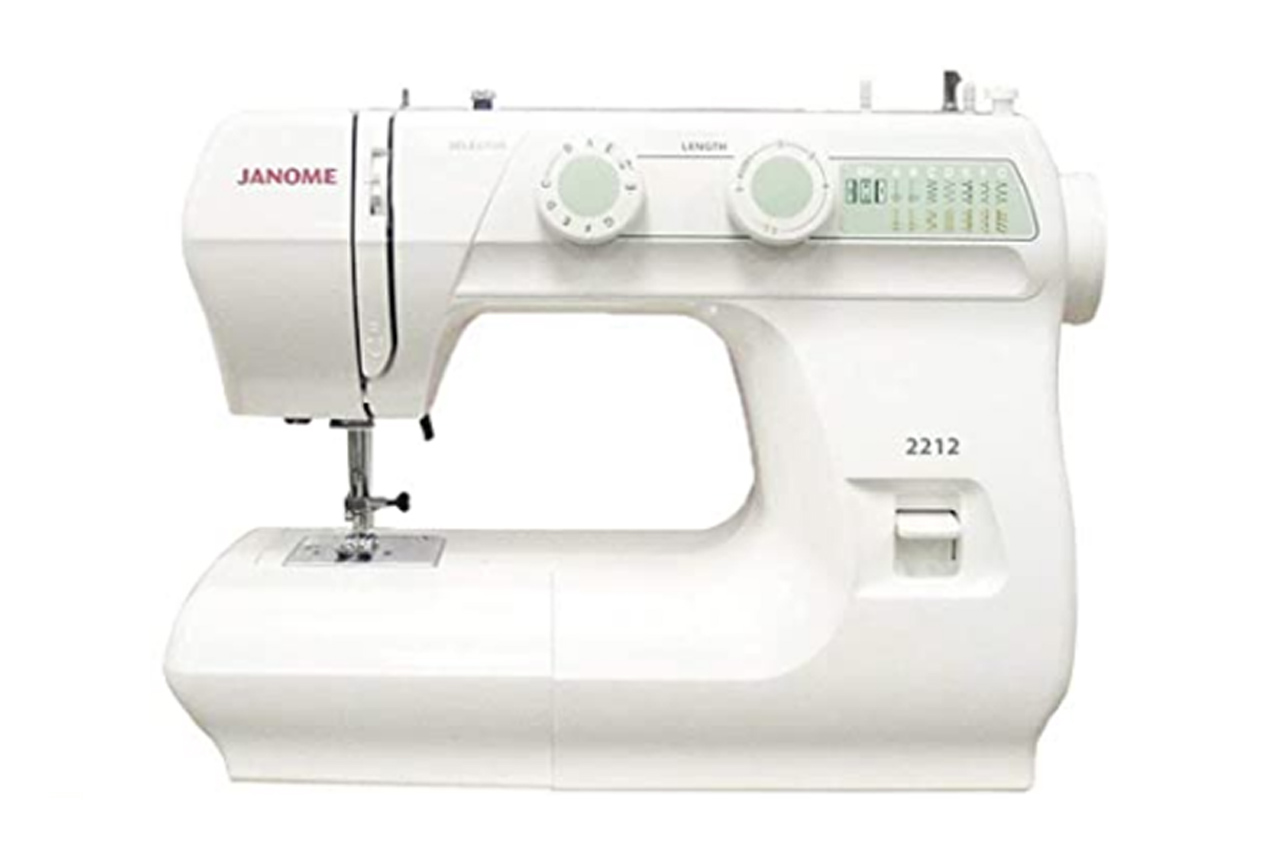 Are you one of those who are especially attached to a particular brand? We know that various sewing machine brands compete in modern features that can help with specific tasks like quilting.
Janome is still one of the trusted brands many serious quilters prefer for quilting. It has features unique to the brand that will make beginner or expert quilters enjoy the craft more.
Below is a list of the best Janome sewing machine for quilting.
Janome 2212

If you are new to quilting, the Janome 2212 sewing machine is an excellent option because it is easy to use and budget-friendly. It may not be packed with so many features, but it has the essential functions of a quilting machine.

The Janome 2212 is a piece of mechanical sewing equipment appropriate for piecing and other quilting tasks. It can handle dense quilting material but does not have enough workspace for a big quilting project like a queen-sized bed.

One of the unique features of the Janome 2212 sewing machine is the 5-piece feed dogs you can drop when needed in your quilting or sewing project. Other practical features of these entry-level sewing machines are the 12 built-in stitches, one four-step buttonhole, free arm, the dial pattern selection, and stitch width and length adjustment.

The Janome 2212 is a lightweight and beginner-friendly quilting machine you can carry around for your sewing lessons.

Buy it here: Janome 2212

Janome Magnolia 7318

The Janome Magnolia 7318 is a versatile sewing machine that is excellent equipment for quilting. It is an easy-to-use yet powerful machine.

You can find a convenient stitch panel on the front of the Janome 7318 with all the stitches having a corresponding stitch letter. You can choose from 18 stitches to choose from and multiple needle positions. It is easy to select a stitch using the stitch dial on the front of the machine.

The Janome 7318 has a lot of features that are not only necessary for sewing but also for quilting.

The machine has a drop-feed system which is vital for free-motion quilting as well as garment darning. You can also take the free arm off to be able to sew circular parts like seams, cuffs, and sleeves.

The Janome 7318 is treadle-powered. While it is not computerized, the machine is still very efficient for quilting.

Newbies and professional quilters will find many features of the Janome 7318 useful in creating clean and smooth stitches on your quilts.

Buy it here: Janome Magnolia 7318

Janome 3160 QDC

A serious quilter would want a sewing machine with all the features that would make sewing and quilter easy for a quick and quality finish.

The Janome 3160 is a top-of-the-line portable sewing machine with many features for a quilting enthusiast.

The unique feature of the Janome 3160 QDC is its Superior Feed System Plus feed dog design that gives strong and consistent fabric feeding capabilities.

Another benefit for quilters is the bigger throat space than most regular sewing machines, allowing more excellent stability when feeding fabrics.

The Janome 3160 QDC is a true-blue quilting machine with its quilting attachment kit that includes an Open Toe Even Feed foot with a guide, Open Toe Satin Stitch Foot, Open Toe Darning Foot, ¼-inch Seam Foot, and a quilting guide.

You can adjust the pressure the sewing foot places on your fabric using a pressure adjustment dial. You can increase the pressure when working on slippery or thin fabrics and decrease pressure when you feed multiple layers of materials. The Janome 3160 QDC can manage different fabric types because of this pressure adjustment feature.

The machine also comes with many convenient features present in most ordinary sewing machines, such as a needle threader, thread cutter, start-stop button, a lock stitch button, and an LCD screen, to name a few. You can also choose from 60 built-in stitches and six one-step buttonholes for your various sewing projects.

Buy it here: Janome 3160 QDC

Janome 4120QDC $749

The Janome 4120 QDC is a versatile sewing machine and a true workhorse. It is designed for various sewing tasks for fashion, home decors, mending, patchwork, and quilting.

It has 120 built-in stitches and seven buttonholes, a wide range of choices for your different sewing tasks. The machine is a fully-featured sewing and quilting equipment with time-saving features such as the automatic thread cutter, on-screen stitch editing on the full LCD screen, and automatic needle threader, to name a few.

The Janome 4120 QDC has a precision tension dial that allows you to set the tension and keep it at that precise setting to work on a specific type of fabric.

For the experienced quilter, the fully-featured Janome 4120 QDC will not disappoint. It has an easy-to-use control panel, an LCD screen that can give more details using decorative stitches, and a stitch adjustment system.

There is a needle up/down feature that can help you when sewing around corners. You can control the speed to create smooth stitches. Use the time-saving features such as the automatic thread cutter and needle threader to finish sewing and quilting projects faster.

The Janome 4120 QDC has an additional quilting attachment which includes several feet that will be helpful in various quilting tasks. The package also includes seven accessory feet needed for different sewing tasks and other accessories such as bobbins, extra needles, buttonhole opener, screwdriver, lint brush, foot control, and power cord.

Buy it here: Janome 4120QDC

Janome Memory Craft 6300P

Many quilters claim the Janome Memory Craft 6300P as one of the best sewing machines for quilting. The Janome MC-6300P is considered a professional heavy-duty computerized sewing machine.

The sewing machine is a bit pricey compared to the regular sewing machines that can do quilting, but the Janome MC-6300P is an upgrade in terms of features. It comes with 66 built-in stitches, four one-step buttonholes, sews at 1000 stitches per minute, and has a large throat and sewing bed; qualities of an ideal sewing machine for quilting. It can also work on different types of fabric.

The machine offers a 9″ x 5″ sewing bed space ideal for sewing large quilts and an extension table that can bring you more comfort when quilting.

Janome MC-6300P also has convenient features common in standard sewing machines, such as the automatic thread cutter, a bobbin winder, adjustable stitch width and length, a needle threading system, and a jam-resistant, top-loading bobbin.

If you are into free-motion quilting, you can drop the 5-piece feed dogs on the Janome MC-6300P. This feature is essential to move multiple layers of your quilt freely through the machine to avoid rips and snags.

Another notable feature of the Janome MC-6300P is the knee lift which can help you control the presser foot position hands-free. All you need to do is push the lever with your knee to raise the presser foot. It is one of the features that you will appreciate with this machine as you can use your knee instead of using your busier hands.

The Janome MC-6300P has a presser foot pressure control that can help you make even and smooth stitches on either thick or thin fabrics. It also has a convenient, low bobbin indicator light.

Janome MC-6300P is considered an ideal sewing machine that can quilt. It has five different blanket stitches that you can use for applique, and it comes with an extension table that can help with piecing your quilt faster. The sewing machine has a walking foot to help you evenly feed your quilt's top and bottom.

The machine is easy to use and has the features a newbie or an expert quilter would look for in an ideal quilting and sewing machine.

Buy it here: Janome Memory Craft 6300P

Janome Skyline S5
The Janome Skyline S5 is a computerized sewing machine with convenient and top-of-the-line features. You get a full-featured, versatile sewing machine without breaking the bank.
The sewing machine has practical features such as an automatic thread cutter, stitch speed adjustment, and up/down needle placement, making sewing and quilting easier and faster.
The Janome Skyline S5 can quickly get through multiple layers of fabrics, an essential feature that quilters look for in a sewing machine. It has a knee lift which allows you to lift the presser foot and leave your hands free to adjust your quilt layers.
You can also use a start/stop button instead of the foot pedal and vice versa.
Another thing that quilters and sewists appreciate about this budget-friendly machine is the quiet way it works to avoid bothering others as you finish your quilt.
The Janome Skyline S5 has a lock key feature that you can use when changing the needle or touching the thread area. This computerized machine has a speed control feature, a vital function for beginners at sewing or quilting to create even stitches.
With the Janome Skyline S5, you get a versatile machine that can do various sewing tasks and quilting sans the high price.
Buy it here: Janome Skyline S5
Best Janome Sewing Machine for Quilting: Is Janome good for quilting?
Janome is a good choice for quilting because of its various sewing machine models' proven and tested quality and consistent performance.
Janome has several sewing machine models that suit the beginner, intermediate, and expert quilter. The company has mechanical sewing machines for those who want the basic applications and computerized ones for those who prefer advanced features on their quilting machines.
The different models of Janome sewing machines all produce excellent quality stitches. Aside from consistent stitch quality, they also offer a wide variety of stitches, including primary and decorative stitches.
Janome also offers their sewing machines with quilting features at a wide range of prices. You will be able to find one that can match your budget and quilting experience.
If you are looking for a Janome machine under 500 that can quilt or an all-around machine that can perform various sewing tasks with quilting included, this brand can provide you with a quality machine that would suit you best.