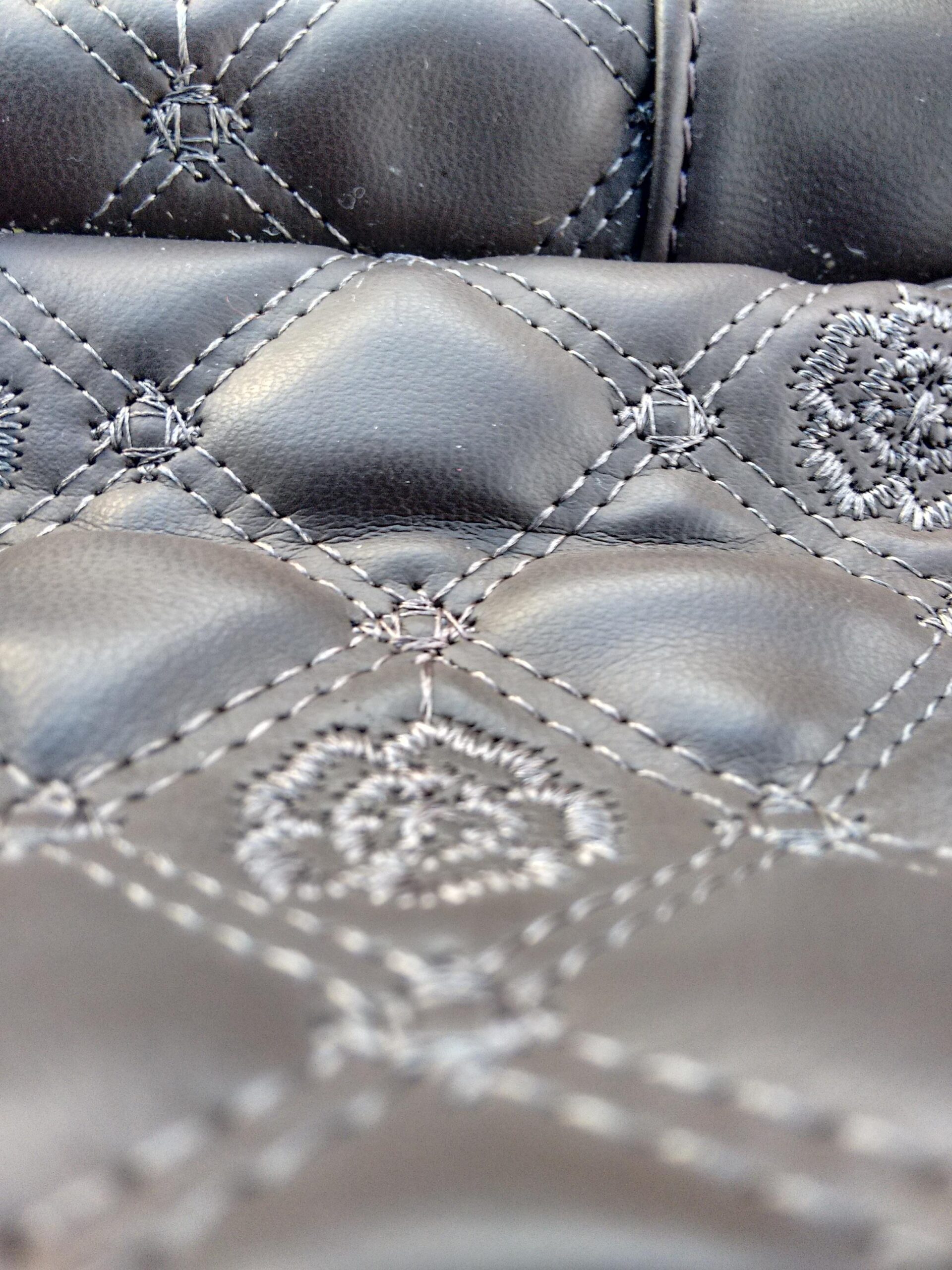 Quilting can be more challenging than other hobbies. You have to spend time choosing the pattern, fabric, and batting. If this part is meticulous, wait until you make your quilt top.
You need to put in effort and time to make a gorgeous quilt top. Well, you have to be extra meticulous making the quilt top because it is the focal point of your quilt. This does not call for fancy stitches or techniques.
What you should consider is the balance and neatness of your design and stitches. You do not want to have uneven stitches on your design. Do you? This is why you must know what stitches you will use for your quilt.
You must know the proper length, distance, and density of your quilting stitches. These factors affect the final look of your quilt.
Quilting Density determines how close you make the quilting lines. When you quilt simple parallel lines, make sure to provide any of the following density.
1 inch (2.54 cm.)
3 inches (7.6 cm.)
¼ inch (0.64 cm.)
If your lines have less than 1-inch (2.54 cm.) distance, you are going to have a dense quilt. Meanwhile, if your lines have a distance of 4 inches or more, you will have a sparse quilt.
It is easier to scale down or scale up a straight-line pattern. For instance, you are doing a diamond grid with the lines crossing at even intervals. Say you quilt with 3 inches intervals.
If you want to scale it down and make it denser, you need to stitch an additional line at 1 ½ inch (3.8 cm.) interval. It is like dividing the interval in half. This now gives you a 1 ½ inch (3.8 cm.) grid. This is denser than your original 3 inches (7.6 cm.) interval.
Factors In Choosing the Right Density for Your Quilt
Choosing the right quilting density for your project is not difficult. All you need is to consider these four factors.
The quilting density affects the texture of your finished quilt. A wider quilting density often creates a soft quilt top. Meanwhile, smaller density creates a rougher texture. This is because the stitches or lines are too tight with each other.
Denser quilts also have stiffer finish because the stitches pull the materials tightly. When you want a soft quilt that drapes, it is best to use bigger or wider density. Since the stitches are apart from each other the materials are a little loose.
A dense quilt is less warm than a sparse quilt. When your quilt is stiff it will not drape and wrap well around your body. While sparse quilts bend and drape well on your skin, giving you a warmer feeling.
Another factor is durability. Your quilts have 2 or three layers and so you have to make sure that each layer is well sewn with the other. If your quilt is sparse, it is loose and so is the batting layer. This will cause the batting to bunch up or shift.
When you make your quilts, determine how you are going to use them. Will you use them as bed covers or as tapestries? If your intent is for decoration purposes, sparse quilting is fine. But if you want to have comfortable and durable bed quilts, choose a medium density.
Before you start quilting, check the label of your batting material. Oftentimes, the manufacturers give the recommended density for the material. Some batting materials need a density of 6 inches (15.2 cm.) while others allow up to 10 inches (25.4 cm.) density.
If the recommended density is too big for your preference, you can scale it down. You can adjust your density but make sure it is less than the maximum density given by the manufacturer.
If you are quilting for your personal use, you may take your time. But, if you quilt for customers, time is crucial. When you quilt with sparse density, you are likely to spend less time. But if you want dense quilts, you are likely to spend more time quilting.
The logic is simple. Denser quilts mean you are going to work on more lines. If you have limited time to finish your quilt, go for sparse or medium dense quilting.
What Is A Good Stitch Length For Machine Quilting?
Quilting is easier using a sewing machine. This is even better when your machine has a walking foot. The walking foot and the feed dogs are great for pulling your quilt sandwich evenly as you stitch.
If you are quilting on a machine, the best stitches are those that need forward movement. Straight stitching is the most common stitch for machine quilting. Another stitch is the Mock Hand Quilting.
If you are going to use this stitch, set your stitch length between 2.5 to 3.0 mm. This is around 8 to 12 stitches per inch. This range of stitches works for most quilts, except if you are using sparkly threads.
Decorative threads like the sparkly ones must have longer stitches. This allows the light to hit a bigger area of the thread. This creates a more visible glow. This will show the shine or luster of your threads.
If you are going to use thick threads like 30-weight rayon. You need to have longer stitches. This will give the thread smoother finish onto your quilt.
In case you will use monofilament, it is advisable to use shorter stitches. For traditional 50-weight cotton threads, you may use the 2.5 mm. settings. But don't take my word for it. Check it yourself and see if you are happy with the stitches.
Practice it on a piece of fabric. Stitch the fabric according to your chosen density. Then decide if you are happy with it. You can always change the stitch length based on your liking.
Although, you must not go beyond the 2.5 to 3.0-millimeter range for 50-weight cotton threads.
From the term "mock", this technique mimics the hand stitch on your quilt. This technique is a bit tricky as it needs a triple straight stitch and high needle tension.
Your machine must have a monofilament or clear thread for the needle. Then, use a 100 percent cotton bobbin thread. The stitch length is a little longer for this technique.
In this technique, the walking foot moves forward and backward to make each stitch. Only a few quilters do this technique as it can wear off the walking foot of your machine faster.
What Is A Good Stitch Length For Hand Quilting?
In making quilts, the length of your stitches is important. Whether you quilt by hand or by a machine, your stitches are important in the finished look of your project. Determining the stitch length is easy for machine quilting since you only set it up in your machine.
For hand quilters, this can be a bit tricky because you need to ensure the evenness of your stitches. To determine length stitches, Roxanne McElroy, a known hand quilter, created a guide.
She made five rating scales for your hand stitches based on your quilting skills.
For beginners and average quilters, your stitches should be 6 stitches per inch.
Accomplished quilters can have 8 stitches per inch.
Expert hand quilters can work on 10 stitches per inch.
For professional quilters, you can have 12 stitches per inch.
Micro-Quilters can work on 14 stitches per inch.
The key point here is to make sure your stitches are even. Working on 6 or 8 EVEN stitches per inch is better than 12 UNEVEN stitches.
Does Quilting Stitches Size Differ When Using Different Materials?
As mentioned earlier, you need to use the right stitches for your quilts. Your stitches do not only depend on your skills. It also depends on the purpose of the stitches and the fabric you are using.
The four important key points you need to remember on stitch lengths are the following.
The smaller the stitch length number or gauge, the smaller your stitches.
The longer or bigger the stitch number or gauge, the longer your stitches.
If you want durability, use short stitches.
For decorative purposes, use long stitches.
The number of stitches in every inch has a direct effect on the length of your stitches. For machine quilting, you can select between 10 and 11 stitches per inch. This will give you a stitch length of 2.5 millimeters.
It is advisable to use a stitch length of 2 to 2.5 mm. for silk and sheer fabrics. Use the same stitch length if you want your quilt to have stronger stitches. You may do a test piece for these sizes and decide which looks better on your project.
You can go for tighter stitches, but do not scale it up. Keep in mind that bigger stitches are looser
When you are stitching up your fabrics, it is advisable to use a 1.8 mm. stitch length. This gives you a stronger and neater finish for your fabrics. Tinier stitches can be tricky to correct, but they are better in keeping the patches together.
Since basting is a temporary stitch, use the longest stitch length in your machine. Regardless of what materials you are using, basting stitches should be long and loose. This will be easier to remove once you complete your quilt.
If you are going to use stretchy fabric like the jersey, use a longer stitch length. Longer stitches will give your fabric space to stretch. This is necessary for its innate quality. Keep in mind that tight stitches will tend to pull and gather your fabric between stitches.
This will give your quilt a crumpled or wrinkled look. Always do a test piece of your chosen stitch length before doing it on your quilt.
If you are making a quilt for decoration like a tapestry, use longer stitches on your topstitches. Longer stitches are more visible from a distance. You may use a stitch length in the range of 2.8-3.5 mm. You may change it according to your preferred look.
There is no strict ruling when it comes to stitching lengths. Your stitch length depends on how your fabric responds to it. To check whether you are using the right stitch length is to do a test piece on the same fabric.
If you have a leftover of your quilting fabric, use it to test your chosen stitches. Then, decide which looks best for your project.
How Far Apart Can You Quilt Polyester Batting?
If you are going to use a pure polyester batting, use a 3 inches interval. You can check the label of your batting material to see what the manufacturer recommends.
If you want to alter it, make sure to scale it down. You do not want to make intervals that are wider than the recommended. This can result in shifting or bunching up of your batting layer.
How Far Apart Can You Quilt Cotton Batting?
If you are going to use 100 percent cotton batting, use between 3 to 8 inches (7.6 to 20.3 cm.) interval. In case you are going to use 100% Bleached Cotton Batting, use the range of 1-1/2 to 2 inches (3.8 to 5.1 cm.) intervals. This will preserve the puckered-antique finish to your quilt.
How Far Apart Can You Quilt Warm And Natural?
If you are going to use a warm and natural batting, you can quilt or tie it up to a maximum interval of 10 inches (25.4 cm.). Again, you may scale it down. The 10 inches (25.4 cm.) recommendation is the maximum interval you can use.
More pages: 
Should You Wash Cotton Batting Before Making A Quilt?
When you buy your batting material, the manufacturer always puts care tips on the label. Go ahead and check it out. If the manufacturer recommends pre-washing, then do so. Pre-washing cotton is important since it has a shrinkage tendency.
To make sure your cotton batting remains in good shape, do not use the washing machine in pre-washing it. You may soak it for 10 to 15 minutes in water and light detergent. Give it a thorough rinse and dry it flat on your lawn or a large mesh dryer.
Pre-washing your cotton also ensures that your batting material is clean. Clean and pre-shrunk cotton will give you great quilts.
Quilting is more of an art than a science. You can use these recommendations as guides. But do not forget your personal preferences or your customer's requests.
There are three important takeaways in this article. First is to know how your stitches respond to your fabric. Second is the purpose of your quilt. Keep in mind that short stitches result in stiff and more durable quilts.
The last key point is to always test your stitches first before doing it on your quilt.
The beauty of your quilts is relative to who is looking or using it. What matters is that you are happy with your work.