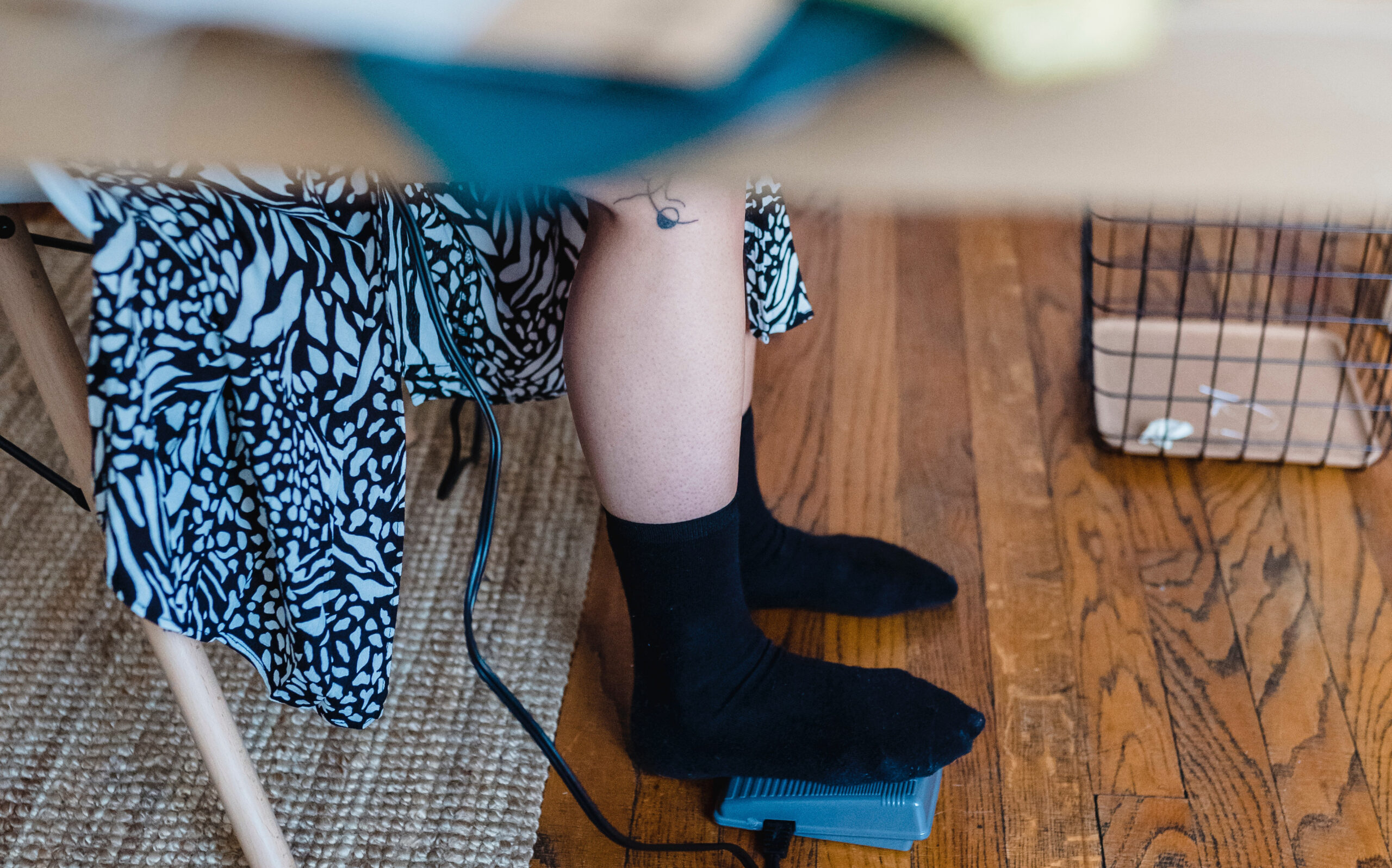 Different sewing machines have their unique ways to function. You will find sewing machines operated by foot pedals, knee pedals, hand cranks, or buttons. So, it is safe to say that not all sewing machines run on foot pedals.
Vintage sewing machines have models that run on knee press or hand cranks. However, technology has also caught up with sewing, and machines now are easier to operate by pushing buttons.
Are there sewing machines without foot pedals?
These days, you can find sewing machines without a foot pedal. Many sewing machine manufacturers nowadays make sewing machines that give you the option to sew without a pedal.
Most sewing machines such as those made by JCPenney, are computerized. With these sewing machines, you have the choice to sew without a pedal. Some of the older sewing machines do not also use foot pedals; instead, they have knee pedals or hand cranks.
It is a very good thing that you can now use some sewing machines without a foot pedal. It can allow people who are physically disabled or have an injury on their feet to sew with a sewing machine without a foot pedal.
A foot pedal is a vital part of a sewing machine, but some modern sewing machines have other parts that will function in their place.
Most computerized sewing machines can function without a foot pedal. It is easier and faster and can be done by only pushing some buttons.
Look for the speed setting on the body of the sewing machine and slide to the speed setting you are most comfortable working with. A slider usually identifies the speed setting, and single, double, and triple arrows indicate increasing speed. Most sewists prefer the medium speed as the default setting.
Begin or end your stitching with the start/stop button. Some top-tier computerized sewing machines have the start/stop button just above the needle where it is quick to turn on or off as needed while still holding on to your fabric. Some start/stop buttons are located in other parts of the sewing machine and are usually found in areas where it is easily accessible.
There are more advantages of using a sewing machine minus the foot pedal.
A huge benefit of not using a foot pedal is the constant speed of your machine while you stitch. It can keep you more focused as you only need to use your hands to move the fabric while your feet stay put. It can be quite useful for free-motion quilting or free-motion embroidery.
When you are not using a foot pedal, you can stretch your legs out as you sew. There is no need to place your foot on the pedal all the time.
It also helps when you are sewing delicate fabrics. With only buttons to control the sewing machine speed, you can set it to the lowest speed. This vital step will make it easy for you to control the direction of your stitches. You will need a slower speed when making stitches along curves or sewing difficult applique designs.
If your machine has the option of not using a foot pedal, you will have no problem replacing it once it gets worn out. A replacement foot pedal can be quite expensive.
What is foot pedal in a sewing machine?
The foot pedal of a sewing machine can be compared to a car's gas pedal; it will go faster the more you step on it. In the case of a foot pedal, the more you step on it, the faster it will sew. In other words, the foot pedal is one essential part of your sewing machine that can help you control the machine's speed while letting your hands guide the fabric you are sewing.
Many sewing machines can sew very fast. You can control your machine to achieve the speed that is comfortable for you to sew. The manual sewing machine requires a foot pedal to adjust the speed that you need for stitching.
To know how it feels when speed is changing because of the foot pedal movement, use the foot pedal barefoot. Place your heel on the floor while your ball foot is on the foot pedal. The more you push with your foot, the faster the sewing machine works. The slower you push the pedal, the slower the machine will work.
The parts inside your foot pedal draw an electrical connection that helps run your sewing machine. When you press down on the movable plate of your foot pedal, it hits a metal switch underneath, which allows you to sew.
Are all sewing machine foot pedals the same?
Not all sewing machines such as Janome and Juki brands' foot pedals are the same. Foot pedals are not interchangeable, and you will not find a single foot pedal that would fit all sewing machines.
Finding a single foot pedal to match different types of sewing machines would be difficult. You have to consider that some sewing machines are already very old. New foot pedals available in the market might not be compatible with the old machines. Old foot pedals may not also work on new sewing machines.
It is possible that you can find foot pedals that can work with other sewing machines. Some sewing machine brands can use foot pedals with other models within the same brand.
Some manufacturers claim that their foot pedals are universal. But since a universal foot pedal does not exist, these foot pedals can only fit certain models. If you buy a "universal" foot pedal, it would usually come with a list of manufacturer models that it would fit into.
If your sewing machine model does not belong to the list, you can never be sure that the foot pedal would work with your machine unless you try it.
There may come a time that you would need a replacement for your foot pedal. You can find one that will work with your machine if you find one that is compatible with the model of your sewing machine. It would be hard to find a foot pedal if you own a high-end one or your unit is very old.
It would be best to find a foot pedal that fits well with your sewing machine. An ill-fitting one may affect the quality of your sewing, and your machine may become a fire hazard.
When looking for a foot pedal to replace your old one, you should always check first if it is compatible with your machine to avoid wasting time and money.
Do modern sewing machines have a foot pedal?
Most modern sewing machines, particularly the computerized ones, have foot pedals but can operate even without one. Instead of using the foot pedal, you can use a start/stop button in front of the machine to control speed.
Sewing machines have improved over time. Sewing machine manufacturers have addressed the difficulty of people eager to sew but have the limited physical ability that prevents them from using a foot pedal. Computerized sewing machines these days have the option of not using a foot pedal but sew only with only a start/stop button.
Some older Singer sewing machine models work without foot pedals. They use knee pedals or a knee press which is easier to control than a foot pedal. Some of these sewing machines are still functional even today, but more sewists choose the more modern machines that use a start/stop button.
Most computerized popular brands now offer sewing machines that do not need to use a foot pedal, but they still come with a foot pedal which you can use if you prefer it more.
Below are some of the modern sewing machines available in the market that you can use with or without a foot pedal.
The Janome DC1050 is a favorite among computerized sewing machines. It is manufactured with easy convenience features so that you can get the most out of your sewing time. It has buttons and devices such as the start/stop button (which allows the machine to sew minus the foot pedal), the speed control slider, the locking stitch button, and an LCD screen with quick selection buttons which makes sewing any project a breeze.

The Janome Sewist 780DC is a fully computerized sewing machine with a lot of time-saving features. The machine has 80 stitches that you can use for various applications with the help of various convenient button functions distinctive to a computerized sewing machine.

The computerized Singer Stylist 7258 has 100 built-in stitches making sewing, quilting, and crafting easier and faster. This heavy-duty, metal-framed modern sewing machine is packed with accessories and advanced features, helping you expand your creativity.

The Singer Quantum Stylist 9960 is a computerized portable sewing machine with 600 built-in stitches and five stunning fonts that can give your sewing projects a personal touch.

The Brother CS6000i computerized sewing machine has 60 built-in sewing stitches, including decorative and buttonhole stitches. You can easily choose your stitches with a push of a button. It has an adjustable speed control system and can sew either a foot pedal or the start/stop button.

A computerized sewing machine, the Brother ST150HDH is known to be a strong and tough one. It has 50 built-in standard, decorative, and utility stitches. This heavy-duty sewing machine can handle multiple layers of thick fabrics as well as lightweight fabrics. It has the start/stop and up/down needle, which is useful and can give added control when sewing with curves.
The Magicfly Mini Sewing machine is an excellent option for beginners and requires very minimal space. The sewing can run using the on/off button or the foot pedal that also comes with it. It has a speed button which you can turn to slow or high. This electric mini sewing machine is ideal for hemming and repairs.
Also check: Is sewing an art?