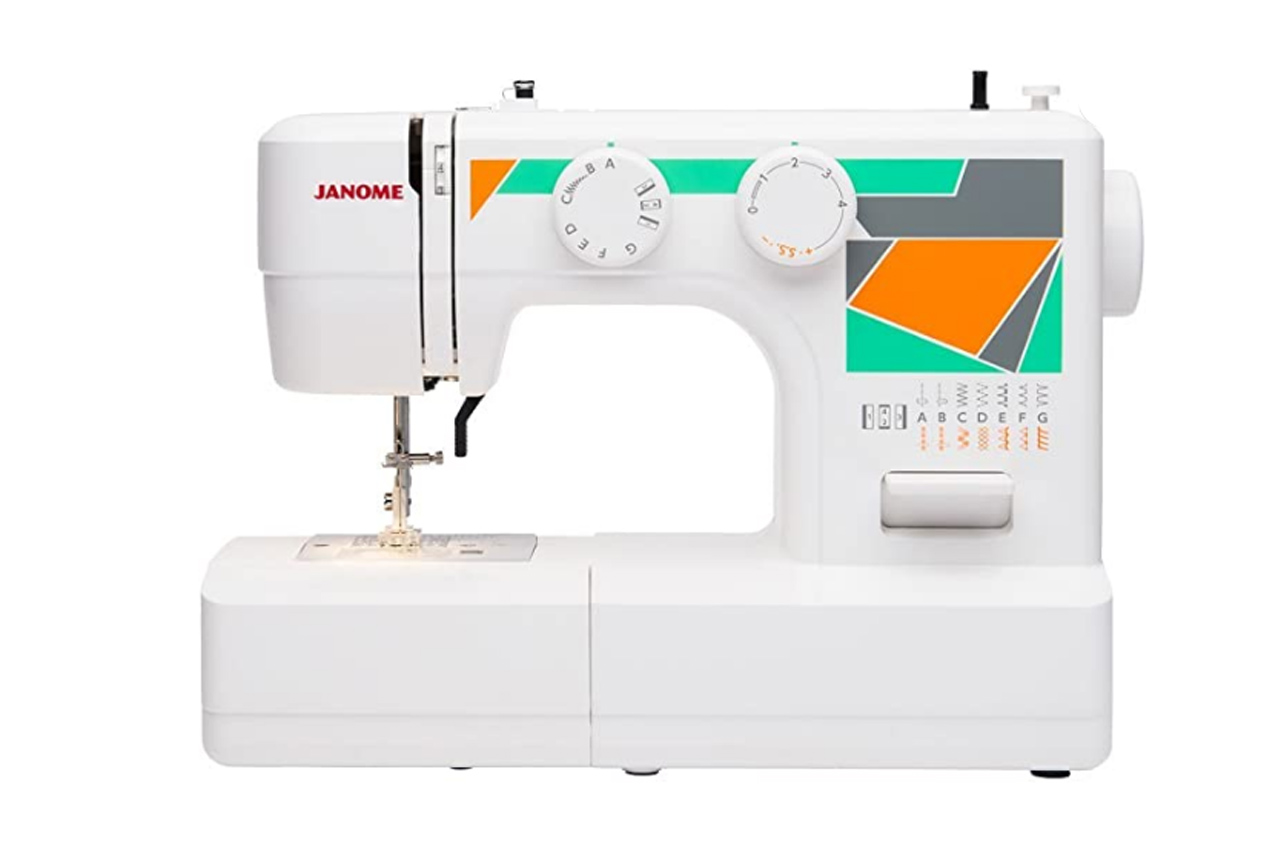 Doing your crafts does not mean you must spend a considerable amount of money on your tools or equipment. As a newbie in sewing or quilting, you would want a sewing machine that is easy to use and does not take a big chunk out of your budget. For instance, the Best Janome sewing machine under $500 provide you with reliable sewing equipment for a long time.
Before buying your sewing machine, you must consider a few things, especially if you start with your craft. You must know the features that will suit your sewing skills and if the machine you choose is within your price range.
Janome has been among the most popular and trusted brands for sewing enthusiasts for many generations. The brand offers various sewing machine models for all sewing skill levels and at manageable price points.
The Janome brand aims to provide sewing machines that inspire creativity and innovation yet are easy to use. It will help you get the best sewing machine brand and model for the most enjoyable and comfortable sewing experience.
Below is a list of the Best Janome sewing machine under $500 you can purchase.
Best Janome sewing machine under $500
1. Janome MOD15
The Janome MOD15 is an entry-level sewing machine that is only a little over a hundred dollars, yet, you will find it packed with the basic sewing features a newbie would appreciate.
The machine has 15 built-in stitches and a four-step buttonhole to help you with basic and decorative sewing.
You can also find convenient features such as top loading horizontal bobbin system, snap-on presser feet, free arm, and a clear bobbin cover, to name a few.
You can adjust your stitch to its proper settings for the stitch type that you need by turning the length and zigzag width dial.
The machine comes with a drop feed feature that you can use for free-motion quilting, darning, and sewing buttonholes.
The Janome MOD15 is your best choice for a sturdy yet inexpensive beginner sewing machine.
Buy it here: Janome MOD15
2. Janome 2222
The Janome 2222 is an excellent beginner sewing machine that you can get at a reasonable price. This Janome beginner sewing machine can get a sturdy, dependable, and easy-to-use sewing machine for more than 200 bucks.
The 22 built-in sewing stitches and one-step buttonhole can help you be more creative and efficient with your sewing projects. Choose the stitch that you want using a stitch selector dial.
Other essential features that you will find in the Janome 2222 are the stitch and width adjustment feature, a needle threader, and a free arm to make sewing tasks easier and faster.
The Janome 2222 is a lightweight machine that is a perfect sewing tool if you are a newbie who is a bit tight on the budget.
Buy it here: Janome 2222
3. Janome MOD30
The Janome MOD30 is a full-featured home sewing machine that is reasonably priced. It has 30 built-in stitches and three one-step buttonholes that can bring out the creative person in you. The sewing equipment has a heavy-duty interior metal frame that ensures durability and skip-free sewing. Get yourself the Janome MOD30 for garment sewing, home décor, and quilting.
It has practical features such as an easy reverse lever, start/stop button, and locking stitch makes sure that you finish your projects quickly and easily. It has a top-loading bobbin with a transparent cover to promptly know the bobbin status.
The machine has advanced features such as a backlit LCD with easy navigation keys to help you choose your stitch. It has professional-level features like the 7-piece feed dog and the specialty needle plate to create precise stitches.
The Janome MOD30 package includes various accessories that make your sewing equipment more versatile such as the four presser feet, zigzag foot, zipper foot, satin stitch foot, and the automatic buttonhole foot. Other accessories in the package are spool holders, bobbins, a needle set, and a foot pedal.
You can also remove the storage compartment to create a free arm that you can use to sew sleeves or hem a pair of pants.
The Janome MOD30 is your inexpensive, all-around home sewing machine to ensure you finish your sewing projects with precision and excellent quality.
Buy it here: Janome MOD30
4. Janome HD1000 BE
This sturdy electrical sewing machine is an excellent option for newbies and expert sewists at less than 300 bucks.
It is a simple sewing machine with beginner-friendly features that will give you a more enjoyable sewing experience. The 14 stitches and four-step buttonhole built into the sewing machine will allow you more creativity with your sewing projects.
You will be sure of its durability with its aluminum interior frame and outer body. Convenience features in the sewing machine include; the automatic needle threader, adjustable stitch length and width dial, and a front-loading bobbin system.
You can also use the Janome HD1000 BE as your quilting machine. Lower the feed dogs for free-motion quilting by only pulling a lever. The drop feed function is also helpful for darning and stitching buttonholes. The free arm feature allows the sewing of cuffs, pants, and sleeves.
This basic yet durable sewing machine has many accessories included, such as four presser feet, extra needles, bobbins, and a hardcover, to name a few.
Buy it here: Janome HD1000 BE
5. Janome Sewist 721<
The Janome Sewist 721 is a high-quality mechanical sewing machine with a price below $500. It comes with 19 popular stitches and a four-step buttonhole to add more creativity to your work. Choose your preferred stitch with the easy-to-use stitch selector dial.
The machine has convenient features similar to those of more expensive sewing machines. It has a top drop-in bobbin, a four-piece feed dog system, a needle threader, a width adjustment dial, and multiple needle positions.
The Janome Sewist 721 is a handy and portable machine with a short carry handle that folds at the top of the sewing device. It is an ideal sewing tool for beginners who need to carry around their sewing machines during classes.
It runs at a sewing speed of 830 stitches per minute, allowing you to finish your project in a short period.
The machine includes several standard accessories such as extra sewing feet, plastic bobbins, a needle set, screwdriver, lint brush, seam ripper, spool holders, and a hard machine cover.
Buy it here: Janome Sewist 721
6. Janome DC1050 $369
The Janome DC1050 is an easy-to-use computerized sewing machine that comes at a very affordable price. It has 50 built-in sewing stitches and three one-step buttonholes that you can use for your various sewing tasks.
The machine has many practical features to give you more time for sewing. It comes with a backlit LCD screen that can help you with choosing stitches quickly and adjusting the stitch length and width as needed for your specific sewing project.
Other notable features of the Janome DC1050, which are essential to make sewing easier, include; the needle up/down button, speed control slider, the easy reverse button, and the locking stitch button.
The Janome DC1050 is the best example of a reasonably-priced computerized sewing machine that can give you a more enjoyable and comfortable sewing experience.
Buy it here: Janome DC1050
7. Janome HD3000
The Janome HD3000 is a bit pricey but still below $500. It works smoothly and can handle various types of fabrics. Janome HD3000 users can attest that this machine is worth buying.
The machine runs at a sewing speed of 860 stitches per minute which is perfect for helping you work on your project faster. It allows you to sew thick fabrics like leather easily.
The Janome HD3000 is a beginner-friendly tool and an excellent option for a sewist planning to do various sewing projects. Choose your stitch from among 18 built-in stitches by turning the easy stitch selection dial. Your chosen stitch will appear in red.
Another fantastic feature of the Janome HD3000 is its adjustable presser foot pressure making the machine capable of sewing lightweight to thick fabrics with no trouble. The Janome HD3000 is heavy-duty enough to handle materials like leather, canvas, and denim but can sew delicate ones like lace, chiffon, silk, and linen.
Among the many choices of Janome sewing machines below $500, the HD3000 packs the most benefits and features that a versatile sewist would want.
Buy it here: Janome HD3000
Are Janome sewing machines worth it?
Janome sewing machines are very durable and of excellent quality. They come in various styles and models suitable for newbies in sewing and those who are more experienced in the craft.
Janome is known to make advanced sewing machines. It made the first computerized sewing machine for personal use in 1979.
At present, Janome has different kinds of sewing machines made. You can select the one that matches what kind of projects you do most. You can choose from the different styles, features, and capabilities.
Here are some key features that tell you why Janome sewing machines are worth it.
High Quality
There is no doubt that Janome is considered a high-quality sewing machine by many experienced sewists in design and features.
Globally-known
Janome is famous around the globe as one of the best sewing machine manufacturers. To live up to its name, Janome offers only the best quality from every model of their sewing machine.
Great Value for your Money
Since everyone knows that the Janome sewing machine is of excellent quality, you only get the best value for your money.
Affordability
The Janome brand has a wide range of prices for every sewist. Janome continuously supplies the best quality sewing machines, so, whatever your budget is, you would find a Janome that would fit the bill.
Innovation
Janome is also known for introducing new technology in the sewing industry. Each Janome sewing machine model has modern features that can help sew various projects. For instance, the Janome sewing machine for quilting is one of the greatest offerings of the brand.
Durability
Janome provides top-quality sewing machines that, even with affordable prices, will get a piece of durable and sturdy sewing equipment that can last you a lifetime.
How do I choose a Janome sewing machine?
You can choose your Janome sewing machine based on your projects, budget, and skill level. Janome offers various models with vital features matching your needs, sewing experience, and price range.
Janome sewing machines are known for producing high-quality and consistent stitches, and the brand name has become synonymous with excellent quality.
For every beginner, intermediate, and expert sewist, Janome has a model that can suit your skill level. Different sewists also look for features they need for specific sewing tasks such as quilting, garment-making, or making home decor projects.
The Janome brand is also known to have a wide range of price points that can easily allow you to realize your sewing dream projects.
You can easily choose the most suitable Janome sewing machine by browsing for sewing machines in online stores like Amazon.