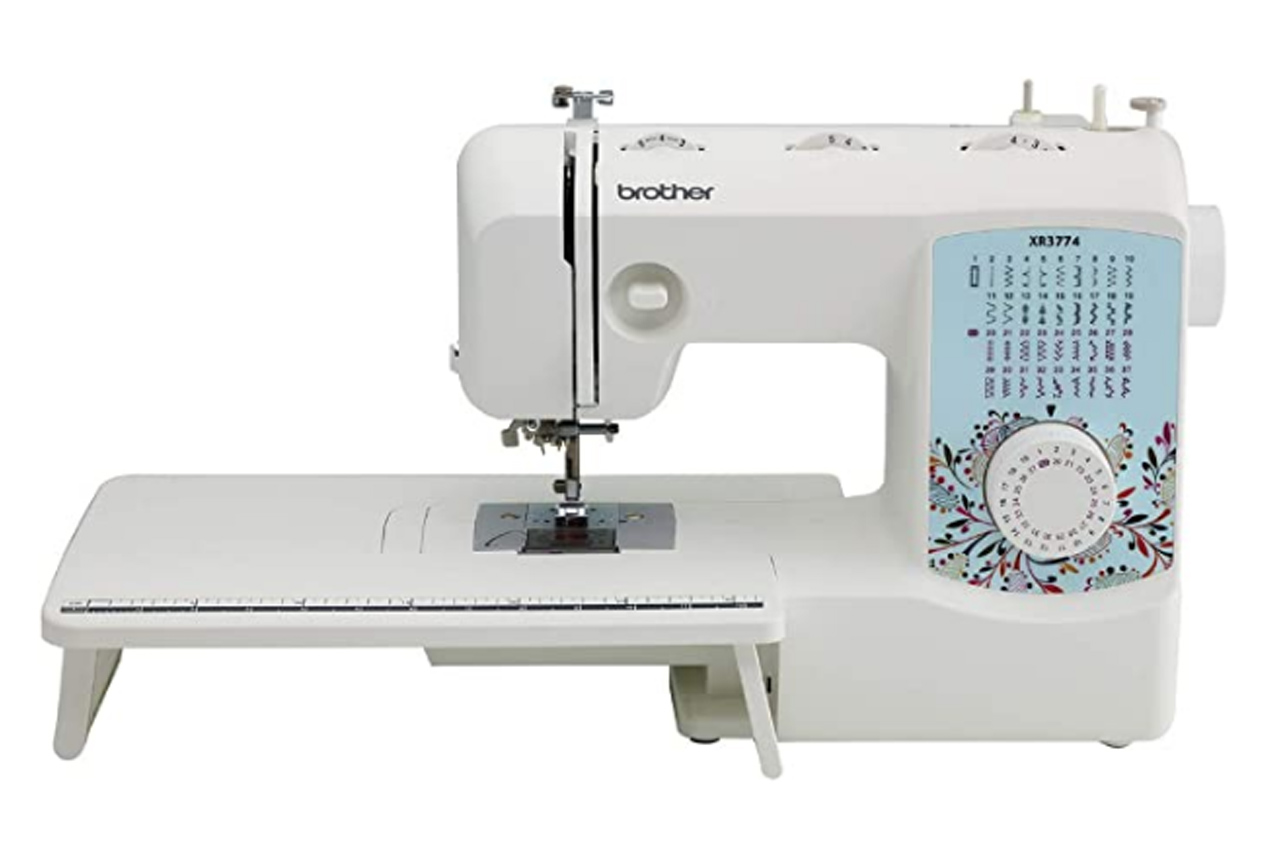 Are you a newbie quilter looking for the best deal on a quilting machine? Or are you an experienced quilter on a hunt for a better sewing machine that can quilt but would still be accessible on the budget?
It is good that many sewing machine brands have models that can provide for your quilting needs at reasonable prices to help you achieve your quilting goals.
Below are various models of the best quilting machine under $1000. The list of sewing machines starts from $200 to $999.
1. Brother XR3774
If you are looking for an inexpensive starter quilting machine, the Brother XR3774 can provide your basic needs. It has a durable construction with a body made of metal, making it stable and long-lasting.
It has 37 unique built-in stitches, which include quilting, decorative, blind hem, and a one-step buttonhole. The machine has practical features such as the automatic needle threader and the jam-resistant drop-in top bobbin.
It has a versatile free arm that is valuable to newbies or experts to accomplish home sewing tasks and quilting projects.
The simple sewing and quilting machine include other accessories, such as eight presser feet, a vast extension table, a darning plate, four bobbins, a screwdriver, an extra spool pin, and many more.
Buy it here: Brother XR3774
2. Janome 2212
The Janome is a versatile sewing machine that you can purchase at a very reasonable price. It is a primary sewing machine with only 12 built-in stitches and a four-step buttonhole that you can access using a clearly labeled stitch selector dial.
Using the stitch length adjustment dial, you can customize your stitch length and width. For the Janome 2212, the maximum stitch length is 4mm, and the full width is 5mm.
The Janome 2212 has a free arm and a drop feed feature that can be useful for various sewing and quilting projects.
The machine is beginner-friendly and priced reasonably. It is a perfect beginner quilting machine that is easy to carry for quilting lessons with friends.
Buy it here: Janome 2212
3. Brother CS6000i
The Brother CS6000i is a portable yet very functional sewing and quilting machine that you can get at a very reasonable price. It only weighs around 13 pounds, so you can quickly move it around your working area or bring it on your travels.
The machine has 60 built-in stitches, including decorative stitches and seven styles of one-step buttonholes that you can select by pressing a button. You can check your selected stitch on the backlit LCD.
The nine presser feet included the zigzag, zipper, blindstitch, buttonhole, monogramming, overcasting, buttonhole, button fitting, walking, and spring action quilting foot, making the machine versatile and allowing more creativity in your projects.
The detachable wide table for doing large quilting projects is a most valuable feature of quilting. Other convenient features that can be useful for quilting and other sewing projects are:
Automatic needle threader
Drop-in top bobbin
Adjustable sewing speed control system
Easy-to-follow threading diagrams
It also has a built-in free arm that you can access after removing the small storage area for accessories. The free arm can help you sew cuffs, pant legs, sleeves, and other cylindrical items. The machine has a hard case making it easy to transport and carry around.
The CS6000i is the most affordable computerized quilting and sewing machine that you can find that benefits both beginner and experienced quilters.
Buy it here: Brother CS6000i
4. Brother XR9550
The XR9550 is a full-size computerized sewing and quilting machine that is user-friendly and affordable. Both newbies and expert quilters can benefit from its unique features that can increase any quilting enthusiast's creativity.
This versatile sewing machine has 165 built-in stitches, including 110 utility, decorative, and heirloom stitches, eight styles of auto-size buttonholes, and 55 alphanumeric sewing stitches. This wide variety of stitches will allow any quilter to be more creative in sewing clothing, home decor, and quilts.
The XR9550 has easy-to-use features such as the free arm for sewing cuffs, sleeves, and other cylindrical pieces and the drop feed function, which is helpful for free-motion quilting.
Time-saving features for the XR9550 include the automatic needle threader and the jam-resistant drop-in top bobbin. Threading is easy and fast, as well as removing and replacing the bobbin.
You can choose your settings and stitches with a button and view your selections on the large LCD screen.
Accessories included with the sewing machine are the following:
Eight quick-change presser feet such as zigzag, quilting, blind stitch, overcasting, monogramming, buttonhole, button sewing, and zipper feet
Hard protective case for easy transport and storage
Wide extension table to handle larger quilts
Buy it here: Brother XR9550
5. Brother HC1850
The Brother HC1850 is an ideal sewing machine capable of creating quilts, basic monogramming, adding decorative stitches, and many more. It has 130 sewing stitches, including eight styles of auto-size buttonholes and 55 alphanumeric sewing stitches.
Knowing the stitches through the flip chart on the machine's right side will be easy. You can select your stitch using a button and view your stitch chosen on the LCD screen.
The advanced needle threading function and the drop-in top bobbin are convenient features that can save you time. It has a convenient stitch speed slide control that you can use to change your speed as you work if you need to.
The best benefit for quilters that the Brother HC1850 can provide is the wide extension table that is useful for quilting larger projects.
The Brother HC1850 quilting and the sewing machine combo has several accessories that will make your quilts more creative and exciting such as the eight sewing feet, the vast extension table, manual, instructional DVD, and many more.
Buy it here: Brother HC1850
6. Janome 4120QDC
Janome is one of the most trusted and famous sewing machine makers, so it is no wonder that Janome has quilting and sewing machine models that will suit your needs as a newbie or an expert quilter.
Janome 4120QDC is an ideal electric sewing machine that can help you with everyday sewing. This efficient sewing machine can sew clothing, home décor, patching, and quilting.
It has 120 built-in sewing stitches, including seven buttonholes, perfect for creating unique designs and variety on your sewing projects. It also has a built-in alphabet that you can use.
The Janome 4120QDC is a computerized sewing machine with many time-saving features, including an automatic thread cutter button, a reverse stitch button, a lockstitch button, a needle up/down button, and the start/stop button.
The automatic thread cutter will cut the top and bottom threads with just the touch of a button, so you need not look for a pair of scissors every time.
The reverse stitch button will strengthen your stitches, while the lockstitch button will finish your sewing stitch, so you will always get a whole stitch pattern.
You can bring the needle up or down using a button, and instead of the foot pedal, you can start using the start/stop button.
The Janome 4120QDC has a full LCD screen where you can make fine adjustments to your stitches using the on-screen stitch editing feature. A precision tension dial allows you to set the tension as your material or project requires.
The machine can run at 820 stitches per minute to help you finish your sewing faster, and the detachable extension table can give you more sewing space.
The modern Janome 4120 QDC sewing and quilting machine may have all the features you need for your sewing projects at a price not exceeding $1000.
Buy it here: Janome 4120QDC
7. Brother PQ1500SL
If you are a person serious about quilting and are willing to invest time and money, the Brother PQ1500SL is an excellent option you can consider having.
The Brother PQ1500SL is a quilting and sewing machine fit for a quilting expert and a quilting machine that a newbie would like to have while developing quilting skills.
It sews straight stitches at high speed of 1500 stitches per minute to help you finish your quilts as quickly as possible. It has a push-button for an automatic thread trimmer and a built-in needle threader to make threading simple and faster.
A unique benefit you can get from Brother PQ1500SL is its adjustable pin feed mechanism, which uses a single pin that extends from beneath the machine instead of feeding dogs.
The pin feed mechanism moves all the layers of the quilt smoothly together or moves a light material without leaving feed dog marks. The precision fabric feeding provided by this feature is a valuable tool for quilting.
A removable knee lifter and a long extension table with the machine are handy tools when quilting, especially if you are making larger quilts.
Buy it here: Brother PQ1500SL
8. Juki TL-2010Q
The most expensive among the sewing and quilting machines on the list, The Juki TL-2010Q is a dollar shy away from $1000.
The Juki TL-2010Q is a high-quality sewing and quilting machine. It features industrial-quality sewing due to its sturdy construction made of aluminum die-casting. No wonder you would invest a more considerable amount for this machine.
Advanced features for this machine include an industrial sub-tension system, bright LED lighting, and a variable speed control slider that make precise and accurate stitches. The sewing device has a large throat and an auxiliary table for more working space to make large quilts.
An automatic thread trimmer built into the machine can trim the top and bobbin threads with a light button push. The automatic thread trimming function can cut through thick or thin fabrics.
Useful sewing machine features include:
A knee lifter lever.
An automatic needle threader.
An enlarged bobbin case area to remove and replace your bobbin more easily.
The Juki TL-2010Q is a lightweight and portable quilting and sewing machine that you can easily transport wherever and whenever you need it.
Buy it here: Juki TL-2010Q
Best Quilting Machine Under $1000: How do I choose a quilting machine?
When looking for a quilting machine, find one with the largest throat width within your budget. A quilting machine with a large throat will be valuable, especially if you are making varied sizes of quilts. When choosing a quilting machine, you need to consider the price, unique features, and your quilting expertise.
Features
Before purchasing a quilting machine, you must consider the specific features you will need for your quilting projects. The two most important features to look for in the sewing machine you will use for quilting are a large throat and a drop feed function for free-motion quilting. If your quilting machine has a wide throat and you can drop the feed dogs, you can create a broader range of projects.
A quilting machine with high stitch speed is also valuable to finish quilt projects faster, especially if you are working on large quilts.
An automatic thread cutter is a convenient feature for your quilting machine.
Skill Level
If you are a beginner quilter, you would want a sewing machine that is easy to use. You can start with a sewing machine that can sew a straight line. Also, a sewing machine with a 1/4-inch seam foot, a free-motion quilting foot, and a walking foot will be valuable for a newbie quilter.
For an advanced quilter, a computerized sewing machine with all the bells and whistles will be a more enjoyable tool for more creative projects. You can even find sewing machines with quilting and embroidery features to sew more exciting and attractive quilts. You can also add extra features like a specialized armoire for your craft for better organizing.
Price
Price can be a significant factor when looking for a sewing machine that can quilt. Some sewing machines, especially those with particular features for quilting or embroidery, definitely cost more than the regular sewing machine.
A used sewing machine will be cheaper and more practical if you try quilting. You can level up to a more expensive model with more advanced features when you have increased your quilting experience.
If you are keen on buying a new machine, various trusted sewing machine brands are offering different models at various prices that will fit your budget and your quilting skill level.