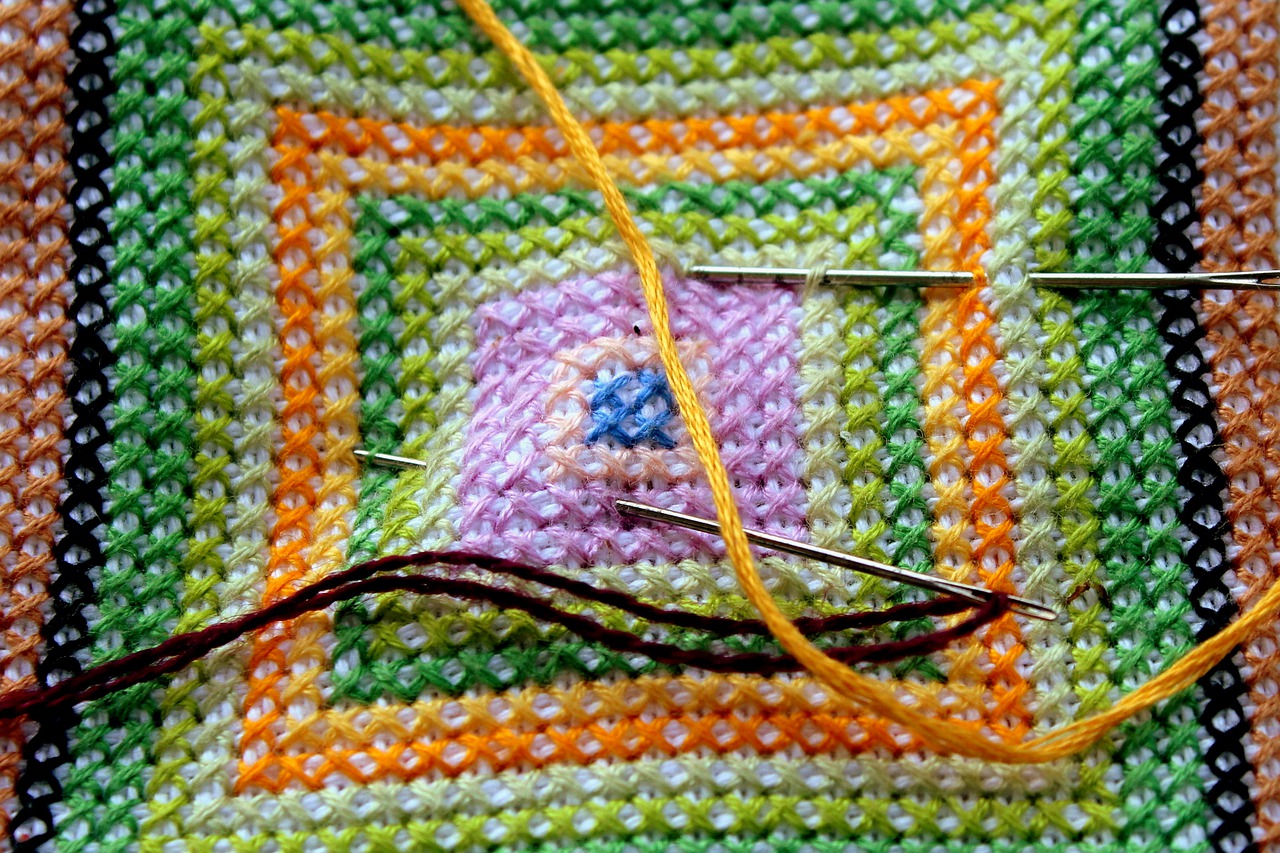 Many beginners in the craft of cross stitch make the common mistake of not starting in the middle. They often overlook this step because they think it is a hassle. But not starting at the center of your fabric can make your cross stitch look crooked and messed up.
Why do you start cross stitch in the middle?
Starting stitching in the design's middle is an ideal way to start a new cross stitch pattern. It is the easiest and quickest way to make sure your design is at the center of the fabric. Starting your cross stitch in the middle also helps you ensure proper margins for framing.
Making sure that you center your design also guarantees that you have enough space for every stitch. You will not end up finding out that you do not have enough fabric at the other end to finish the piece.
How to center cross stitch?
Cross stitch patterns usually have small arrows at the edges of the chart that show the center points. But sometimes, you can also fold the fabric in half one way, then in half the other way. Pinch, then crease the center point to mark it.
You can also place a pin in the center or make a small stitch to make your fabric's center easier to see. It is always a good idea to take a close look at your chart. Sometimes it shows all the information you need to end up with a beautifully finished piece.
Fixing your crooked cross stitch
Do not worry if you find out that your cross stitch looks crooked. There is still a way out!You can use a blocking method to fix your crooked cross stitch. Blocking means manipulating your fabric to make it look more straight.
How to block cross stitch?
Washing, ironing, then stretching to the frame are the cross stitch version of blocking. It will greatly help you fix crooked cross stitch pieces that you want to frame. Follow this simple guide on how to block cross stitch:
Even if your work does not look dirty, you still need to wash it. It will inevitably have deposits of oils from your skin, no matter how clean you think your hands are. These oils are dirt magnets and will attract them even after framing.
Make a soapy bath using an ample amount of water and a little amount of mild soap (you can use Proctor & Gamble's Orvus Equine Soap). Avoid soaps that contain brighteners that will ruin your work, such as Woolite and laundry detergents.
Leave your piece to soak in the bath for about an hour. Gently swish your piece around a few times, but avoid agitating it vigorously.
Rinse well by soaking your piece in successive changes of clean water. Make sure that there are no residues left in your work, which might discolor your work.
Take your work and lay it on a clean white terry cloth towel to dry. Never wring your fabric! Roll it instead, then leave it for 15 minutes so the towel can absorb the excess moisture.
Unroll your piece and place it face down on another clean towel. Then, iron your work once it is dry and set it aside so it can dry completely.
Unlike needlepoint, your cross stitch should not be too far off. You should be able to work it back into a square with your hands. But, you can also follow these steps if you feel like doing it.
Before blocking, you need to cut your piece exactly along all its four sides. If necessary, you need to clean it up. You can do it by clipping precisely between the same two threads down the side.
After evenly cutting, you need to dampen your piece. But, if any of the colors run, you will have to rinse, dry, and iron it again. It rarely happens, but you must know what to do.
Using your hands, work your piece back into a rough square. Then, place it face down on your clean ironing board.
Pin it with stainless pins, right down into the board pad. Work the fabric into a good square using a right-angle reference as you pin it. Let your piece completely dry while pinned down on the ironing board.
Remove the pins once completely dried, then iron the backside. If necessary, you can mist it to remove any creases left by the pin. But, be careful not to iron over the pinheads because they will melt and ruin your work.
Finally, allow your piece to dry thoroughly before removing it from the ironing board. If it still looks crooked or skewed, you need to repeat the process. Pay attention to what you do until your piece looks neatly square.
More pages: 
How to stretch and frame a cross-stitch?
If you like doing your work from start to finish, you should at least know how to do it properly. Stretching and framing your cross stitch piece will also save you a few dollars! Follow this simple guide to stretch and frame your old cross stitch properly:
Prepare your materials and your hands!
The first thing you need to do is to make sure that your hands are clean. Although they may appear clean, your hands have natural oils that may transfer to your piece. It is why washing your hands before working with your cross stitch is vital.
Materials you need:
Acid-free foam board, 3/16 in diameter
½-¾" sequin (straight) pins
Pushpins
Acid-free tape
Utility knife or cutter
It is best to cut your foam board to fit your frame size if you plan on matting your work. You also need to figure out how wide a mat you plan on having and cut your foam board less than that. Doing so will allow the mat to overlay the cloth's edges and make things easier for you.
Follow these two steps:
Mark your foam board's cut lines. Then, add a slash mark to intersect them. These marks will give you a reference point for popping it back into the board surround. You do this step in case you do not cut a perfect fall-out piece.
Cut your foam board slightly past the cut lines using smooth, powerful strokes. Foam boards tend to tear and bunch with dull blades, so you need to use sharp blades. Remember to keep your blade straight, as this will affect your project's success.
Tip: Use shorter pins since it is easier to hide them into the edge of your foam core board. Longer pins will be more difficult to use in this case. But, you might need to be more patient when looking for short pins. You can either buy them by bulk online or look for specialty stores.
Next, you need to center your piece on the foam board and hold it in place using pins on each side. Do this step by pushing the pins into the edge of the foam board. Avoid pushing the pins into the board's face, as this might ruin your project.
Pull your cloth straight using the edge of the foam board as your guide. Do this step beginning on one edge and pining along one side as you go.
After pinning, pull out a handful of pins and replace them with your sequin pins. Again, push your pins (sequin) into the foam board's side. Try not to have them come out the board's back to create a more polished result.
– Doing this step allows for making minor adjustments for getting your cross stitch piece to be as straight as possible.
Align with your foam board
As you do this step, you will see how handy cutting your foam board is. Making the marks will make things easier for you!
Line your fabric and foam board so your fall-out centerpiece will align with its surround. Then, push it back into the surround. It should be a tight fit, which is what you want for your finished project.
Apply even pressure and move slowly as your foam board will crease and snap.
It is best if you use acid-free tape when doing this step. Unlike other tapes, acid-free tapes will not stain your piece even if any adhesive transfers to it.
Lay your cross stitch piece face down on a clean surface and pull the extra cloth over and tape it into place. Do this step by using double-sided tape under the cloth's edge. It will ensure that your work lays flat so it looks neat.
Tape the seams between the fall-out centerpiece and its surrounding ring after doing step one. Doing so will help hold it tightly into place.
Next, you can add your mat for a finished cross stitch that is ready for framing.
Many crafters recommend putting glass and glazing cross stitch pieces when having them framed. It avoids potential problems with dirt, dust, or bugs and may save you money from regular dry cleaning.
But, if you do not want glass and glazing, you can also opt for padding. It adds character and dimension to the piece that flat framing lacks.
Cut the batting about ½" smaller than the foam board you are using to stretch your cross stitch. Having little extra unpadded space will help the matting lay flat. It also helps push the padded cross stitch upwards without too much strain on the matting.
– If you somehow overstrain your mat board, it will pop loose from the foam board surround later on when it hangs. So you need to be extra careful when working on it.
Use double-sided tape to hold the batting steady on the backer board. Finally, stretch it as normal before placing it in your frame.
Note:
There many ways to mount and frame your cross stitch piece, but I will share only one method. This method allows you to do a great job of straightening the fabric. Although it is a slower method, its benefits are worth your time, especially in the long run.