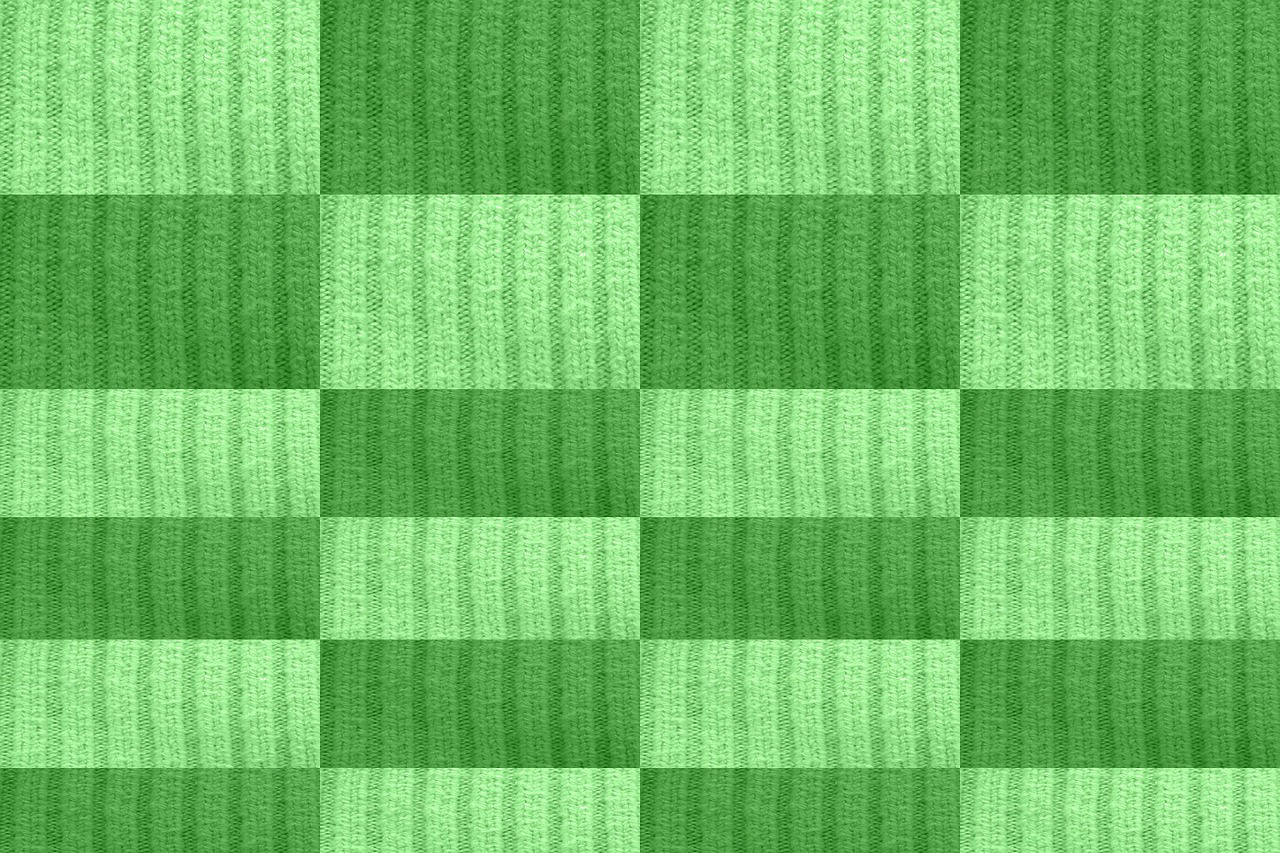 You can make ribbing fabric by cutting a long strip of ribbed knit. Then, you can sew its ends to form a tube, folding it in half to join the opposite sides and stitching it onto your garment's bodice.
For a more detailed approach, you should cut a strip of knit fabric long enough to fit over where you want to attach it, even when stretched. I recommend leaving enough space for a seam allowance when cutting. Then, you will fold the strip in half, so it would be better to make it twice as broad as you want.
Next, you should sew the ends of the strip together to form a tube, right sides together. Make sure it is long enough to cover the head or hands of the wearer, so you would not have to redo them later.
Fold the tube in half to join the wrong sides, keeping it in place with pins to mark the center back, center front, and two middle points. Then, take your pieced bodice or sleeve and pin the tube to the right side. After doing so, ensure the front, back, middle, and two side points meet the seams.
Begin stitching from the center back at the ribbing piece's seam. Then, stretch the ribbing tight to fit the opening size and sew all the way around. Finally, turn the hem inside out and topstitch along the edge to finish.
Tips to Make Ribbing Fabric
Working with ribbed knit can be challenging, especially if you are new to sewing this fabric. However, following some simple techniques can help you create stunning outfits with minimal effort.
Use a Walking Foot
Using a walking foot with a sharp needle and stretch thread is best when working with rib knit material. It will assist you in sewing the fabric evenly and without straining it. Also, remember that it is necessary to reduce foot stress so your material can go through the machine uniformly and smoothly.
Use a Serger
A serger machine is usually the best option for ribbed knits. But, when adjusting a serger's settings, you must treat the fabric as though it were bulky. So, to avoid stretching the fabric when sewing, you will raise the feed setting frequently.
When sewing a ribbed knit with a serger on various settings, you will find that raising the feed protects the material from overstretching. So, it would also be best to increase the stitch width for better results.
Use a Hemming Tape
When hemming ribbed knit garments, using a super-adhesive double-sided tape would help you achieve better results. This type of tape will help you put the hem in place and give it more weight for stability. So, with the help of hemming tape, your sewing machine will generate a cleaner hem.
Care Instructions for Ribbing Fabric
To prepare the ribbed knit before sewing, you can prewash it at a warm temperature and let it dry on a medium-dry cycle. However, to preserve your garments in good condition, you must avoid drying them in the dryer after sewing.
Note that if your ribbed knit contains rayon, it will start to develop fluff balls after two to three cycles through the dryer. So, to avoid this mess, you must hand-wash your clothes inside and out. Then, lay them flat on top of a towel to dry to prevent stretching.
Ribbed Knit vs. Other Knit Fabrics
Ribbed Knit vs. Jersey
People commonly use jerseys to make basic t-shirts and draped clothes like shirts and dresses, among other knit fabrics. This pattern combines purl stitches and knit stitches on a single needle, making it a plain or single knit. As a result, you can easily distinguish it since it has a wrong and right side.
Jersey's Features:
Lightweight
Unless you add spandex, it is not as stretchy as rib-knit fabric.
You can differentiate the wrong and right sides.
Ribbed Knit vs. Interlock Knit
Interlock knit is a rib-knit fabric with two rows of stitches, one directly after the other, rather than ridges of knit and purl threads. This characteristic might give the idea that the fabric has two layers, so people frequently refer to it as a double-knit fabric.
Interlock Knit's Features:
Jersey is denser and heavier.
Not very pliable, similar to rib knit.
It is reversible, unlike jersey knit fabric, and does not have a wrong or right side.
It has better stability than rib knit or jersey knit.
Ribbed Knit vs. French Terry
A French Terry cloth is a single-sided knitted terry fabric with velvety heaps and thread loops. Typically, it is soft on the inside of a garment and has a soft, smooth surface on the opposing side. Furthermore, it is a lightweight, absorbent, and moisture-wicking fabric that is easy to wear in any season.
Ribbed Knit vs. Fleece
A fleece knit is a warm, durable, and stretchy fabric with a dense, thick pile. It dries rapidly, making it ideal for activewear.
What Type of Fabric is Ribbing?
Unlike ribbed knits that you can use to make entire garments, ribbing fabric is a slightly tighter form designed explicitly for cuffs, waistbands, and neckbands. Unfortunately, it usually contains entirely cotton, making it stiffer and unsuitable for making entire garments.
A rib knit is a fabric with visible perpendicular ribs on both the front and back; in other words, they are reversible double-faced materials. Because of this feature, you can commonly use it to form bands on t-shirt neckbands, turtlenecks, hems, cuffs, and many more.
You can make knit fabrics by looping long strands together. So, usually, you will see a one-way thread running in a single direction on the surface of a knit fabric. You can click here if you want to know more about knit fabrics and knitting.
Is Ribbed Material Stretchy?
Ribbed knits have an elasticity that allows them to stretch without altering their structure. Still, the ribbed texture makes the fabric feel thicker, so they are ideal for scarves, sweaters, socks, and form-fitting shirts.
However, excessive stretch is not always desirable, especially if you want to print on the fabric. Prints can break or rip if the material is overly elastic, which is never good. So, it would be best to follow care instructions before working with this material.
What Can I Make with Ribbed Fabric?
With ribbed fabric, you can commonly make bands on shirt neckbands, turtlenecks, hems, and cuffs. But, unlike a ribbed knit, ribbing is slightly stiffer, which is not ideal for sewing an entire garment.
Unlike ribbing fabric, ribbed knit has a soft texture and crosswise stretch, so you can use it to make clothing pieces. But suppose you do not know where to start using ribbed fabric. In this case, you can try making ribbed cuffs, a simple way to make your apparel look more professional.
How to Make Ribbed Cuffs
Whether you are making a new garment or want to make your item look more professional-looking, adding ribbed is a straightforward way to achieve it. Follow these steps to sew ribbed cuffs:
Prepare Your Fabric and Pattern
Step 1: Cut the Cuff Design from Your Pattern
To sew a whole sweatshirt, you must have a pattern with identified sweatshirt pieces. Find the rectangle labeled cuff and cut it out, making two pieces of fabric to make two cuffs.
Examine the cuff pattern closely to determine if there are any sizing alternatives. Use the one that corresponds to the size of the sweatshirt you're constructing. For example, there could be lines for a small, medium, large, or extra-large sweatshirt.
Make Your Cuff Pattern if You are Not Using One
If you are not using a pattern, you can wrap a measuring tape around the sleeve's end. To determine the length of the cuff pattern, you will multiply this measurement by 0.85.
Then, determine the width of your cuff and double it by two. Add one inch (2.5 cm) to this measurement for a seam allowance, and cut out a rectangle on a sheet of paper with your measurements.
Step 2: Get Enough Ribbing Fabric
Cuffs are a fantastic way to use leftover fabric from another project because they do not require a lot of material. However, note that it is best to use ribbed knit so your cuff has some stretch.
If you want the cuffs to stand out, it would be best to choose a contrasting color. For example, you can make a gray sweatshirt pop with vibrant blue or green cuffs.
Step 3: Pin Your Template to the Cloth and Cut the Cuffs
Spread the ribbed fabric flat on your work table and place the cuff pattern on it so that the ribbing is parallel to your cuff pattern's short side or height. Next, you will cut the pattern piece using scissors or a rotary cutter. Then, reposition the design and cut one additional cuff for your sweatshirt.
Sew Your Ribbed Cuffs
Step 1: Fold the Cuff's Short Ends in Half and Pin the Edges Together
Place the cuffs so the right side of the cloth faces up. Then take a short side of your fabric and fold it across to the opposite side to fold it in half. Next, line up the edges and use a couple of sewing pins to keep the fabric from shifting. Finally, repeat these steps with the other cuff.
Step 2: Sew along the Pinned Edge, Leaving Space for Seam Allowance
Set your sewing machine so it makes straight stitches, then sew the pinned edge together, removing the pins as you go around the cuff. Next, repeat for the other cuff, creating a total of two tube-like pieces.
Step 3: Fold the Tube in Half and Align the Raw Edges
Insert your thumbs into the tube's center, which is now totally inside out, and fold the raw edge over with your fingertips, rolling it until the raw edges align. Repeat these steps with the other cuff to make it the right way out and the seam hidden inside.
Step 4: Pin the Raw Edges Together and Zigzag Stitch
Stick three to four sewing pins through the ribbed fabric to keep the edges together and make sewing easier. Then, set your sewing machine to make zigzag stitches and begin stitching along the folded cuff's edge.
Sew around the entire cuff until you reach your starting point, then repeat for the opposite cuff. Sewing the zigzag thread around the edge fixes the raw edges, preventing fraying over time. So, it would also be best to check that you are not sewing through all four layers of fabric to avoid stitching the cuff shut.
Attach the Cuffs to Your Garment
Step 1: Place Sewing Pins Evenly Across the Sleeve and Cuff Edges
Insert a sewing pin into the seam at the raw edge of your sweatshirt. Next, keep the sweatshirt right side out and add three more pins down the edge, allowing an equal amount of space between each. Then, repeat the steps on the cuff and the other sleeve and cuff.
Step 2: Slip the Cuff Over the Sleeve and Align the Pins
Slip the sewed cuff onto the sleeve, so the sewn edge is on the sweatshirt's raw edge. Then, align the pin on the cuff seamline with the pin on the sweatshirt seamline.
Push each sweater pin through the cuff, then do the same for the other cuff. Because the sweatshirt sleeve is somewhat broader than the cuff, you must stick the sweatshirt sewing pins into the cuff to re-distribute part of the excess fabric.
Step 2: Sew a Zigzag Stitch to Attach the Cuff to the Sleeve
Stretch the sleeve edge until the cuff and sleeve are smooth, then sew a zigzag stitch with a 58-inch (1.6 cm) seam allowance. Sew around the entire cuff till you reach the starting point.
Remove the pins as you go, then sew the other cuff. Additionally, as you stitch around the cuff, ensure you are not stitching the sleeve shut.
Step 5: Trim the Excess Fabric to the Seamline and Fold the Cuff
Using a pair of scissors, carefully cut off the excess fabric along your seamline, taking great care not to cut into the stitches! Next, unfold the cuff so that it is longer than the sleeve. Then, repeat with the other cuff.
Step 5: Finish your Sleeve by Topstitching around the Cuff
Although this step is optional, investing a few minutes to topstitch gives your sweater a professional look. So, maintain a zigzag stitch on your machine and sew right onto the top seam where your sleeve joins the cuff. Then, topstitch the opposite cuff.
More articles here: 
Guide to removing sequins from clothes