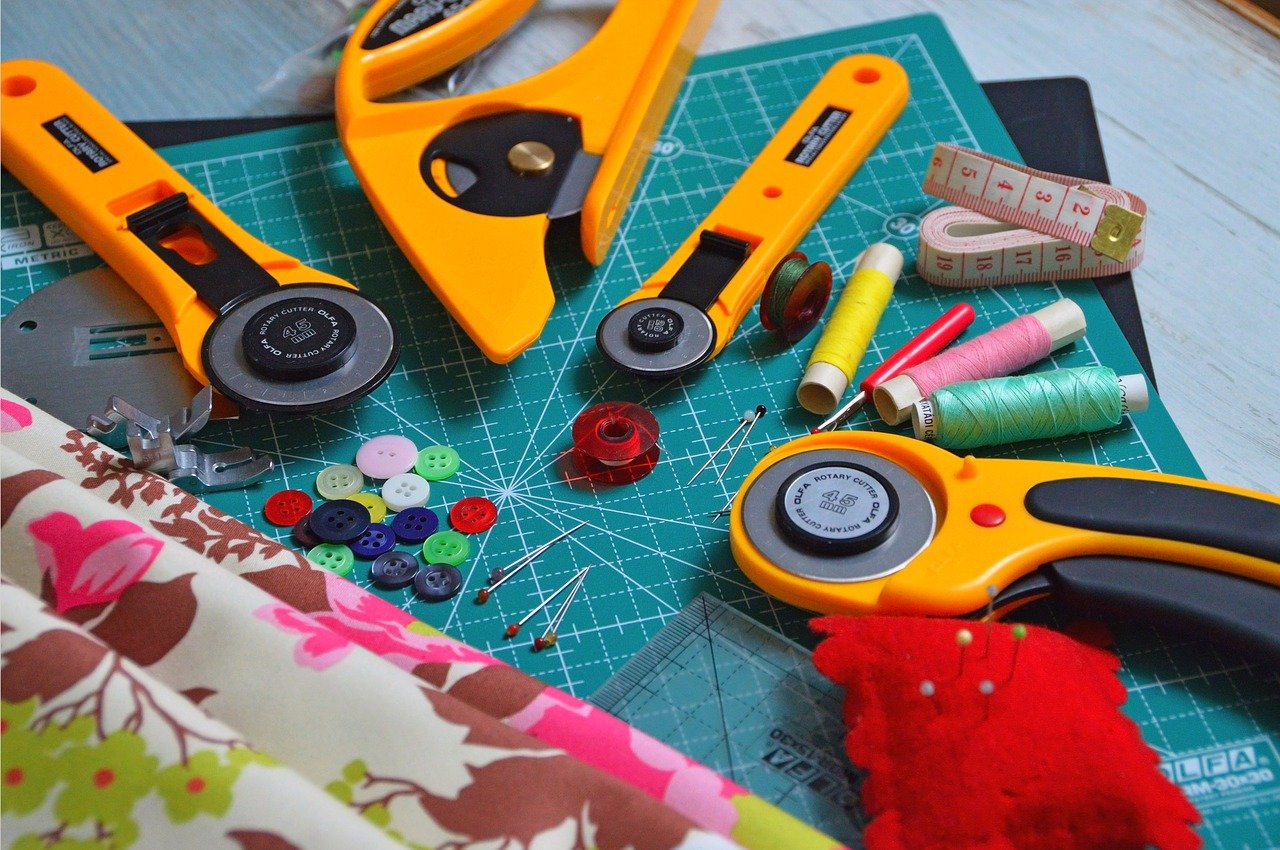 When quilters first made quilts, they were not expensive to make. The famous quilt was made from repurposed fabric and was mostly done out of necessity. But quilting these days can be very luxurious, which shouldn't always be so.
Is quilting an expensive hobby?
Quilting can be quite an expensive hobby, but you can also do it with very little expense. The pricey fabrics and the modern gadgets of today make quilting expensive. But it can be one of the most practical hobbies if you use only the basic quilting materials.
If you are to go back to when quilting started, quilts were made from scrap fabrics that were too small to do any other projects. Quilters made the first quilts because of the need for blankets.
The women in the families who sew their clothing at home made the first quilt blankets. Various fabric scraps from clothing or linen that were too small were turned into quilts.
Quilting has come a long way from the joined scraps of curtains, sheets, and old shirts. Fabrics of all types and colors are used to make quilts these days.
Quilters can now choose from the many modern machines and gadgets that can help complete quilts faster. But by investing in these modern quilting tools and fabrics, you are making this hobby more expensive.
The first quilts did not need the modern machines that quilters use these days. But quilters then were able to create beautiful quilts by hand. As with other hobbies, you can spend a lot or very little when quilting.
You can choose to buy the expensive tools and fabrics or sew with the basic thread and needle on scrap fabrics. The important thing is that you enjoy quilting and only spend what you can afford.
Is quilting a good hobby?
Quilting is a good hobby that you can take part in. It is a good way to relax, learn new skills, and gives you the chance to express your creativity.
Quilting is not only a way to pass the time. With a handful of inexpensive quilting tools and fabrics, you can create beautiful yet practical items.
Keep your interest in quilting by accumulating your tools and supplies over a long time. A newbie quilter does not need to buy expensive fabric, threads, and a machine just yet.
You will enjoy this craft more if you invest slowly in your supplies than splurging on them then giving up. You can start making your quilt using basic supplies and advance your quilting skills at the same time.
Here are a few tips and tricks to keep quilting without breaking the bank.
Start small

When starting as a quilter, begin your quilting journey by creating small items. Make a lap quilt or a baby blanket as a starter. Creating a small quilt project will give you a better chance of completing your quilt, saving money on supplies, and improving your skills.

Quilt by hand

The first quilters were able to make quilts only by hand. Even without a sewing machine, you can complete a quilt. It is possible to start and finish a quilt by hand, but you must accept that it will take a long time. Quilts from long ago were completed by groups of friends and family helping each other.

Quilting by hand is the least complicated way to learn how to quilt. You will be amazed at how creative you can get designing your quilt by hand.

Use the available sewing machine

If you want to finish your quilt faster, a sewing machine that you have on hand can make your life easier. You do not need a longarm quilting machine right away to quilt. Remember that you can even finish one by hand.

An ordinary sewing machine at home can help you do some quilting faster. You can do quilt piecing and binding easier with a machine. Adding foot accessories compatible with an ordinary sewing machine helps you to be more creative with your designs on your quilt top.

You can upgrade to a longarm quilting machine once you decide to become a serious quilter. It is good to own these expensive quilting machines when you already have advanced skills.

Recycle, repurpose, and reuse fabrics

You can choose not to spend on your fabrics by recycling your old cotton shirts. Sort your old clothes by color and look for patterns you want to include in your quilt.

Check out a local thrift store where you may find extra-large cotton shirts that you can get at a very affordable price. These will make great quilt tops that you can piece together.

Do not throw away your old linen. You can repurpose old linen as vital parts of your quilt. Old linen makes the ideal material for backing, binding, and quilt piecing when you are on a budget.

Keeping your fabric scraps can also add to your fabric stash. You never know if you might need a certain pattern in your future quilt projects.

Expand your skills on a budget

If you are interested to learn a new craft such as quilting, you can inform your friends. You might have someone who shares the same interest and teach you the basics. After learning and practicing the basics of quilting, you will want to expand your skills more.

It is easier now to learn how to quilt without even signing up for an expensive class. If you are learning to quilt as a hobby, you can take your time watching free instructions uploaded online. It will not cost you much but your time.

You can also join a Quilt Guild. There is no doubt that you will gain a lot of quilt knowledge by joining. An annual membership fee of $25 – $35 is a bargain for the many like-minded friends you will make and the free patterns and fabrics that you might get.

Quilt it yourself

You can create a whole quilt yourself. Some quilters pay other quilters to do some parts of their quilt and can get quite expensive.

Using an inexpensive walking foot or darning foot on your regular sewing machine can help you make beautiful designs on your quilt. You also get to learn more quilting skills. You can save on professional quilting fees if you make your quilt from start to finish.

Do away with the modern and expensive gadgets

Quilting can get expensive when you use modern tools and gadgets. But if you prefer working on a budget, you can stick to the basics.

You can use a good pair of scissors to cut your fabrics if you don't have a rotary cutter and mat. If you have a rotary cutter and mat, you don't need to buy a fabric cutting machine. The more you upgrade your tools, the more expensive your quilting can get.

Use free quilting patterns
There is a wide assortment of free quilting patterns you can access online. There is no need to buy, especially if you are still in the learning stage. Take advantage of the free resources that you can get online.
Buy patterns when you are already earning from your finished quilt projects.
Is quilting hard to learn?
Quilting is not hard to learn. If you can sew by hand, create straight stitches on a machine, and can cut your fabrics straight, you are off to a good start.
As a starting quilter, you only need the basic tools and supplies to begin quilting. The only things you need are needles, thread, fabrics, and a sewing machine (optional, if you will quilt by hand). You can start basic quilting if you already have these supplies available.
Listed below are your quilting essentials and where you can find them on a budget.
High-quality Thread
One thing that you should not scrimp on when quilting is the thread you are going to use. With quilting, you will stitch layers of fabrics, and most times, it has the batting included. Remember, you need to join two or more layers of fabric together.
Make sure to buy high-quality thread that will not only look good on your quilt top. It should be able to hold all of your fabric layers.
To save up on the thread, choose the big spools of thread in neutral colors. You will be able to use them in many of your quilt projects.
Needles
Needless to say, needles are a necessity, and they do not cost much. It would help if you always have the right needles available. You will be working on several layers of fabrics and different fabric types when you quilt.
It would be best to get a pack of machine quilting needles with assorted sizes. With a wide variety of fabrics that you will work on, it is good to always have the right needles on hand.
Pins
You will need basting safety pins and straight pins to keep your fabric layers together as you sew. It would be a great idea to stock up on these pins as you will often use them. The good thing is that they come in large packs and are relatively inexpensive.
Fabric
The biggest bulk of your supplies for quilting is the fabric. Aside from the fabric for your quilt top, you will also need fabric for the backing, binding, and border. The size of the quilt you are making determines the amount of fabric that you will need.
Since the fabric is the huge bulk of your quilting supplies, it will also define the budget for your quilt. But it does not mean you need to spend too much on your fabrics. It is even possible to make a quilt without buying fabric.
You can recycle, repurpose, and reuse old jersey shirts for your quilt tops. Your old linen sheets are great for piecing, backing, and binding.
You can also find affordable fabrics in local craft stores. Watch out for bargains and sales from your favorite notion stores. You may also check out an estate or yard sales for bargain fabrics and other quilting supplies. You can enjoy a quilters' stash that never had the chance of turning into quilts.
Batting
A typical quilt will also need a layer for insulation that can add warmth to your blanket. The middle layer, called the batting, is usually made of cotton, bamboo, or wool. You can use old linen or join scraps of batting if you are quilting on a budget.
You can also search local craft stores which offer discounts when you buy in bulk. Like fabric, batting can be quite expensive. So, it is advisable to use your discount coupons and buy bulk when on sale.
Sewing Machine
The most economical way to quilt is to do it by hand. You do not need a machine to go through all the quilting processes, but for sure, it will take you a very long time to finish.
If you have an ordinary sewing machine at home, use it to speed up your work. You will also create smooth and uniform stitches if you use a sewing machine for quilting.
You can be more creative with a regular sewing machine by attaching compatible quilting foot accessories. You can still make gorgeous quilts without the assistance of expensive longarm quilting machines.