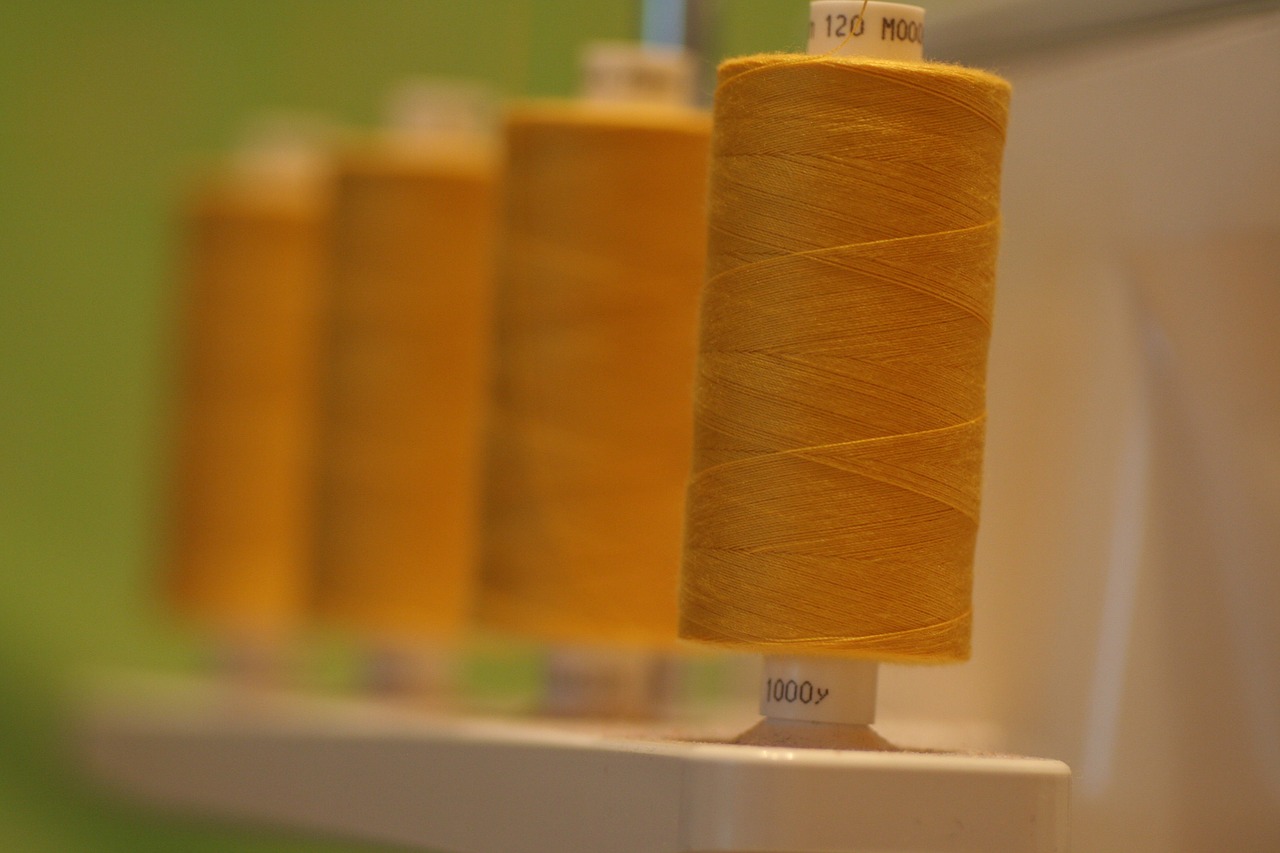 Quilts are made to last very long, even for a lifetime. So, choosing the materials to create your quilt is a great consideration that you have to make.
Can serger thread be used for quilting?
Many quilters have used serger thread to piece their quilts for a long time now. But not all quilters will agree that serger thread is an ideal thread for quilting.
Many quilters and sewists have experienced using serger thread for quilting and have had no problems whatsoever. But some debate that you cannot use it for quilting as a serger thread is not as strong as a regular thread. And when you use a serger thread for sewing seams, you use three or four threads overlapping together.
In a world where you have a huge range of choices for threads to use, there may not only thread perfect for quilting. Sewists have their reasons why they choose the thread they want on their quilts. When taking the advice of fellow sewists whether you can use serger thread for quilting, always do so with a grain of salt. What matters is you are happy with the quilt that you built.
What is the best thread for quilting?
According to quilting experts, the best thread for quilting is a cotton or polyester-cotton blend. As much as possible, please do not use the cheaper polyester threads as they are bound to break quicker over time. The strength of the thread you use must depend on your quilt pattern and the type of fabric. If your quilt has more layers or needs thick fabrics, you need a stronger thread or thicker weight thread.
Here are the thread fiber types commonly used for sewing and quilting to better understand the threads to use for your quilting.
Cotton is the most common material used to make threads. It is a plant-based fiber and can withstand high heat from an iron. As a result, cotton is a very versatile material usually chosen for most sewing and quilting projects.
Polyester is a synthetic fabric. It is known to be a stronger and more elastic thread than cotton. It can resist shrinking, melting, and linting. It is a favorite for most sewing projects, both machine or hand-sewn.
Some polyester threads are wrapped in cotton, which has the benefits of both polyester and cotton. As a result, it is popularly known as the all-purpose thread. It looks like the common cotton thread but the strength and flexibility of polyester.
Linen thread is also a fiber that comes from plants. It is commonly made into a heavier thread. A coating of wax adds to its durability.
Nylon is one of the strong threads but is very vulnerable to heat. Most synthetic fibers like nylon are prone to melting when exposed to high temperatures.
Rayon is another synthetic thread. It is mostly used in embroidery. But it is prone to fade through time or washing.
Silk threads come from silkworms that produce a fine but strong thread with a sheen. Silk threads are mostly used with sheer and thin fabrics because the stitches you make with silk threads do not leave holes.
The wool thread is a strong thread that is an ideal choice when working with heavy fabrics like wool and canvas.
Knowing all this information about thread material can still confuse you to choose when you are in front of hundreds of colorful spools.
A nice rule of thumb is to match thread material to fabric material. You can do it in a way that cotton thread is used for natural fabrics, silk thread for silk fabrics, and polyester thread for synthetic fabrics.
Aside from thread material, it would help if you also considered the thread weight. We will not expand on the technical part to understand how thread weight is important to know what thread to use for quilting. Instead, below are some useful tips and tricks to determine which thread weight to use on your quilt.
A lower number thread weight is a heavier thread, and the heavier your thread is, the more you can see it on your quilt. When working with a heavy fabric, it is logical to use a heavy thread also.
When piecing your quilt tops, it is ideal to use the 50-weight cotton thread. This thread weight is strong and durable and will not be glaring on your quilt top.
If you want your thread to show more on your top quilt, using a heavier-weight thread such as 40-weight cotton is the ideal choice. Although it is thicker than the 50-weight cotton thread, it is still thin enough to sew using a domestic sewing machine.
For bolder designs on your top quilt, threads with 28-, 30-, or 40- weight can make your stitches stand out.
If you use a 50-weight cotton thread for piecing, you can also use the same thread weight for binding. Just make sure that the thread you use for binding closely matches the color of your binding fabric.
Along with identifying the type and weight of the thread, you must also consider what you are using it for. For example, you must identify if you will use the thread for piecing, quilting, binding, or embellishing.
If you are, for example, machine-quilting a kids quilt which you know will be used and washed a lot, it would be best to use a polyester or a poly-cotton blend. This thread type is also called an all-purpose thread which is more flexible and durable.
For small wall hangings or heirloom quilts, you can use the traditional 100% cotton thread. Cotton can take dye beautifully, so you can easily modify the color of your thread. Cotton is ideal to use for these types of quilts which do not need to be used and washed as often.
In a nutshell, if you want your quilts to last a lifetime, use the threads with all the qualities that will not make them break despite frequent use.
For those quilts which will not suffer the abuse of frequent use and washing, you are at more liberty to choose the thread you think would work best for your project. In addition, you can look at more affordable options which can still work for your quilt to save up on thread costs.
What is the difference between serger thread and quilting thread?
Serger thread has been used by many quilters in replacement of quilting thread. Many quilters claim to have been using it for years with no thread-breaking issues. But some quilters are skeptical of using serger thread. They would rather stick to the safer option of using the traditional quilting thread.
Serger thread differs from other types of thread because it has only two strands of thread twisted together. The common quilting thread has a polyester core with cotton wrapped around it or vice versa. The combined threads show qualities of both fibers creating a stronger, more durable thread.
Serger thread is finer than most common machine threads to avoid bulky seams since sergers use multiple threads when sewn on a serger. The combination of three or four threads is used to make a strong seam. They form zigzag stitches along the edge of a fabric to keep it from fraying.
Serger threads are also made of the same thread fibers used to make quilting or sewing threads. You can find four common types of serger thread available in craft shops.
100% polyester
The most common type of serger thread is 100% polyester. It is an all-purpose thread that you can use in many types of sewing projects.
100% Cotton
The 100% cotton is not as strong as the previous one. It is usually used on woven materials.
Nylon
Nylon is a very strong serge thread. It is best to use on stretchy fabrics.
Wooly Nylon
Wooly nylon is soft but strong. It is also a textured thread that can stretch and recover.
Quilters have various reasons for choosing serger thread to quilt. Some have been successful and satisfied with their work. Some quilters use serger thread to piece their quilts to save on thread costs. It is good to know that serger thread comes in large spools at more affordable prices.
Other quilters use serger thread because instead of using the standard sewing machine, they piece their quilts using a serger. While others prefer serger threads which have a wide range of colors to choose from to embellish their wall-hanging quilts.
Most threads will work for quilting, even serger threads with only two strands. But when choosing the thread to use for quilting, there are so many factors to consider, like the strength, sheen, and the care instructions needed.
When quilting, you base most decisions on personal choices, so before picking up that thread, think well if it would work for the quilt you imagine.
Can you quilt with Maxi lock thread?
Yes, you can quilt with the Maxi Lock thread. Maxi Lock makes an all-purpose thread that you can use not only for the serger but also for sewing, quilting, and blindstitch machines.
It is 100% polyester thread which is thick and very strong. The all-purpose Maxi Lock thread comes in a 40-weight thread. Quilters like to use it because it is not like the thin serger threads made just for sergers.
If you want a matte look for your quilt, the Maxi Lock serger thread is a great option. It is a strong yet lightweight thread with 3000-yard cones in 76 colors, including four hard-to-find neon shades.
Some quilters have successfully made quilts with Maxi Lock serger thread on a longarm quilting machine. Some have also tried the serger thread on domestic sewing machines.
But then, not all machines are alike, and quilters each have their unique ways of working on a quilt. So, if you decide to use a serger thread for quilting, it would be best to create a quilt swatch first. Then, see if the serger thread works for you before going through the whole quilting process until the end.
How do you make a quilt with a serger?
If you have been quilting for quite some time now, you will say that it is a laborious process, even with a high-end sewing machine to assist you. But did you know that your serger can make your quilting fast and easy?
You can create big or small quilts with your serger in a breeze. You may not know it, but your serger can be a huge help to you and your standard sewing machine in creating beautiful decorative effects using certain serger stitches and specialty threads.
To start quilting with your serger and finish your quilt faster, here are some helpful tips to guide you:
If you need to make very durable seams for quilts prone to rough use or may need frequent washings, it would be best to try the 4-thread overlock stitch.
When using pre-cut quilting squares, it would be a good idea to disengage the cutting knife to avoid cutting the edges.
If you want to finish your quilt fast, you can cut your fabric into strips and use an overlock or flatlock stitch. Add the binding using your domestic sewing machine.
You can still create the traditional random square patchwork using the serger and finish it in no time. First, you must cut your different fabrics into strips of your desired width. Piece the strips using the 4-thread overlock stitch. Then, cut the strips crosswise then serge the pieced strips together to create the random square patchwork. Use the standard sewing machine to stitch the quilt top, batting, and backing together.
A serger is a worthwhile investment. It allows you to sew more quilts without taking so much of your time. So, don't let your serger sit there. Instead, enjoy making more quilts.