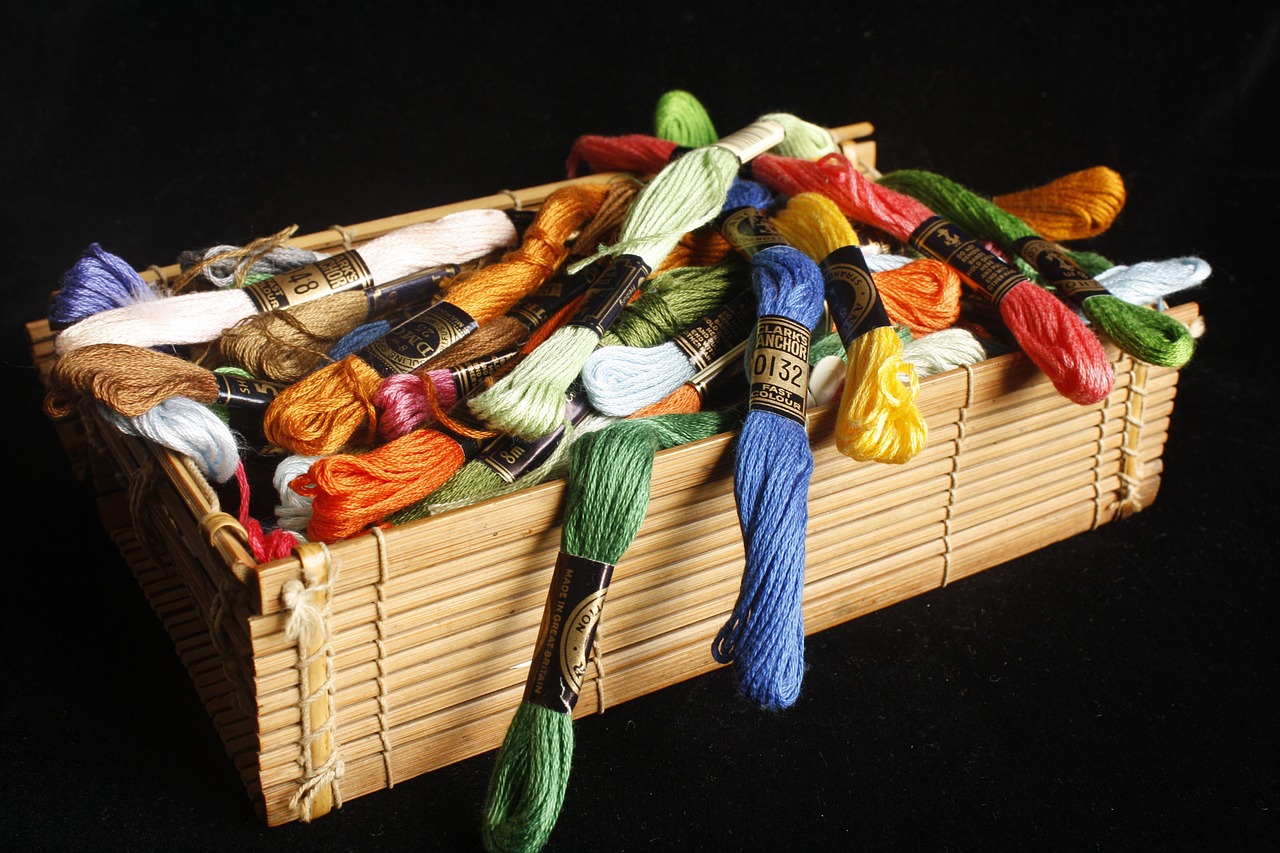 Crafters who went beyond the norm and tried it can say that you can knit with embroidery floss. Well, you can actually knit with any material of your choice. The thing with using embroidery floss is that they come in skeins, and skeins are short. So, you may end up with a lot of knots on your knitted work. But there is such a wide variety of colors and effects that embroidery floss can give your knitting. So, are you willing to explore?
Can you knit with embroidery floss?
You can definitely knit with embroidery floss. People always associate knitting with yarn because knitting mainly uses different kinds of yarn. But if you are one person who thinks outside the box, you can use any string for knitting, even embroidery floss.
Embroidery floss is a great material to use because of its versatility and the huge range of colors and types. Because it is not as thick as yarn, it is commonly used to knit miniature items. It is a great material to knit fabric for doll garments. Its durability and wide choice of colors make it a very flexible material for different crafts.
Embroidery floss is an interesting material to use for your various knitting projects. To have an idea of what types of embroidery floss you can use, read on below:
It is the standard thread used for cross stitch. It is made from mercerized cotton, which gives it a smooth and glossy appearance. Cotton floss can be used as a single strand or in a group depending on the thickness needed by the project.
The thread is made of reflective polyester in various shades. You can choose your light effects from Jewels, Pearlescent, Fluorescent Tones, and Precious Metals.
Commonly made of pure polyester or poly blend. It gives a metallic effect to your craftwork.
The thread is made of pure silk. It adds elegance to any craftwork because of its lustrous shine and saturated colors.
Also called Rayon, this thread is mostly used as an accent thread because of its striking appearance.
It is a twisted, 2-ply embroidery thread with a high sheen. You cannot separate strands from each other.
The embroidery floss is composed of soft multicolor threads that seamlessly blend into one another. As a result, you can see the faint change of colors in every stitch.
Can I use embroidery thread for knitting?
Yes, you can use embroidery thread for knitting. When you say embroidery floss and embroidery thread, you refer to the same thing; the thread used for hand embroidery. Embroidery floss is made of 6 strands of mercerized cotton threads or strands. Embroidery thread is a single strand of embroidery floss.
Embroidery floss is obviously the thread used to embroider. But you can also use it for other needlecrafts such as cross stitch, applique, quilting, crochet, and knitting. In addition, you can create small craft items like friendship bracelets, shoelaces, earrings, and dream catchers, to name a few.
You can knit with embroidery floss using all six strands, using a single thread or any number of threads combined. The number of threads you use will determine the thickness of your knit fabric.
Knitting with embroidery thread is not commonly done. But using different materials to knit has its benefits. Here are the reasons why you should consider knitting with embroidery thread:
Embroidery thread is thinner than the yarns you usually use for knitting. With yarns, you will be able to knit regular-sized items like clothing or household decors. When you knit with embroidery thread, the size of your knitted item depends on how many strands you use. For example, you can create knitted items for miniatures clothing for dolls.
You can also create regular-sized knitted items with embroidery floss. Just be ready that you have to start a new skein now and then because embroidery floss usually comes in 8 to 9 yards only for each skein.
Floss is used for embroidery, so basically, the range of colors available is way beyond what yarn colors can provide. So, if you want to be more creative with your knitting, embroidery floss is the way to go.
Learn something new in knitting
Embroidery thread has a different thread weight than yarn and has more color choices available that you can choose from. You can experiment with different sizes of needles to create various items that you commonly do not knit using yarn. Using a different thread from the norm refreshes the craft and expands it.
Any type of needlecraft can help develop your motor skills. But knitting with embroidery thread can refine it as you may need to use the smallest knitting needles to accomplish your task.
Some yarns can get pricey, and some knitters find embroidery floss relatively cheaper than yarn. You can find patterns that you want to replace yarn with embroidery floss. Just make sure that they are not huge knitting pieces, or else you are defeating the purpose of saving up on yarn cost. Knitting is also a great way to use up your leftover embroidery floss.
Knitting with a different type of material may give you a different sense of accomplishment. For example, only a few people have tried knitting with embroidery thread or floss, as they can get challenging due to the size.
How do you knit with embroidery floss?
You knit with embroidery floss the same way you would knit with yarn. However, you might find it a bit challenging to knit using floss because of its size, length, and the knitting needles you need to use.
Knitters who have tried knitting with embroidery floss have these things to say to guide you on your unique knitting journey.
Find a pair of needles that matches the size and weight of embroidery yarn. You can use 2 or 2.5mm knitting needles with 6-strand floss. Some knitters use pins as knitting needles to knit single-strand embroidery threads. Smaller needles are better to knit with if you do not want your knitted work to come out lacey.Try different needles and see which one works best for your knitting project. It would be best to create a gauge swatch to see which needle size and the number of strands works.
Choose a light-colored embroidery floss to knit at first. Have good lighting where you are going to knit. Knitting with embroidery is doable, but you might face some challenges. Embroidery floss is not as twisted as the yarns you are used to knitting, so you should give it a bit more focus.
Pick an easy pattern at first to get the hang of knitting with embroidery floss. Do not knit when you are tired, especially when you are just trying out knitting with embroidery floss.
Embroidery floss can be a bit slippery as compared to most yarns that you use. Use knitting needles that are less slippery, like wooden or bamboo needles. When using embroidery floss, you may want to knit tighter than usual.
If you want to use embroidery floss mainly for your knitting, get them from craft stores that offer them on sale. You can also look for crafters who shifted to other crafts and sell their floss on a yard sale.
Have fun. Make it a relaxing and pleasurable experience to learn how to knit with embroidery floss.
Also check:
What can you do with leftover embroidery floss?
It is hard to tell when crafters started using embroidery floss to knit. But one thing is for sure, those who have tried it had fun knitting with it. In addition, embroidery floss can create knitted items that are unique and very colorful.
Different knitters actually have their reasons to knit with embroidery floss. Some want to save up on yarn cost; others want to use up leftover embroidery floss from other craftworks. Finally, some other knitters need a thinner yarn to create tiny knitted items.
Another way to knit your embroidery floss other than using smaller knitting needles is to use a loom. All you need is a loom and different colors of embroidery floss that you wish to use on your project. In addition, knitting on a loom with colorful embroidery floss can help spark children's interest in needlecrafts.
Knitting on a loom with embroidery floss is easy and fun. You can start to make nice loom knitting projects by first reading through these guides and tips.
Pick the number of strands you want to work with. Note that you can use a few or as many strands as you want. Note that the more strands you use to knit, the thicker and tighter stitches you create.
Decide which loom to use. The loom you choose depends on what type of knitting project you plan to do. You can use circular, square, rectangular, or any type of looms to make knit items from embroidery floss.You can start with small knitting projects such as shoelaces or bracelets, which you can do on a spool loom or any loom with three pegs.
Using embroidery floss to loom knit can give you more possibilities to combine a wider variety of colors and effects on your knitted pieces. You can use embroidery floss as your main thread or in combination with your favorite yarn. You can also use it as a design element for your knitted work.