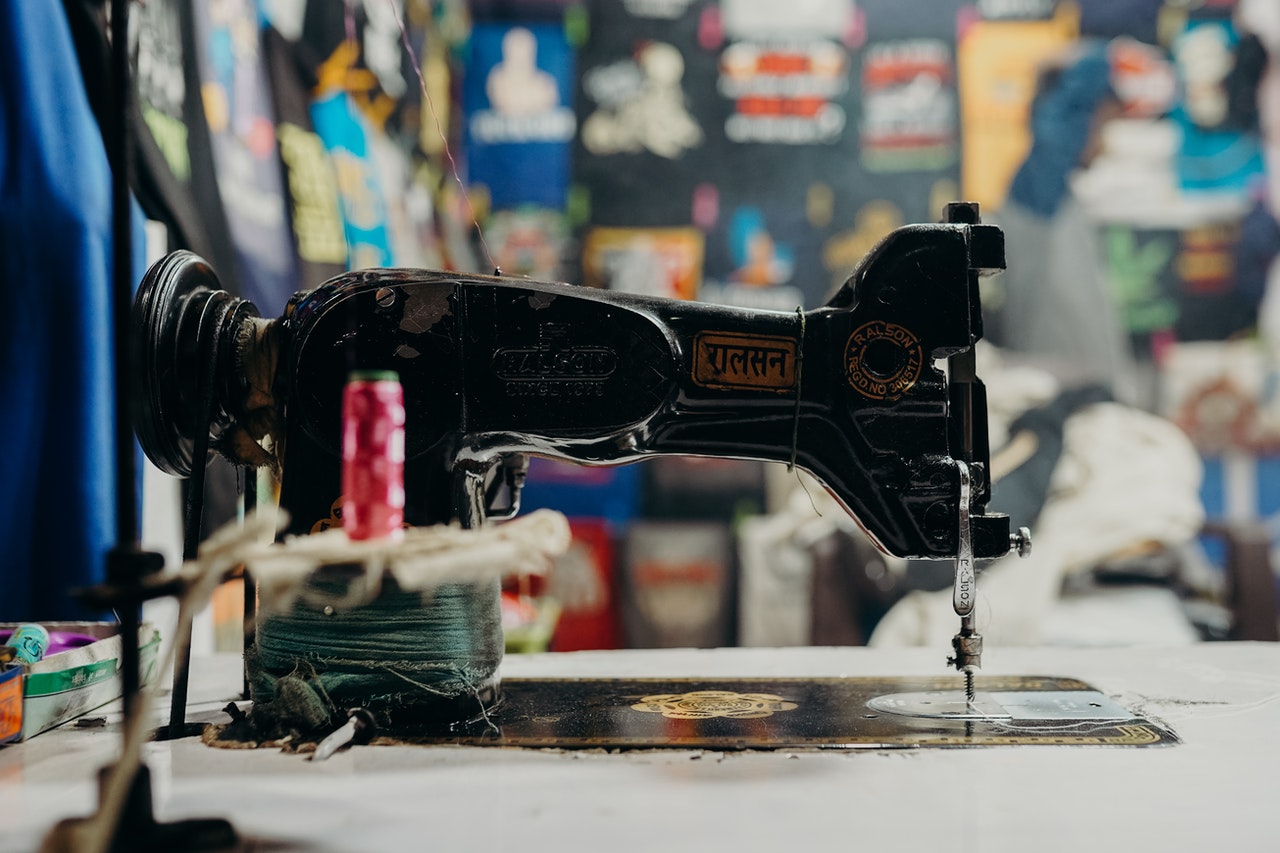 The squeaking noise on your machine means something is not right with your sewing machine. The noise is usually caused by jamming or a metal part rubbing on another metal part. A squeaking sewing machine can usually quiet down with cleaning and a little oil.
The sound of the motor when you are working on your sewing machine is typical. But if you hear other loud noises like squeaking, you may develop minor hearing damage if you constantly work with the noise. A sewing machine that makes unusual noises other than it will typically be suitable for the device or its user.
It would help to find out what is wrong quickly with your machine, or you will not spare it from damage and your hearing as well.
There are so many metal parts you have to check in a sewing machine before you finally find out the source of the squeaking noise. If the squeaking stops when you stop working on your device, it only means that the problem is not metal rubbing on another metal, and you would need an expert to find out what it is as it can cause a significant problem with your machine.
Any of these various reasons may cause a noisy sewing machine:
Lint build-up in the bobbin
The bobbin case is one sewing machine area that commonly gets lint build-up. When lint gets trapped on the hook of your bobbin, jamming occurs, causing the noise.
Lack of Lubrication
Lack of lubrication is one of the first reasons for sewing machine squeaking. If you did not lubricate your machine for a long time, the metal parts would rub into each other making squeaking noises.
Bent or broken needle
A bent or broken needle scraping on the needle plate or any other metal part it may encounter may cause the squeaking sound as you sew.
Dull Needle
You may be using your needle for a very long time, making it dull. It is also possible to get a defective needle. These may cause your machine to work improperly and produce unusual noises.
Wrong threading of upper thread
Wrong threading is a common issue on Brother sewing machines like in Brother JV1400, as with any sewing machine. Wrongly threading your upper thread may cause your machine to make squeaking noises. Try re-threading your machine to check if it is the cause of the unusual noise your sewing machine is creating.
Unbalanced sewing machine
When your machine is not sitting right on a flat surface, some of its working parts may vibrate, causing the machine to make noise, like a banging sound. Making sure that the machine is on the level and placing a towel underneath can reduce the noise.
Lint on the motor area
You can also find lint build-up in the motor area. Lint in the motor area will cause a whistling sound in your machine.
Loose needle plate
A loose needle plate will make an annoying sound, so make sure it is properly screwed.
Several reasons will cause your sewing machine to make noise. Some you would not easily detect and would need the help of a sewing machine expert.
Most sewing machine problems usually have straightforward solutions. Having a list of the reasons that may cause your machine to get noisy can help you narrow down the problem.
Why is my sewing machine making a grinding noise?
If your sewing machine is making a grinding noise, it means that something is jammed on your sewing machine. A bit of lint or spare thread can cause your sewing machine to create a grinding noise.
Grinding noise in a sewing machine may be due to many reasons. Various sewing machine brands vary why they have a grinding noise. One of the main reasons that cause the grinding sound in Brother sewing machines is tangled threads. Undo the tangles or cut the threads to eliminate the grinding noise.
If you experience grinding noise on your Janome machine, the little plastic part at the top rear side of the machine may be causing the sound. It is the location of the bobbin when it needs to get wound. The nut that holds the plastic part in place may fall into your machine and cause a grinding noise.
You must check your machine parts from time to time to ensure that they are tightly attached. Small details like a loose nut falling into the machine may need you to take the machine apart to eliminate the noise it is causing.
Sewing machines make different types of noises other than grinding. The kind of noise the machine makes depicts the issue of your sewing machine. It would be helpful to know what noises are causing problems to your machine to troubleshoot them.
Clunking noise
A clunking noise is usually produced when you fail to get the thread into the take-up lever when threading your machine. It is a usual problem but can sometimes be hard to solve because the take-up lever is occasionally hard to find. Some take-up levers are hidden inside the machine casing with other sewing machine models.
To prevent this clunking noise, find the take-up leaver and thread properly. You need to raise your presser foot, put your needle in the highest position, clear the thread path, and observe the thread moving into the take-up lever.
You can correctly thread your machine if you use both hands. Use your right hand to hold the thread near the spool while your left holds the thread. You should feel the thread move into the take-up lever.
Cleaning the bobbin should be your first solution. Clicking noise in your sewing machine may indicate a dirty bobbin area. A clean bobbin should stop the clicking noise.
A loose bobbin will also cause a clicking noise. If you do not insert the bobbin properly, it may bounce all over the place.
Your sewing machine may also have a problem with bad timing. Lousy timing will make clicking noises on your sewing machine.
Another solution is to check if your bobbin area needs oil. A little oil would do wonders and possibly solve the clicking problem.
Lastly, check if your needle was adequately inserted and you have exhausted all the possible reasons for the clicking noise. If the clicking noise persists, ask for help from the experts.
You will hear a banging noise if your sewing machine is not sitting on a flat surface. The vibration of the working parts when your sewing machine is not level will create a banging noise.
Make sure that your sewing machine is sitting right on its location while using it and not making any sudden moves. You can also put a towel beneath your machine to lessen the noise by about 30%.
The wrong threading may cause a banging sound. If the thread did not make it into the take-up lever, you need to pull your thread out again and start re-threading your sewing machine, making sure that this time the thread will go where it should be.
If you are sure that you have threaded your machine correctly and the banging sound persists, check the needle. Ensure that your needle is inserted correctly, or it may hit the metal plate, causing a banging noise. A bent, broken, or dull needle may also cause similar noise problems on your machine.
Having a list of the different sounds you hear from your sewing machine may help you avoid the noise problem from recurring. The list will help you troubleshoot the problem faster, and you may be able to solve the issue without the help of a repairman. It can also allow you to use your sewing machine for a long time without the irritable sounds.
More pages:
How do I reduce sewing machine noise?
There are several ways you can reduce sewing machine noise. One of the first things you should do is know where the noise is coming from and if you can do it on your own without the help of experts. You can also use anti-noise and vibration pads to lessen the noise your machine is creating. And if your machine is naturally noisy, maybe you need to change it.
If you want more ideas to lessen the noise on your machine, check out these tips, which worked for some sewers.
Check the source of the noise

Knowing the noise source will make it easier to identify the issue more quickly in your JCPenney sewing machine. A squeaking noise will tell you that your machine is either jammed or needs oiling.

Clean the machine regularly

Whether you use your machine every day or just occasionally, maintaining the cleanliness of your machine is vital. Lint or dirt build-up on the bobbin hook or the throat plate will cause a lot of noise and may lead your machine to damage.

It would be best to set a schedule for cleaning your sewing machine. If you use it every day, cleaning the parts prone to lint build-up after working may be a good practice. If you use it occasionally, cleaning the machine before storing it will be a good maintenance practice.

Also, make sure that your machine is well-oiled before using it to avoid hearing unusual noises.

Change the location of the machine

The location of your machine affects the amount of noise it will produce as you work on it. A sewing machine on a wooden table will not create as much noise as on a plastic table. The wooden table will absorb more noise than the plastic table, making the sound bounce.
If you need a dedicated table for your sewing machine, you can find one that may work for your sewing machine at Amazon.

Use anti-noise and vibration pads

Another thing that can help reduce the noise when sewing is to use anti-noise and vibration pads for sewing machines. Placing your sewing machine on anti-noise and vibration pads can prevent too much shaking and loud noise that your machine might be making.
Check out the noise and vibration pads for your sewing machine on Amazon.

Lower your sewing speed

If you are the sewer who uses the foot pedal to control the speed of the sewing machine more often, applying more pressure makes it faster, which makes a louder noise. Your machine will make less noise by using steady pressure on the foot pedal.

Find a quieter sewing machine
If you are using an old machine that is creating a very undesirable noise despite following all the tips, maybe it is time you shift to a newer and quieter one. Even your Pfaff vintage sewing machines can get quite noisy because they are mostly metal.
Most modern sewing machines are made of plastic and are designed to be quieter. For modern sewing machines available in the market, Check for recommendations at this Amazon link.