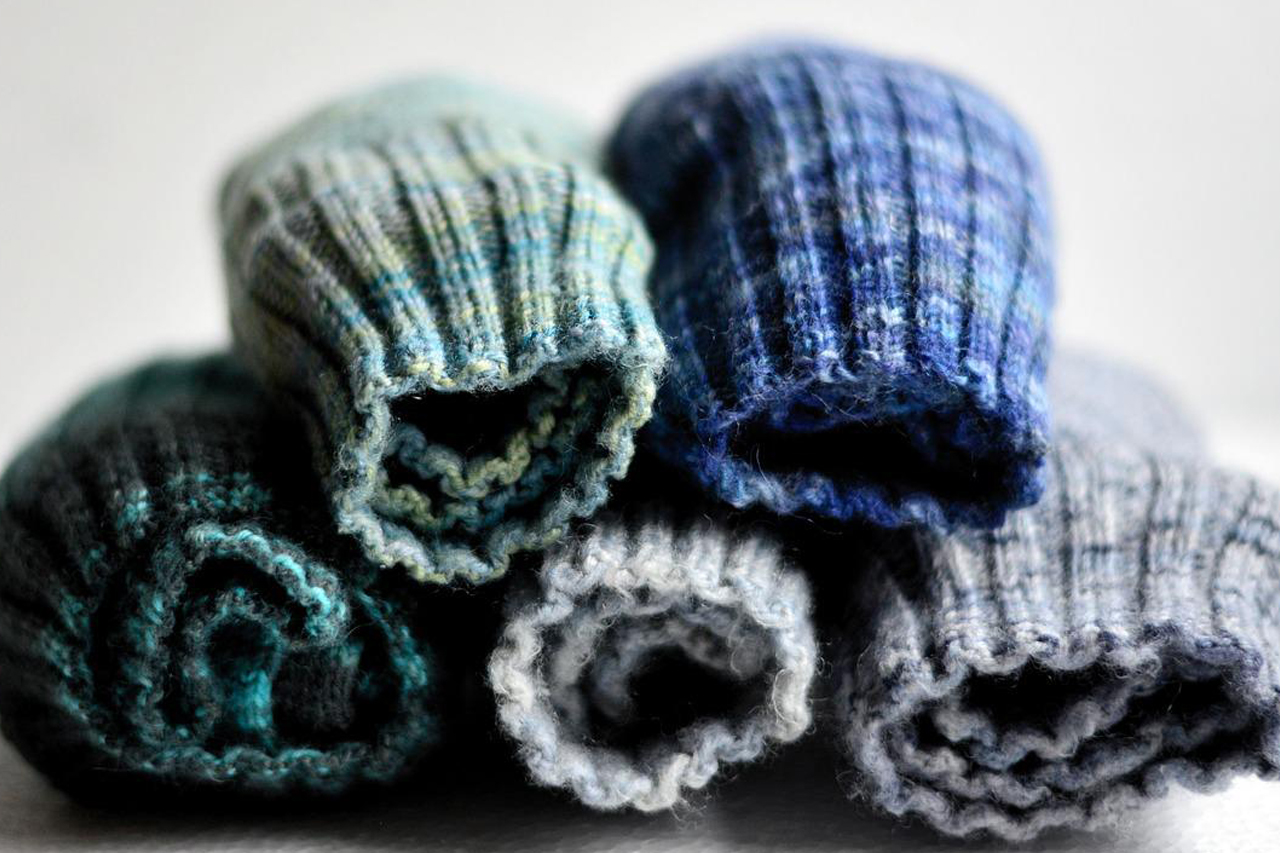 Worsted weight yarn is perfect for knitting socks for beginners and advanced knitters. When you knit socks with worsted weight yarn, your socks will be very comfortable, yet you can knit them quickly.
Many knitters feel daunted at the thought of turning a heel or mastering the magic loop when knitting socks. But, the best way to overcome this fear is to dive right into your project! All you need to know is how to knit and purl — the rest you can learn as you go with this quick guide.
Knitting socks is fun since there is always something new to learn. However, it is best to familiarize yourself with the methods and tools you would be using, including the best yarn weight for your socks.
I recommend knitting your first pair with medium-weight yarns like worsted and aran because they will help you quickly grasp the procedures. As a result, knitting socks will be much easier when you switch to finer yarns.
However, in this post, we're going to focus on worsted yarn and how to use it for knitting socks.
Worsted weight yarn is ideal for novices and people new to working with various yarn weights. It can be less expensive than other weights, but they still provide the same degree of durability!
Worsteds are incredibly adaptable. So, you can use them for various knitting projects other than socks. Another advantage of worsted weight yarn is that it exhibits stitch definition clearly, making it an excellent choice for textured knitting.
Knit Socks with Worsted Weight Yarn:

How Do You Make Worsted Weight Yarn Socks?
You can make worsted weight yarns in the same manner as regular socks made from fingering weight yarn. However, you need to alter your numbers. You will knit the cuff, flap, heel turn, gusset, foot, and toes.
You can use yarns between 250 to 300 yards of worsted-weight yarn. Of course, it heavily depends on the size and cuff length you will make. In addition, you must take note of the 9.5-inch-foot from the toe to the back of the heel.
For needles, I recommend using four US-size 4 DPNs. You could also use your preferred size of needles, although you have to make sure you get the correct gauge which should be six stitches in stockinette stitch.
Then, follow these steps:
Cuff
Cast on 44 stitches using a longtail cast-on, then join them to work in the round. Next, you will k2 and p2 on rounds one to twelve, repeating this step to the round's end.
Finally, continue to knit using the stockinette stitch until your cuff measures seven inches from the cast-on edge.
Heel Flap
Work your socks' heel flap over twenty-two stitches on needle 1, then divide eleven stitches on needles 2 and 3.
Next, you will work the slip 1, k1 heel flap, which should be slip 1, p1 to end on the wrong side, for 24 rows. Then, work one more right side row, which should bring you to an end on this side. After doing so, you should see twelve slipped stitches on the right side.
Heel Turn
Row 1: Purl 13, p2tog, p1, and turn.
Row 2: Slip 1, k5, k2tog, k1, and turn.
Row 3: Slip one stitch as if to purl one before the gap, p2tog, p1, and turn to work back in the other direction.
Row 4: Slip a stitch as if to purl, knit to 1 stitch before the gap, k2tog, k1, and turn to work back in the other direction.
Then, you will repeat rows three and four until you finish working all the stitches. Note that your last row should be the fourth row, so you are at the end of a knit row.
On the last two rows, you will work a p2tog and a k2tog to end the rows, which should bring the end on a side row. As a result, you will have eighteen stitches remaining on needle 1.
Gusset
For the gusset, you will first pick up twelve stitches on each side of the heel flap and work across the twenty-two stitches on the foot's top. Next, knit seven stitches from the heel onto your third needle and place the remaining seven stitches on needle 1.
So, you will continue with the working yarn to pick up twelve stitches going up the other end of the heel flap, picking up one stitch in each slipped stitch. Then, you will continue working like how you would on regular socks. Note that you should be working this step on your needle 3.
Continue working onto the same needle and knit nine stitches from the heel turn. Then, place the remaining nine stitches onto what is now your needle 1. Note that the new stitch count for each needle should be:
Needle 1: Twenty-five stitches
Needle 2: Thirty-two stitches
Needle 3: Twenty-five stitches
Decrease rounds
Now, you will knit all stitches for round one. Then, follow the instructions for each needle in round two: knit to the last three stitches, k2tog, and k1 on needle 1; knit on needle 2; then, k1, ssk, and knit to the end of needle 3.
Repeat rounds one and two until you have forty-four stitches remaining.
Foot
For the foot, you will knit every round until it measures 1 ½ shorter than your desired total foot length.
Toe
Knit all the stitches on round one. For round two, you will follow these instructions for each needle: knit to the last three stitches, k2tog, k1 stitch on needle 1; k1, ssk, knit to the last three stitches, k2tog, and k1 on needle 2; k1, ssk, and knit to the end of the needle 3.
After doing so, you will decrease to twenty stitches and place them on two DPNs, knitting across needle 1 to put the socks' bottom side on needle 3. Now, you should have ten stitches on these two needles.
Cut the yarn and use the Kitchener stitch to close the toe's end. Then, weave in your ends to complete worsted weight socks!
What Size Needles for Worsted Weight Socks?
Worsted yarn needle sizes vary depending on the project. For example, knitting needles of sizes 3.25 to 4.0mm would be best to knit worsted weight socks for a firm and durable fabric.
Otherwise, I recommend using sizes 4.5 to 5.5mm if you want to knit a solid yet supple cloth, which is the standard knit fabric — it's neither too tight nor loose. However, if you are working with open lacework, it would be best to go up several sizes to a 6.0 to 8.0mm needle.
Remember that these are only broad guidelines. I advise checking your yarn's recommended needle size if you want the best bet. You could adjust your needle size to achieve your desired knitting tension from that size.
What Yarn Weight is Best for Socks?
Fingering weight is an ideal yarn weight for regular socks. However, you could still use other weights like worsted if you want thicker, cozier socks.
Yarns have different fiber properties that make certain threads better than others for specific tasks. When choosing your fibers, it would be best to consider the following factors:
Yarn Weight
When selecting the proper yarn for your sweater knitting project, weight is a crucial component to consider. It must be appropriate for your project. So, it would be best to consider the thickness of your yarn since it influences the appearance of your end product.
Ply
Knitting designs appear better with certain types of yarn. For example, a thread with more plies produces more different stitches, which is ideal for textured knitting.
For beginners, I recommend using worsted weight yarn, a medium-thickness yarn with visible individual stitches. However, a single-ply if you want your knit fabric to have a softer appearance.
What Can You Knit with Worsted Weight Yarn?
Worsted weight yarn is a medium weight that falls in the middle of the yarn weight spectrum. Because of its medium thickness, you can knit sweaters, caps, scarves, mittens, blankets, and more with this yarn weight.
Worsted yarn also works well for various projects, so don't be scared to try something new! This medium-weight yarn is durable enough for other types of knitting projects. It is heavier than sport and DK weight yarn but lighter than bulky, so you might want to keep that in mind when choosing a pattern.
What Is the Difference Between Sock Yarn and Regular Yarn?
Fingering-weight (regular yarn) and sock yarn are roughly similar in size, so you can probably work them to the same gauge. However, due to differences in the construction, they may not knit the same way.
The number of plies and ply twists are the most significant differences between these two yarns. Note that ply can influence the look, feel, and motion of your knitting. So, when choosing a thread, it would be best to consider these factors to produce a durable and elastic fabric.
Fingering-weight yarn can consist of any fiber, is worsted spun, and can be multi- or single-plied. The amount of ply twist is regular to light, so a line between the plies appears diagonal.
On the other hand, sock yarn is usually superwash wool with three or more plies and commonly has nylon for added strength. Unlike fingering-weight, a sock yarn's ply twist is quite tight. The apparent ply line on the yarn is practically horizontal, giving it the appearance of beads on a string.
Sock yarn is frequently a fiber blend that increases the durability of the completed fabric. Although you can use standard wool yarn to make socks, many people prefer superwash wool since you can machine wash it.
Fingering-weight yarn may be the standard thread for knitting socks, but I would not recommend using an average skein since it may not withstand the wear and use that socks endure.
Instead, I suggest using a hybrid yarn with a combination of fibers.
There is a lot to consider regarding different types of fiber and why they may or may not be suitable for knitting socks. While silk is too inelastic, combining it with other fibers adds a beautiful gloss that makes a pattern more feminine.
Similarly, while cotton alone would easily stretch out of shape, a cotton blend can be an excellent choice. So, if you prefer the feel of cotton, it would be best to look for a yarn that is up to 50% cotton and 50% wool.
Cotton is great at wicking away moisture and becomes stronger when wet. Meanwhile, wool adds softness, warmth, and a greater ability to recover from straining than cotton alone. It is one of the ideal blends since each fiber properly complements the other.
Fingering-weight yarns may have fewer plies and a less aggressive ply twist than sock yarn, and they are often not combined with any other fibers (such as nylon or silk) for added strength and durability.
Many fingering-weight yarns are made of 100% merino and are not superwash. So, it would be best to read the label and consider every aspect of the thread.
Choosing a Yarn for Your Knit Socks
If you're new to knitting socks, I recommend starting with sock yarns because they're more durable and more manageable to wash than similar-weight yarns that aren't suitable for socks.
You can use other yarns, but remember that they may not hold up to wear as well as a standard sock yarn. You can have socks you don't want to wear with shoes, which is excellent as long as it does not disappoint you with the lack of durability.
If you want to experiment with yarns other than worsted, fingering, or sock yarns, it would be best to knit a swatch and wear it around for a bit. It's not ideal for socks if it starts to look worn immediately away!