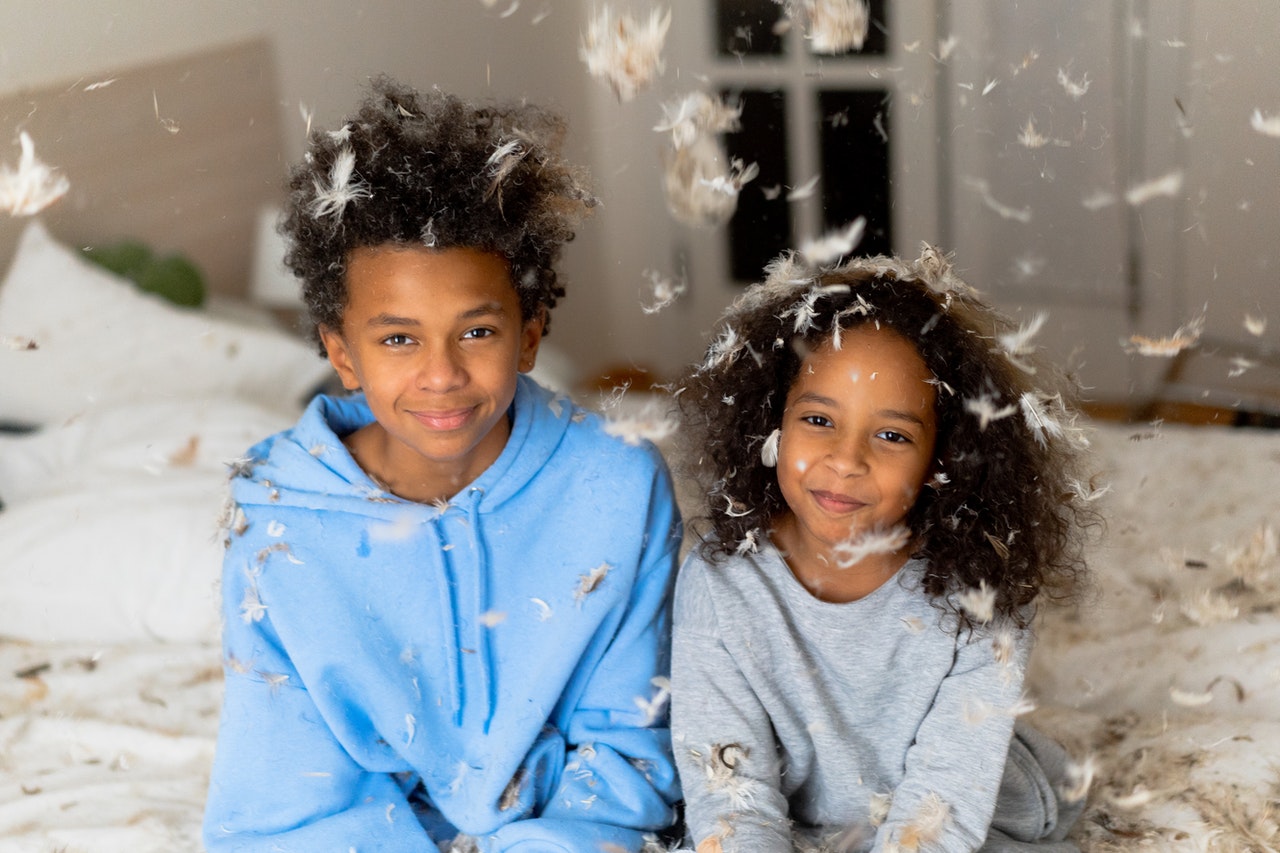 You can transfer feathers from one pillow to another by hand stuffing the feathers, using a large plastic to contain the feathers as you transfer, or using a cardboard tube with an air compressor to move the feathers.
It can be quite a daunting task to do, but if you want a fluffier pillow than that flat one on your bed, there are possible ways to stuff more feathers into another pillow without making a huge mess.
Feather or down fill is a very light material, so you should create a plan to transfer the fluffy fill without them flying around the room.
Here are some successful attempts at transferring feathers or down from one pillow to another.
Hand stuff the feathers to another pillow
When using this method, you must be ready for your area to get messy. It would be better to do it in an enclosed area such as a closed garage or a studio where the lightweight feathers will not get blown by the wind. Avoid windy and open-air spaces.
You will need a seam ripper, a big binder clip, an old feather pillow, a new feather pillow, and a sewing machine.
Get the old pillow and make a hole at one of the shorter sides. It would be best to open the pillow in the area where the product labels are attached. Make a 6-inch opening using the seam ripper. Use a binder clip to close the hole on the old pillow temporarily.
Next, open a 6-inch hole at the new pillow with the seam ripper at one of its shorter ends.
Place your hand inside the new pillow, grab a handful of feathers and stuff it into the old pillow. Keep adding feathers until you are satisfied with how dense the pillow is.
Clamp the hole shut on the old pillow, then shake down the feathers away from the sewing area. Sew the opening using eight to twelve stitches per inch using a sewing machine. Make four back stitches to ensure that the opening will not burst open when loaded on the washer when it needs to be laundered in the future.
Sewing by hand is highly-discouraged when closing the opening of a feather or down pillow.
Use a large plastic bag
Ticking encases the feathers or down of a pillow. You can wash pillows with feathers or down so the old ticking can still be used. You can transfer feathers from a new pillow to your old pillow using a large plastic bag.
Start by placing the old pillow and the new pillow inside the large plastic bag. Cut a hole on the old and new pillow, around 6 inches each. Transfer the feathers from the new pillow to your old pillow. Or both pillows can each have a half of the old and new feathers to add volume for each pillow.
Transferring feathers or using a large plastic can avoid the mess of flying feathers everywhere. After transferring the feathers, you can now close the holes by sewing on the seams using a machine.
Using a cardboard tube and an air compressor
With this method, you will need a recycled fabric cardboard tube, an air compressor hose, and a drill to transfer feathers into the ticking without making much mess.
First, make a hole on one side of the cardboard tube using the drill. Make a hole big enough to stick the tip of the compressor tool that will suck the feathers and blow them into the pillow.
Place one end of the tube at the small opening of the pillow and the other end at the source of feather and down. The air compressor sucks the feathers into the tube and transfers them inside the ticking. Fill the ticking with feathers until you reach the desired fluffiness for your pillow.
Blowing the feathers through the tube avoids wasting too much fill than stuffing by hand. It also prevents the down and feathers from sticking to any surfaces other than the insides of the pillow.
Whichever way you choose to transfer your feathers from one pillow to another, make sure to make the most out of these natural and luxurious fillers to enjoy comfort and style for a long time.
What can I do with old down feathers?
If you think your old down feathers are not fluffy enough for your pillow, you can still use them in many ways. You can reuse them in pillows or recycle the down feathers to make other useful items.
Natural materials like feather pillows can be reutilized instead of adding trash to the landfill.
Recycle pillows
Recycling down and feathers from old pillows is a kind gesture for the environment as you can minimize landfill use and unnecessary utilization of natural resources.
You can wash them, or treat the down and feathers, then replace the ticking; your pillows will look and feel like new.
Beds for fur companions
If you have been using your feather pillow for a long time but are still hesitant to let it go, you can let your beloved pets have them. Repurpose your old feather pillows into soft and comfortable pet beds by using colorful and themed fabrics where your furry companions can curl up.
Use as floor cushions
Convert them into floor cushions from the old down and feathers upon which you cannot lay your head. You can use three or more of your old pillows to create a luxurious and stylish floor pouf.
Donate to textile recycling facilities
Check with textile recycling facilities before donating your old pillows because many recycling centers do not accept pillows. You can look for the closest American Textile Recycling Service bin in your area, which accepts all kinds of old pillows.
Reuse as fillers for moving materials
Down and feathers from your old pillows can serve as fillers for boxes when moving materials. These materials can cushion the heavy or fragile materials you need to transport from one place to another.
Make throw pillows from old pillows
If you no longer want to use your feather or down pillows as head support, you can make gorgeous and comfy throw pillows out of them. Reupholster your old pillows with colorful fabric and allot them in their place on the living room sofa.
You can make fluffier throw pillows with down and feather. It is also easier to create a throw pillow of a different shape using these fluffy fillers.
Use for outdoor seating
You can also refurbish old pillows into throw pillows for outdoor seating using a weather-resistant fabric. You can use them on a boat deck or a lanai.
Use as gardening cushions
If gardening is one of your hobbies, you can convert your old pillow into a gardening cushion to rest your knees as you go about making your soil more productive. You can use a garbage bag instead of a pillowcase or if you want to garden in fashion, make a pillowcase with waterproof fabric.
Use down feathers as fertilizer
Because down and feathers are gathered from duck or geese, these natural materials can be used as compost material along with vegetable and fruit peelings, coffee grounds, and dried leaves. In half a year, you will be able to use a natural fertilizer for your garden.
Ticking can be used as rags
If you have emptied and reused your pillow feathers, you can now use the ticking or the case as rags before you finally dispose of it.
Use as sealing for front doors
DIY draft stopper from old pillows can keep your interior space cooler or warmer by sealing drafty window sills and front doors. You can make a door draft stopper with your old down and feathers. Use the filling and the ticking for the draft stopper lining.
It is good to know that large-scale consumers of pillows like hotels and hospitals have systems of recycling pillows instead of adding more trash to landfills.
Pillows are refurbished with rigorous cleaning of the old down or feather filling, then placed into new ticking. A new pillow is produced at a fraction of the price of replacing new feathers for the pillow.
Old feather pillows are great finds for DIY hobbyists who want to extend the use of these luxurious natural fillings.
Can you wash and dry a feather-down pillow?
A luxury pillow made of feather and down can be easily washed and dried. Washing them can, in fact, bring back its fluffiness.
Washing a feather-down pillow
Follow these easy steps to bring back the fluffiness to your feather pillow.
a. Remove the cover
Before washing your down pillow, make sure to remove the pillowcase or any covering that it may have.
b. Examine pillow
Inspect your feather pillow for any holes or tears that may leak feather filling during washing. With a thread and needle, repair the rips first before washing.
c. Balance the washer tub
When washing down or feather pillows, it is always advised to wash two pillows simultaneously to balance the washer tub for it to perform well. Make sure to load the pillows vertically so that the agitator cannot affect them.
It would be better to use a front-loading machine without agitators. But any washer will do as long as the two pillows can fit properly.
d. Use a gentle detergent
Use a laundry detergent with minimal bubbles when washing feather or down pillows. Too much soap can make the feathers clump together due to soap residue.
Set your washing machine to the delicate cycle and use less detergent than you normally use to keep the feather filling fluffy.
e. Use warm or cool water
The water temperature is important when washing your down or feather pillows. Hot water may be a good solution to kill dust mites living inside the pillows; it can also cause damage to the feathers. Instead, you can use warm or cool water when washing your down pillows.
f. Use an extra rinse and spin cycle
It would help if you use an extra rinse and spin cycle when washing feather and down pillows to remove excess moisture and soap that may stick on them and cause the feathers to a cluster.
Drying a feather-down pillow
Remember that you can also dry your feather-down pillow in the dryer to make it fluffier. You can dry your feather-down pillow by following these simple tips.
Place your washed pillow between two towels to remove excess water. Press down on it but make sure not to wring or twist the pillow to avoid damaging the down or feathers. Allow the towels to soak up any remaining water.
Put your feather pillows in the dryer. Set your dryer to a gentle cycle such as a low-heat or no-heat setting. Do not worry if you need several cycles to fully dry the pillow using the no-heat setting, as this is the safest way you can dry your natural-filling pillow.
Take the utmost care when using the low-heat setting for quick-drying because this may still harm your feather filling.
Take the pillows out of the dryer to fluff them between drying cycles. It will help beat the pillows to break up any clumps of down or feathers. Checking on the pillows now and then will ensure that your pillows are dried properly.
Placing dryer balls during the drying cycle can also help make your pillow fluffy.
When your pillow has fully dried, massage any clumps to remove them. You can hold the feather pillow by its corners and shake it to remove clumps of down or feathers.
More pages: 
How often do you replace pillows?
Experts advise replacing your pillows every one to two years. Following this recommendation will make sure that you use clean pillows, has good head support, and are allergen-free.
It is easy to know when it is time to replace your pillows. If you observe too much yellowing on your pillows and your allergies start acting up are signs that you need to replace them. When your pillows start to have lumps that make sleeping very uncomfortable, it may be time to let your pillows go.
Replacing your pillows at the recommended period can prevent sore muscles, allergic reactions, and skin breakouts. Different types of dirt can seep through your pillows like face oils, drool, and sweat, which can cause yellowing and eventually irritate your skin.
If your pillow cannot provide proper head and neck support while you sleep, you might wake up feeling sore. It is about time you change your pillow to a new one that can give you better support.