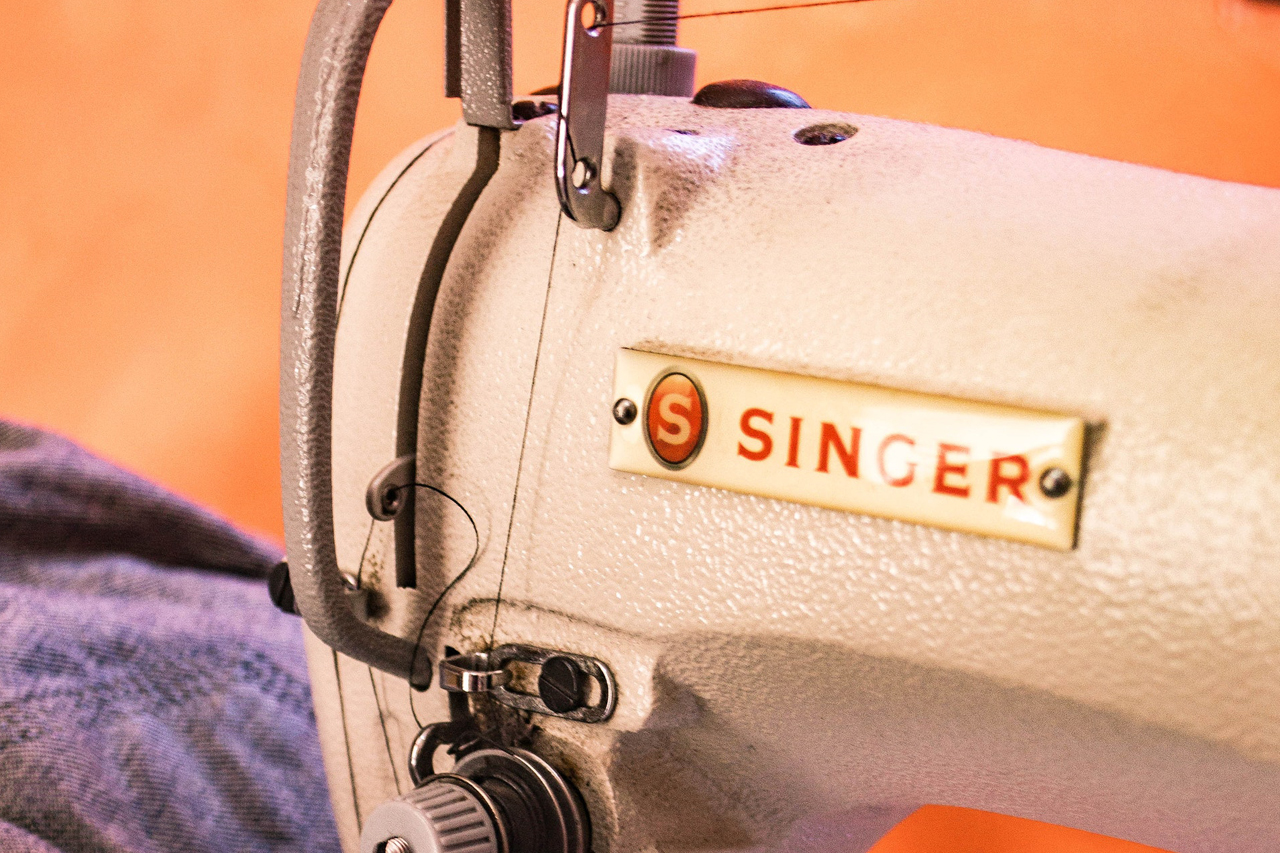 If you want to improve your sewing skills, you will need the equipment to give you the best finish for all your sewing projects. Aside from having an efficient sewing machine, you may need a serger for a professional finish.
A sewing machine makes life easier for a sewist, and a serger provides a cleaner and more professional look to your sewing projects. Having these two essential sewing equipment on hand, you will be sure to finish your sewing projects effortlessly with excellent quality.
So, let's dig in as we provide you with the best sewing machine and serger combo below:
Bernette 48 Funlock Serger Coverstitch Sewing Machine
The Bernette 48 Funlock is a cover stitch and overlocker combo machine. It has 23 stitches; 15 overlock stitches, three cover stitches, four combo stitches, and one chain stitch. It is a versatile machine that can handle a variety of sewing tasks.
The combo machine has color-coded thread paths, which makes threading the machine easier. A manual threader assists in threading the needles, while the lower looper and chain looper use a mechanical threader.
The Bernette Funlock 48 can help you finish your sewing projects faster with a sewing speed of 1300 stitches per minute.
The serger knife is operated from below, ensuring safe handling and a professionally-cut edge. It is also good to know that you can adjust the blade comfortably with a single hand.
The sewing and overlock combo machine has a bright LED light that can illuminate your needle area.
Using the Bernette 48 Funlock is very easy. Thread the machine according to the manual. Set the stitch length and width. To sew the hem of your fabric, line up your materials under the presser foot, then lower the needle.
Guide the fabric through the machine using your hands. When you reach the seam's end, raise the presser foot and cut the thread.
The Bernette 48 Funlock can perform the different tasks of a serger and a sewing machine. The drawback is that it is more expensive than most serger and sewing machine combos.
Buy it here: Bernette 48 Funlock.
SINGER S0230 Serger Overlock Machine
The Singer S0230 is a great sewing machine that can help you create professional-looking clothing using various fabric types.
The Singer S0230 is known for its ability to sew and finish a seam simultaneously, saving you more precious time. It is famous for being featured in the popular TV show 'Making the Cut.' It has become a favorite for newbies and expert sewists alike.
The combo machine is made to handle 2,3, or 4 threads, allowing you to choose from various stitch options.
The differential feed on the machine allows you to sew various fabrics, from lightweight to heavy ones, without fear of distorting your fabrics or puckering. The seam finish you create will be like what you see on store-bought garments.
The machine has a built-in free arm to sew cuffs, sleeves, and pants. It is also perfect for sewing garments for kids.
The S0230 is an excellent option for a versatile serger machine that will not break the bank. The company also provides a warranty of 90 days for your machine.
Buy it here: SINGER | S0230 Serger Overlock Machine
SINGER Professional 14T968DC
The Singer Professional 14T968DC is an overlock machine with 2-3-4-5 thread capability that can give you a wide selection of stitches for your different types of sewing projects, giving you professional results all the time.
This combo machine sews at 1300 stitches per minute while trimming and overcasting.
With fast speed and serger capability, you can finish a garment in no time.
You can choose from three cover stitch capabilities – narrow, wide, and triple cover stitches, depending on the need of your sewing project. This overlock machine has four built-in rolled hems for more hem options, especially for sewing projects requiring lightweight materials.
The machine has a self-adjusting tension system to keep your stitches balanced and even.
It also has an easy threading diagram, giving you more time to sew than threading your machine.
The Singer Professional is also a bit pricey, as with most serger and sewing machine combo.
Buy it here: SINGER Professional 14T968DC.
SINGER | S0100 Serger Overlock Machine
The Singer S0100 Serger Overlock Machine is the ideal combo machine for various sewing projects, from hemming to sewing garments with a professional finish. The S0100 is a dependable, affordable, high-quality sewing machine and serger combo machine.
The unique feature of this machine is the lower looper LED light to see your sewing better and for easy threading.
It comes with an accessory kit with everything you need to start sewing a professional seam.
The machine runs at a maximum speed of 1300 stitches per minute, allowing you to finish your project more quickly.
It has a 2,3, and 4-thread capacity that you can adapt to the need of your project. You can also choose from six different stitches to make sure that the stitch you use is perfect for your sewing project. Choose from rolled hems, blind hems, or flat locking to sew your seams and finish raw edges.
The Singer S0100 has a handy free arm that makes sewing cuffs and other circular seams easier.
The package includes tweezers, a screwdriver, an Allen key for changing needles, size #14/90, a 2-thread overlocker converter, and foot control.
Buy it here: SINGER | S0100 Serger Overlock Machine
Buying Guide
Consider the following factors to get the best from your sewing and serger combo machine.
Quality
When buying a multi-purpose sewing machine, make sure that it is made from durable materials that will make it last longer and be able to perform the multiple tasks that its functions entail.
Size
A combo sewing machine is smaller than two pieces of equipment, such as a sewing machine and a serger. You may need a smaller space for your equipment or take it as more sewing space with smaller sewing equipment.
Weight
A sewing machine and serger combo are lighter than the weight of the two single pieces of equipment combined. Your combo equipment should be easier to transport when needed and quick to store when you finish using it.
Functionality
When dealing with a combo machine, you would still want one that is easy to operate. It would be best if it had the features you need for most of your sewing projects.
Versatility
You will need your sewing machine and serger combo for various sewing tasks. Pick a combo machine that can handle the sewing tasks required. Choose a combo machine that you can use for a wide range of sewing tasks and can be used to give your work a professional finish.
When looking for sewing machines that provide your needs for your sewing projects, the sewing and serger combo machine has more advantages than choosing two independent equipment pieces.
FAQs
Do you need both an overlocker and a sewing machine?
If you are sewing for a living, you need an overlocker. But if you only do basic tasks like mending clothing, you would only need a primary sewing machine.
Sewists, whether new or expert in the craft, want tools that simplify sewing and produce quicker professional results. Some traditional sewing machines can perform overlock stitch, which is good. But it cannot cut the fabric as it stitches, just like an overlock machine.
Although a sewing machine can make an overcast stitch, it cannot produce a professional finish on the edges of your fabric as an overlocker would.
As you improve your sewing skills, you will want a machine that will give you the best finish your sewn garment can have. An overlocker can provide you with a professional finish similar to store-bought clothing.
Experienced sewists can attest that once you have used one, you will not want to return to finish your seams with a domestic sewing machine.
Before deciding what kind of sewing machines to buy, you must consider the sewing projects you will mostly do and what sewing features you need.
If you need to seam mostly knitted or jersey fabrics, you may need to purchase a machine that can do overlock stitches. You can sew the seams of these stretchy fabrics best on a serger than on an ordinary sewing machine.
Buying a serger and sewing machine combo can give you more benefits if you use the machine for tasks other than sewing hems and edge finishes. You can also work on a traditional sewing machine if you rarely need to use the overlock stitch.
If you need a machine to mend tears or cuts on your clothing, you only need a domestic sewing machine with the basic stitches, such as the straight and zigzag stitches.
It is best to get an overlocker if you need to decorate your garment with the flatlock stitch or any stitch you can only get from a serger.
If you need more straight stitches or buttonholes, you only need a traditional sewing machine, not an overlocker.
If you want to decorate your fabric using the flatlock stitch or any overlocker stitch, get a serger that provides the necessary stitches.
Determine how much you think you will need an overlocker versus an ordinary sewing machine. Acquaint yourself with its different stitches and sewing features to know if you need it as much as a primary sewing machine.
Benefits
The first thing that comes to mind is less space to park your machine and more workspace to do your sewing projects.
You can save money by paying only for one machine instead of two devices that can deliver the tasks you need. You also need only one table to hold your combo machine instead of two pieces of furniture for two types of sewing machines.
When you need to work on a sewing project, you save time by setting up only one machine instead of two.
Drawbacks
The quality of stitching on the combo machine may be better than using a separate sewing machine or serger specializing in these sewing tasks.
The speed of the combo machine may be slower than the single sewing machine or overlock machine.
You may not get the fine features an independent overlock machine can provide, such as a clean fabric edge cut by a serger knife blade or a secured hemstitched with multiple threads.
As a serious sewist who needs a sewing machine that can assemble your sewing project and make a quick and clean finish, it would be best to get a sewing and serger combo machine to provide you with the precise sewing features you need.
Can you sew a regular stitch with a serger?
You cannot sew a regular stitch on a serger. A serger cannot replace a traditional sewing machine because many sewing projects use straight stitches.
The stitches a serger can make are usually used to join seams and prevent your fabrics from fraying. Also, a serger cannot attach zippers, create buttonholes, or do topstitching.
For other machines, check out the best quiet sewing machines here.