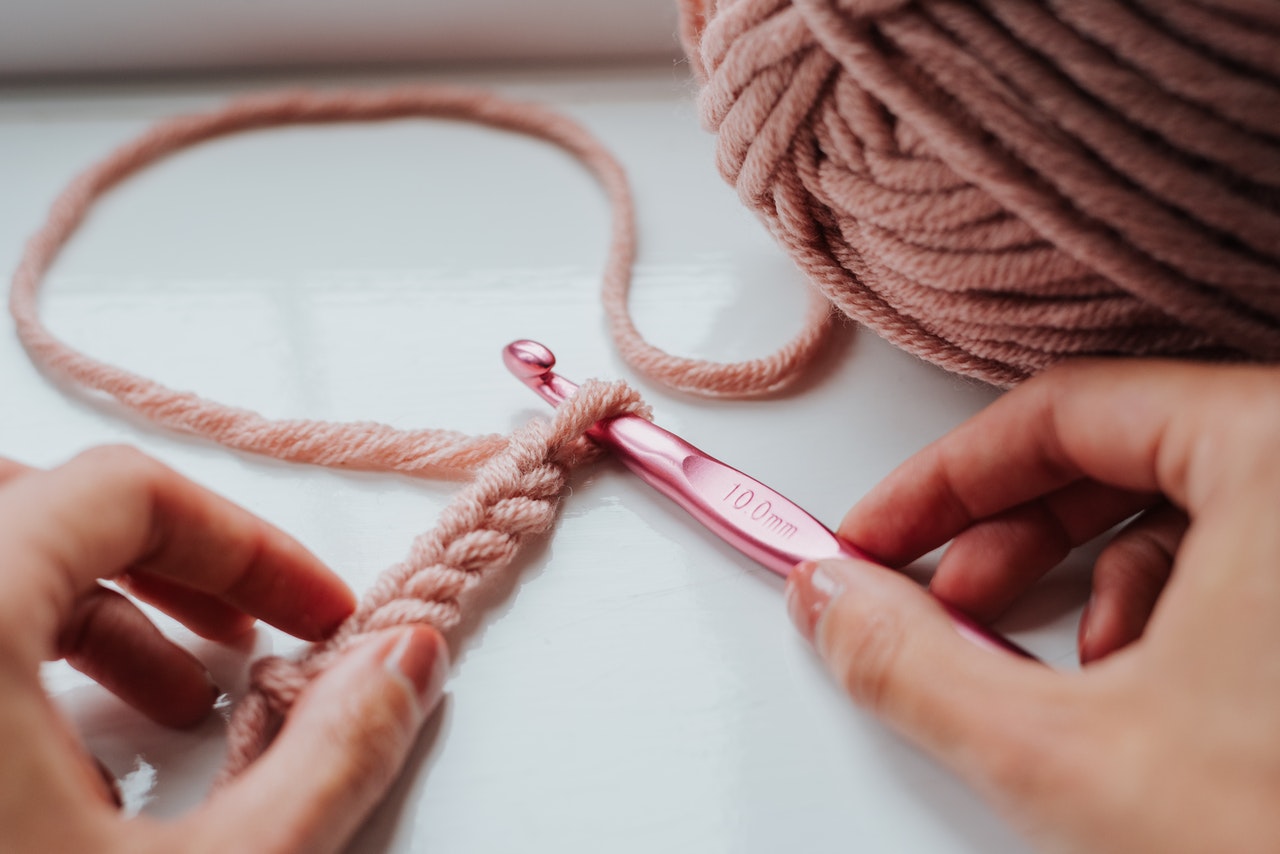 Crocheting is a form of needle art that uses the least number of materials. You only need a crochet hook and some yarn or any piece of string to create something useful or decorative.
Crochet is a needlecraft that is easy to learn. With a proper hook matching the yarns you want to use for crocheting, you can create various lovely craft items.
There are many types of yarns you can use to crochet any item that you want. Crochet yarn can be made of anything that you envision your item to be. You can use common fibers used for crocheting, such as wool, cotton, or acrylic. Or you can be experimental by using non-conventional types such as plastic, fabric, wires or even string.
Many people are now discovering the beauty of making decorative items by crocheting strings. The natural color and beauty of string make it a great material in making rustic-looking home decorative items.
Can you crochet with string?
You can crochet with string. Crocheting with string gives a rustic vibe to your crochet creations, a perfect material for people with more organic tastes.
As referred to in this article, the string is the jute or twine string that is usually used to secure packaging or gift wrapping. Jute string is a natural fiber you usually see used in crafts or adorning food packaging.
The string may not have the softness of most yarns used for crocheting. But, it has good material properties to make crocheted baskets or containers.
Crocheting with string is one of the most inexpensive ways you can create a home décor item. But do not expect the experience to be as comfortable as when you are crocheting with the usual fibers used for crochet.
It is not advisable to learn crocheting with jute string lest you get discouraged from learning crochet altogether. Crocheting with string is a good exercise for people who have crochet experience. It is also for those crocheters who are looking for a different medium to further their crochet skills.
Some things you should take note of when crocheting with string:
When crocheting with jute string, make an effort not to make your stitches too tight. You will have difficulty inserting your crochet hook. It will be easier to work on looser stitches.
Do not start crocheting in the round using jute string. Practice this technique first on softer and gentler yarns to get the hang of it before you crocheting jute string in the round.
Jute string is rough, stiff, scratchy. Crocheting with this material may take time to get used to. But once you have done it many times, you can reap great rewards.
Can you crochet with twine?
Twine or string has many different kinds and uses. But the specific type that you often see crocheted is the jute string or twine.
Twine or jute string is a versatile tool that is usually used in the kitchen or making crafts. Its common use is to secure food packaging or decoration to add a natural and rustic feel to your items.
Jute string is affordable and accessible, that it is such an ideal material to crochet beautiful and useful pieces of home décor items.
We now know that string is a good material to crochet, and many people can appreciate the aesthetic quality of its finished products. But is it as easy to crochet with string as it is with cotton or yarn?
Here are a few properties of jute string that may (or may not) convince you to use it as crochet material but are necessary that you should know.
1. It is rough on fingers.
You may think that jute string may not be the ideal material for crocheting because it is rough. Yes, it is rough because it is made from the natural fibers of the jute plant and was produced manually with the least chemicals possible.
Jute string may be abrasive to the hands, but there are ways that you can do to protect them. You can use gloves when you are crocheting with jute string. You can either use snug winter gloves or cotton gloves to prevent the string from scratching your hands.
You can also soften jute string by washing it. Although, washing your string may take more of your crocheting time because of the long process your string has to go through. A bit of washing and adding fabric softener can make it a little more pleasant to work with jute string.
Jute string may be stiff and rough, but if you work on it many times, your hands will get used to it. Think about the advantages of this versatile and biodegradable crochet' yarn' to inspire you more to crochet with it.
2. It may smell unpleasant for some.
Since jute string is plant-based, it may have a certain smell that may not be agreeable to some people.
It is also possible that you may buy a string that has the smell of chemicals. The smell may come from the lubricants of the machine that stuck to the fibers of the string as it is being wound. If the smell is too much of a bother, you can take steps to manage the odor to use it for crochet.
While at the store, gauge if you can handle the smell of the jute string. If you can deal with it, buy it. If not, find other stores which carry jute string and repeat the process. Hopefully, you will find one which matches your senses.
You can lessen the odor of the jute string by airing it out. First, wind it into a loose hank by circling it at the back of a chair. After converting it to a hank, leave it out under the sun for a few days to air out.
If airing it out was ineffective, you can wash your jute string to remove the unpleasant smell. The first thing to do is to immerse the hank of jute string in laundry detergent and warm water for a quick soak. You can also machine-wash your jute string but set to the gentlest and shortest warm-water cycle. Expect lint on your washer if you decide to machine wash. You can also use some fabric softener to hide the smell and add to the fibers' softness.
3. It is prone to shedding.
The shedding characteristic of jute string is a minor problem. As a natural fiber wound into a string, the jute fibers may be shedding small fiber dusting on your clothes or work area. But it is not a major inconvenience that a little wiping with a damp cloth cannot solve.
The shedding of jute string is due to the vigorous movement of crocheting affecting the fibers. The string may look brittle, but you must know that jute string becomes stronger and more durable when woven, such as what you do with crochet.
Jute string may have a few drawbacks as a crochet material, but the benefits you can gain by using it on your crochet outweighs these disadvantages. A little discomfort in crocheting with jute string can yield lovely and useful items to decorate your home.
Related: 
How do you crochet string?
When you are skillful in crochet and get a little bored working with the usual yarns, you can try crocheting with unusual yarns like string.
Crocheted string can create a sturdy fabric ideal for containers. Jute string is the type that is commonly used for crocheting items since it is neither very thick nor very thin. You can also find it easily in stores, so there is no problem finding jute string once you decide to use it.
As a starter crochet string project, here is a simple procedure for making a round string container.
Choose a hook size for your jute string that will form a tight single crochet fabric. Since your 'yarn' has no recommended hook size written on the label, you can use a size 7 (4.5mm) crochet hook which looks fit to crochet jute string.Start with round 1 by crocheting four chains, then make a slip stitch into the first chain forming a foundation ring.
Work single crochet stitches through the center of the ring and around the yarn tail. You should have eight single crochet stitches for your first round.Mark the last stitch of the round with a safety pin stitch marker. Then, pull the yarn tail to close the center hole.
Work two single crochet stitches into every single crochet in the second round. Work the last two single crochet stitches on top of the marked stitch in the first round. Count the stitches on your 2nd round to make sure that you have 16 stitches. Move the stitch marker up at the end of each round.
Work the next rounds by continuing to follow the circle pattern. Work the stitches as tightly as you can. If the crochet does not seem tight enough for you, start again with smaller hook size.
When you have reached the desired base size of the container, create a ridge to start working on the sides of the container. You will form a ridge by working one single crochet into the back loop only of the top of each stitch in the next round.
For the remaining rounds of the container, work one single crochet in each stitch of the previous round. But this time, work through both loops of the top of the stitch of the previous round in the usual way. This procedure will form a tube. Continue until you reach the desired height of the container.
A crocheted jute string container can hold its shape well. It is quite useful in homes not only for its rustic beauty but for its strength and utility.
You can also create a jute string basket with loose stitches. With a few tweaks on the common crochet stitches, you can create a loopy basket that is not only an attractive home décor but a convenient storage item also.
To create a loopy basket, you will need a medium (2mm) ball of jute string, a 12mm crochet hook, and a pair of scissors.
Begin your loopy crochet basket by making four chains. Make a circle by connecting to the first chain using a slip stitch. Then, make eight double crochets through the center of the ring. Work in a spiral without finishing each round. Remember to keep the tension loose.
For the second round, make two double crochets in each stitch, making a total of 16 double crochet stitches.
For the next round, make one double crochet in the next stitch then two double crochets in the following stitch. This row should have 24 double crochet stitches.
For round three, make one double crochet in the next two stitches, then two double crochets on the following stitch, making 32 stitches.
For round four, you need to make one double crochet in the next three stitches, then two double crochets on the fourth stitch, making a total of 40 stitches. You need to do these steps to maintain a flat base.
For round five, one double crochet for the next four stitches, then two double crochets at the fifth stitch, making a total of 48 stitches on this row.
The next row will be the start of the rows that will form the sides of your loopy basket. Make one double crochet in every stitch for each row you make until you reach the height of the basket you want.Finish your basket by pulling the rope through the last loop. Do not forget to weave in the tails.
Crocheting something as simple as jute string using the basic crochet stitches can create various lovely items.