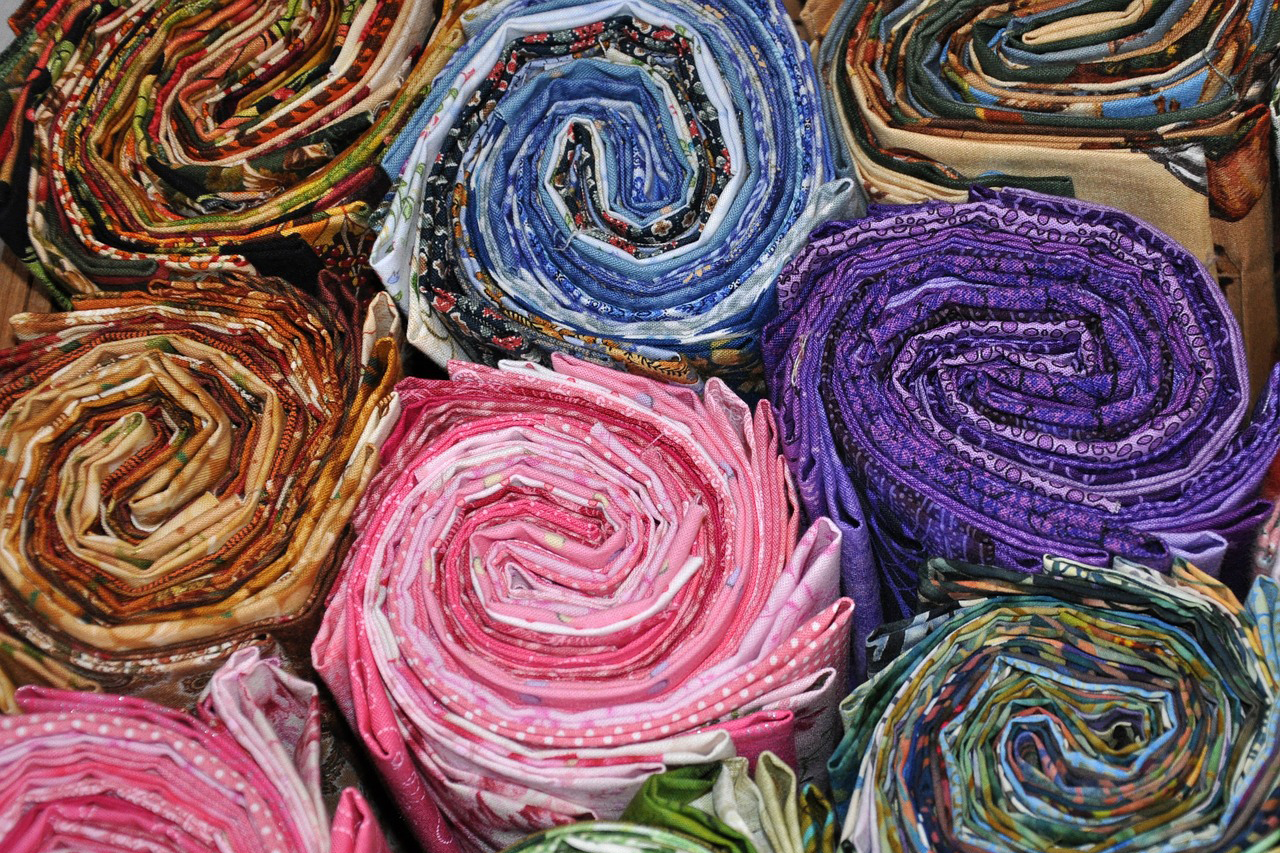 You can quilt on an industrial sewing machine. However, industrial sewing machines are quick and produce lovely straight stitches. Its high speed can make things more difficult if you work on small quilts where layers may shift.
But, the most significant issue with many of these devices is that they need oil pans and are constantly pouring oil. Unfortunately, these oils can be a problem for quilting, although very few models have closed oil seals.
Suppose you must piece your quilt, depending on your pattern. In this case, the faster industrial speed may work in your favor or against you because many quilts have curves in both quilting and piecing. But unfortunately, most industrial machines can only do straight stitches.
Do I Need a Quilting Machine to Make a Quilt?
You do not necessarily need a quilting machine to make a quilt. But, you must have a durable device to pierce through layers of your quilt. Also, you should note that not every model can do zigzag stitches, which may be essential for quilting.
You can usually get your answer to this question by asking yourself if you use your machine frequently. If you do, you probably need an industrial sewing machine. So, do not allow fear to get the best of you, mainly because these devices have many easy options for beginners to use.
Here are more questions you must ask yourself to help you decide:
Are You Satisfied with Your Machine?
Your present machine could be brand new or decades old, but it is best to look beyond the age and brand. Are you happy with its features? Does your machine accomplish what you ask of it regularly? Do you find yourself compromising on projects or "making it work" when your machine malfunctions?
These are the things that many makers overlook, and they either use an emotional attachment or the machine's age as justification for maintaining it. But, like all tools, sewing machines can create more trouble than they are worth.
If you find yourself dissatisfied with your home machine, it may be best to consider upgrading to an industrial sewing machine. Alternatively, consider investing in an upholstery sewing machine if you find yourself working with heavier fabrics. These solutions typically offer more features and will last far longer than a typical domestic machine.
Are You Prepared for an Industrial Machine's Upkeep?
When people refer to industrial or upholstery sewing machines as workhorses, it is primarily because they often generate a lot of noise. Also, more importantly, they require some upkeep, or they will begin to deteriorate.
The most important component of maintenance to consider when upgrading to industrial equipment is that they do require oil. Although some may think it is not a big deal, you need to consider keeping the oil away from your fabrics.
Additionally, you will regularly need oil, so it is advisable to double-check the oil before beginning a project. Many machines have a line to indicate how much oil they need, but some do not.
Advantages of Industrial Sewing Machines
Most, if not all, industrial machines are capable of:
Wind bobbins and sew at the same time
Sewing speeds range from slow to high
Sew through many layers of heavy fabric and batting
Sew through upholstery materials like leather
Making a quilt using a specialized device may indeed make things easier. But most sewing machines can also handle a wide range of jobs. So, instead of looking at a specific type of machine, it would be best to look at its features.
What Type of Sewing Machine Do You Need to Quilt?
You can use any standard device to quilt, but it would be best to have a sewing machine with the features essential for your project. Whether you are a seasoned quilter or a beginner, having the appropriate device may make or break your quilting experience.
Here are some features you must look for in a sewing machine if you are considering using it for quilting:
Workspace
The quantity of workspace on a machine is one of the most noticeable differences between a conventional sewing machine and a quilting machine. You can usually see the amount of space by looking at the "throat," which also dictates the width and length of the device.
A large table with enough workspace is more a luxury than a necessity for basic sewing needs and simple home decor projects. However, throat space is critical for bulky products like quilts, so it would be best to use a device with a significantly bigger workspace.
Table Extender
An extension table will allow you an additional area to move and maneuver when quilting if you desire more workspace on your machine. Also, it will sit snugly against your sewing machine, which is ideal for machine quilting and stitching on borders and bindings.
Darning or Free-Motion Foot
The free motion or darning foot is the best foot for free-motion quilting. It assures perfect stitch creation, reduces skipped stitches and puckering, and protects your fingertips while you freely manipulate the fabric beneath the needle.
Its open-toe design substantially increases stitch visibility and is very popular among quilters. So, it is also helpful for individuals who are just starting with free-motion quilting. But, you must set your needle on the left needle position for the best results when you free-motion quilt.
Adjustable Needle
A sewing machine with an adjustable needle is beneficial if you wish to use it for quilting. This feature allows you to quilt in 1″ increments from the edge of your selected stitching foot.
Besides going left to the right, it would also be best if your machine's needle had an up/down button. Using the switch to halt stitching in the needle down position will help prevent your fabric from shifting, and you can turn corners and rotate your quilt top.
Adjustable Feed Dogs
Always check to see whether the sewing machine has a switch at the back that allows you to lower the feed dogs. This feature is far more convenient than using a separate cover that you must place over the feed dogs for machine quilting.
Quarter-Inch Foot (Optional)
A quarter-inch seam allowance is perfect when machine piecing a quilt top. Also, it is ideal if you are working on a quilt with a tiny seam allowance! So, it would be best to have a quarter-inch piecing foot that aids in quilting precision.
More pages: 
What Can an Industrial Sewing Machine Do?
Industrial sewing machines have various applications but primarily stitch using straight lines. So, whether you want to make huge products or start a small business, you may find it best to use an industrial sewing machine.
An industrial sewing machine is primarily for stitching, but there is no limit to the amount of fun you can have with it. Most of these devices make single stitches to help reduce their wear. But, if you are unsure of where you should begin with these devices, here are some features and uses to help you get started:
Control the Pace
You may adjust the speed with a clutch pedal or servo motor when using an industrial sewing machine, just like other home machines. However, beginners may find that learning to use the clutch pedal takes longer than operating a servo motor. It means that if you need to know rapidly, you could be better off starting with servo motor devices.
Wind the Bobbin
Nowadays, most industrial sewing machines can spin a bobbin while you sew, which can significantly help you finish the work faster. However, different devices have varying instructions for winding a bobbin, so it is best to read it before use.
Professionally Finish Seams
To finish seams professionally on a home machine, you need to utilize a zigzag stitch or put in a lot of effort. However, you can use a serger or overlocker with an industrial sewing machine to prevent unraveling while maintaining a professional appearance.
Unlike a residential setting, you are unlikely to use a simple lockstitch machine to finish your seams with a zigzag stitch unless it is a deliberate design choice. Instead, you can try buying an overlocker to enclose the edge of the material, avoid unraveling, and produce a professional-looking garment.
There are multiple benefits to using an industrial sewing machine. But, suppose you are thinking about upgrading from a standard device to an industrial machine. In this case, you must consider how to finish your seams, thread your bobbins, and work with different fabrics while still controlling your speed.
Sew Heavy Materials
If you are new to using industrial sewing machines, you may think they can handle whatever you throw at them without complaint. However, it would be best to use caution when working with thick materials.
For example, if you plan to work on a leather project, it would be best to avoid using a standard foot because it may cause the material to expand. Also, there are similar concerns like sewing through furs.
In this case, you must separate the fur where you wish to place your stitches. Doing so will help you avoid trapping the hair under the stitch, which would cause the stitch to be loose should the strands escape from underneath.
There are many myths and mistakes that novices can easily fall into, but there is also a lot of delight in mastering using industrial sewing machines. Sewing in this setting can help you become a true master of that sewing area rather than a domestic jack of all trades.
It takes time to become used to an industrial machine, but it opens up many sewing possibilities and more professional outcomes once you do. Here are five factors you must consider if you want to try using them for your next project:
User-Friendly
A beginner or skilled stitcher can benefit from cautious, slow sewing for particular projects. Using a home sewing machine makes it easier to guide the needle into complex regions and slowly go as you work. However, you may need a bit more time to get used to working with an industrial sewing machine.
Easy Back-Stitching
If you want to stitch backward on a home sewing machine, you click a button once, and you can stitch indefinitely. But, to go backward on most industrial equipment, you must continuously hold down a lever.
Portable
A home sewing machine's portability is probably what you like best about having a home machine and why you still have one. This one is self-explanatory yet crucial. Being able to shift your sewing project comes in handy in various situations.
Thread Options
Using heavy threads may be the primary motivator for purchasing an industrial machine for many people. However, in terms of thread weight, home machines are severely limited. So, if you want to work on heavier, thicker, and more extensive materials, it would be best to use an industrial machine.
Fabric Options
Home machines can sew through relatively thick materials, but overuse can burn the engine and ruin the needle bar. So, heavy-weight materials are better suited to an industrial machine.