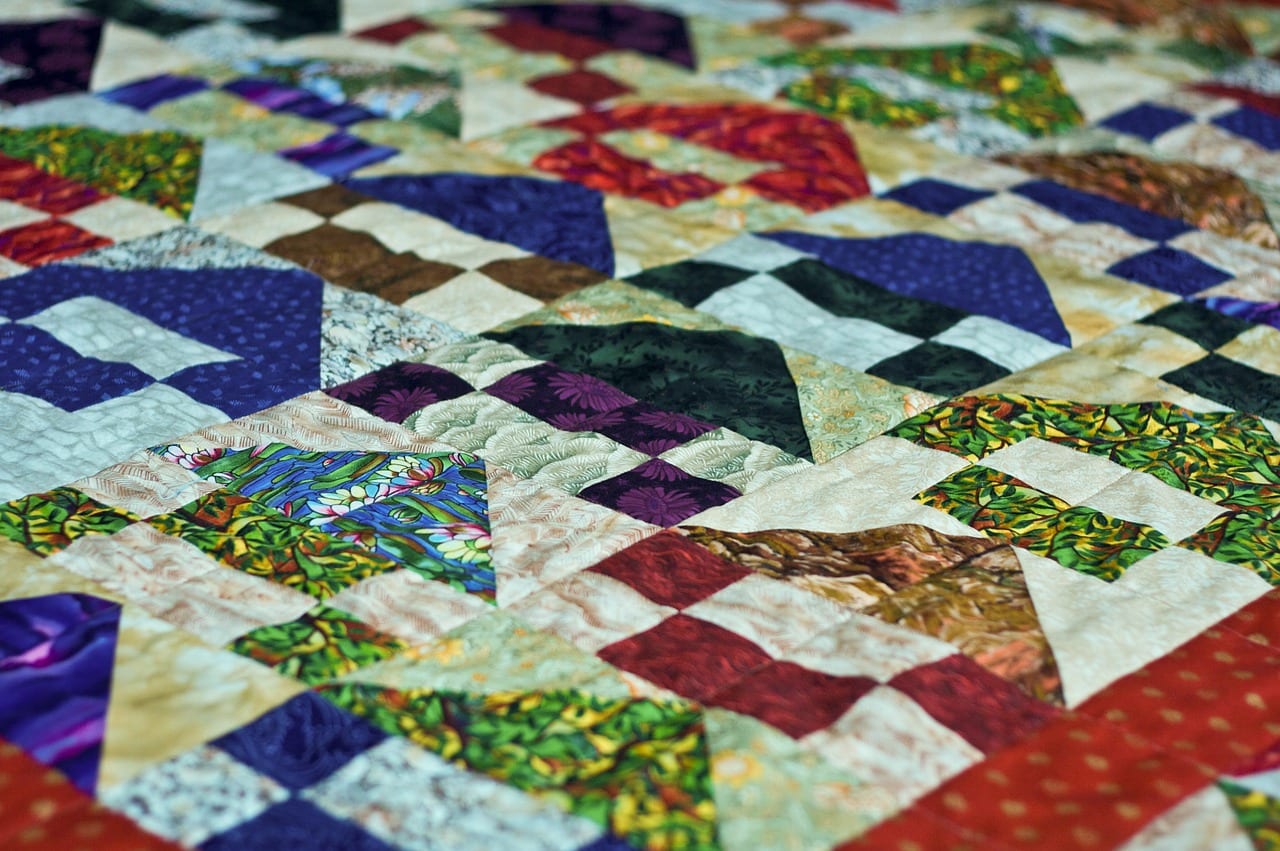 A piece of clothing is sometimes hard to part with, especially if you have great memories attached to it. Through time you and the whole family accumulate more of these, and sometimes it isn't easy to let go.
Now you do not have to worry about how to keep those memories alive and to remember those people that are special to you. Create a memory quilt to celebrate victories, remember a loved one's life, or reminisce a baby's first doings.
By making a patchwork of the select clothing instead of throwing them or giving them away, they serve another purpose as a memory quilt that you can enjoy and become a family heirloom that you can pass on to the next generations.
What is a memory quilt?
Memory quilts have been known to commemorate life events since the 1800s. These memory quilts were more of a group project where each quilt block was sewn and signed by different persons and created as memorabilia for a family or friend. Quilts were made by the local community to remember births, weddings, deaths, and even moving places. Families were moving to the west around this time, and signed memory quilts were the typical gifts to the family left behind.
Memory quilts, even way back, used clothing to create quilts. Central Asia people believe that scraps and small pieces of fabrics can ward off destructive forces at gravesites of heroes, saints, and ancestors. Quilts served both spiritual and practical purposes.
It circulated during the Colonial Era that Early American quilts were made from recycled scraps of fabrics of dresses and clothes no longer used. The truth about American quilts at that time was that they were made with expensive, imported materials, thus confirming the idea of the "scrap bag myth."
When cheaper printed cotton fabrics became available in the 1830s because of the Industrial Revolution, American women became more interested in making patchwork quilts, which were not used as they should be. The underprivileged lot in that period worked on fabrics that are readily available and create something memorable and serves as a bed cover.
In the mid-19th Century, people had free-rein in designing and using various materials for quilting, even old clothing. In the mid-20th Century, the Gee's Bend quilters who were known to make unconventional quilt designs made quilts mostly from worn-out work clothes.
Through time, fabric materials and clothing designs have changed, and so did the memory quilts that are made from them. T-shirts became the fashion apparel in the '50s, and most people in the US own at least one shirt that they refuse to let go because of sentimental reasons. Reliving memories by turning these shirts into a patchwork birthed the concept of t-shirt memory quilts.
To this day, quilts made from personal clothing items of people you want to relive good memories with are a great way to celebrate life and be the best storytellers.
How do you make a memory quilt out of a shirt?
Making a memory quilt out of a shirt does not differ much from making a traditional quilt. The essential difference would be adding interfacing, which a t-shirt memory quilt should have. Creating a shirt memory quilt is relatively straightforward; the difficulty will depend on the size and complexity of the design you wish to make. Follow these simple steps to create a t-shirt quilt out of your favorites.
Gather your unique shirts.
Collect the shirts that you want to include in your shirt memory quilt. Please make sure they are clean before sewing. Remember that some of them have been in storage for quite some time, and they need to be tidied up first. If possible, choose the ones who are still in mint condition. Avoid the frayed and stained ones.
Use interfacing when sewing jersey shirts.
When sewing jersey shirts into a memory quilt, and knowing that you have kept them for decades already, make sure to back them with non-woven fusible interfacing to keep the shirts from stretching. You should steam-iron good quality, lightweight interfacing to the back of your shirts. This way, you can use your finished quilt as a body warmer rather than just a room backdrop.
Measure Fabrics for Sashing/Border/Binding
Prepare the fabric strips to serve as binders and borders for your shirt blocks. The typical size used is 2″ strips for sashing between the blocks and 2 ½ "strips for the edges and measure extra fabric for the binding. Sashing and border strips are reduced by half inches once the quilts are finished. Make sure to wash your binding fabrics to ensure that the color will not run, and no shrinkage of fabric will happen when the quilt is finished.
Cutting the shirts
Cut the shirt by separating the front from the back. Iron the shirts first to remove creases. An important reminder in making memory quilts is to get the most distinct parts of the shirt, the very reason you want to make a quilt out of the shirts. You want to preserve the details that bring back the most memories.
Create a quilt pattern
In making a memory quilt, the focus is not on what fabrics match but more about what memories you want to capture. Sashing is done to emphasize the details on your t-shirt memory quilt, meaning you can separate your shirt designs using borders and not look like a chaotic patchwork.
A Quilter's square or a 12 ½ "ruler is quite useful in this project to see parts of the shirt that you want to include in your shirt block.
Finishing up
Arrange your shirt blocks in such a way that the lights and darks are distributed evenly—alternate shirt blocks with more prints to those which are almost bare.
Add the sashing strips to create the horizontal and vertical borders for your t-shirt blocks. Sew the horizontal strips to the bottom of each block, then sew the blocks together to form columns. Finish the top quilt by sewing the edges.
Then, layer the backing, batting, and quilt top. You can baste or pin the three layers together to hold the layers in place. Using your quilting machine, sew together the quilt layers, and you have a quilt that fits your precious memories together.
How do you make a quilt out of baby clothes?
Baby clothes are just so cute that even if your child has outgrown them for quite some time, it is just hard to let go. Having younger siblings who can use hand-me-down baby garments would be the best option, but if not, you can make a quilt out of them, preserving dear memories of your baby's first months.
Quilters nowadays are getting more creative and imaginative with designing quilts, especially for dainty little memory quilts from baby clothes. You can go for the traditional square patchwork style or retain the pretty designs of baby's clothes in an artistic patchwork.
Creating a memory quilt out of baby clothes will let you come back to your baby's firsts and let you hold on to them for a long while. Gather memory quilt fabrics from the onesie when she came home from the hospital, the favorite blanket she carries everywhere, the pair of pajamas she loves to wear, and the charming dress gift from granny.
To make a quilt out of baby clothes helps you declutter but keep your precious things as well. You may give your memory quilt to your grown child as an heirloom.
What you need:
Clear acrylic quilter's ruler
Scissors
Baby clothing
100% cotton batting (pre-washed)
Cotton fabric for backing(pre-washed)
Safety pins
How to make it:
Wash and dry your baby clothing before sewing them into a memory quilt. Choose the pieces with no stains and not tattered.
Measure and cut into fabric squares using scissors, a clear acrylic quilter's ruler, and a self-healing mat. You can make a baby quilt measuring 12 by 18 squares, with each square measuring 4 ½" on each side. Allow 1/4 " seam allowance.
Arrange your squares on top of a table into a pattern that is pleasing to your eyes. Note that a memory quilt gives more emphasis on the memories that you want to integrate into your quilt. So, choose your designs wisely.
Using the safety pins, join the squares together to form rows and then sew them. Press the ¼" seam allowance so that they lie in the same direction. Doing so will make the seams stronger when batting is attached.
Lay your sewn patchwork over the batting, leaving 3 inches batting on every side. Starting at the corners, pin the top quilt over the batting to avoid slipping as you sew. Sew the two layers together exactly over the seams. Cut excess batting and remove the pins.
You can use a half-inch wide double-fold bias tape around the four edges of the quilt. Pin and stretch around the corners to avoid puckering.
Cut backing fabric with ¼" seam allowance. Place backing over the top quilt, right sides facing each other, then pin around the perimeter. Sew edges through the three layers but leave one side open. Turn quilt right side out, then hand sew the remaining open side.
Machine sew along the borders of your squares using your favorite quilting stitches.
Enjoy your memory quilt from your baby's clothing for many years to come.